Barndominium 4257-2-2.5
4,257 sq ft
The Barndominium 4257-2-2.5 has a rustic yet industrial aesthetic, with the use of reclaimed barn wood siding blended with your choice of high-end amenities. As you enter this home, you will find yourself in a large living area with an attached kitchen and dining area. On either side of the living area, relax in your own private suite with a primary bed, TV/sitting area, and spa-like bath. Head up the stairs to the mezzanine and skylight, offering a secluded sitting area, an opening that creates a 2-story vaulted space, as well as a 360˚ outside view. The expansive garage is designed to accommodate all your vehicles as well as an area for hobbies/work. When modified and customized to your liking, this home makes a perfect vacation home for families and a great VRBO/Airbnb.
Barndominium Series
The Barndominium series is both practical and aesthetic, this style offers many benefits for homeowners looking to add space for hobbies or business without constructing a separate structure. These opened concept homes have all the essential comforts and modern features of today's homes.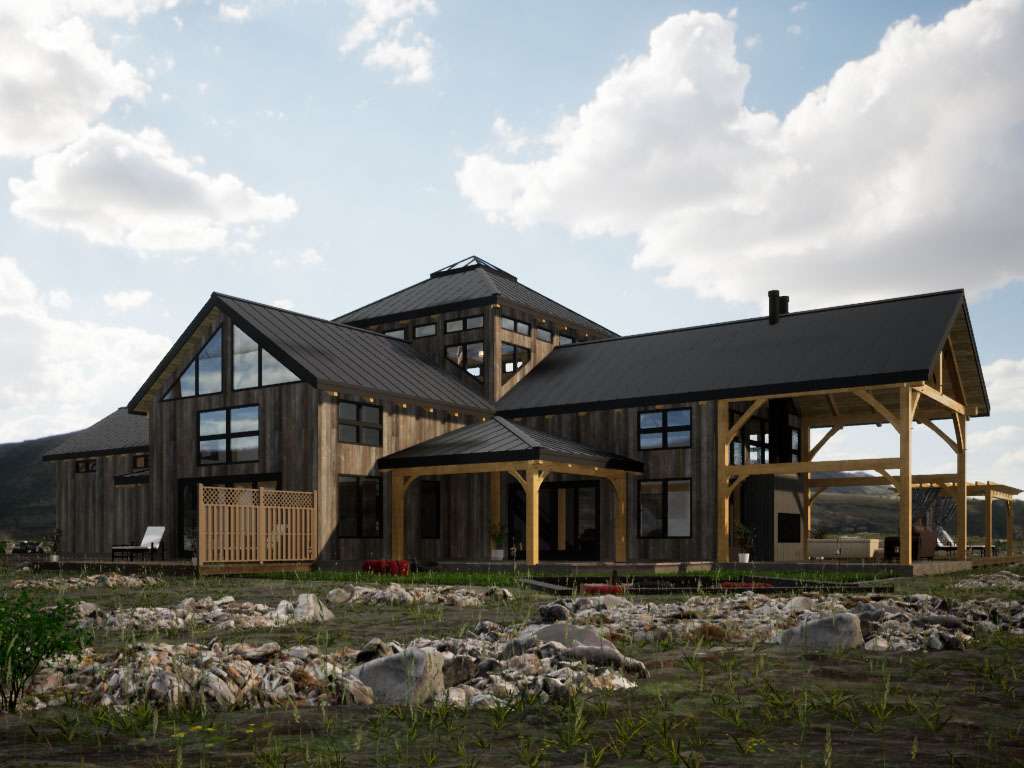 1st Floor
Cov'd Patio – 16′-9″ X 16′-9″
Cov'd Entry – 16′-9″ X 16′-9″
Dining – 23′-4″ X 24′-6″
Entry – 9′-7″ X 9′-7″
Fireplace Patio – 17′-6″ X 24′-6″
Guest Bath 1 – 17′-2″ X 16′-9″
Guest Bath 2 – 17′-2 X 16′-9″
Guest Bed 1 – 24′-6″ X 12′-6″
Guest Bed 2 – 24′-6″ X 12′-6″
1st Floor
Hearth Room – 26′-11″ X 24′-6″
Kit. – 9′-11″ X 24′-6″
Mech. – 6′-0″ X 12′-0″
P'try – 7′-3″ X 12′-5″
RV Garage – 41′-0″ X 24′-6″
TV/Sitting Area 1 – 24′-6″ X 10′-2″
TV/Sitting Area 2 – 24′-6″ X 10′-2″
2nd Floor
Mezzanine – 24′-6″ X 24′-6″
Dream Home Budget Calculator
What does a timber frame home cost in your area? Answer 20 simple questions and we'll help you figure out your budget.