From floor plan design to energy efficiency, here are expert answers to your top questions about barndominiums.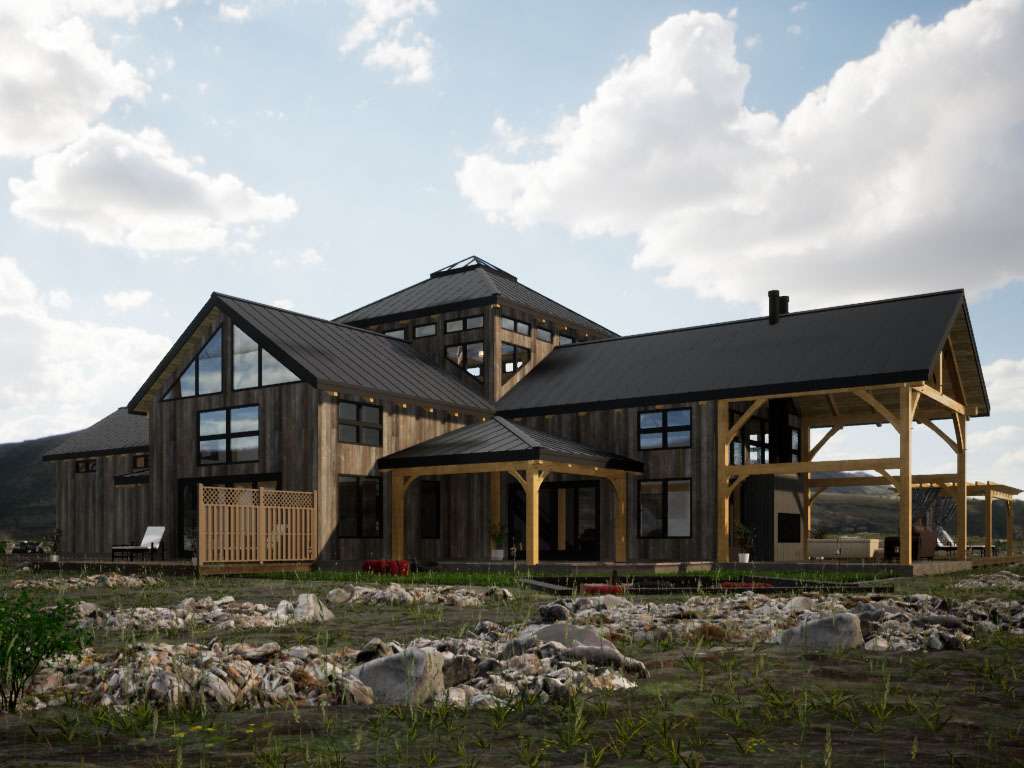 What happens when you fuse living, entertaining, storage, and functional spaces all into one gorgeous space and package it up in a ravishing timber frame? You get a barndominium, which is one of the hottest new building trends in the country, and it's easy to see why. Once you're introduced to a barndominium, you'll likely be obsessed with the idea of having one of your own.
A Woodhouse barndominium floor plan is the perfect starting point. Because these homes seamlessly meld form and function, they can be designed to fit just about any lifestyle you're dreaming of for your future home. But there is some confusion. The name barndominium implies a barn and a condominium, both of which come with preconceived notions about appearance, size, performance, and style. Don't worry, we're here to walk you through all that's possible with a barndominium floor plan. Below, we answer some of the top questions about timber frame barndominium living and design.
1. Is a barndominium as energy efficient as a traditional timber frame home?
The short answer is yes. But remember, a barndominium puts a roof over multiple spaces that are designed for different purposes. The total square footage is usually going to be bigger than a traditional timber frame home.
If you focus on just the "dominium" portion (the home) it will absolutely be as energy efficient as a timber frame home, especially if it's constructed with the structural insulated panels (SIPs) that we use for our timber frame building systems. The energy efficiency of the barn portion will vary depending on your needs. For instance, an entertainment space will require a tighter thermal package than, say, a garage shop that houses a car collection. Across all scenarios, our timber frame barndominiums will always be dramatically more energy efficient than a pole barn conversion.
2. Can I add ___________?
We left this blank, because when we looked at the list of special requests from everyone interested in a barndominium, it was incredibly diverse. Part of the magic of these extraordinary structures is that customization is nearly limitless–you can add just about anything you want. These are lifestyle-driven timber frame buildings and storage is just one small component. We've seen art studios, entertainment centers, and quasi-commercial spaces such as gyms for personal trainers and even the workshop for an organic farm.
Our barndominium floor plans are seeds for your imagination. We can shrink, enlarge, or change the height, width, insulation, and style. We can add a wall of windows that overlooks the interior space below or incorporate a glass wall into the barn area for an indoor-outdoor space like a home's patio. Not only can we take any barndominium floor plan and perfectly tailor it to you, but we can convert your idea of a dream timber frame home and translate that into a barndominium.
3. How compact can a barndominium actually be? Are they all large?
With a barndominium, the word "barn" is just a name with no formulaic size or height. Your barndominium can have a compact studio apartment with a massive lifestyle component, or take the form of a large, luxurious, timber frame home with only one or two bays for the barn portion. Anything goes! The only features that come standard in a timber frame barndominium are eye-popping beauty and high-level functionality.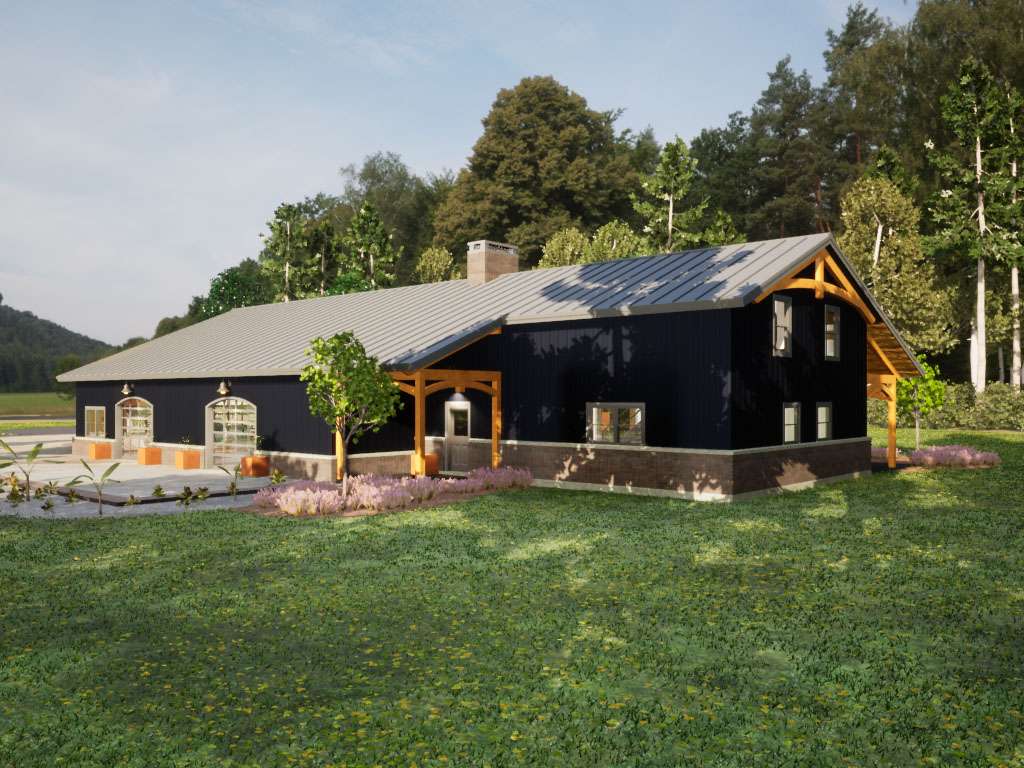 4. How do I know if my property is a good fit?
This is an excellent question; although we can build your perfect barndominium, the footprint needs to fit into your property's requirements. If you don't yet own the land, we encourage you to reach out and talk to us before purchasing. A land purchase comes with many angles that many people may not consider. Setback requirements, zoning, and access to services can all influence the size, style, and cost of your barndominium. Particularly if you're planning to use the space as a place to do business or as a rental, you will also want to make sure your municipality allows your barndominium to serve the purpose you have in mind. If you have questions or want to know more, please contact us.
5. How does the cost compare to building a home of similar square footage?
This answer depends on what type of home you're comparing it to. Keep in mind that even two timber frame homes with similar square footage can come with dramatically different price tags. Fixtures and materials selections — flooring, doors, countertops, siding, and more —add significant costs to a home beyond square footage. Due to their multi-functional nature, there's a good chance that a barndominium will have greater volume because of the barn element that is added to it. Greater volume adds a higher vault and square footage, which affects building costs.
If you're comparing a customized timber frame barndominium constructed with SIPs to an entry-level pole barn, the timber frame will have more up-front costs. However, when measured against long-term performance, aesthetics, and overall value, the comparison is night and day.
Spark Your Barndominium Dream
For inspiration and ideas to kick-start the planning of your own barndominium dream space, check out our barndominium styles and gallery. Then, contact your Woodhouse regional project manager for a more detailed and thorough conversation about your barndominium plans.