Your heart is set on a beautiful wood home. Their rustic charm, inviting atmosphere, and natural connection to the land have you smitten with delight.  But you just can't shake that­­ feeling that a wood home demands a good deal of maintenance.
When it comes to log homes, your suspicions are correct. Timber frames, however, are a different breed. In this fourth installation of our series on timber home maintenance, we'll cover the biggest maintenance differences between timber and log homes and how you can get the wood dwelling of your dreams with a timber frame.
Which is More Work: Timber Frame vs. Log Home
No home is entirely maintenance free, but when it comes to a timber frame structure versus a log home, a timber frame requires no more effort than conventionally built homes, oftentimes even less. Not only are timber frame homes more aesthetically flexible and energy efficient than log homes, but they let you spend more of your time and money enjoying your home, not working on or worrying about it. Let's explore why.
Log Maintenance
In terms of upkeep, log homes fall on the higher end of the spectrum. One of the defining features of a log home is its exterior log walls. These walls are responsible for safeguarding the home's structural integrity.
Exterior log walls take a relentless beating from the sun's ultraviolet rays, rain, ice, wind, and extreme temperature swings. When even the smallest of fissures develop, moisture can sneak in and create an opening for insects and more water, leading to rot. When this moisture goes through freeze-thaw cycles, it expands these micro-fissures even more. Homeowners must be diligent about regularly applying a high-quality exterior protective sealant. Moreover, this sealant must be applied correctly under the right conditions or moisture gets trapped underneath and puts the logs at risk of rot or developing unsightly mold stains.
Like logs, timbers are a wood product and require a protective treatment. Using the correct materials, and particularly wood species, on the exterior of a home can have a significant impact on ease of maintenance. For instance, using white oak for exterior timbers, which is the species used in wine barrels and is resistant to rot and immune to carpenter bees, will require far less maintenance than exterior timbers crafted from pine or fir. In fact, Woodhouse standardizes on white oak for all exterior timber elements.
Additionally, the sheer size and positioning of the timbers can provide a natural level of protection. Architectural modifications such as eaves and covered porches alongside home orientation can also protect timbers from the elements. And remember, there are a lot fewer timbers that require attention. This leads us to another key differentiator between a timber frame and log home: construction systems.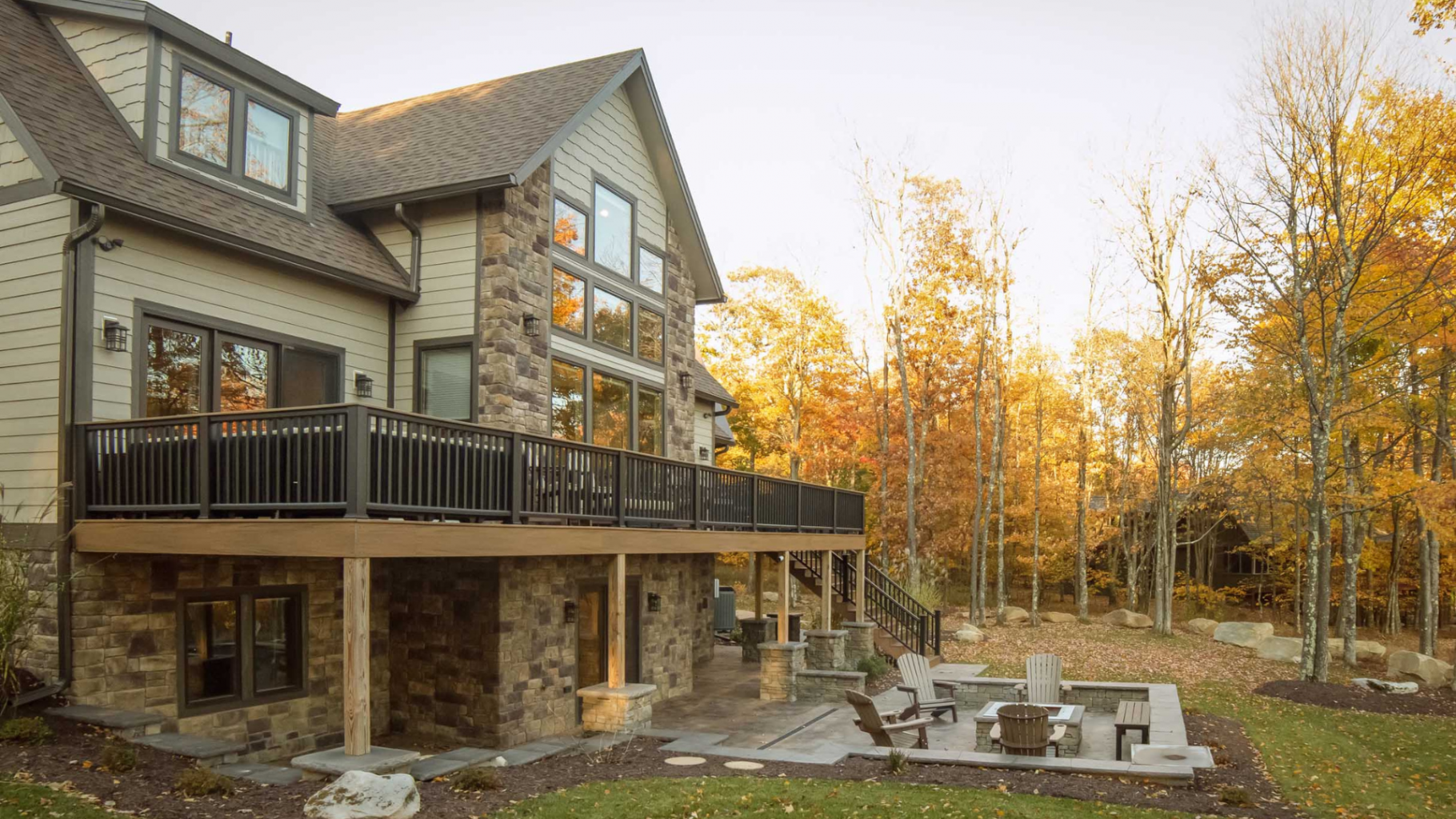 Timber Frame Home Walls
Instead of walls being built with stacked logs, timber frame walls are constructed with structural insulated panels, or SIPs, which are advantageous in two important ways: design options and energy conservation.
A SIP construction system gives a timber frame aesthetic flexibility by letting you use just about any exterior siding material on a timber frame as you would on a conventional home. When coupled with the fact that we offer more than 20 different timber frame home styles and can customize your timber frame to any floor plan and exterior design, you can certainly achieve the look (and maintenance level) you desire. Think: Mountain modern, traditional lodge, cabin, Adirondack, A-frames, and many more.
SIPs really shine in energy conservation by creating a thermal envelope that often exceeds industry standards. They are efficient to erect and when coupled with passive solar energy, SIPs lower a home's carbon footprint even more, making them an ideal choice for those who want the benefits of green building design and the long-term savings that go with it. Even if outfitted in the same exterior siding, a timber frame home's energy efficiency will exceed that of a similarly sized conventional home.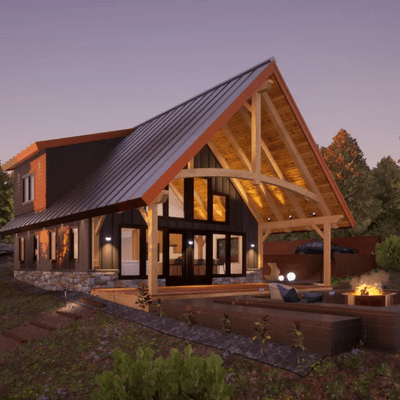 Cozy Cabin Appeal
Love the log cabin look, but not the maintenance? We can customize your timber frame to bring your cabin dreams to life. With a timber frame, bold, beautiful timbers welcome you inside with promises of a crackling fire. Create a distinct exterior using earthy materials, such as stone siding and stone-wrapped pillars to nail the cottage-cabin look. Alternatively, pair stone with live-edged siding or a low-maintenance siding such as cementitious planks.
Inside, posts, beams, and trusses are physical reminders of timeless craftsmanship.  Unwind in a spacious great room near a rugged stone fireplace, while sipping a relaxing drink and taking in gorgeous natural views.
Timber Curious?
Check out our gallery and be amazed at the incredible diversity of timber frame styles and genres available and ready to be customized for your low-maintenance timber frame home, including a variety of cabin styles. Read more about the differences of timber frame vs. log homes or contact us for a conversation.