Understanding the difference between log and timber frame home exteriors empowers you to make the right decisions to achieve the dream home experience you've always wanted.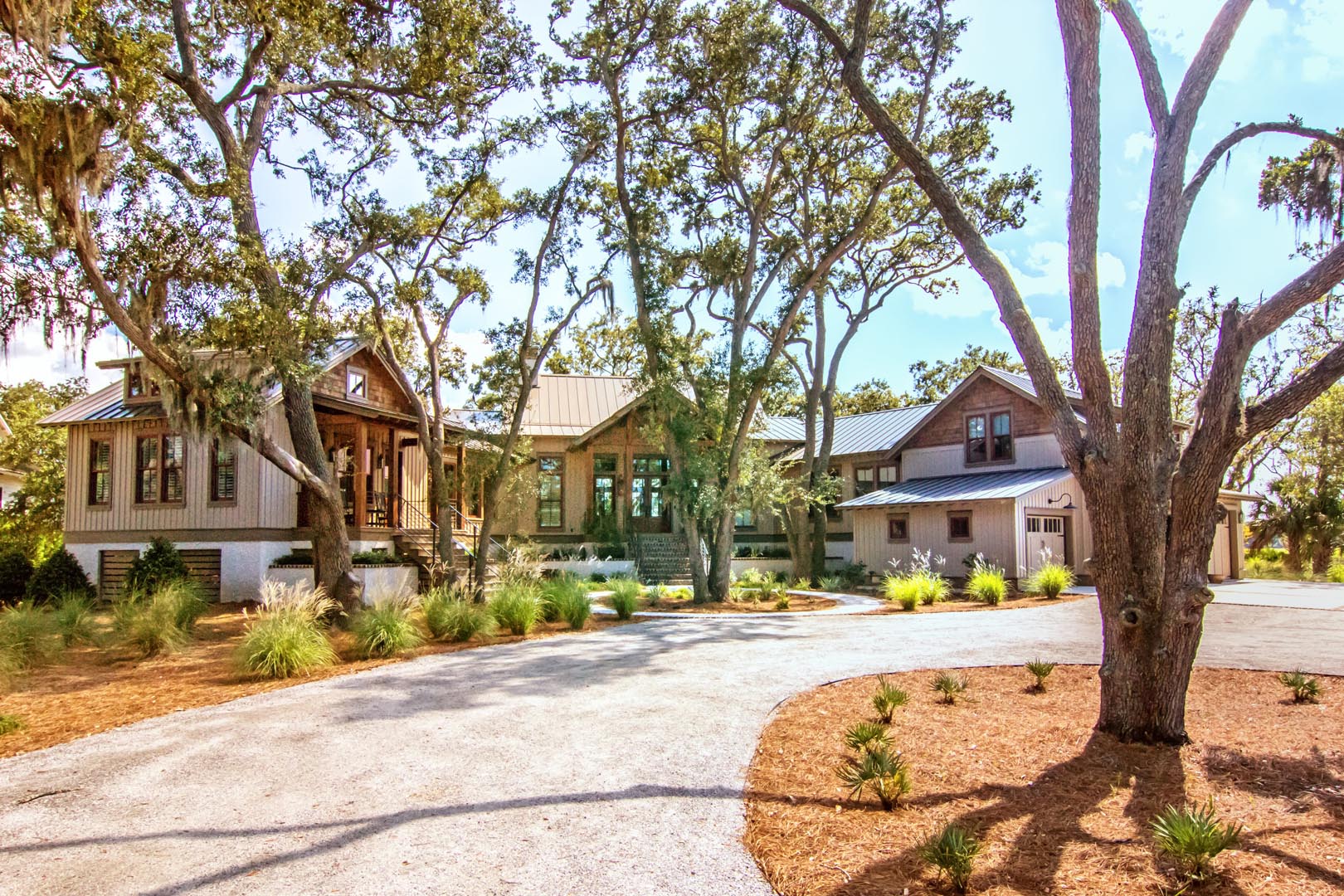 Timber frame and log homes are ideal for those seeking a haven with the organic appeal and strength that comes with having a home built with exposed wood. One of the many differences between log and timber frame homes is how that wood expresses itself.
It's easy to identify log homes from their exteriors. That isn't always the case with timber frame homes whose exteriors can show a range of styles, like modern farmhouse, classic cabin, or mountain lodge. The options available for log or timber frame exteriors are explained by their unique building processes.
Log Home Building Process
Log homes are built by stacking one log atop another. As such, the interior and exterior walls are the logs themselves. In addition to serving as the visual aesthetic, the logs also provide the structural support for the floors and roof. If the home uses log walls for interior rooms, those walls are structural and cannot be moved. The roof system can be composed of trusses, conventional materials, or exposed beams.
Timber Frame Home Building Process
Timber frame homes are built with vertical upright timbers called posts and horizontal timbers called beams. The post and beams connect to form a structurally solid frame. Interior walls are not needed to support the structure, meaning walls can be placed where you desire or left out entirely to achieve an expansive open space, even within a small footprint.
Because the post and beams provide the home's structure, the timber frame construction process can use structural insulated panels (SIPs) as the insulating envelope for the roof and walls. Woodhouse uses a special type of SIP. Our SIPs give a home exceptional strength against hurricane-force winds and extreme snow loads, while their energy efficiency and fire safety ratings exceed industry standards. Unlike log homes, the interior surface of the exterior walls can be covered in drywall or other options such as paneling or panoramic windows. The roofing system can be composed of trusses, purlins, or rafters.
Exterior Design Flexibility
Timber frame homes allow for a vast array of siding options — metal, cementitious material, cedar plank or shingle, reclaimed wood, stone, shou sugi ban (wood that's been preserved and blackened by charring), and more. You can even choose to combine different types of siding. Due to the strength of the timber frame building system, large expansive windows can be added to flood the home with natural light. Vaulted ceilings and curved beams are also an option and provide a stunning aesthetic anchor to an entry porch or covered deck. Whatever your desired style, a timber frame can achieve it.
Log homes are more specific, but there is some wiggle room for variation. In addition to different sized logs, you can choose to have the logs milled for precise uniformity in their presentation or select hand-hewn logs for a more rustic appearance. A homeowner can also choose between notched logs that are square or round.
We'd be remiss to not talk about exposed joinery. Even on the exterior, timber frame joinery ranges from traditional, all-wood joints to timber connections using steel plates and bolts. Both are visible and impart a distinct flavor to the design aesthetic. In contrast, a log home is mechanically fastened with several of the connections concealed with the trim.
Find Your Exterior Style
Find inspiration for your future home by exploring our numerous timber frame home exterior style options available at Woodhouse. Be sure to check out our more than 90 floor plans, which we can fully customize to your tastes and ideal lifestyle. Contact the regional project manager in your area for a friendly, honest, and realistic conversation about your home aspirations.