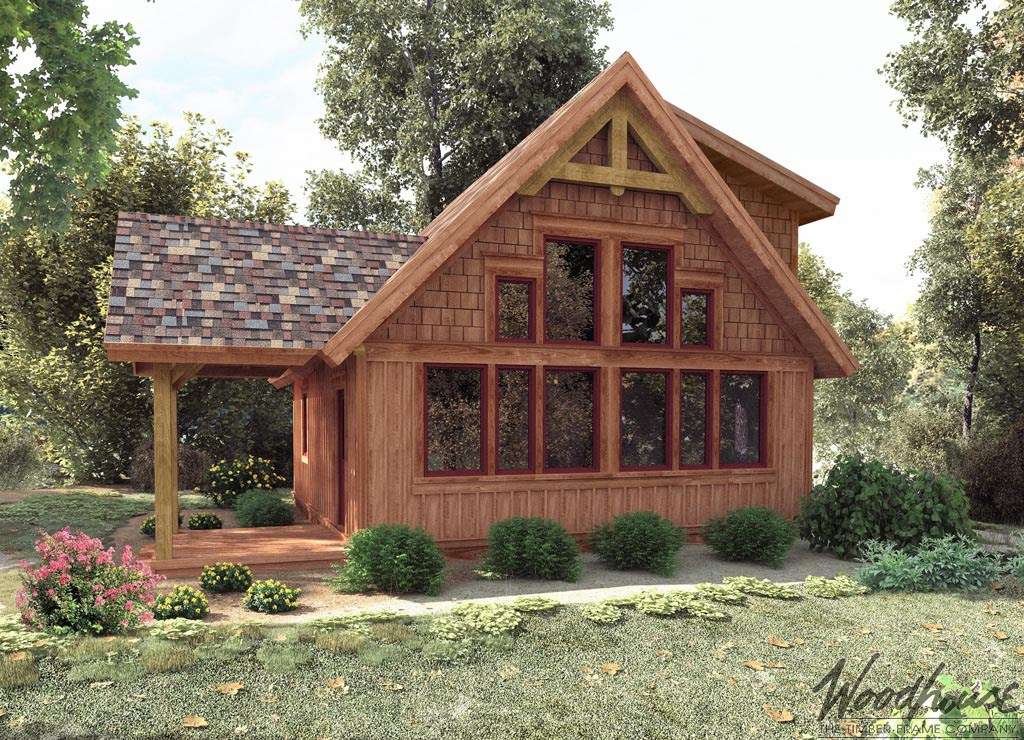 The CedarRun Timber Frame Cabin
Inspired by the spirit of elegant simplicity and rustic charm of early twentieth century classic vacation homes, Woodhouse's CedarRun timber frame cabin design provides the perfect getaway for families looking to connect with their favorite mountain range, forest, or coastline.
For Woodhouse's lead architect, Diana Allen, the CedarRun's design evokes memories of family and summer vacation. "This design is all about family time, fun, and bonfires with plenty of s'mores. Many of us remember our parents packing us all in the back of the station wagon and driving up to the mountains for summer vacation. You can't look at this cabin and not smile from remembering days like those!"
Exterior
From the front, the open porch gives a welcoming aspect to the cabin's façade. The overall effect of the windows and the open front porch makes the modestly-sized CedarRun seem spacious and welcoming, ready to warmly greet visitors as they arrive.
Arguably the most striking element of the CedarRun plan is its soaring double-story windows adjacent to the entrance. The generous windows rising up to the eaves of the pitched roof give the otherwise solid structure a feeling of lightness, while also mirroring the cabin's natural surroundings.
Interior
The CedarRun open floor plan design welcomes visitors of your home. The double-story windows going up the living space's main wall let light and scenery into the open dining room and kitchen, bringing the outside to the inside.
More windows frame the view above the generous kitchen workspace. From the kitchen, the back hallway leads past the full bath and into the cozy downstairs bedroom.
Tucked under the peak of the roof is one of CedarRun's signature features – the second-floor sleeping loft, which provides an elevated view of the interior and exterior of the rest of the home. A little hideaway within a hideaway, this loft acts as a private nest above the first floor living space. There's no better way to be woken up than by the morning light as it filters in through the double-story windows.
The open floor plan of the CedarRun timber frame cabin design also offers plenty of opportunities for modification. For example, the second-floor loft could be converted to an expansive workspace with breathtaking views for plenty of light and inspiration.
If you're looking for a small cabin home, but want more options for modification, our design team can help you adapt the CedarRun to suit your lifestyle. Like all of Woodhouse's designs, the CedarRun can be completely customized.
If you'd like to explore this timber frame cabin design further, you can download the CedarRun floor plan here. You can also follow the link to view the rest of Woodhouse's Cabin Series.