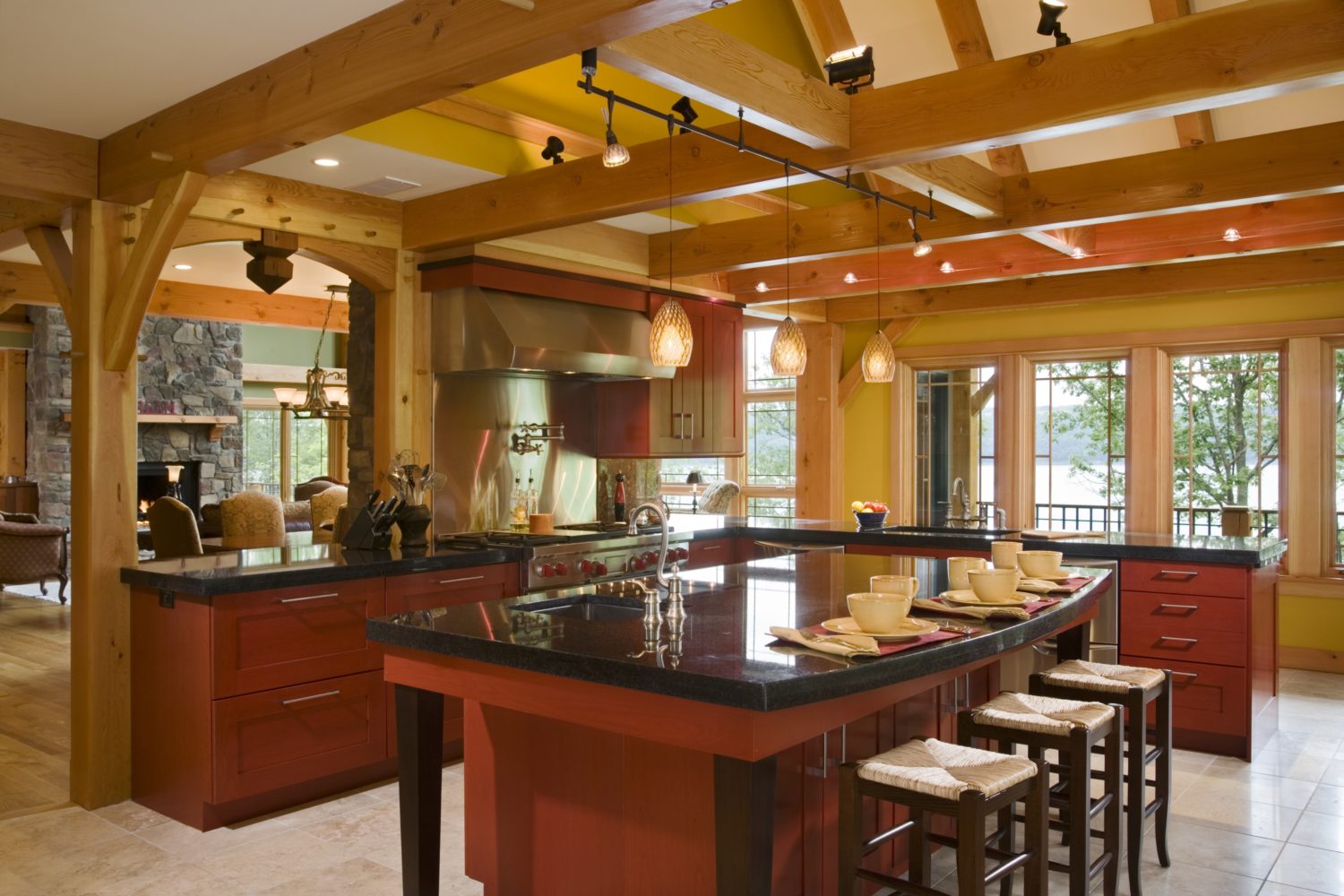 Designing the Work Zones in Your New Timber Framed Home
Check out our guides to designing living, bath, sleeping, storage, and parking zones.
If you've ever hosted family or friends, you know that, at some point in the night, people inevitably congregate in the kitchen. Even when it's just you, and you have the house to yourself, the kitchen is a zone you will likely use every day. When designing a custom timber frame home, the key is to make sure everything is designed for your specific needs. Through personalized planning, you can create the stunning, practical timber frame kitchen you've always dreamed of.
This article covers kitchen design best practices for the following:
Kitchen Configuration
Dishwasher Placement
Waste Receptacles
Cooking Surface Clearance
Kitchen Counter Space
Kitchen Storage Space
Pantry Placement
Lifestyle Choices
Laundry/Utility/Mudrooms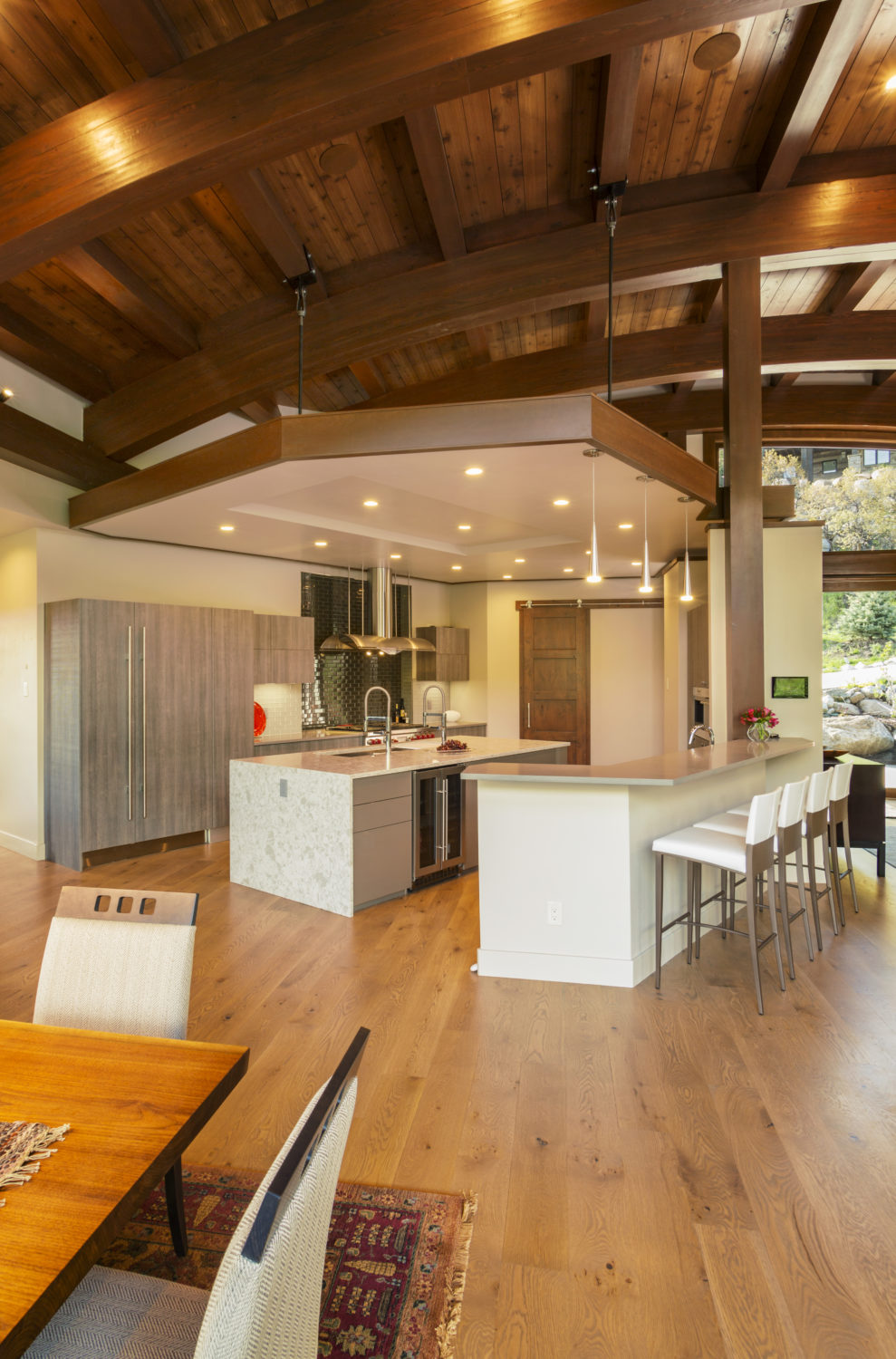 Kitchen Design Considerations
The kitchen is the heart of a home. It is where people gather, and it should be designed efficiently for the chef(s) in the house. Four basic kitchen configurations address the workflow:
U-Shaped is the most efficient because it takes advantage of the "work triangle." The triangle places the sink, range, and refrigerator in a triangle pattern with near equal distance between each workstation, saving steps by ensuring food storage, preparation, and cooking are easily at hand. The ideal distance is a sum of 26 feet for all three legs of the triangle, with no single leg of the triangle measuring less than 4 feet, or more than 9 feet. If the legs of that triangle are any shorter, the kitchen will still be efficient, but it may feel cramped with a lack of counter space.
L-Shaped is an efficient design for the kitchen space, but plan on making more steps between each station.
Island Kitchens work well because the island can host the range with the sink and refrigerator equidistant from the island. This design helps reduce steps in a larger kitchen and can be attractively combined with a breakfast bar.
Pullman or Galley is typically not an efficient plan, but it can work if there is just one chef in the family and you are choosing a smaller design with less square footage.

Dishwasher Placement
Ideally located adjacent to the sink—within 36 inches.
Waste Receptacles
Locate one near the sink and a second for recycling either in the kitchen or pantry.
Cooking Surface Clearance
Allow 24 inches of clearance between the stovetop and the protected non-combustible surface above it—usually a vented microwave or properly ducted ventilation fan. If there's a combustible surface, such as a cabinet, it has to be at least 30 inches above the stovetop, according to most building codes.
Kitchen Counter Space
Your strategy for counter space and cabinetry goes hand in hand. If there is a baker in the family, you may need more than 20 feet of countertop and cabinetry with counter space being a minimum of 24 inches deep. In smaller kitchens, you may only need 10 to 12feet of countertops and cabinetry, ditto the minimum 24 inches deep.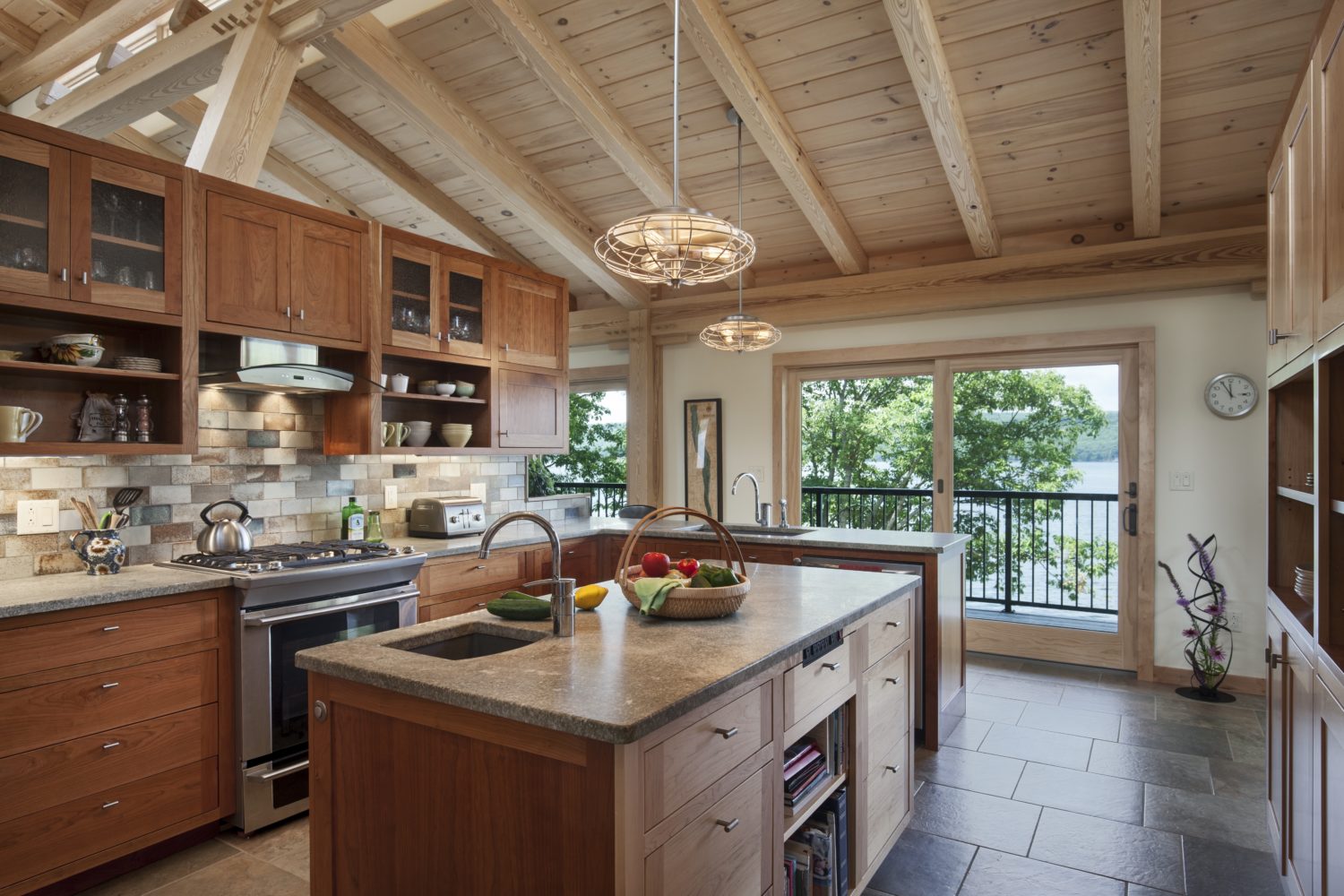 Kitchen Storage Space
Essentially, a kitchen is one big storage unit. At least 75% of the space in a kitchen is devoted to housing food, utensils, cookware, towels, or linens. How much storage you need in your kitchen will largely determine the size of your kitchen. Generally, the more people in the family, the more storage you will need. When it comes to storage, kitchen designers recommend 14-18 cubic feet per person in the family. By way of example, a standard cabinet that's 12 inches deep, 36 inches tall, and 36 inches wide is 9 cubic feet.
Pantry Placement
Obviously, you'll want a pantry that's close at hand, perhaps adjacent to the kitchen, but other considerations are needed. The size will depend on whether you have children and how often you play host. The pantry should be located near the entrance from the garage, so you can drop off supplies quickly and easily. This will save you steps from having to cross the entire floor plan to drop off groceries.
Lifestyle Choices
While these general guidelines for the number of people in your home are a good starting point for your kitchen strategy, it is also important to consider your lifestyle. If you are a couple with three teenagers, you know they eat like famine is coming in on the next train, so your storage needs will be larger. If you are empty nesters who like to entertain and host holiday dinners, you may need more storage space to house cookware and china. If you're a family who prefers to dine out or bring in takeout, then you can get by with the bare minimum needed for a good resale value in the far-off future.
Laundry/Utility/Mudrooms
One can pack a lot of activity and storage space into these spaces, whether on their own, or rolled into one room, especially if considering location, workflow, and traffic patterns. These work zones and transition spaces  can be a great place for drop zones of coats, briefcases and shoes. Add counter space for multiple uses and extra storage space.
Discover Other Activity Zone Design Strategies
We know there's a lot to think about when designing your home and the Woodhouse design team brings the experience of over 1,000 successful design projects to help you do it right. While it is tempting to jump right into figuring out a floor plan, it is best to spend time on form and function in relation to your building site first. Each area of a home serves a certain function, which will generally dictate eventual form. Check out our guides to designing other activity zones, including living, sleeping, bath, storage, and parking zones.
Visit our "Where We Build" page to see the diverse Woodhouse projects in your area. Still unsure? Learn more about the Woodhouse building system or contact us for a more detailed conversation. We are ready and eager to talk to you.
"We know there's a lot to think about when designing your home and the Woodhouse design team brings the experience of over 1,000 successful design projects to helping you do it right."