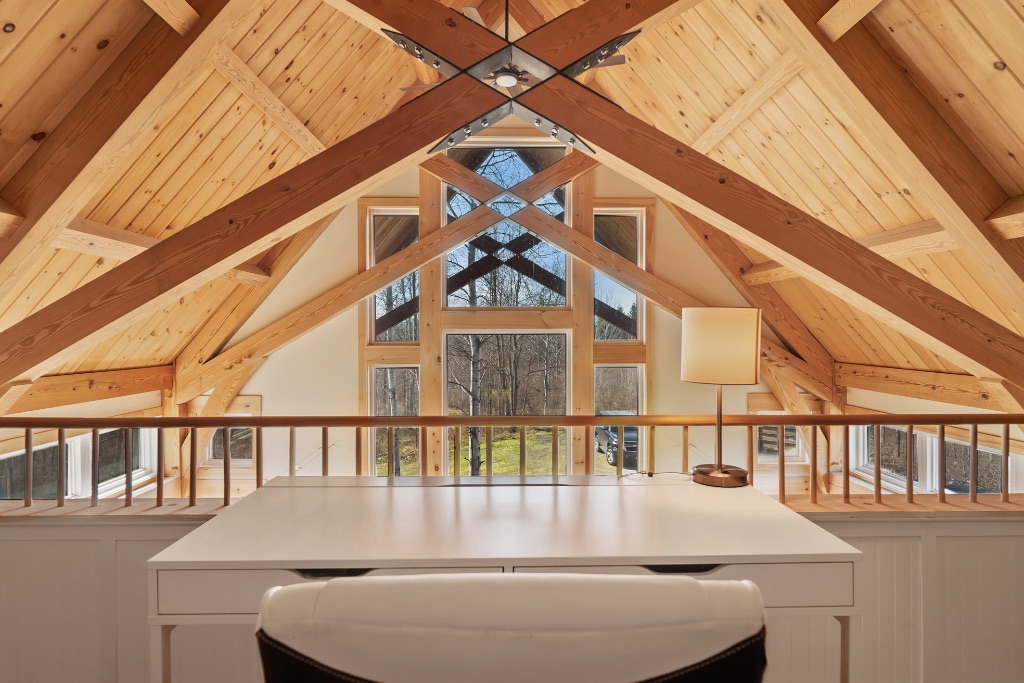 Woodhouse—The Timber Frame Company is uniquely positioned to help architects and designers succeed in a world where clients increasingly value environmentally conscious structures with high-tech performance.
Woodhouse crafts elegant timber frame structures wrapped in highly energy-efficient panels. They also provide design, engineering and 3-D modeling services to help clients understand how their structures will live. This building system provides a plethora of benefits when collaborating with Woodhouse, architects say.
Depth of Talent & Experience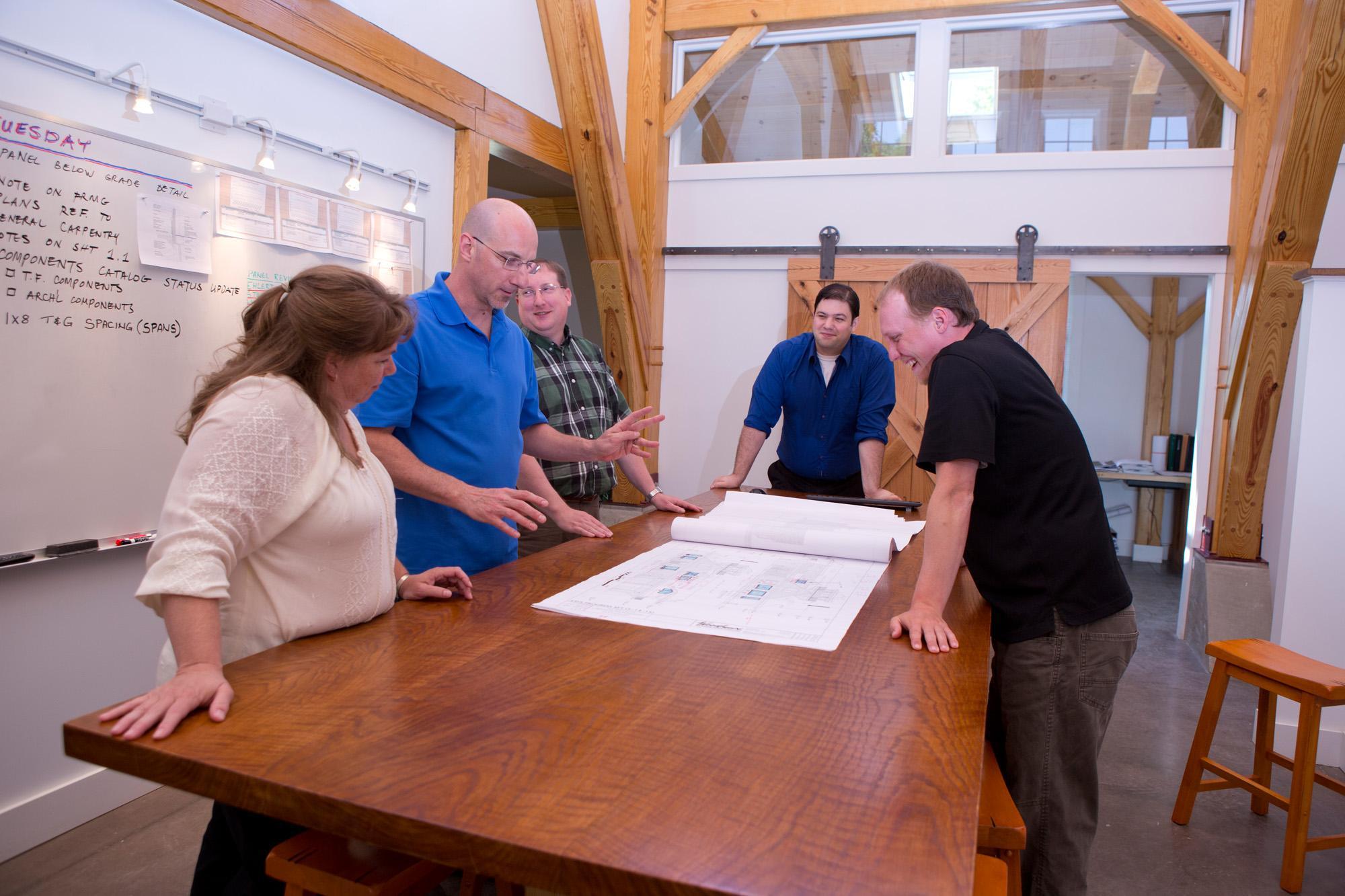 By collaborating with Woodhouse, you are adding a significant pool of talent and experience to your architectural firm, without any addition to your payroll.
"The whole team that works there has been there for a very long time, a couple of decades for many, and from a technical standpoint they are truly gifted," says Architect Raymond R. Lefebvre, who once worked at Woodhouse for nearly five years. He recently built his own timber frame home using Woodhouse's building system, as well as homes for clients. "Diana Allen, Woodhouse's architect and design director, is just wonderful to work with. She's very talented and in conversations, she knows all the design speak and is very good at translating all kinds of thoughts and ideas into skillful designs."
Collaborative Atmosphere Helps Foster Design Creativity
The Woodhouse team is completely open to trying new designs they've never explored before, says Architect Jeff Wilkinson, who recently designed a custom timber frame home in upstate New York's Catskill Mountains. The nearly 6,000 square feet, two-story home with a two-story great room, features a custom kitchen, four bedrooms, six full baths, two home offices, study, lounge, a keeping room, indoor lap pool, and spa.
"The octagon at the end of the pool room and spa was so fun to design," Wilkinson recalls. "But it was very challenging from an engineering standpoint. We spent a lot of time on the bracing. But Woodhouse just took care of it, creating all the needed joinery."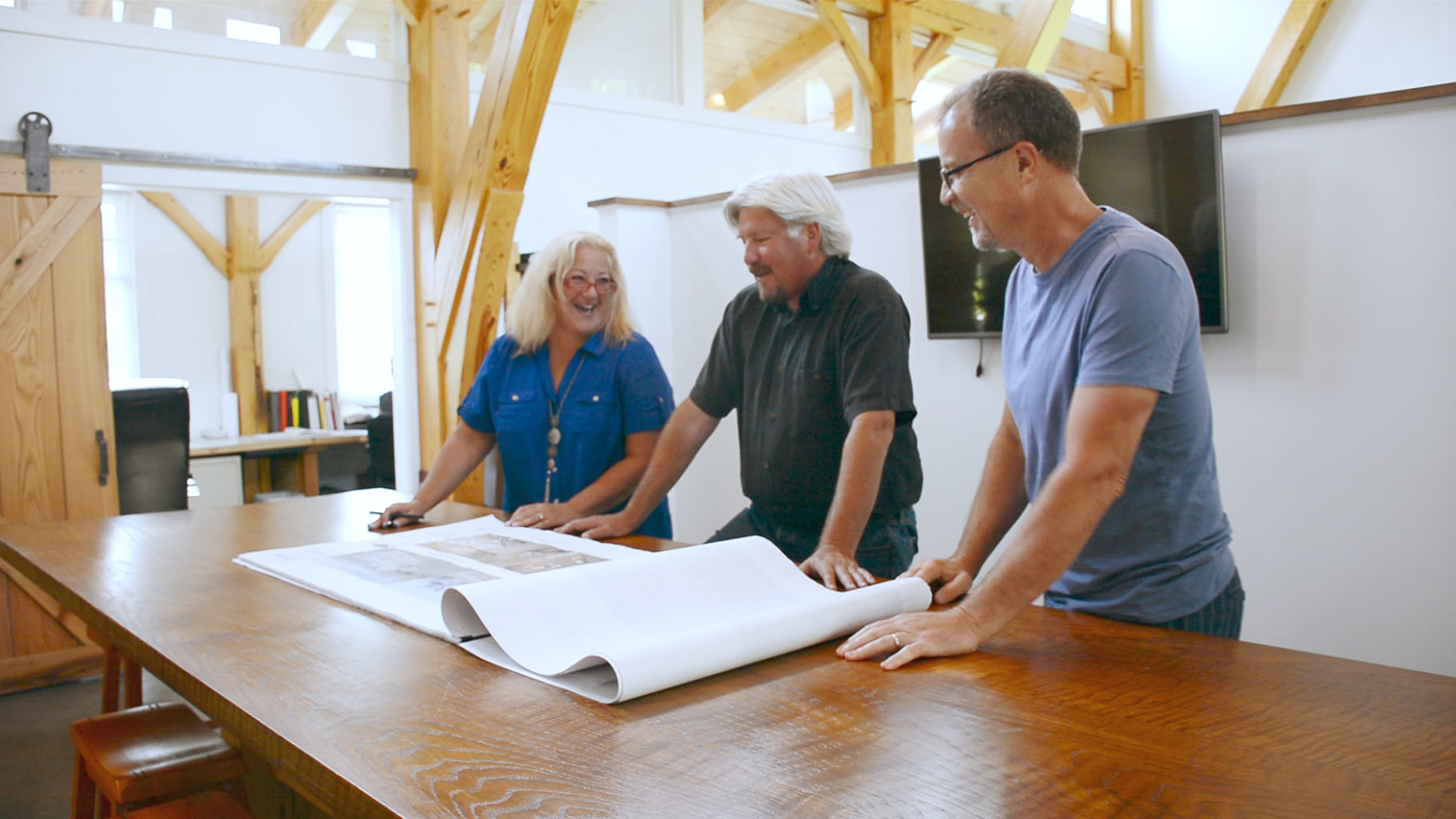 Steamboat Springs-based Architect Mike Olsen agrees. When he approached Woodhouse with a contemporary design for a 5,113-square-foot home with a 60-foot arched timber frame barrel ceiling over the great room, the designers at Woodhouse took it completely in stride.
"It was the first time for all of us attempting such a design," Olsen recalls. "But what Woodhouse brought to the table was the ability to adapt their building system to a unique form of a building. And they pulled it off flawlessly."
Differentiate Your Architectural Firm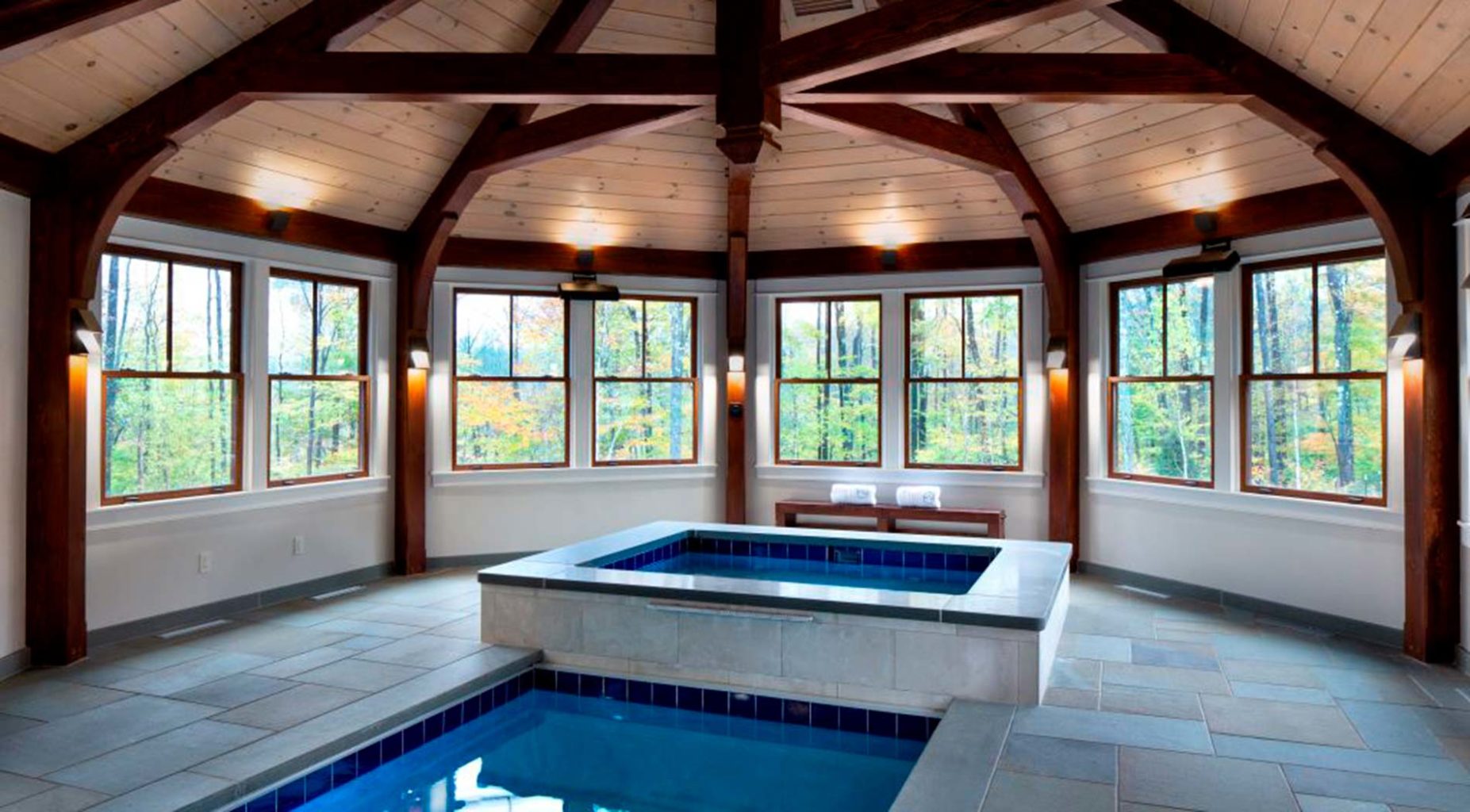 The architectural field is crowded and competitive. By adding Woodhouse's energy-efficient timber frame homes, additions and commercial structures to your portfolio of projects, you will immediately differentiate your firm from its competitors in your market. You can assure your prospective clients they will be getting a structure that will stand the test of time.
Provide Marketing Materials & Qualified Leads
Woodhouse can help provide architects with marketing materials to help educate prospective clients about the joys of timber home living, as well as qualified leads. Clients delighted with their new timber frame homes can translate into more referrals for your firm.
Woodhouse's sales and marketing team maintains an ongoing media campaign in the U.S. and Canada, including ads in national magazines, active social media, and other online venues. This drives a steady stream of qualified homebuyers and commercial contractors interested in building timber frame structures.
Chicago-based Architect Tom Hopkins says that in the early 2000s one of his clients wanted a timber frame home. "I drew up some preliminary plans and shopped around to a number of different timber frame companies. We chose Woodhouse to do the final design and construction," Hopkins recalls. "Based upon that experience Woodhouse offered me a job."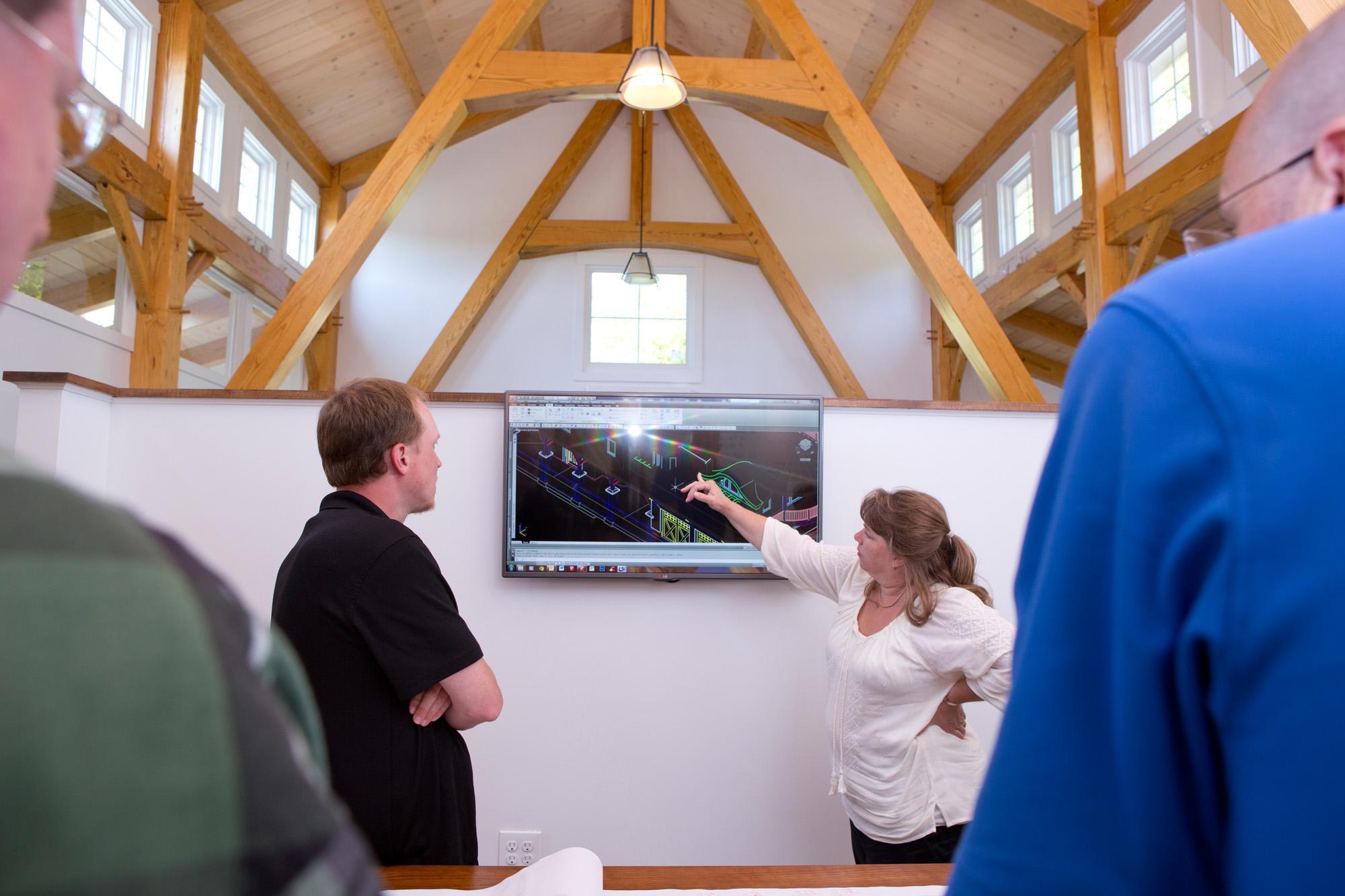 Years later and back in private practice, Hopkins worked with Woodhouse on a lakefront timber frame home in Coal City, Illinois.
"Woodhouse asked me to work with the client to develop the initial design sketch and worked with Woodhouse through to the final construction," Hopkins says. "After having worked with other timber frame companies, I would highly recommend Woodhouse to other architectural firms, especially for their expertise and experience. This is especially true if you haven't designed and built a timber frame before. They will guide you through the whole process and can help you make your client happy."
Wilkinson was also impressed with the in-house design and engineering talent at Woodhouse. "We didn't need an outside engineering firm on this project. Whether it was the use of Douglas fir or another wood species, Woodhouse did the truss design detailing strategically," he said. "They really know their stuff."
How To Get Started Collaborating with Woodhouse
If your architectural firm would like to add elegant rustic wood structures that outperform conventional construction by a wide margin, as well as help simplify the design and construction of one-of-a-kind projects, contact us or reach out to one of Woodhouse's regional project managers. Woodhouse's capabilities can help your firm reach a whole new demographic in clientele.
Looking to read more? Find all architect content here.