Imagine a setting that's both grand yet intimate; a roaring fire casts flickering shadows across the beamed ceiling. Perhaps this is an anniversary celebration and the warmth of the occasion is made all the cozier by the laughter, conversation and the occasional clinking of wine glasses. This is where you belong – where almost anyone dreaming of building their own home would love to be. A fire draws folks near and makes friends of strangers.
Sharing food and drink next to a comforting open fire is something people have done since the beginning of time but never has it been done with such exquisite style and good taste. With the warmth and glow of a real fire being something we instinctively respond to, the beauty of a centrally located fireplace and soaring chimney breast in a Woodhouse timber frame home provides comfort and warmth while acting as a unique design feature, helping to anchor and delineate space.
Every Woodhouse timber frame home has unique qualities and customized features. The creative team at Woodhouse have designed dozens of unique great room fireplaces in a variety of materials ranging from fieldstone to antique brick. With the increasing popularity of outdoor fireplaces, many of our custom home plans often include the option of a double-sided chimneys that serve both an indoor and outdoor hearth.
Enjoy our five favorite timber frame fireplaces and find inspiration for your own dream home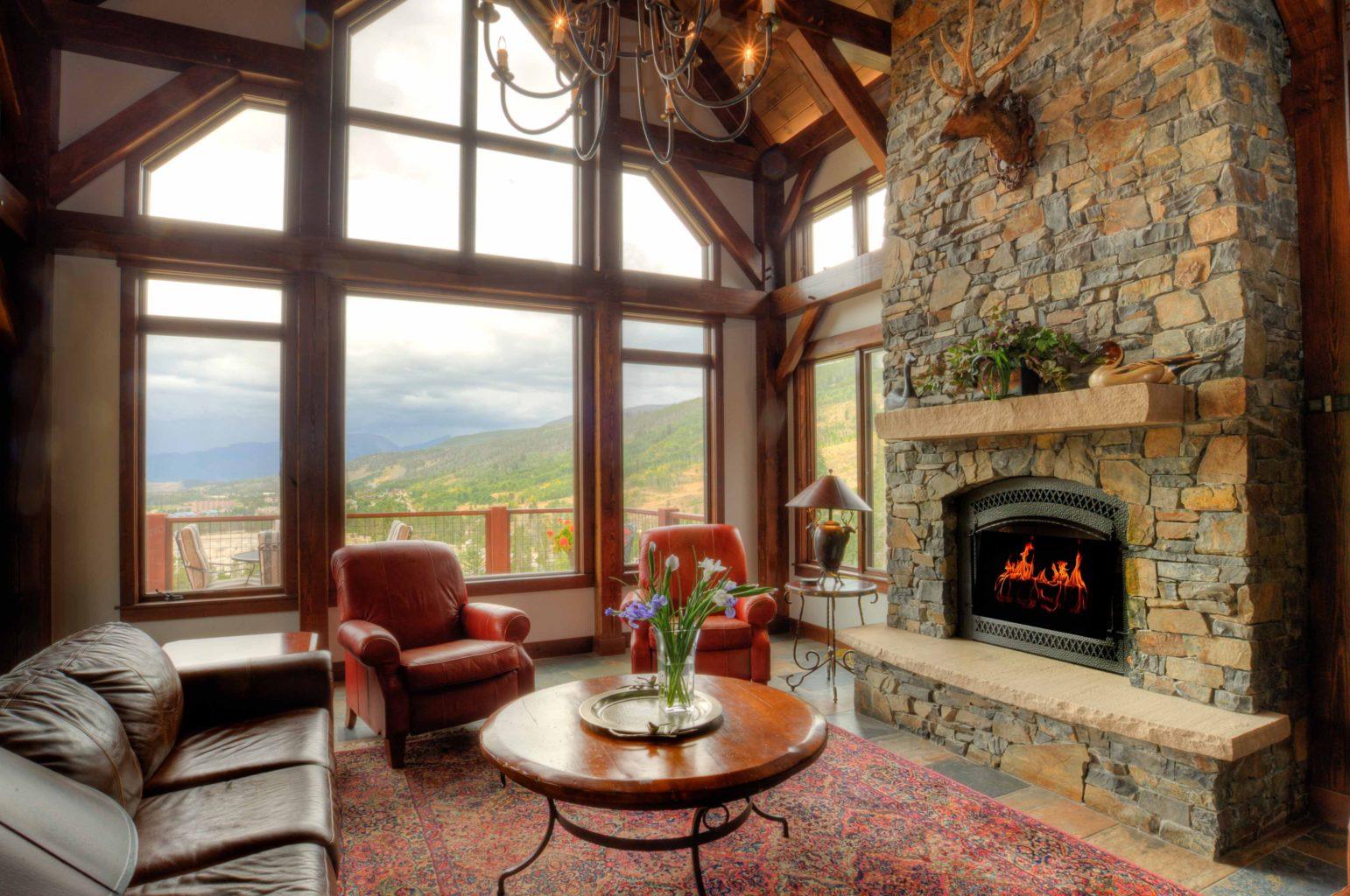 This custom Southern Yellow Pine Timber Frame home in Keystone, Colorado boasts a soaring stone fireplace and hearth that harks back to the grand hall of a stately British manor.
The warmth and natural beauty of the field stone fireplace in this custom Red Oak Timber Frame home in Bryson City, North Carolina complements the rich tones of the timber beams and mullioned windows. Rising from an inviting hearth and chimney with timber mantel, this fireplace commands pride of place in this stunning great room.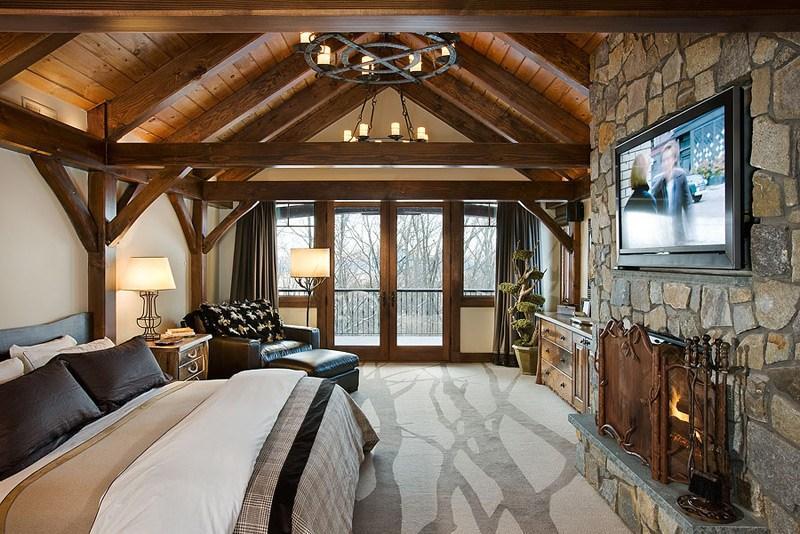 In perfect harmony with the beautiful timber beams, trusses and paneled ceiling, the fireplace in this master bedroom of a custom Douglas Fir Timber Frame home in Windham, New York, promises beautiful dreams.
The soft contours of the field stone used in this gently soaring fireplace provides a rustic touch in the eclectic great room of this custom Eastern White Pine Timber Frame home in Windham, New York.
This LakeView, Southern Yellow Pine Timber Frame home in the Finger Lakes of New York exudes craftsmanship and comfort. As a focal point to this welcoming Great Room, the stacked stone design of the fireplace is all the more dramatic with a cleverly designed upper loft that wraps around the rising chimney breast. This welcoming fire place gives the perfect excuse to put on your comfy slippers and relax with a glass of wine, a brandy, or even a hot cocoa.
The perfect fireplace should be both a focal point and a complimentary design feature of any room. Choosing the right design and materials for your fireplace can bring your great room and furnishings together like no other feature. Not only is a well-designed fireplace visually pleasing, but it also helps keep you warm while helping reduce the use of other fuels.
As well as providing one of a kind fire place options, all Woodhouse timber frame homes provide the opportunity to truly customize any floor plan with your own ideas and finishing touches to make it as unique as you.
With just twenty simple questions, you can quickly get an idea of what your custom home with the fire place of your dreams would cost by using our exclusive Timber Frame Home Calculator .
Timber Frame Budget Calculator