The Distillery V1
3200 sq ft
Totaling 3200 square feet, this classic 40′ x 80′ barn with soaring vaulted ceilings and an elegant stone fireplace can hold almost any sized event, from an intimate gathering to up to 150 people.
Two 12′ x 80′ covered patios allow for a variety of configurations, and are ideal for outdoor seating, cocktail service, catering, or even food truck service.   With these protected open-air spaces, rescheduling for weather becomes a thing of the past. 
The inside boasts 2,200 square feet of open event space with two restrooms and a 235 square foot warming kitchen with separate serving room that isolates the main room from kitchen noises. The standard design can be easily customized to your needs and can even be expanded by simply adding more "bays" to increase in length, making it ideal for production space functionality as is needed for microbreweries or distilleries.
Event Center Series
Wedding and other event venues have been an integral part of our business for years.  Responding to the needs of our customers, our designs have evolved from simple barn-style structures into truly elegant and memorable formal destinations. The Woodhouse Event Center Series is intended to provide a fully customizable starting point and inspiration for the venue that you wish to create – whether to host lavish destination weddings, artistic galleries, or as unique spaces to showcase and purvey your brewing or fermenting craft.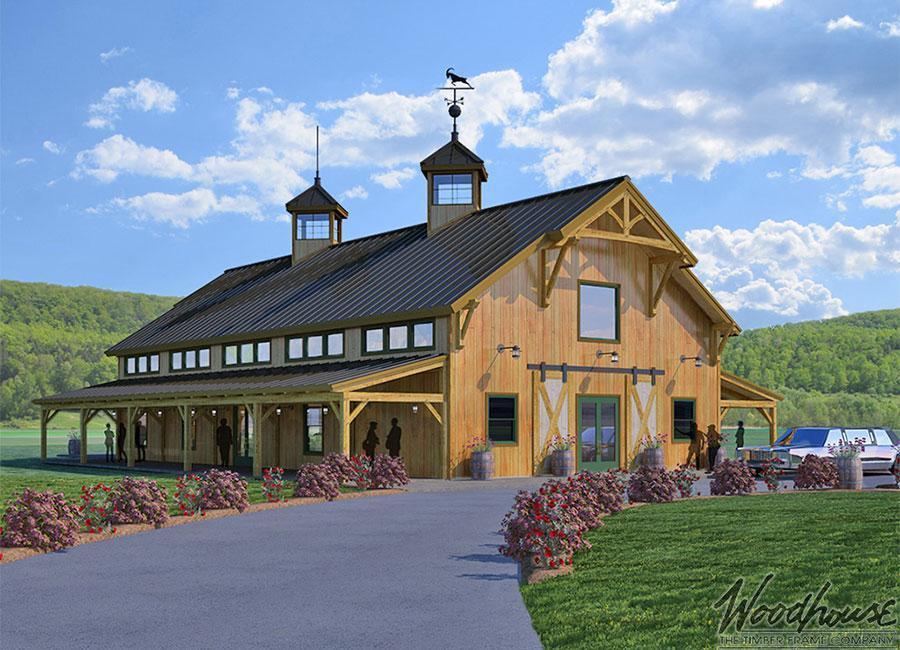 1st Floor – 3200 sq ft
Reception Hall – 57′-7″ x 39'1″
Kitchen – 15'3″ x 15'8″
Hallway – 20'8″ x 6'11"
Men's room – 11'8″ x 15'8″
Women's room – 8'9″ x 15'8″
Veranda – 80'0″ x 12'1″
Veranda 2 – 80'0″ x 12'1″
Dream Home Budget Calculator
What does a timber frame home cost in your area? Answer 20 simple questions and we'll help you figure out your budget.