Taking inspiration from Nordic farmhouses, while adding modern design elements, the Hanford V2 is an exemplary addition to the Modern Farmhouse Series. Shaped and proportioned like a traditional Nordic farmhouse, the Hanford adds massive floor-to-ceiling windows with V2 having extended covers that provide shade, and a painted wood exterior that provides stunning curbside appeal to the whole structure. From the deck, large glass sliding doors, blurring the line between in and outdoors, lead right into the open plan great room, where friends and family can gather to enjoy the view while sitting by the beautiful traditional stone fireplace.
Like most American farmhouses, this Nordic style design also has 3 bedrooms and 2.5 bathrooms, perfectly proportioned for a family. The mezzanine balcony creates a wonderful nook that can be turned into an office or play area with views down on the great room and out the main windows. The two children's bedrooms and shared bathroom located just behind the mezzanine balcony also enjoys slanted roofs and exposed timbers. Downstairs the master bedroom is large and age-in-place friendly, with practical easy access to a laundry room and the great room.
Modern Farmhouse Series
The Farmhouse design style has deep roots in America's agricultural history and was widely adopted for being both practical and comfortable. Central to the design style is a warm hearth for the family to gather during cold winters. Heavy timbers supported the entire structure while providing the signature cozy atmosphere that is a staple of farmhouses. The traditional lofted children's bedrooms with slanted roofs and exposed timbers fill the childhood memories of countless American's to this day.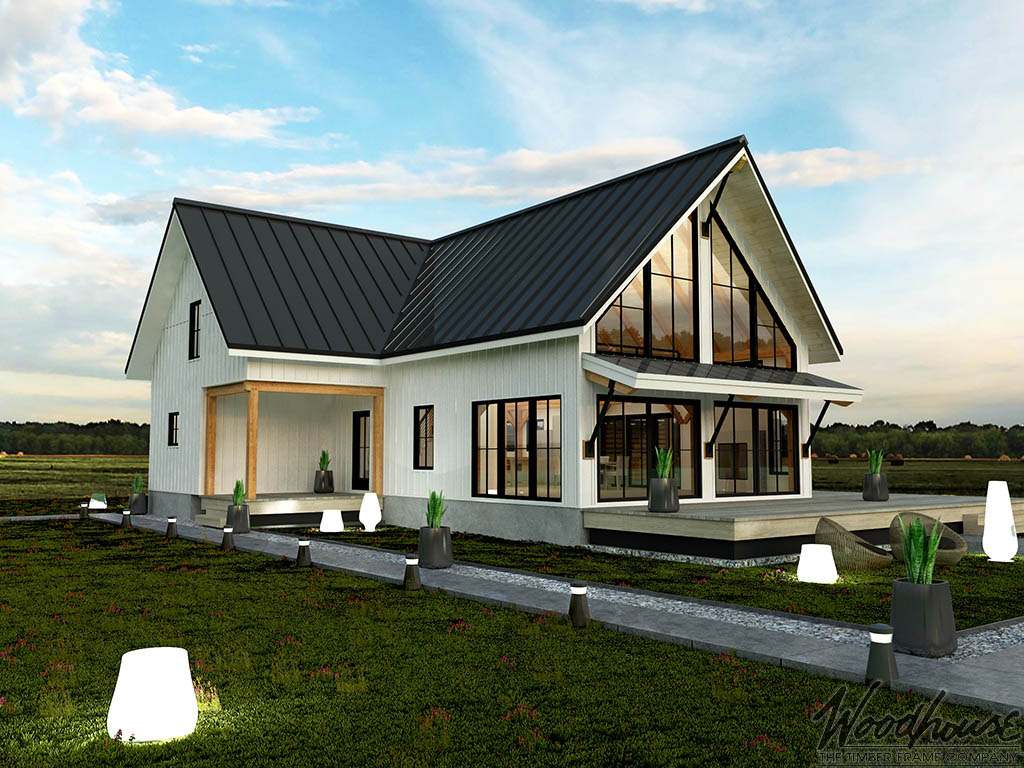 1st Floor
Cov'd Deck – 12′-4″ X 11′-6″
Deck – 12′-0″ X 24′-0″
Deck – 24′-1″ X 11′-6″
Dining – 11′-8″ X 23′-2″
Entry – 11′-8″ X 7′-11″
Kit. – 23′-2″ X 11′-5″
L'dry – 13′-2″ X 6′-1″
Living Area – 11′-11″ X 23′-2″
M. Bath – 11′-10″ X 10′-11″
M. Bed – 15′-1″ X 11′-11″
Pdr. – 6′-11″ X 5′-0″
Porch – 10′-0″ X 12′-0″
W.I.C. – 8′-0″ X 6′-9″
2nd Floor
Bath 2 – 8′-6″ X 7′-0″
Bed 2 – 11′-10″ X 18′-7″
Bed 3 – 18′-7″ X 11′-8″
Loft – 12′-3″ X 18′-7″
Stor. – 4′-8″ X 6′-11″
W.I.C. – 5′-1″ X 5′-11″
W.I.C. – 7′-2″ X 5′-1″
Dream Home Budget Calculator
What does a timber frame home cost in your area? Answer 20 simple questions and we'll help you figure out your budget.