A timber frame great room offers a vibrant, inviting central space combining the living, dining, and kitchen areas in a beautifully open floor plan. Each great room features an impressive fireplace as a focal point, creating a warm gathering space for family and friends. These are special rooms that make every occasion a treasured memory.
Woodhouse timber frame homes are built using post and beam construction, resulting in a home that requires few interior walls. With fewer interior walls, the uninterrupted outer walls can accommodate tall elegant windows that bring the scenic beauty inside while providing ever-changing moods of natural light. Large patio doors lead out onto hand-crafted decks, inviting guests to explore the beauty of a home that is in perfect harmony with its surroundings.
The architectural integrity and visual drama of an expansive great room, defined by the warm, natural timbers, is a celebration of beauty at the heart of every Woodhouse home.
Our Favorite Timber Frame Great Rooms by Woodhouse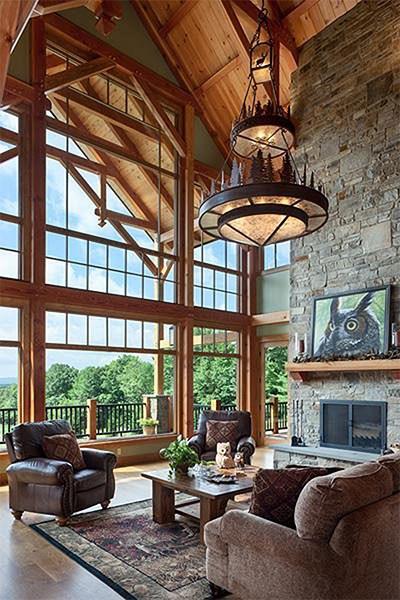 Great Camp Douglas Fir Timber Frame Home – Lawrenceville, PA
At the heart of this 4,318 square-foot home is a majestic great room incorporating the dining room, gourmet kitchen, and inviting living area. A truly beautiful space. See more photos of this home.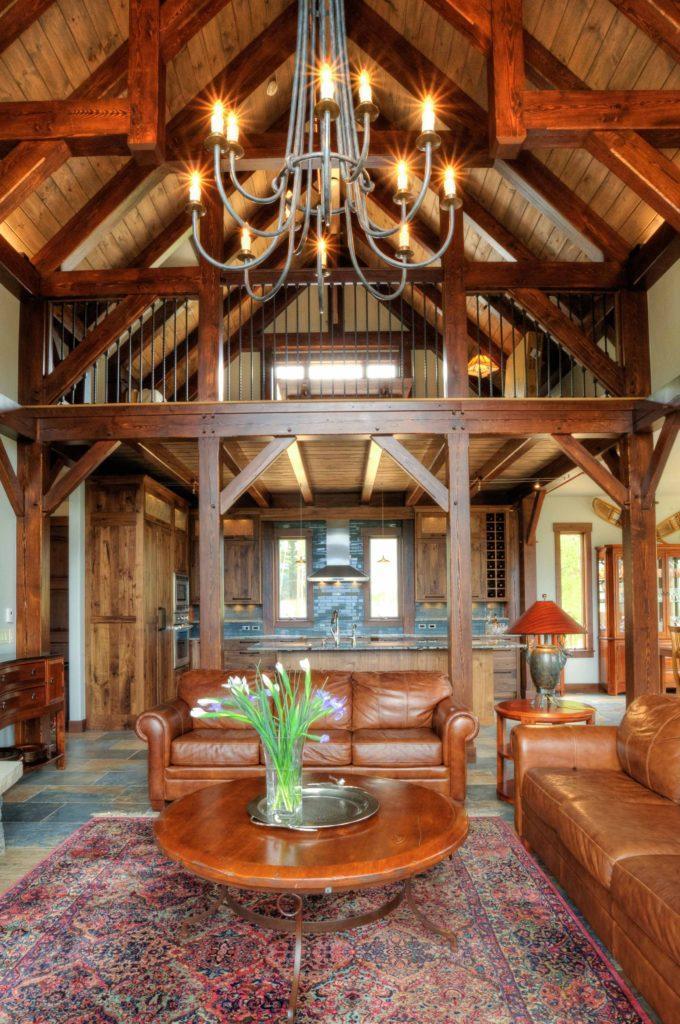 Custom Southern Yellow Pine Timber Frame Home – Keystone, CO
This classic 3,874 square-foot, 4-bedroom mountain home sits perfectly on this hillside site. With its bold profile and expansive windows illuminating the well-proportioned great room inside, this is a star of the foothills. See more photos of this home.
Custom Eastern White Pine Black Walnut Timber Frame – Finger Lakes, NY
This home is the embodiment of "rustic elegance," as it infuses country styles with contemporary trends. At 4,236 square feet with 4 bedrooms and 3.5 bathrooms, this stunning beauty boasts a magnificent great room. See more photos of this home.

Custom Eastern White Pine Timber Frame Home – Lansing, NY
This Woodhouse timber frame home has a classic traditional look with hand-crafted timber detailing that hints at the incredible space and craftsmanship inside. With 4 bedrooms and 3.5 bathrooms, this 4,508 square-foot home opens to reveal a stunning great room with a soaring timber framed ceiling. See more photos of this home.
Custom Douglas Fir Timber Frame Home – Ithaca, NY
With the ambiance of a gothic clerestory, the hand-crafted arches and ribbed panels provide a honey-like glow to the breath-taking great room in this custom Woodhouse timber frame home. See more photos of this home.
Like all Woodhouse timber frame homes, you have the opportunity to truly customize any floor plan with your own ideas and finishing touches to make it as unique as you.
With just twenty simple questions, you can quickly get an idea of what your custom home with the Great Room of your dreams would cost by using our exclusive Timber Frame Home Calculator .
Calculate Your Budget