Premier architectural firms routinely turn to Woodhouse's award-winning design team for help crafting their clients' custom timber frame home needs.
A recent example was when a husband and wife decided to create a 400-acre sanctuary in upstate New York's Catskill Mountains to escape their high-pressure law practices. Their dream: a nearly 6,000 square feet, two-story timber frame home with a two-story great room, custom kitchen, four bedrooms, six full baths, two home offices, study, lounge, a keeping room, indoor lap pool, and spa.
The Team
The couple hired Michael Van Valkenburgh Associates, a renowned Brooklyn-based landscape architecture firm with more than 60 awards worldwide, to transform their 400-acre corner of the Catskill Mountains into a sanctuary. They rose to the challenge with an exquisite driveway approach that preserved the area's natural flora and fauna.
The couple selected Architect Jeff Wilkinson, R.A. of Newburgh, NY, to design their new home, entrusting him to craft an elegant, sustainable, eco-friendly home that appears to grow organically from the Catskill Mountains' majestic landscape. Read more about the Jeff Wilkinson – Woodhouse collaboration here.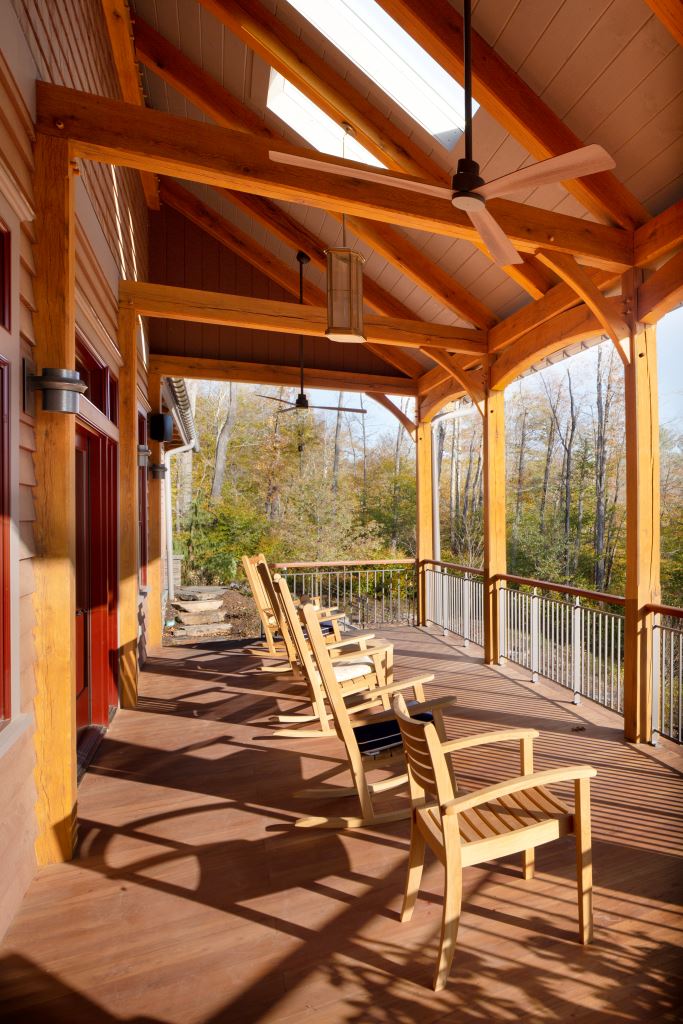 Wilkinson says it quickly became apparent that the couple had given the design of their new home a lot of thought. "They were total partners, working together to develop an extensive list of what they wanted for each room," Wilkinson recalls. "One thing that was clear was how important it was for the home to be within ear and eyesight of the beautiful brook on the property that's teeming with trout."
When his clients expressed the desire for a timber frame home, Wilkinson immediately called on Woodhouse—The Timber Frame Company. Wilkinson's brother-in-law, who builds custom homes in the Hudson Valley, had used Woodhouse's services before and he recommended the company not only for its state-of-the-art CNC machinery to fabricate timber frames, but also for its use of structural insulated panels (SIPs) to enclose the frames.
As the design began to take shape, more professionals joined the team: Woodstone Development (Bethel, NY) as project manager, and Andrew Willingham P.E., of New Paltz, NY, as the civil engineer.
Wilkinson constructed a to-scale model of the custom timber frame home using balsa wood to help the growing team envision how the home would look and live on the couple's 400-acre slice of heaven.
Woodhouse's Key Contributions
As the design evolved, Wilkinson says he relied on the Woodhouse team to resolve a number of challenges that emerged in design, engineering, building material selection, and indoor air quality.The Woodhouse design team developed an initial timber frame concept for the couple's new home, which they named Eaglestone Forest. "The Woodhouse design team provided feedback on a unique style of brace profile for the frame that would remain beautiful for many years while maintaining the design intent," said Jeff Kriner, senior home designer for Woodhouse.
The dormer that sits atop the great room received special attention for its technical requirements. "Many conversations were had relative to keeping with the architect's design intent while working with the window manufacturer to ensure a window could be built for the dormer space," Kriner explained. "Both window manufacturer and design intent parameters had to be met exactly."
The homeowners asked Wilkinson and Woodhouse to adorn their rooftop with an expansive viewing deck reminiscent of an eagle's eyrie. Woodhouse worked closely with Wilkinson to devise an access hatch, as well as ensuring the rooftop structure could support the added weight of the platform—even when loaded with snow.
Wilkinson selected Woodhouse's vertical grain Douglas fir for the timber frame of the home. "It's mostly second-growth wood. In other words, it's the primo stuff," he says. "As it was intended to be stained and it really is a great wood for that as well as having a high fiber bending stress and modus of elasticity."
The Woodhouse team also took special care to ensure no structural complications would develop over time due to the home's interior heated pool and hot tub. They provided Wilkinson with detailed information on how to safeguard indoor air quality with a state-of-the-art dehumidifying system.
"With my role as architect, Woodhouse's expertise in timber frame design, delivery, and installation made them an ideal partner on this project. Working with them was a pleasure," says Wilkinson.
Custom Cabinetry
Wilkinson is also a trained cabinetmaker who has taught courses on furniture design and millwork at the New York School of Interior Design. So he delights in creating true custom cabinetry.
"For instance, on this project, the kitchen cabinetry continues the borrowed light idea with the use of glass doors on both sides of the upper cabinets. The reeded glass also helps to diffuse the light," explains Wilkinson. "Likewise, the three windows with the transom over the center unit in the kitchen is a motif I have been known to use. The use of borrowed light and transoms in the interior helped draw natural light deep into the interior."
The Turnkeyed Masterpiece
From start to finish, the nearly 6,000 square feet, two-story post and beam home with a two-story great room, custom kitchen, four bedrooms, six full baths, two home offices, study, lounge, an 18th century-inspired keeping room, indoor lap pool, and spa, took nearly 1.5 years to complete.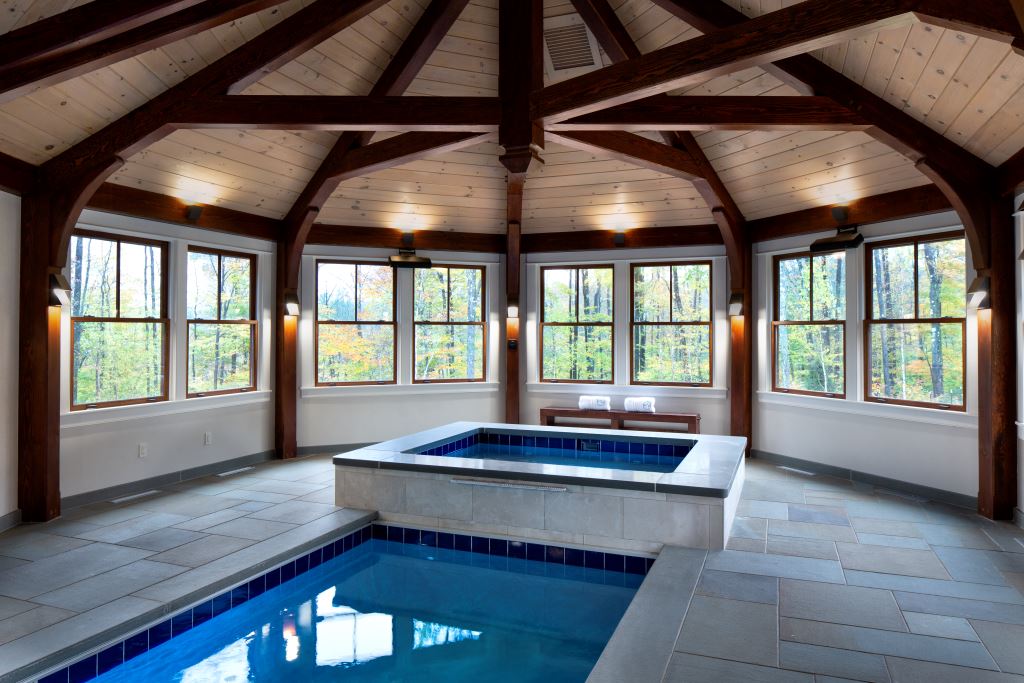 To heat the palatial home in winter months, a German-made, wood-fired boiler heats in-floor radiant-heat, as well as the pool and spa. The home features extensive outdoor spaces for entertaining, including an outdoor fireplace, and a rooftop observation deck with a sweeping, 360-degree view of the surrounding Catskill Mountains.
The homeowners are naturally delighted with their country estate and Wilkinson is proud of his work on this project.
"I look forward to working with Woodhouse again." – Architect Jeff Wilkinson, R.A.
See the entire photo gallery here.