Interior Designing for Your New Timber Frame Home
Check out our guides to designing bath, sleeping, storage, kitchen, and parking zones.
It is in the anchor of most homes; the gathering space under your elegantly crafted timber frame where you and your family will make daily memories. The main living zone should reflect your lifestyle and your personal idea of comfort. To optimize this space for your ideal timber frame home experience, start by asking yourself some basic questions.
Formal or Informal?
A formal design is one that separates the living and dining rooms, where meals and gatherings take place in defined areas. Everyday activities typically take place in the family room. Some homes include a breakfast nook off the kitchen for everyday eating.
The informal design combines the living room, family room, and eating areas into a single space, often called the great room. The room plays host to all forms of eating, entertaining, and socializing. There are no areas set aside for formal dining or entertaining.
Open Space or Compartmentalization?
Take into consideration the personalities of your family members. Are they predominately extroverts, where people recharge by socializing? Or are they introverts in need of private space to recharge and rest? If it's a mixture of both, consider defining open spaces with certain furniture or with large archways.
For a quick and easy way to put your vision to the test, there are model furniture cutout kits and inexpensive home-design software to view possible furniture arrangements. Even if you're after an overall informal design, you can still isolate activities from each other. The television, for example, can dominate a space by being central, like a fireplace, or can be set off in one section, leaving the remainder of the great room for other activities.
"Use a model furniture cutout kit or inexpensive home-design software to test furniture arrangements."
What are Your Traffic Patterns?
Do you want the living room placed so that all traffic must go through it or would you prefer a hallway to shuttle the flow directly to the family room/kitchen area? Or would you prefer the most often used entrance (likely coming from the garage) to allow traffic into the kitchen, pantry, or mudroom? How will you locate the bedrooms in relation to the common areas? Will a hall or stairs from the bedrooms lead directly into the great room/kitchen/dining area or would you prefer a different arrangement?
How Does It All Fit Together?
Furniture cutouts allow you to plan out furniture placement and to ensure there is ample room around windows and doors for proper ventilation and light exposure. Knowing approximate furniture location ahead of time can help in locating electrical and service outlets for today's increasingly high-tech homes. Cable television, alarm systems, and phone jacks (if you're still using landlines) all require special wiring. To avoid unsightly wiring all around the living space, plan ahead for locations of these needs in advance and have the wiring run inside walls or behind baseboard trim. Plus, your back will thank you later.
Discover Other Activity Zone Design Strategies
We know there's a lot to think about when designing your timber frame home and the Woodhouse design team is here to help with over 1,000 successful design projects. While it is tempting to jump right into figuring out a floor plan, it is best to spend time on form and function first in relation to your building site. Each area of a home serves a certain function, which will generally dictate eventual form.
Check out our guides to designing other activity zones, including working, sleeping, bath, storage, kitchen, and parking zones.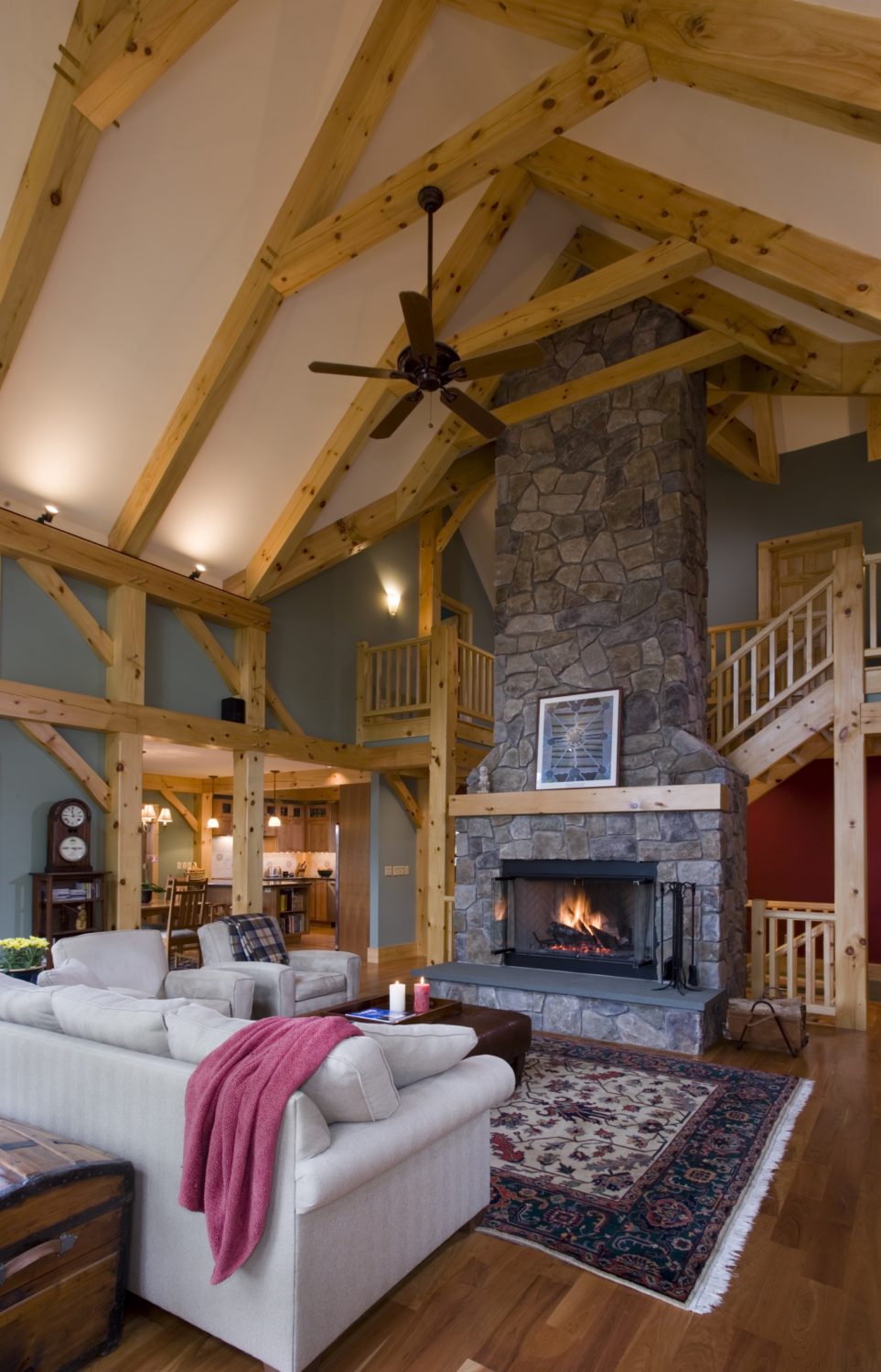 When you are ready to get started on your own dream timber frame home design, visit our "Where We Build" page to connect with your local Regional Project Manager (RPM) to start talking details. If you are still unsure you can learn more about the Woodhouse building system or contact us to ask any quick questions: we are ready and eager to talk to you.