Luxe ideas to customize the functional spaces in your dream timber home. 
It's no secret that utility rooms are often some of the hardest-working spaces in the house, a close second behind the kitchen. Timber frame homes allow you to customize for your dream lifestyle, and having one space that serves several practical purposes can make a luxury home suit a multitude of needs. Lavish utility spaces in particular can be the perfect blend of style, design, and functionality.
First, it's important to explore how you intend to use the space and what you'd like to get out of it. From built-ins to custom cabinetry and workbenches, there are numerous ways to design a mudroom or utility room to be multifunctional to suit your—and everyone else in the home's—needs. Large families with frequent overnight visitors might require extra cabinet space to store pantry items, bedding, and toiletries. In addition to being a laundry and storage room, others might want it to work as a flex space for hobbies like yoga, sewing, or an art studio. Outdoor adventurers might use it differently depending on the season to store (and air out) apparel and gear from treks. 
In both high-end mudrooms and utility rooms, materials always take precedence. According to recent data collected by Houzz, modern rustic style with natural materials, such as wood with stone countertops and backsplashes, is popular these days. In addition, the research also found warm and soft palettes, like off-white cabinets, light woods, and subtle patterns, to be sought-after choices.
High-end utility spaces are as individual as the people who use them. For parents with children, especially younger ones, cubbies and hooks can make everything accessible and easy to reach. For those who can't stand seeing clutter, an abundance of closets and cabinets is in order. It's also useful to have drop zones—somewhere to sit to remove shoes and a place to stow coats and purses. Consider installing touchless technology features that allow you to turn on a utility sink faucet hands-free or dim lights for an evening yoga practice.
How the room is configured is as unique as the people who will use it. From the position of the space within the floor plan, such as putting the laundry room next to the primary suite or a mudroom next to a garage, to special features like dog washing stations and softly padded nooks for our four-legged friends, to design preferences like concealing appliances within bespoke cabinetry, all should be taken into account.
Remember, just because a room serves a utilitarian purpose doesn't mean it has to be all function and no fun. In fact, perhaps the more time you spend in a space, the nicer it should be. You can borrow ideas from some of our past projects to help inform the design of the ideal multi-use space for your needs.
5 Luxurious, Functional Ideas for Your Woodhouse Home
Create a Pass-Through Area
Keeping in mind that a room doesn't need to be an enclosed space, these homeowners created a functional backdoor foyer and utility space with ample storage that's ideally located directly off their indoor pool. 
Make the Room Work for You 
Serving multiple purposes, this back entrance functions both as a mudroom and laundry room that comes equipped with a bespoke drop zone featuring a stylish bench, plenty of shoe cubbies and storage space.  
Establish a Cohesive Space with Natural Materials
An elegant blend of warm, rustic materials, this laundry room works aesthetically as an extension of the home while serving multiple purposes—laundry room, mudroom, and storage. 
Bring the Outdoors In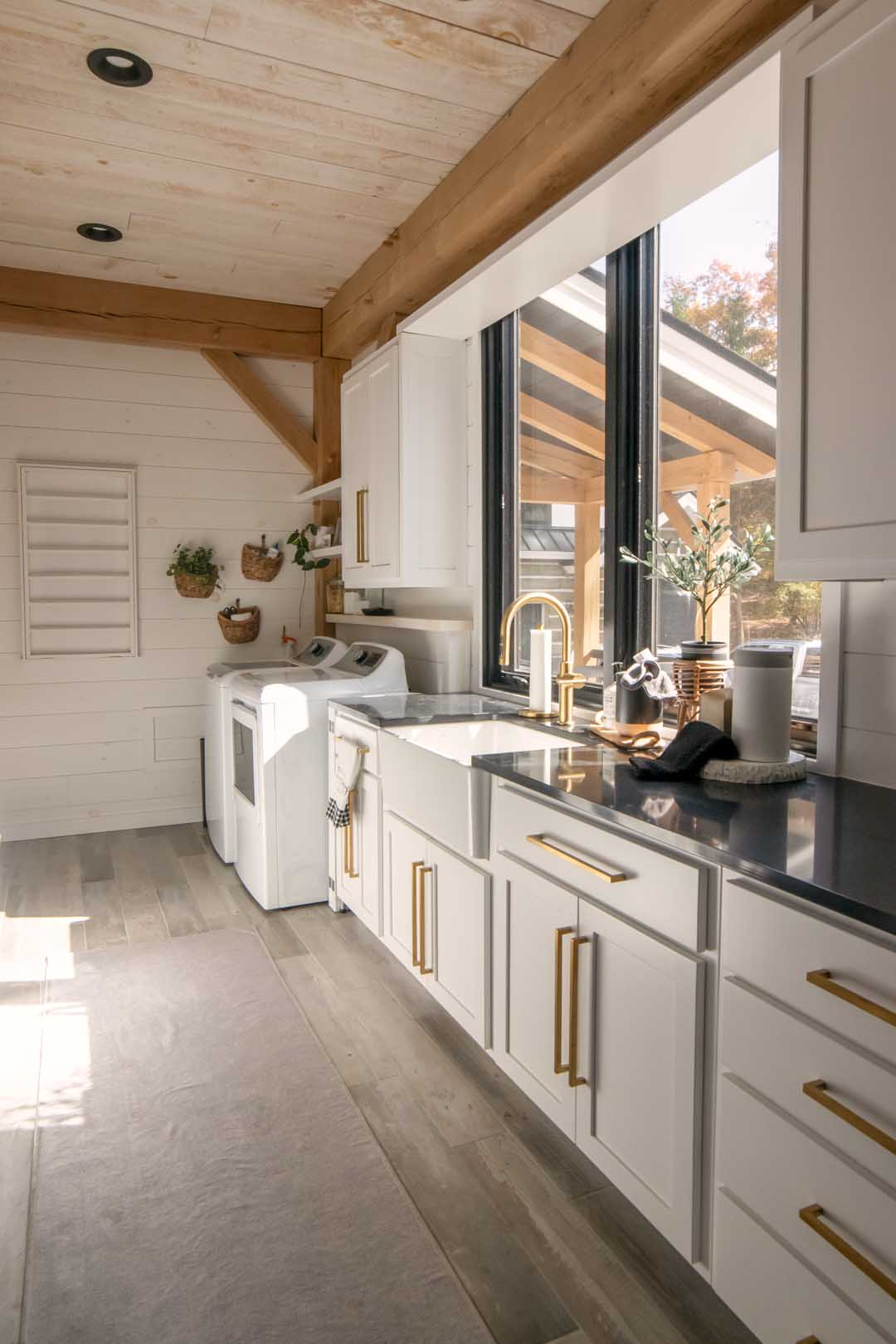 Household chores can't be that bad in the glow of natural light. This utility room has a luxury kitchen-like appeal thanks to an extra large window above the sink, white cabinetry and paneling, and high-end brass hardware. 
Additional Functional Features for Custom Spaces
Just like garages and utility rooms, stables need space to hold gear, tools, and apparel. This timber frame barn is filled with warmth and room for all things equestrian, complete with antique metal lockers and space to sit down.
Design Your Dream Home!
What kind of luxury functional space would make your timber frame home feel complete and uniquely you? Check out our timber frame gallery for even more inspiration. Our extraordinary design team is ready to help you build your dream house. Let's chat – reach out to your RPM or contact us here.