The manufacturing of construction materials such as steel and concrete contributes 11% of global carbon emissions each year. By comparison, worldwide air travel contributes just 2.5%. That's why architects and developers are opting for a not-so-new yet novel solution in building materials: wood. A study from the Potsdam Institute for Climate Impact Research predicts that a global boom in wood buildings could sequester up to 700 million tons of carbon each year.
The idea is catching on: Google is building a 12-acre timber neighborhood in Toronto; France has mandated that all public buildings after 2022 be constructed of at least 50% wood; and the University of Arkansas recently completed the largest U.S. timber building, a 202,000 square-foot dormitory.
Architects are increasingly embracing wood and finding innovative ways to use it. This is a goal which Woodhouse—The Timber Frame Company is ideally qualified to help achieve, says Diana Allen, architect, and director of design at Woodhouse.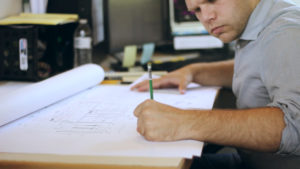 "For many architects, sustainability is at the forefront of their minds and the minds of their clients," says Allen. "The more architects and consumers learn about green building, the more they realize it's a win-win. Green buildings save time and money. They protect your health and reduce your impact on the environment. From improving indoor air quality to mitigating climate change, green homes help people live a more resource-friendly and sustainable lifestyle."
Using energy-efficient, renewable, and sustainable building materials lessens a person's carbon footprint. A Woodhouse home produces fewer carbon emissions through efficient energy use, and dramatically reduces the amount of waste that ends up in landfills when compared with conventional construction.
Not only is wood efficient, it is also stronger than steel (by weight). It's naturally resistant to nearly all household chemicals and can outlast most other building materials with the proper care. Nothing else is as sturdy while also being warm, easily finished, flexible, and, of course, beautiful.
Additionally, timber frames act as carbon banks for the environment. A young tree absorbs roughly 13 pounds of CO2 per year and a mature tree can absorb 48 pounds.* This process of capturing and storing atmospheric carbon dioxide is known as carbon sequestration, it is one of the only tools for reducing the amount of carbon in the atmosphere. After 40 years, a tree will have sequestered one ton of carbon that would have otherwise stayed in the atmosphere.* Depending on the size of the home, a timber frame will store hundreds of tons of carbon for the life of the home. This helps Woodhouse homes meet green building guidelines. (*Source: Urban Forestry Network)
Woodhouse homes also have a variety of features, beyond the timber frame, that help to create some of the most energy-efficient homes available. In this article, you can read all about the Energy Efficiency Benefits of the Woodhouse Building System.
Contact Woodhouse to Get Started

Working with timber presents endless advantages, from a warm and timeless aesthetic to longevity for both the building and the environment around it.
If you're a builder, architect, or potential homeowner that wants to collaborate with Woodhouse to create new elegant timber frame structures that store hundreds of tons of carbon, contact one of Woodhouse's regional project managers to get started.