The kitchen is the heart of any home. It's where bellies are fed, memories are made, and where families get together to connect and decompress after a long day. When planning a custom timber frame home design, the kitchen is incredibly important to the overall feel and flow of your home.
At Woodhouse – the Timber Frame Company, we understand it can be daunting to nail down the perfect design for your needs. However, we've been doing so for over 40 years and have seen a lot along the way.
We want to design your kitchen to have a flow that optimizes and enhances your lifestyle. Consider the questions below when planning your kitchen space to get to the heart of what design factors matter to you most.
How Often Do You Entertain?
If you love to play host or hostess, then you'll want to look into the benefits of open-concept kitchens. Open floor plans, which are a staple of timber frame homes, make entertaining a breeze by allowing guests and hosts to easily intermix—the host can prepare the meal without missing out on conversations and the guests can chat with the cook while they check out what's on the menu. Our director of design, Diana Allen, who understands the pressure of preparing a great meal while simultaneously entertaining, sums it up nicely: "One of the beautiful things about an open floor plan concept is that if you are in the kitchen you are still a part of the conversation… You don't want to be isolated in this tiny little room where you feel like you're missing out on everything."
What's Your Aesthetic?
From modern kitchens to rustic country designs, there are limitless approaches you can take to designing the perfect space. An abundance of choices is a hallmark of custom timber frame homes, but some homeowners find it hard to make a decision. Giving close consideration to your style sensibility will narrow things down considerably. For instance, if you subscribe to a minimal aesthetic, then a custom kitchen equipped with built-in storage and organizational options will help keep clutter to a minimum. And if creating visual warmth is a priority, then opting for the exposed wood beams unique to timber frame homes will give you that homespun feel you're after. The point is, know your personal style preferences and build from there.
How Big is Your Family?
If you're part of a large family, chances are you're not the only one who likes to have a hand in the kitchen. Cooking can be an incredibly social activity—children large and small love to feel like they're participating in the preparations while many adults love to cook collaboratively. Open floor plans make it extremely easy to do both. Additionally, open concepts equipped with a kitchen island create an inviting space for kids and adults alike to gather 'round and discuss homework, the day's events, or anything else their hearts desire.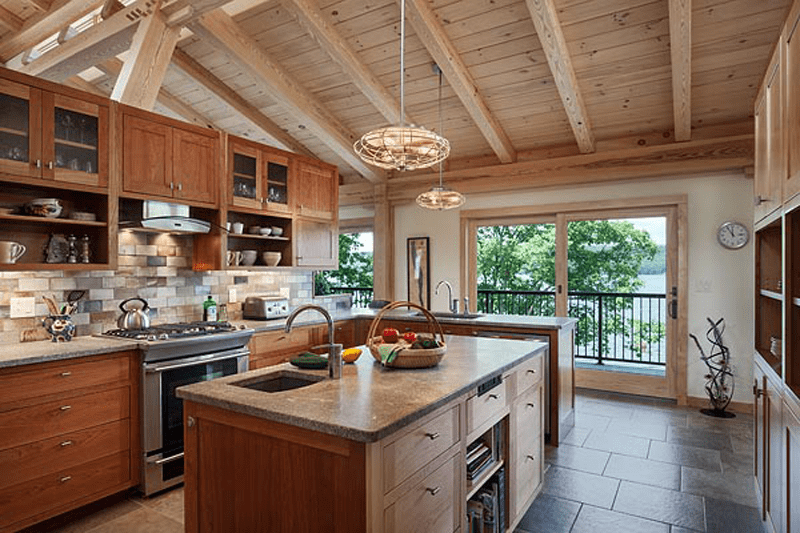 What Are Your Functional Needs?
Not every kitchen needs to function in every single way. To fully customize your kitchen to meet your needs, it's important to take stock of what, exactly, those needs are. Think about how you use your current kitchen and how you'd like to optimize that part of your timber frame home. More counter space for prep? A window over the sink so there's a view while you handle the inevitable mountain of dishes? What part of your property would you want that window to face? Dream it, and Woodhouse will make it so.
Perhaps you love to play with the latest interior trends, in which case trendy white kitchen cabinets or an old-fashioned Butler's pantry might be the kitchen design solution you're after. Whether your needs are vast, minimal, or somewhere in between, incorporating them into your kitchen's design will make each day that much better.
Let's Talk Specifics
Building your very own custom timber frame home is exciting and Woodhouse is here to help you every step of the way. Our regional project managers will walk your property with you and work closely with you to understand all of your wants and needs. Learn more about our custom design process here.
If you'd like even more inspiration, then check out and download some of our kitchen designs that beautifully showcase why this room is truly the heart of the home.