In the spring of 2020, RPM Construction was selected as the general contractor for Deep Creek, Maryland's latest commercial timber frame structure, the Firewater Restaurant and Bar. The 3,000 square foot timber frame lodge design was created by residential and commercial designer Doug Storck, with input from Steve Richards of Deep Creek Timber Frame. Between RPM Construction's skilled hands, Storck's architectural savvy, Steve's mayor-esque connections with local partners, and Woodhouse's cutting-edge timber frame building system, there was nothing, not a global pandemic or the ensuing supply chain headaches, that could stop the Firewater from being built.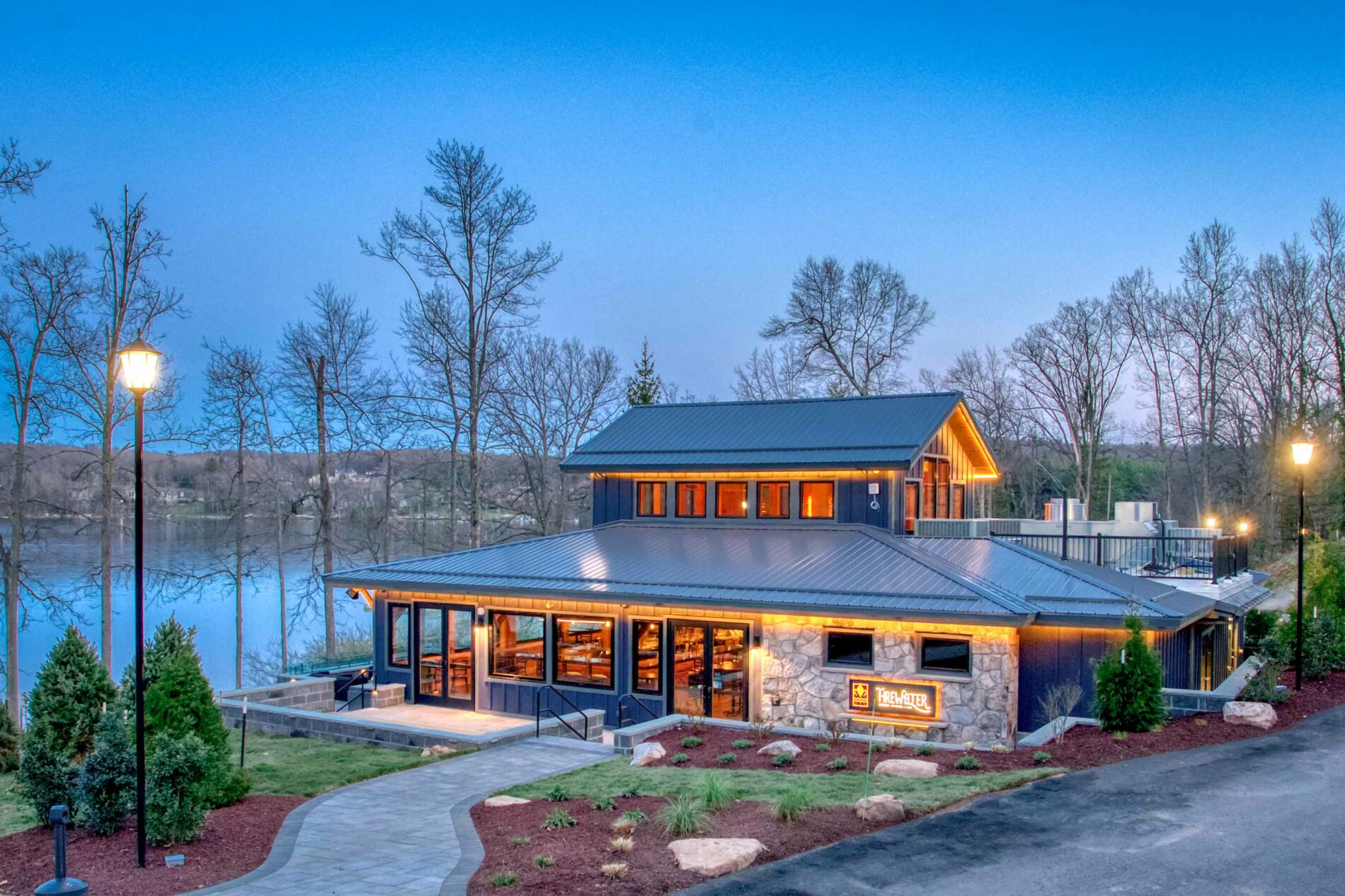 The restaurant owner wanted a timber frame structure that was open, rustic, and elegant, a place that, with its waterfront location, would set the restaurant and bar apart from the competition.
"Woodhouse provides a beautiful building system," says Storck, "a timber frame that has unsurpassed quality in the wood, all the joints fit together perfectly. There were no complaints from our framers. The structural insulated panels were all pre-cut precisely. Woodhouse provided the design, engineering, and the entire envelope for the structure, including windows and doors. All delivered on time with unsurpassed aesthetic appeal, during a pandemic."
Structural insulated panels, or SIPs, are one of the building industry's most preferred and most efficient insulation systems. In a setting such as Deep Creek, which sees a surge of summer lake go-ers as well as winter vacationers seeking the nearby ski slopes, a tight thermal envelope ensures a comfortable interior temperature year-round. Not to mention, the savings on heating and cooling costs over the life of the structure.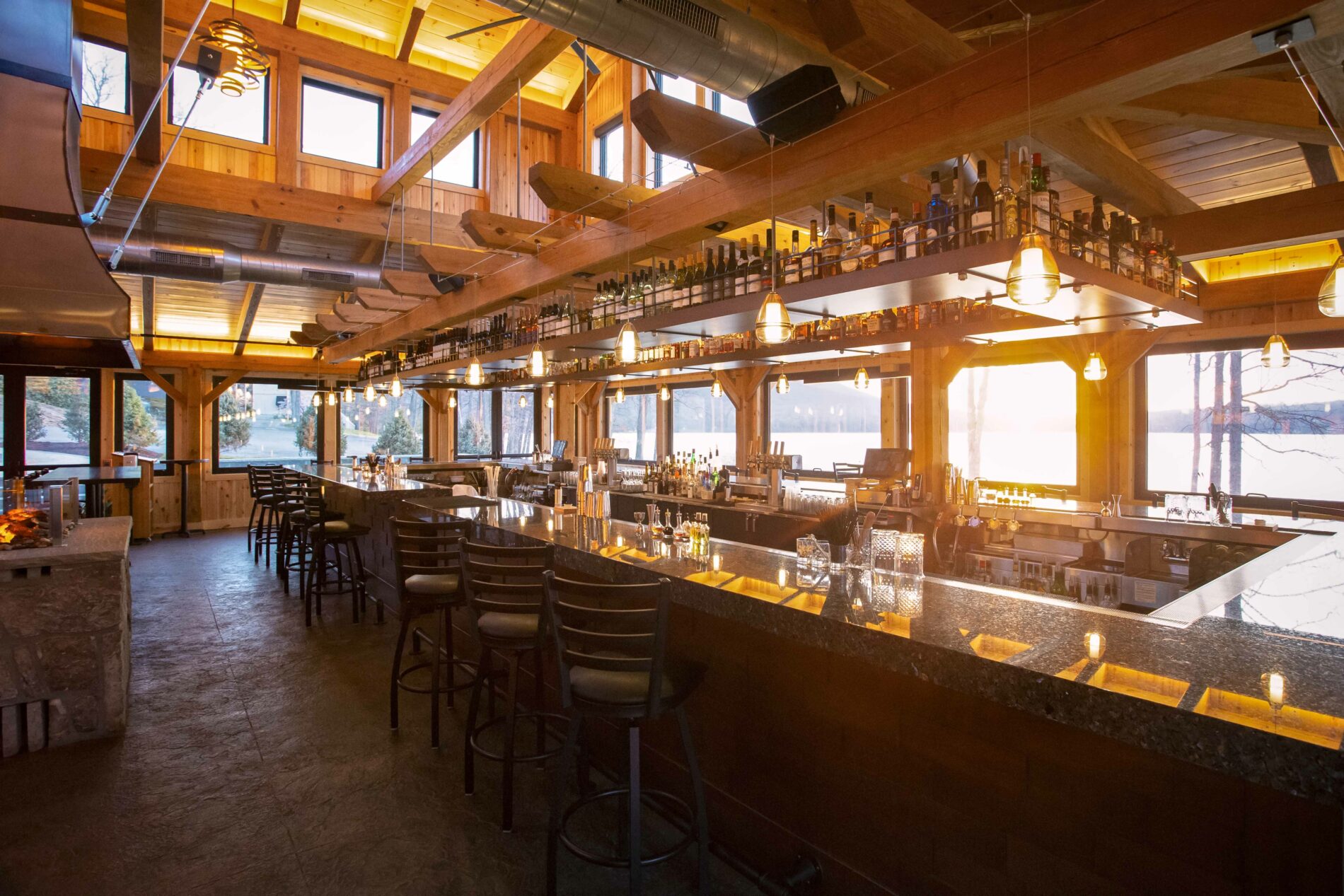 RPM has been doing business in the Deep Creek area for nearly 30 years. In fact, their Maryland building license number is 318. If you were to apply for the same license today, your license number would be in the tens of thousands. Even with their three decades of experience, the Firewater project was RPM's first time relying on a timber frame supplier and their first time using SIPs. "Woodhouse provided an advisor for a week to keep us all straight," says Bruce Swift, owner of RPM Construction. "The frame and the walls went up incredibly quick. We then installed tongue-in-groove paneling for the ceiling, and then the SIPs for the roof," Swift says. Woodhouse provided design, engineering, and the entire envelope for the structure, including windows and doors.
With the restaurant industry severely affected by pandemic shutdowns, Swift was concerned the project wouldn't go forward, but was delighted when it did. "By the time the project came to us, the design was all finalized," he says. "Everything was cut with CNC technology, so everything went together seamlessly. Everything from Woodhouse arrived when they said it would, which was a relief because many suppliers were shutting down at that time. It's really a beautiful building system."
If you are a general contractor and need a timber frame supplier for commercial or residential construction in the Deep Creek, Maryland area, or if you love the look and feel of a timber frame and want to use ancient, reliable post and beam joinery to build your dream home, reach out to Steve Richards, Woodhouse's local ambassador.
Steve won't tell you this, but he's the unofficial mayor of Deep Creek. From a family with deep roots in the community, Steve is a natural people connector keen on investing in the area through charity and business development.
"I've built frames for several timber frame companies," says Richards. "When I toured the Woodhouse campus and saw their product and team, I was so impressed, I knew they were the one."
"Steve's a guy who has been a builder, understands building, and has great relationships with many builders," says Craig Johnson, vice president of sales and marketing at Woodhouse. "For those looking to build, Steve is a guy you want on your team because he completely understands the local trades. Need a luxury addition to a little fishing cabin? He's got a guy for that. Have a complex design you want to do? He has relationships with key architects in the area, landscape guys, he covers the gamut. From our perspective and from a client's perspective, you're in good hands with Steve."
You can get in touch with Steve by contacting Deep Creek Timber Frame. Grab a refreshment at Firewater for an opportunity to see Woodhouse's work up close.
"Start the timber frame conversation now," advises Richards. "All you have to do is commit to a pleasant afternoon in paradise and enjoy the views and ambiance of Firewater Restaurant and Bar."
For more information about the Woodhouse building system, or to see how they can help you make your timber frame vision a reality, reach out to Woodhouse here.