More and more homeowners are looking to transform their backyards into an elegant sanctuary – a place to retreat from the world and create laughter with family and friends, feast, play games, listen to music and make memories that will last a lifetime.
This is why Woodhouse: The Timber Frame Company came up with the Outdoor Series. These designs can help homeowners reinvent their outdoor spaces into their own exquisite, stay-at-home resort. If you are looking to create a luxury outdoor space that can also help you beat the heat by creating shade, let Woodhouse create the perfect timber frame pergola for your home.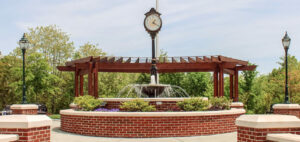 "No matter what environment you are building in, whether it's on a coastline with high winds, large snow loads in the high country of the Rockies, or anything in between, the pergolas that Woodhouse crafts are built to last for multiple generations," says Craig Johnson, vice president of sales and marketing at Woodhouse. The pergola kits from Woodhouse are traditional timber frame structures with mortice and tenon joinery. Woodhouse offers a full spectrum of premium wood species to choose from and designs can be customized to your exact needs.
Once a design is finalized, the pergola's timber frame is crafted at Woodhouse with state-of-the-art CNC technology, meaning every cut will be perfectly precise. The finished pergola will arrive at your home within six to eight weeks after placing your order, depending on the time of year. The pergola can be assembled as a DIY project in a "barn raising" event, or installed by professionals, depending on your preference.
"I would encourage homebuyers to use these designs as a springboard to create a custom pergola design that will blend seamlessly with your current home," Johnson says. "We offer extensive customization, using our in-house design team with 3-dimensional, fly-through graphics to illustrate how your new pergola will live at your home."
Woodhouse makes pergola kits in any number of styles. Common customizations can include arched roof systems, arched open sky roof systems, louvered roof systems to strictly control the amount of sunlight that is allowed to enter, ultra-modern sleek pergolas, or attached-to-the-home pergola kits.
Here are three popular standard pergola designs from Woodhouse's Outdoor Series:
16'x8' Timber Frame Pergola

This simple design configuration of a 16'x8' pergola can accommodate any size yard while adding a dignified architectural statement to your home. Thick posts and large beams overhead add a comforting presence to this outdoor space, which can be used for an outdoor kitchen, dining area, hot tub space, or whatever other activity makes your family happy. Posts can be attached directly to the patio, or waist-high stone or brick pillars can be used to add architectural gravitas to your pergola space. One of Woodhouse's recent clients added lighting that was wired into an Amazon Echo, so all they had to do was walk in and say, "Echo deck lights on," to get the party started.
20'x10' Timber Frame Pergola

If you need a bit more room for gatherings of friends and family, then the 20'x10' timber frame pergola from Woodhouse is the perfect solution. Turn heads at your next outdoor party with this versatile all-in-one backyard structure crafted with care for outdoor relaxing and entertaining. The open concept design offers flexible applications for a variety of settings, making this the perfect choice for your favorite outdoor setting. It can be set in large or small yards, next to a pool, fire pit, or garden. The aesthetic appeal of the large beams overhead provides plenty of shade during the summer months. Some clients of Woodhouse add canopy curtains, drapes, sliding barn doors, or removable bamboo panels on the sides for additional privacy and protection from the elements.
16'x31' Timber Frame Pergola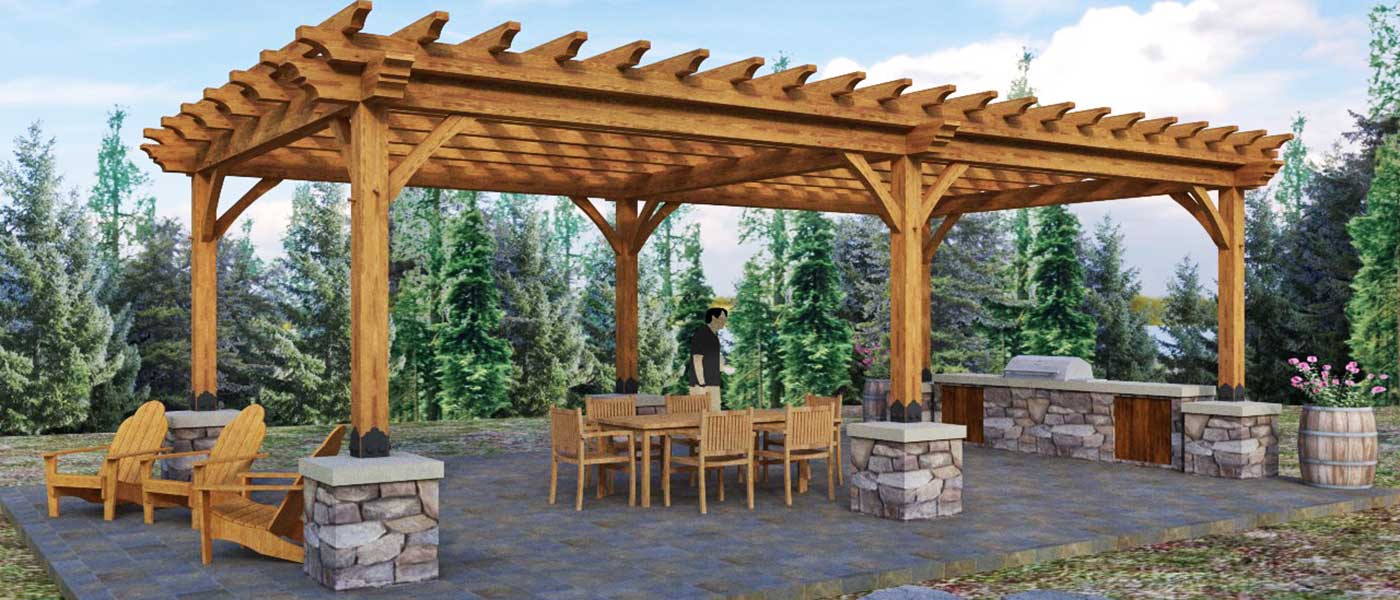 Function meets style with Woodhouse's 16'x31' timber frame pergola, offering plenty of space for an outdoor kitchen, dining area, and lounge area. Create an intimate space for the gathering of friends and family. Customize this pergola with lights, a fire pit, climbing flowers, conversation seating, and an outdoor kitchen. The possibilities are endless. Easy assembly with all timber frame parts pre-cut, pre-drilled, and pre-stained to your choice in stain color. This timber frame pergola is a great solution if your current home layout does not lend itself to large gatherings. With the 16'x31' timber frame pergola, you will be able to take the party outside in style.
How to Get Started Living Your Best Outdoor Life
As with all Woodhouse structures, these designs are completely customizable through the company's experienced in-house design team. Customization can include changes to the frame configuration or changing the dimensions of the structure itself.  Once a design is finalized, the frame for the pavilion can be cut by the company's CNC technology quickly to precise dimensions and shipped to the homeowner, usually within six to eight weeks, depending on the time of year. The pavilion arrives with all needed fasteners to make connections to the frame in a "barn-raising" style event or installed by professionals, whichever you prefer. The pavilion kit includes roof decking to complete the roof. Shingles or other roofing materials are not provided, since most homeowners prefer to match their existing roofing materials, Johnson says.
If you're already anticipating outdoor living for next spring, contact one of the Woodhouse Regional Project Managers to start planning the perfect timber frame pergola for your home.