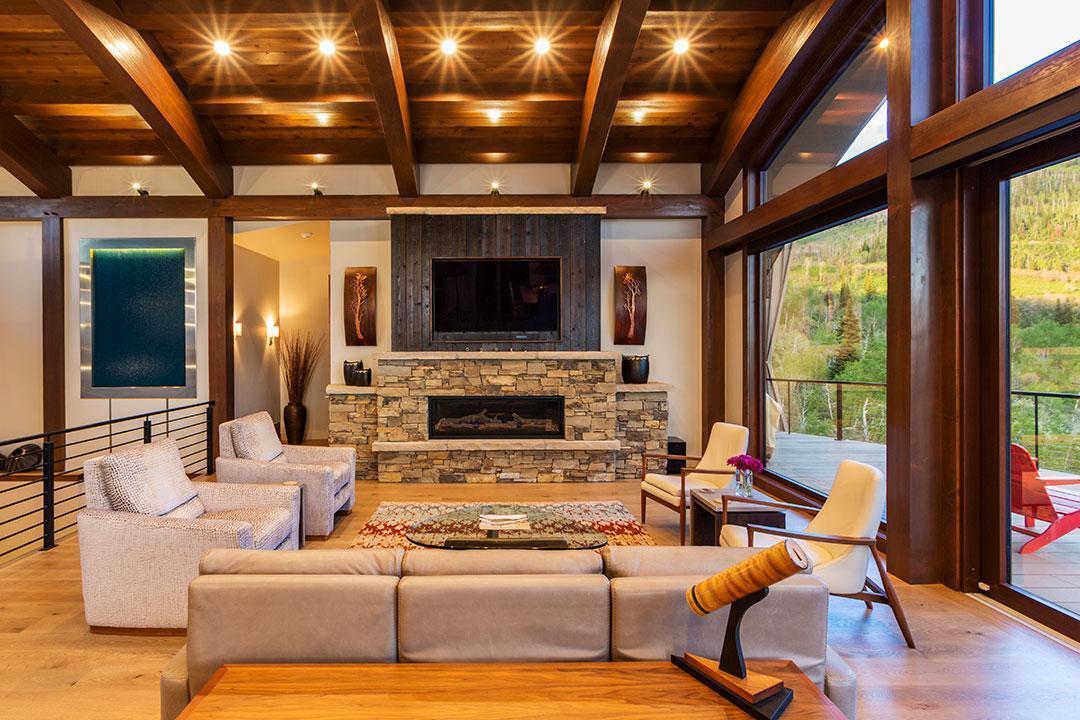 Timber framing has a history steeped in tradition, with some of the first joints appearing as early as 200 BC. The timeless architectural form of timber framing can be seen throughout the centuries, from ancient civilizations like Egypt and Rome, which used timber roofing systems in their stone buildings, to 12th-century churches to 21st-century barns. Without a doubt, today's modern timber frame houses are aesthetically flexible, and that's because today's timber frame homes can easily adapt to the main facets of modern design: flat planes, clean lines, elevation changes, expansive windows, well-balanced use of space and a connection to nature.
"If all the timber is on the interior of the home and then wrapped in SIPs you can really put any "skin" on the exterior—to blend into any architectural style or period," Woodhouse Architect and Director of Design Diana Allen says. "The posts and beam lengths are flexible and allow windows and doors to be added in whatever architectural style you are building as long as some simple formulas are followed. One just has to understand how loads are transferred."
While modern and contemporary architecture terms are used interchangeably today by most people, especially when talking about modern timber frame houses, Allen says it's worth noting that the true meaning of modern lends itself to a specific time period and that "contemporary" is technically anything recent.
"Contemporary is really the correct term for any style that is in fashion at the time," Allen says. "Right now, it is homes that are sleek in lines and forms with mono-pitch roofs and vast glazing walls."
In this post, we'll look at timber frame homes that boast these features as well as how diverse homes can be within the genre of "modern," exploring the broadest definition possible – from modern farmhouses to mountain modern designs. Let's delve into five examples of the aesthetic capabilities of modern timber frame homes to help you imagine the exciting possibilities for your new house.
Modern Farmhouse
In this modern interpretation of a timber frame home in Maryland, hints of farmhouse style are woven throughout, seen through the use of heavy timbers and a home centered around a hearth. The open-concept layout marries the kitchen and dining area, allowing everyone on the first floor to stay connected.
Mountain Modern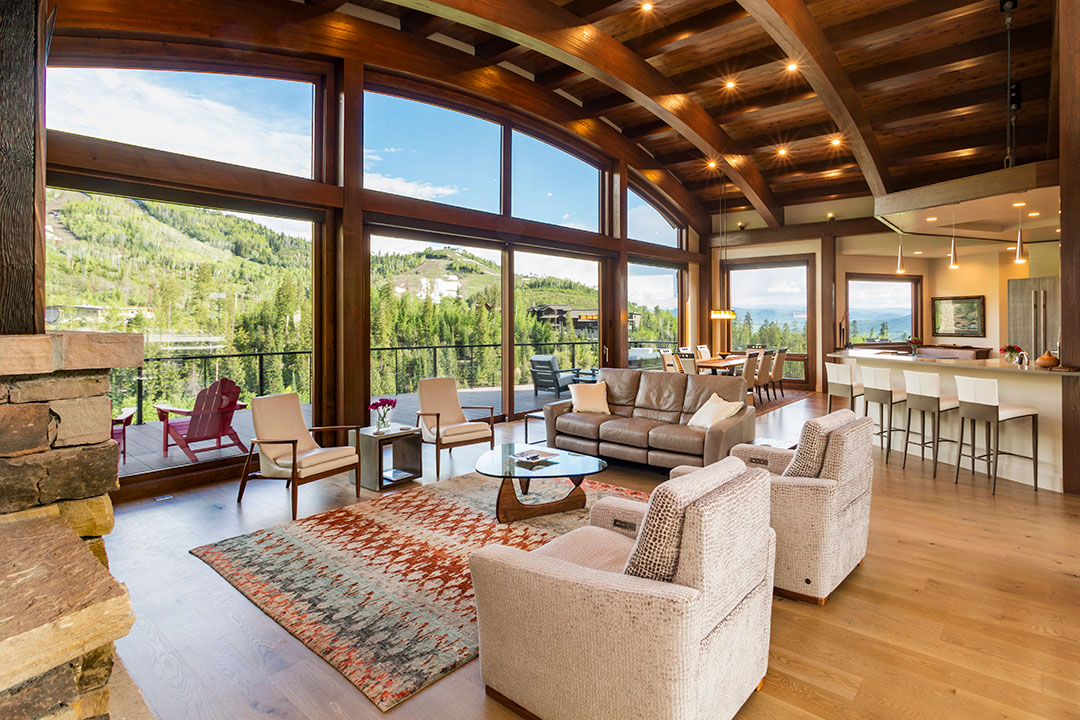 Built with the mountain in mind, the view at this Steamboat Springs, Colorado, home takes center stage with a sweeping wall of windows. In addition to using natural elements in the design, such as wood, steel and rock, the one-of-a-kind home showcases a stunning 60-foot-long arched barrel-shaped ceiling over the great room, which is reflected in the exterior's clamshell-like appearance.
Modern Lake House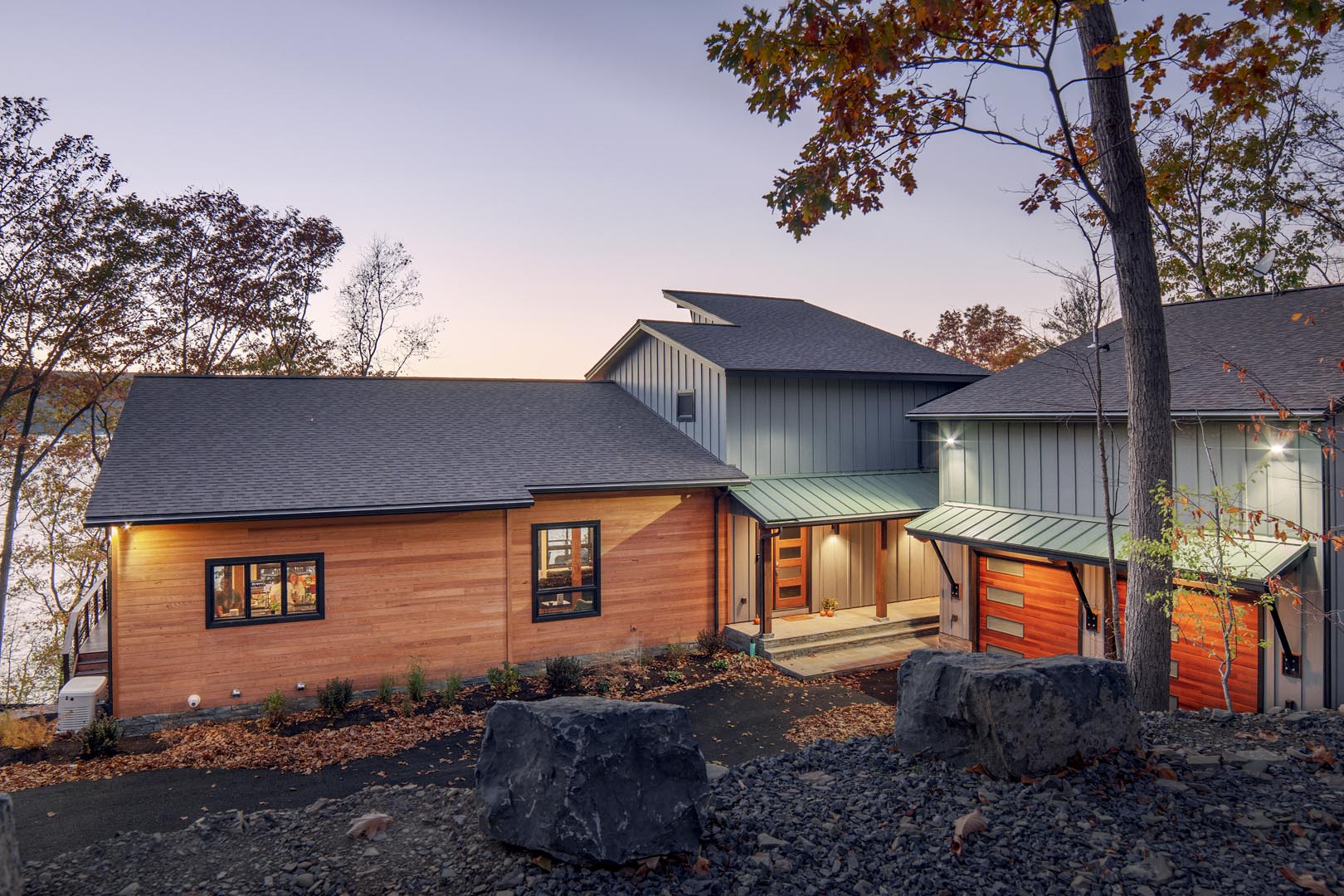 Perfect for entertaining, this lakeside retreat features an oversized family room with an open flow to the kitchen. White oak cathedral ceilings and rustic beams create a warm atmosphere, while clean lines and steel overhead beams, along with a combination of metal and wood railings, keep it modern and fresh.
Modern Cottage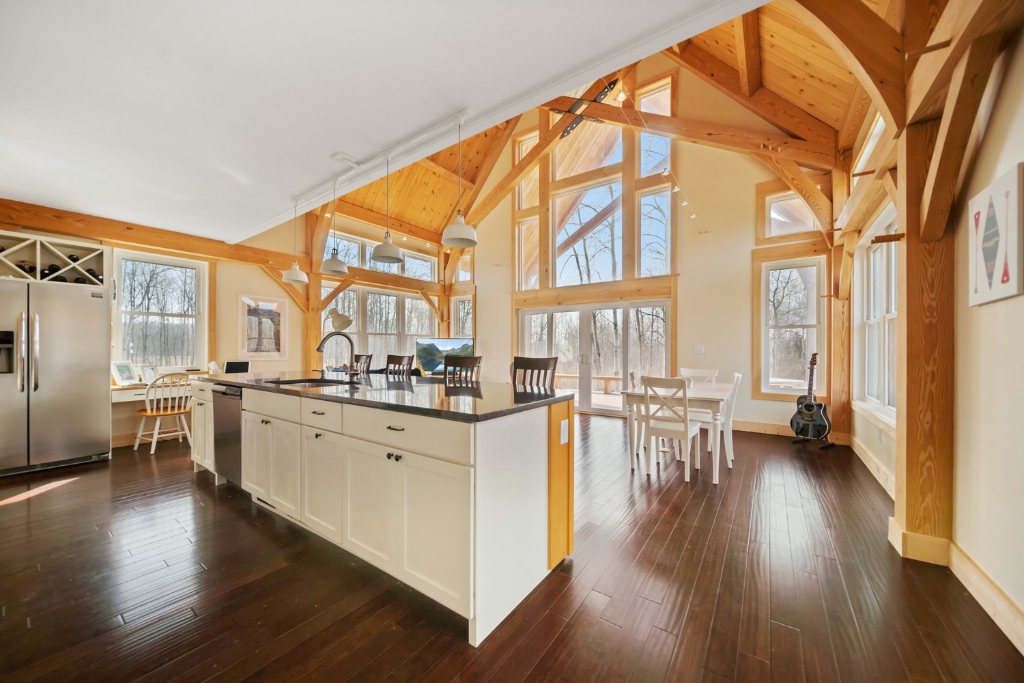 For a contemporary take on an old A-frame classic, this charming timber frame cottage boasts a slanted roof and exposed timbers that create a cozy atmosphere. An open living room with sliding doors keeps the homeowners connected to nature both physically and visually, while a large back porch overhang protects the house from natural elements, like sun, wind, rain, and snow.
Modern Cabin
This modern mountain cabin showcases just how cool timber framing can be and is shown through its black-painted exterior, multi-level stacked windows and other materials, such as concrete and contemporary tile, used throughout. The dramatically slanted rooftop works well during the snowy season out West.
Any style can work with a timber frame home. "A conventional stud wall is nothing more than many repetitive tiny posts set on top and bottom beams (sills and plates in a stud wall)," says Allen. "When you remove the structure, i.e., studs, and replace them with posts – the posts can be spread further apart and separated from the skin to allow you to puncture that skin any place you like."
Creating Modern Timber Frame Homes
Modern timber frame houses are the ideal blend of function and aesthetics. Our team's rich knowledge and breadth of experience can help you design your dream home. Peruse our modern/contemporary floor plans for more inspiration and contact us to start a conversation.