The Madison invites you in with a large and elegant timber-framed covered porch, that leads to a convenient 3 bedroom and 2-bathroom layout in a 1,582 sq ft package, perfect for a family. With this open design, the living room, dining room, and kitchen all merge into one, forming a spacious great room. The surrounding windows let in all the natural light and views that you need. After a well-cooked meal, head out to the wrap-around patio for some good time with friends and family, or enjoy the warmth from the modern hanging fireplace. Once the night comes to an end, head up to the loft where you'll find the primary bedroom featuring 2 spacious walk-in closets, lofted timber frame ceilings, and the primary bathroom right around the corner. On the main floor, the other 2 bedrooms are split with a bathroom perfectly sized for sharing.
Modern Farmhouse Series
The Farmhouse design style has deep roots in America's agricultural history and was widely adopted for being both practical and comfortable. Central to the design style is a warm hearth for the family to gather during cold winters. Heavy timbers supported the entire structure while providing the signature cozy atmosphere that is a staple of farmhouses. The traditional lofted children's bedrooms with slanted roofs and exposed timbers fill the childhood memories of countless American's to this day.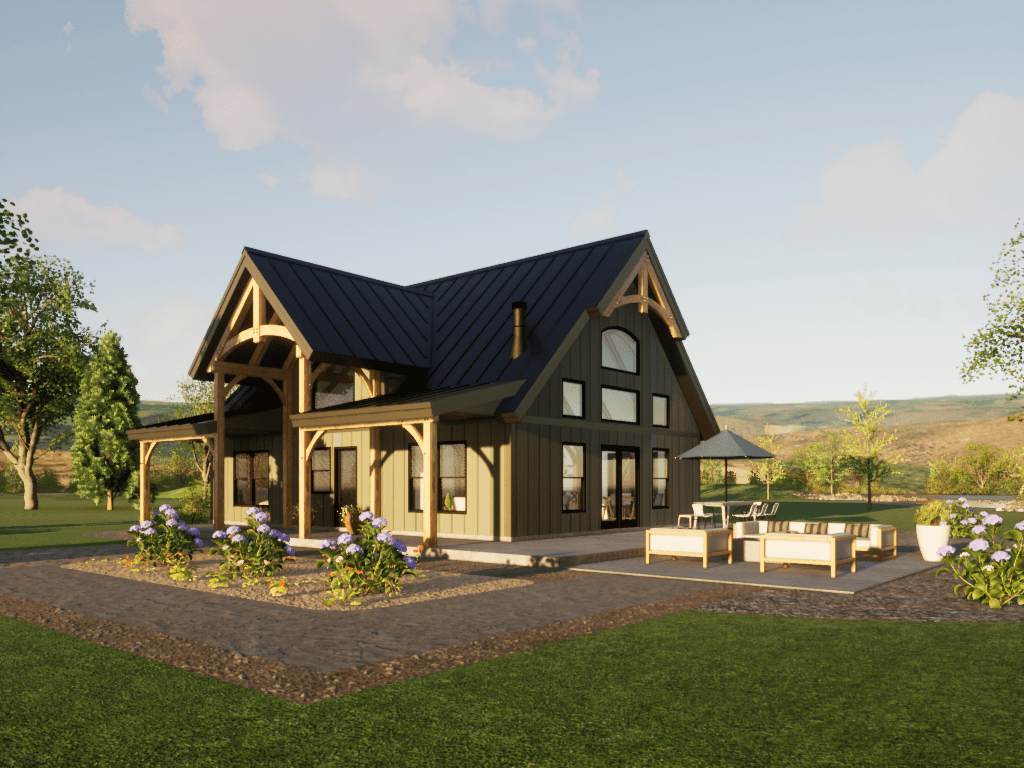 1st Floor
Bath 2 – 9′-7″ X 7′-7″
Bed 2 – 10′-10″ X 9′-5″
Bed 3 – 11′-4″ X 9′-5″
Cov'd Porch – 40′-0″ X 7′-6″
Dining – 13′-7″ X 9′-7″
Great Room – 18′-11″ X 17′-7″
Kit. – 11′-2″ X 9′-7″
Patio – 9′-10″ X 35′-6″
2nd Floor
Loft – 7′-10″ X 8′-2″
Primary Bath – 11′-0″ X 9′-3″
Primary Bed – 13′-3″ X 13′-2″
W.I.C. – 6′-5″ X 4′-2″
W.I.C. – 6′-5″ X 4′-2″
Dream Home Budget Calculator
What does a timber frame home cost in your area? Answer 20 simple questions and we'll help you figure out your budget.