Here's how to make sure your Woodhouse timber frame ski chalet is a winter paradise.
Whether the snow outside is sparkling under bluebird skies or blowing in a blizzard, nothing bundles you up in cozy comfort and sturdy protection quite like a timber frame ski chalet. The handcrafted timbers, spacious interiors, and windows overlooking stunning mountain views make for a picture-perfect place to wrap up a day of skiing, snowboarding, sledding, skating, or snowshoeing.
Here are five must-haves for your timber frame ski chalet that will make it the best place to be.
The Great Room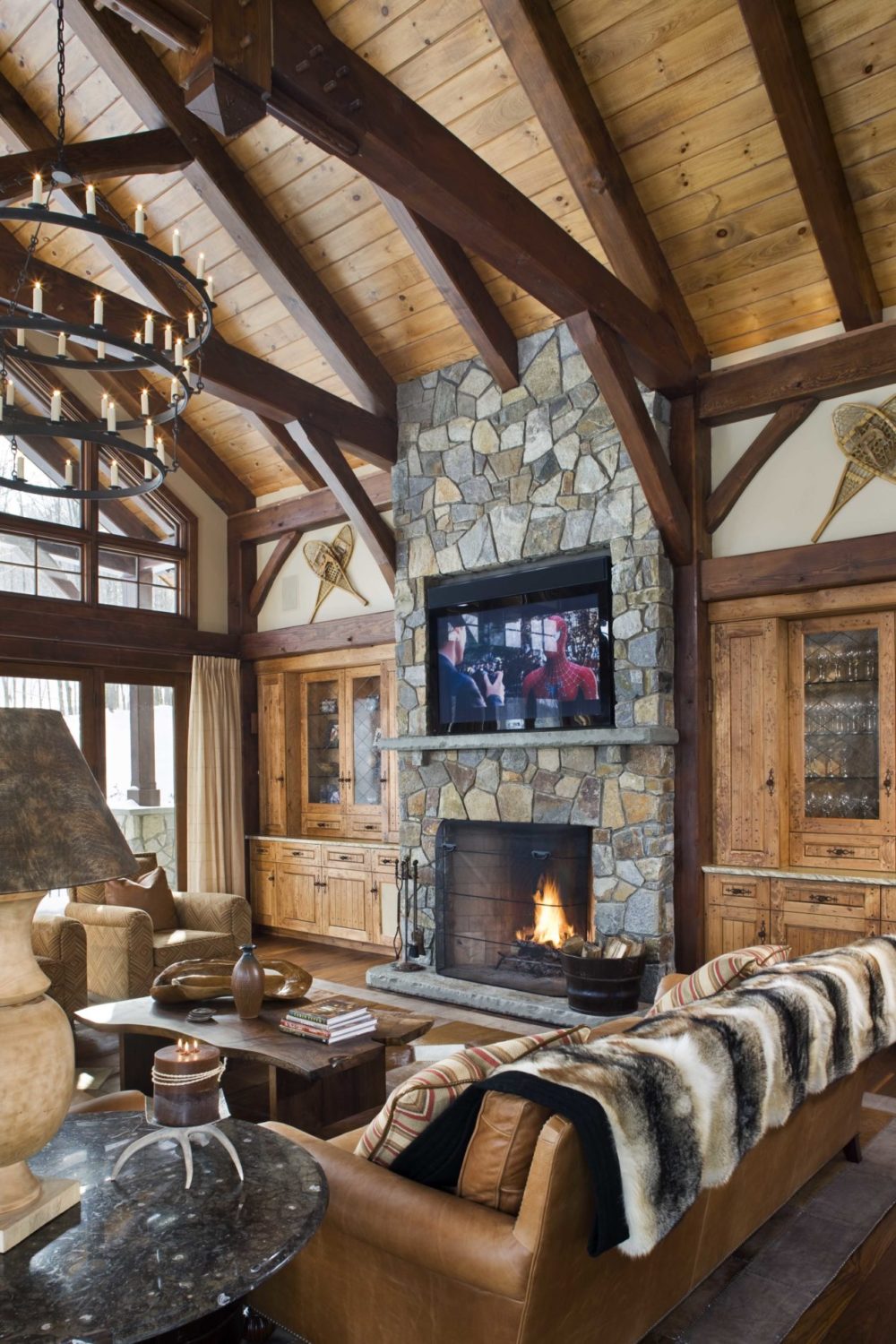 After a day on the slopes everyone is eager to relax by a crackling fire, sip some cocoa, and relive the day's adventures. The great room is the perfect gathering spot. Soaring ceilings, hefty timber frame rafters and exposed timbers exemplify the rugged mountains and nature's beauty. These features are an integral part of our timber frame home plans and styles.
Wide Windows
When staying at a timber frame ski chalet, you want the weather to stay outside . . . not the views. Expansive, panoramic windows let outdoor lovers breathe in every detail of winter's captivating landscape all while staying comfy and warm. We orient our timber frame ski chalets to maximize views and passive solar heat. From epic mountain vistas to watching the snow pile up for the next day's adventures, what you see outside will keep you feeling happy and invigorated on the inside.
The Hot Tub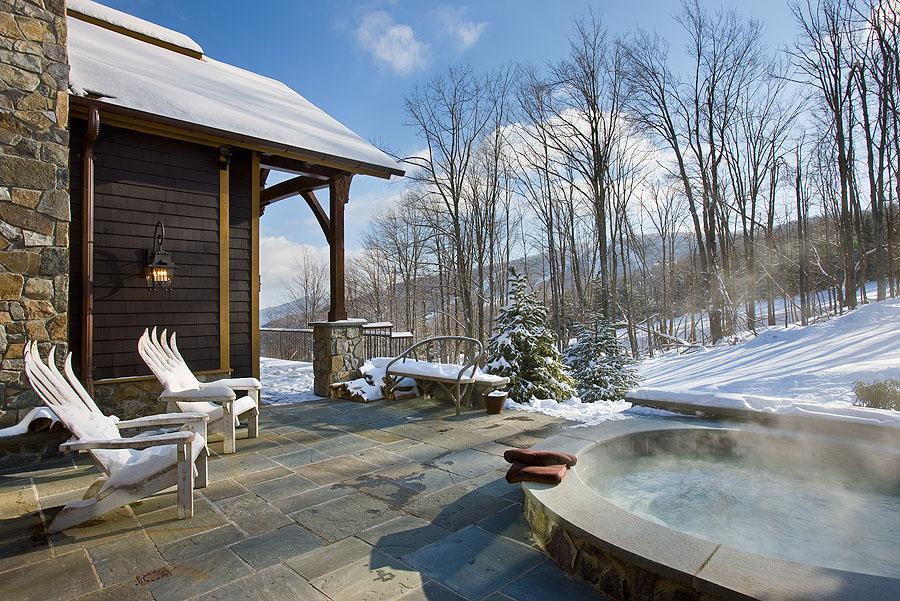 Playing in the snow is hard work. What better way to soothe away the day's exertions than slipping into a steamy hot tub? Timber frame ski chalets are oriented to integrate spectacular views with decks and patios for the perfect hot tub experience. The contrast of an icy winter night under glittering stars and a hot tub's bubbling heat has the restorative powers to relax aching muscles and prepare you for a night of deep sleep.
The Fireplace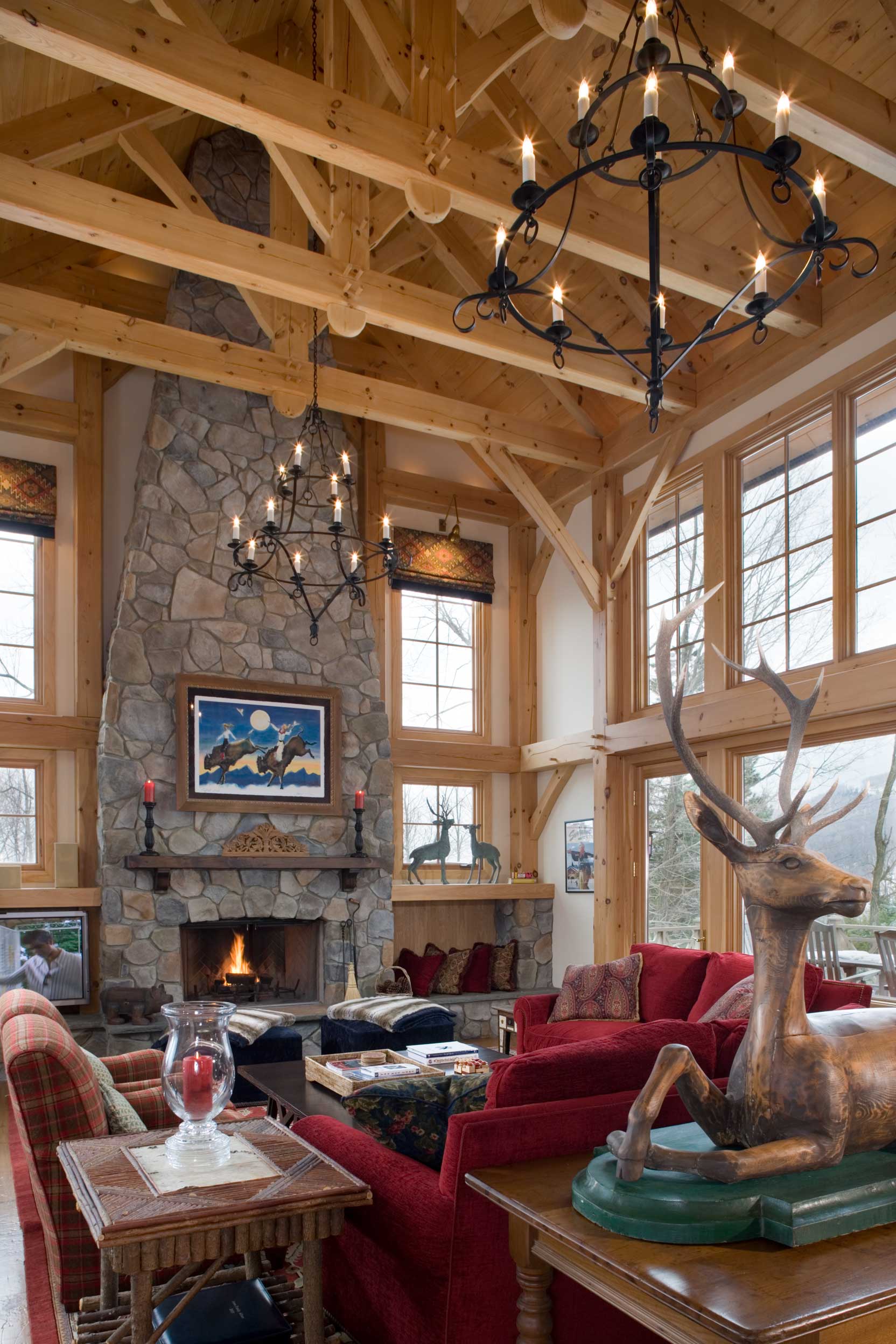 Home is where the hearth is. The fireplace, often located in the great room, is the heart of a ski chalet. It's a primal element that feels luxurious. Often made with stone, brick or other natural material, a fireplace enhances a timber frame ski chalet's connection to its natural environment while creating a handsome, tasteful contrast to the wood timbers.
Comfortable Bedrooms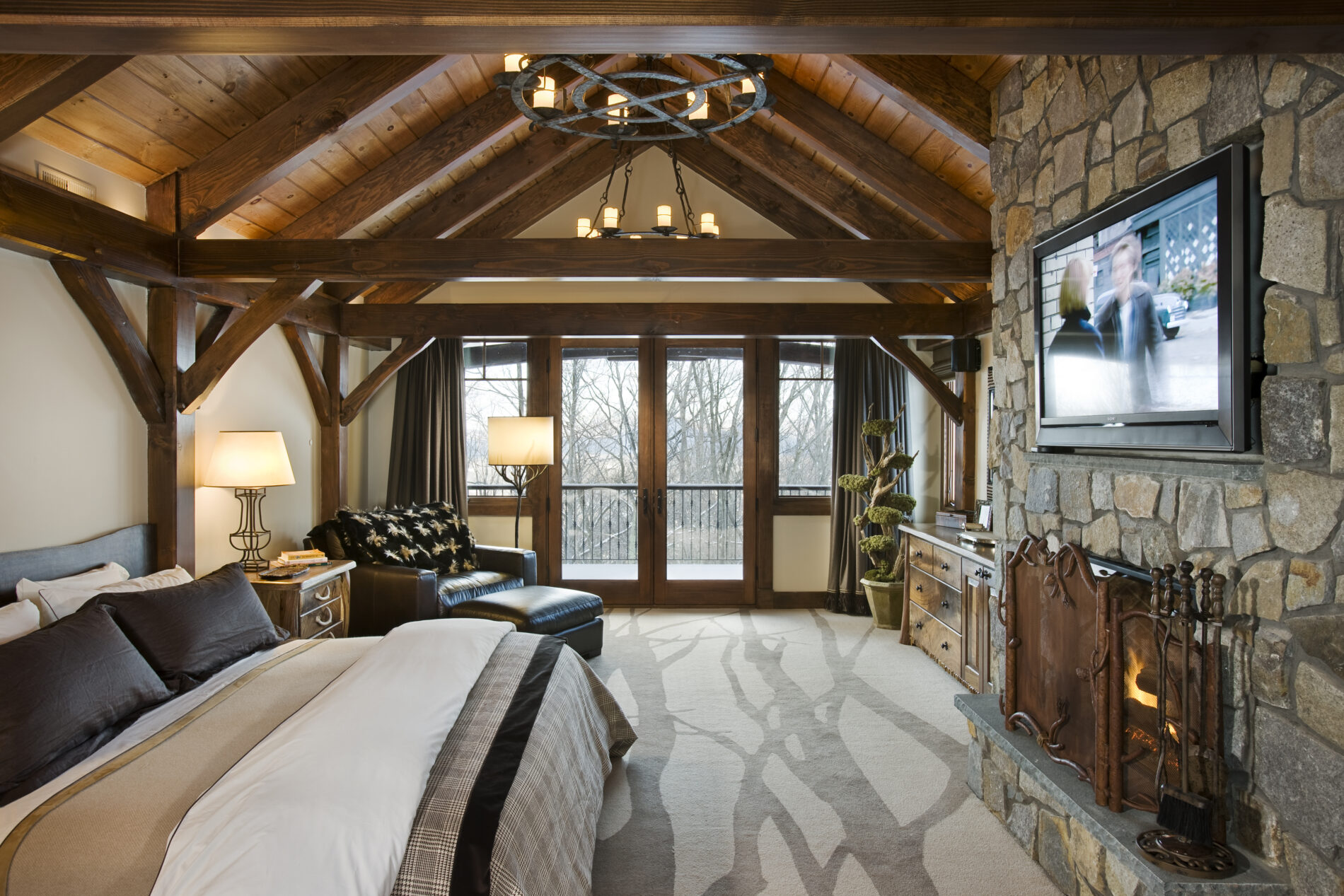 On a winter's night, there are few things that rival pulling up the covers and drifting into a peaceful, uninterrupted sleep. Because we can customize your timber frame ski chalet to your wishes, we can configure the bedrooms to maximize comfort, privacy and quiet. A bunkhouse for the kids or two primary suites for two couples or even an extra bedroom tucked into a loft space — we can do it all.
Ready to Live the Dream?
Whether you want a timber frame ski chalet as a getaway for family, a rental, or a place with friends, we can help you get started. Browse some of our popular timber frame ski chalet plans such as the RockyView, GrizzlyPeak, and Adirondack-styled GreatCamp. Our building process explains how we can design your custom timber frame home from scratch or modify any of our existing styles. Questions? Contact us for to learn more or reach out to your area's Woodhouse Regional Project Manager.