The Woodhouse Appalachian timber frame home is rooted in a sense of place and built with exceptional timber frame expertise.
 In a graceful swath extending across 13 states and two countries, from the northern parts of Alabama and Georgia to the southeastern tip of Canada, the Appalachian Mountains are as much a culture as they are a geologic feature. Homesteaders have been putting down roots in this region since the 1700s. It's not uncommon for descendants of these early pioneer families to still have a claim to the family homes.
"You see these historic homes throughout the region," says Woodhouse Southeastern Regional Project Manager, Don Downs. "Families are still here seven generations later. Their home is their sense of rootedness."
The Appalachian Timber Frame Home
Timber frame company Woodhouse, honors this architectural tradition with the Appalachian Mountain Home Series. Out of necessity, the early pioneers of Appalachia relied on readily available resources — timbers, coarse-cut fieldstone, poplar tree bark siding, and live-edged siding. Over time, this evolved into an aesthetic that we uphold by using these same regional materials. Ample porches and decks provide outdoor living spaces to enjoy serene mountain views. Muted earth tone colors and natural timbers help these homes blend into the landscape. Woodhouse's Appalachian timber frame floor plans reflect the homestead tradition with a single story plus a loft. Rooflines feature a steep-pitched gable for the main body (our WhiteWater model is the most dramatic).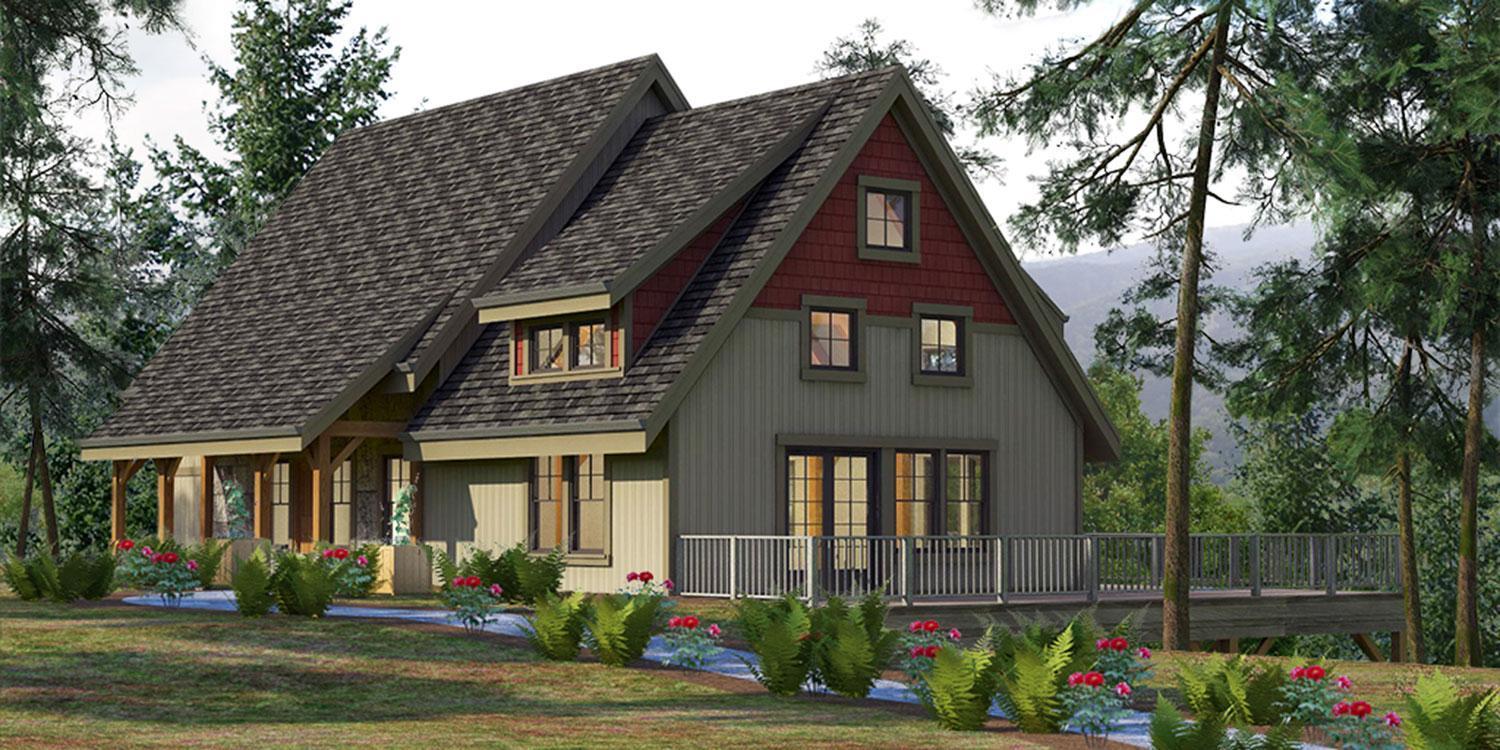 Of course, just like all our timber frame home kits, we will modify and customize any of our homes to suit your unique needs. In fact, we expect it and have an efficient and enjoyable design process to help you for your timber frame kit and building site. Our experienced design team can create an original custom home or work with your architect to translate your conventional home design into an Appalachian timber frame.
Downs explains, "We can take any of our more than 90 timber frame home plans and give it the Appalachian treatment. Conversely, if you like the floorplan of one of the Appalachian Series, but are looking for a more conventional exterior, we can work that direction, too."
Your Story, Your Home
The Woodhouse Appalachian Home Series timber frame floor plans and timber frame kits resonate with people who appreciate a sense of connection to place as much as they love the fresh air, history, and outdoor lifestyle the Appalachian Mountains represent. All our Appalachian timber frame kits reflect the rugged perseverance of this celebrated landscape while providing an array of appealing open floor design layouts that support the modern lifestyle.
Many homeowners are enchanted by the quiet beauty of our 1,777 sq ft ForestPath design. Part of its charm stems from a floor plan that indicates the main house with rooflines, and additional spaces that make it appear as if it has grown over time, organically.
"It looks like a house that is in the family storybook, which is much of what you see in the Appalachian Mountains," Downs says.
A covered porch gives homeowners a place to relax outside, entertain or enjoy a good book while immersed in nature . . . even if it's raining. Traditional Appalachian poplar bark siding gives this home its woodsy personality. ForestPath also includes a basement plan that starts with two additional bedrooms, a bath, and a rec room. However, it can be configured to your specifications.
The RidgeLine offers a stately version of the Appalachian aesthetic while still capturing the rugged nature of country living. At 2,781 sq ft, RidgeLine easily accommodates a larger family. The primary bedroom is in its own extension wrapped with live-edged, lapped siding with a stone fireplace. Rustic, visual interest is enhanced further with the poplar bark siding under the copious porches and along the main portion of the house as well as the barnboard siding for the loft area. It also comes with an optional basement plan.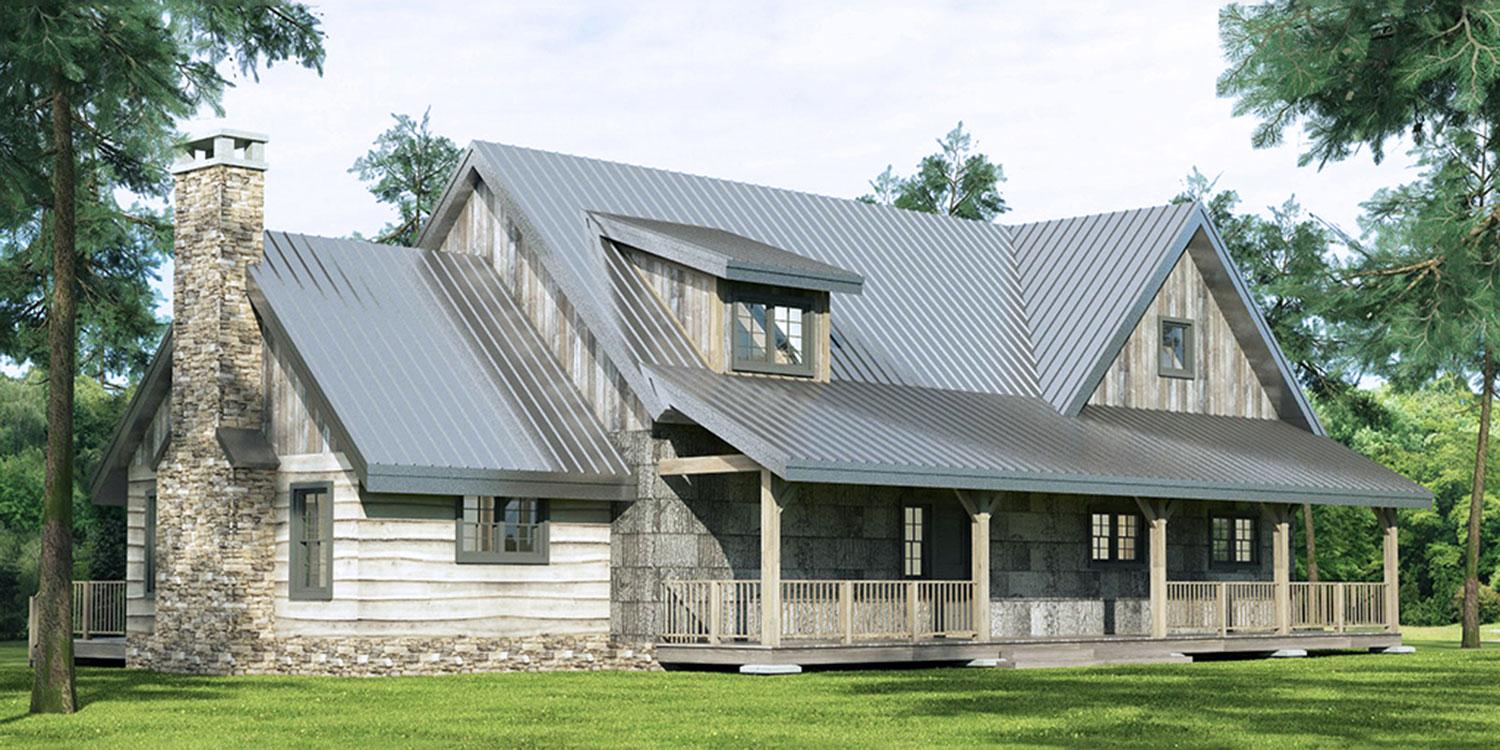 Whether you are looking for a getaway home, exploring options to build on your own land, or want to bring a tasteful mountain vibe to the suburbs or town, our Appalachian timber frame floor plans and timber frame home kits are designed to become exactly what you've always wanted.
Prepare to be Impressed
Our Appalachian series may be inspired by history, but our timber frame construction represents the most innovative and efficient construction available by a timber frame company. Experience the soothing simplicity and appealing designs with a fly-through video tour of ForestPath and Ridgeline or download these and more Appalachian floor plans. No matter where you live in the U.S., our network of timber frame experts is eager to help you. Visit our Where We Build page and discover projects in your area or contact us for a more detailed conversation.