Timber frame fireplace designs get the luxury touch from Woodhouse.
Humans have a long history with the allure of a roaring fire. It's wild in its nature, but fireplaces have allowed us to domesticate this primal element, bring it into the home and harness its powers. While modern stoves and heaters have replaced fire's importance for our survival, we still have an irresistible desire to cozy up to this natural heat source and be captivated by its crackling flames. Given its magnetic appeal, it's no wonder that a luxuriously designed fireplace elevates your home from standard to spectacular.
Fireplaces & Timber Frames are a Natural Fit
Like fire, a timber frame home also has an elemental appeal. Strong, oversized timbers establish an organic connection to the wilderness. A gorgeous, highly functional fireplace is the soul of a timber frame, adding literal and figurative warmth to your home.
Structurally, timber frame homes are especially ideal for fireplace designs. Open interiors afforded by the timber frame structure allow for flexible placement, which can make the fireplace a centerpiece feature. In design, timber frames can be adapted for whatever style appeals most to you and the fireplace is an opportunity to enhance that style with creative materials and artisanship.
Ways to Level Up a Fireplace to Luxe
A standard fireplace typically consists of three basic components — a firebox, the chimney, and the hearth. There may be a simple mantel or surround, but it typically lacks any unique flair or decorative elements that move its appearance beyond one of practical functionality. Luxury fireplaces, like the ones designed by Woodhouse, in contrast, are an expression of style and performance. Here are five ways a fireplace can bring next-level comfort and indulgence in your timber frame home.
1. Two-sided Fireplace
A double-sided fireplace adds high-end aesthetics and performance. Because it's not up against a wall, heat is evenly distributed. When placed in the center of a timber frame's great room, it becomes a dramatic focal point creating twice the gathering space. A two-sided fireplace can also connect and heat two rooms simultaneously. 
Our AntelopeValley video fly-through (above) features a double-sided fireplace in the great room. We can customize any of our timber frame designs to incorporate a two-sided fireplace.

2. Primary Suite Fireplace
Your bedroom is your sanctuary, and a primary suite fireplace makes it an extra-special private retreat. If you want personal time away from shared spaces, a primary suite fireplace gives you a soothing room of your own to contemplate life, decompress, and relax. Check out the level of cozy created by a primary suite fireplace in this Woodhouse timber frame in Windham, NY.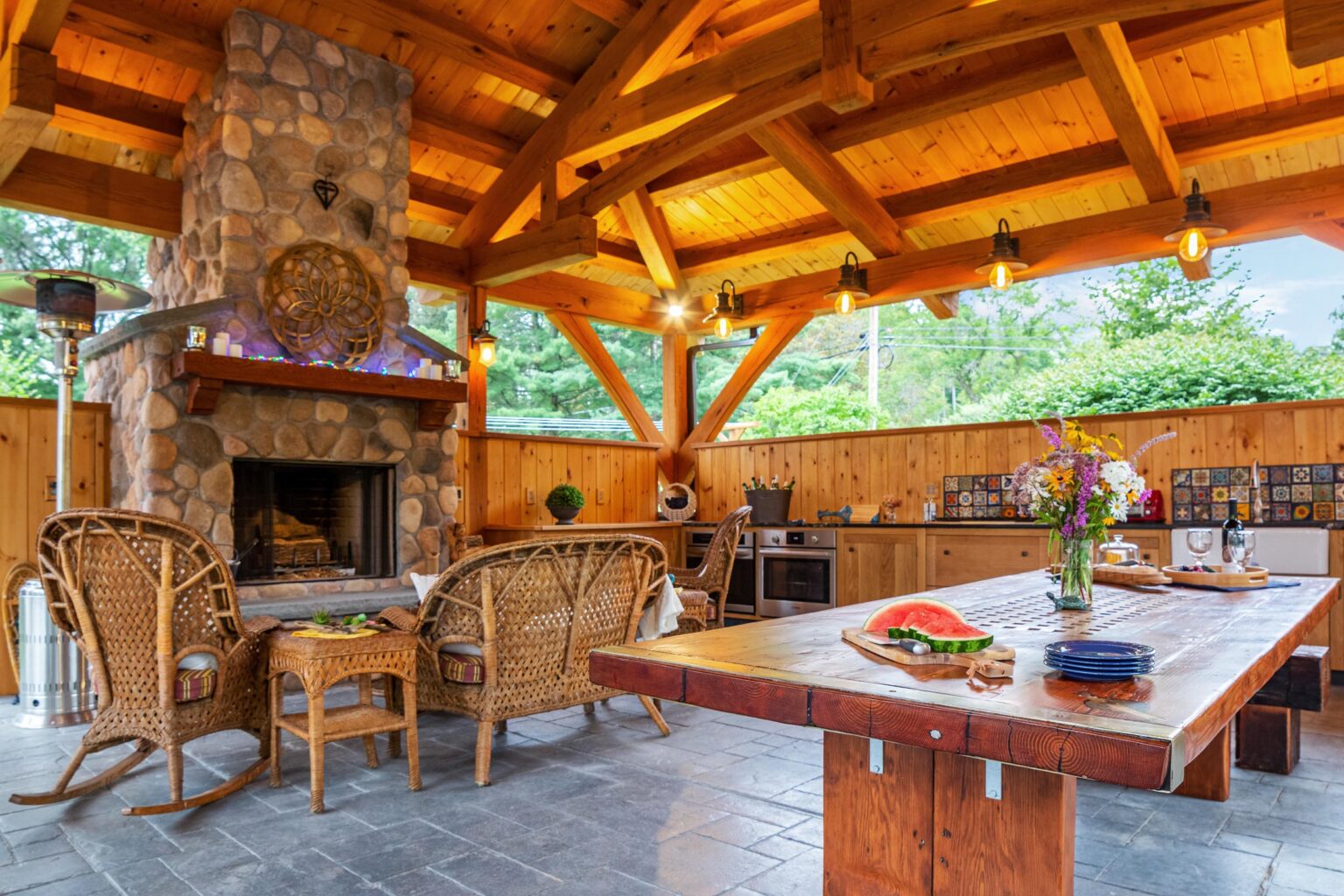 3. Outdoor Fireplace
Why sit around a firepit in the ground when you can gather close to a welcoming hearth in an upscale, outdoor room? Not only does an outdoor fireplace add luxury to your outdoor living space, but when combined with screened porches or a timber frame pavilion, an outdoor fireplace invites you to spend more time outside in every season.

4. Centerpiece Panache
If you want to really make your fireplace stand out as your timber frame's stylistic anchor, consider adding to its drama with floor-to-ceiling chimney materials. These materials can reflect the natural setting just outside your doors or match your home's other decorative elements such as external wrapped columns or hardscaping features. See this style in action in this Great-Camp-inspired home built by Woodhouse.
5. Surface Materials
High-end materials go hand-in-hand with custom designs to create your dream fireplace. Marble, stone, brick, even wood (how about shou sugi ban?) can strengthen your home's personality. Material selection also plays an aesthetic role on the outside. Think of rugged stone chimneys on a mountain lodge, a black steel pipe on a modern farmhouse, or black brick in this custom, contemporary home.
Cater to Any Style and Aesthetic
At Woodhouse, a timber frame encompasses nearly every design genre imaginable. We'll make sure the fireplace becomes a distinct extension of your home's unique style. Consider the following: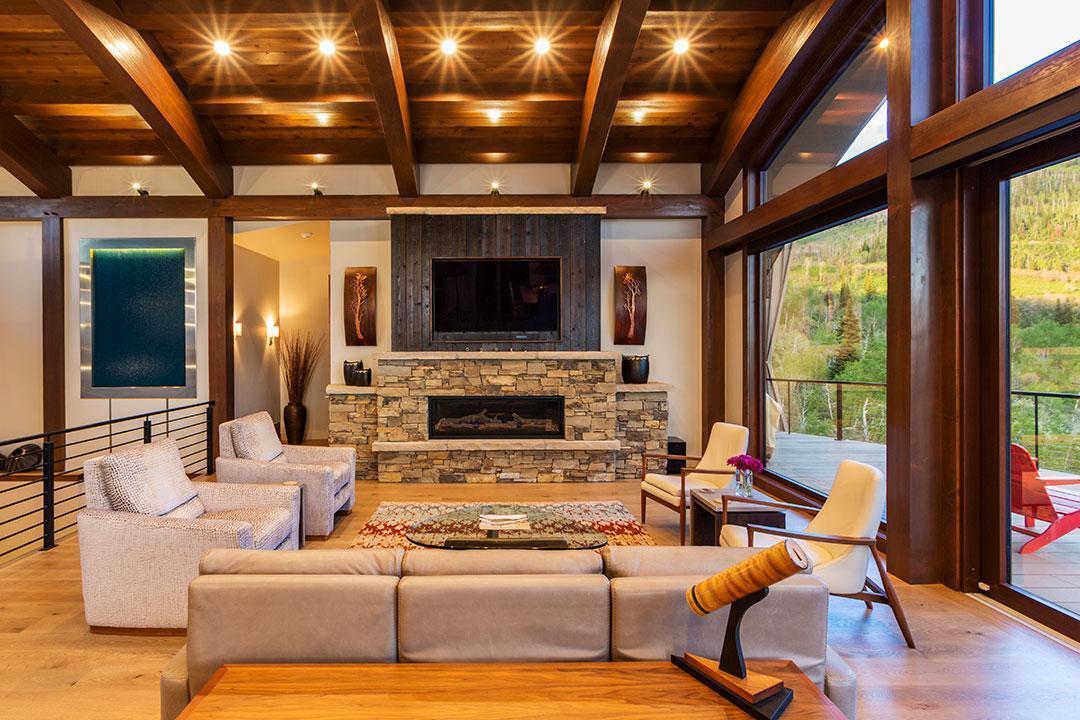 Modern
A modern fireplace emphasizes the sleek, clean lines of contemporary architecture. This example combines surface materials with assertive, horizontal details.

Rustic
Quaint and comfy, rustic can encompass everything from a cute cabin to an expansive Adirondack great camp.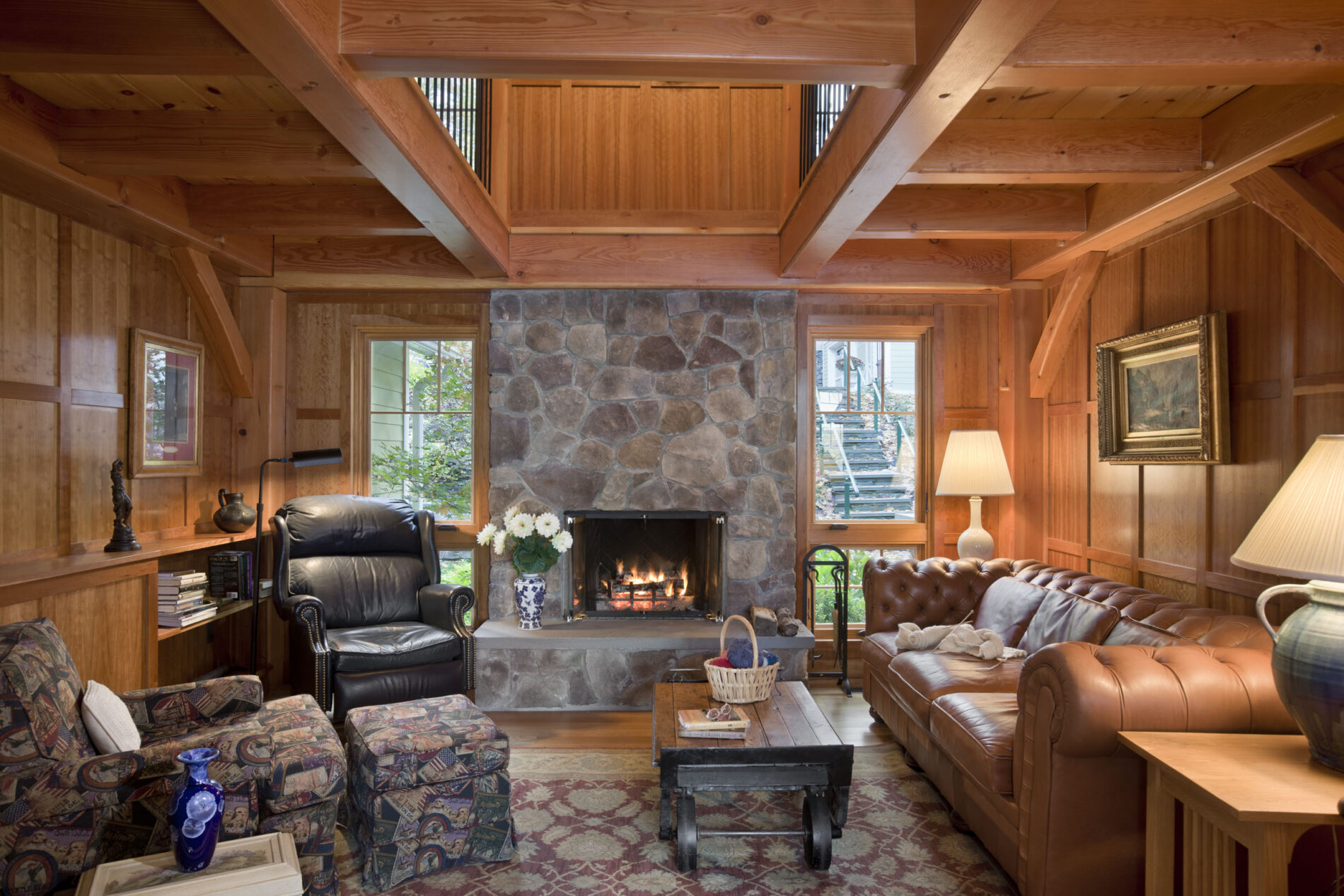 Cozy
A small footprint carries all the stunning artisanship of a larger home packed into a smaller space. This custom design is a great example of a luxury fireplace helping a cozy cottage live large.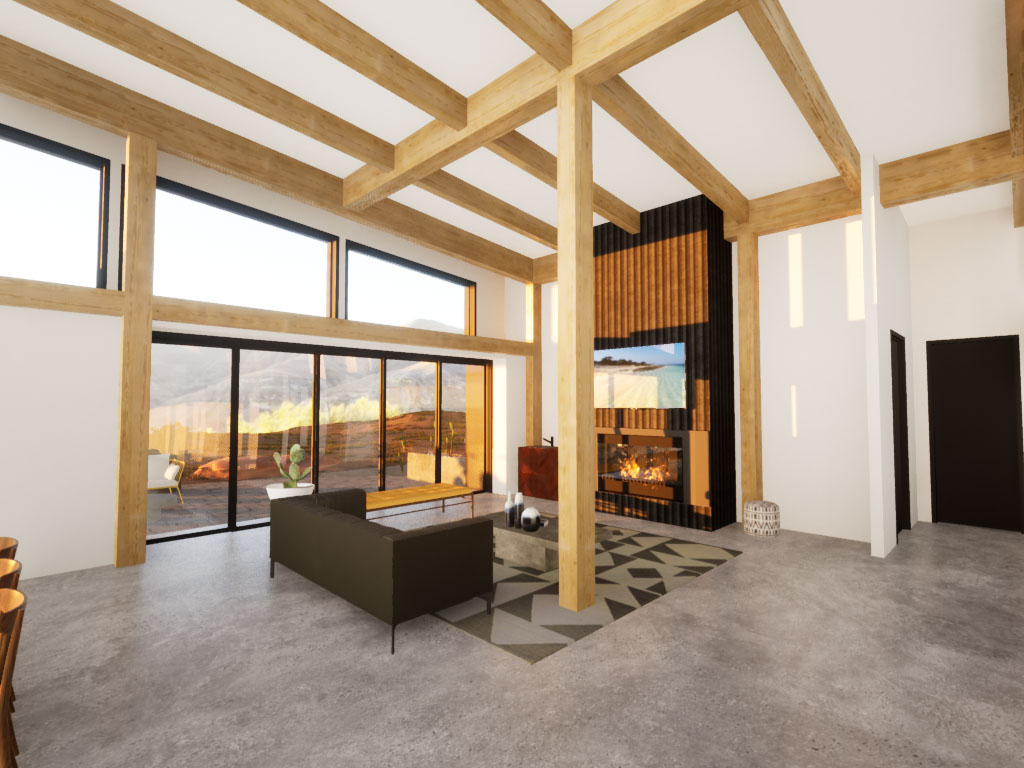 Southwestern
Timber frame homes aren't just for mountains, lakes, and forests. A Southwestern style home and its fireplace radiate the distinct beauty found in these arid locales.
Lodge
This classic timber frame mountain style wouldn't be complete without a dramatic chimney welcoming you home
Fire Up Your Inspiration
A luxury fireplace makes your timber frame's aesthetic sizzle and can add value to your home. If you're hot for more ideas, be sure to check out our gallery or contact us for a more detailed conversation.