Experience true luxury in the outdoors with these bright ideas for indoor-outdoor living spaces from Woodhouse.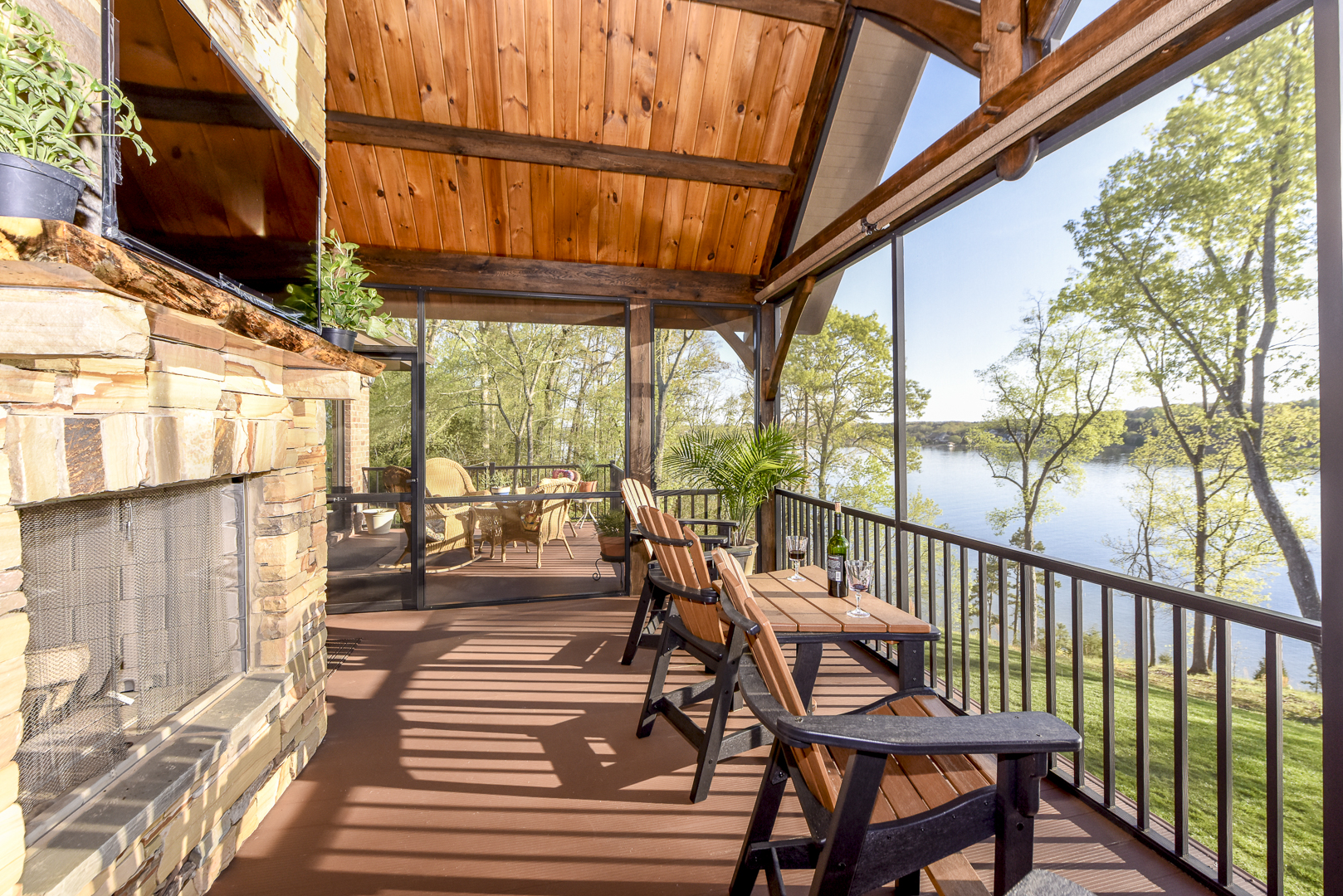 Who doesn't want a little bit of luxury in their life? Given that the natural beauty of timber frame homes and the great outdoors tend to be a perfect match, indoor-outdoor living spaces are a prime place for indulgent customizations in even the most efficient designs.  
Woodhouse timber frame homes offer the highest level of premium construction you can attain in a home regarding performance, longevity, and aesthetics. Even the most modest, compact timber frame structures can seamlessly incorporate sumptuous, luxury elements thanks to our ability to customize a home to your tastes and lifestyle. One customization that's increasingly popular? Indoor-outdoor living environments, personalized for one's unique lifestyle. 
Whether you're planning on building a timber frame house, adding an outdoor area, or dreaming of an accessory building, check out what Woodhouse can do for you. And if these ideas spark a new one that's all your own . . . we can do that, too!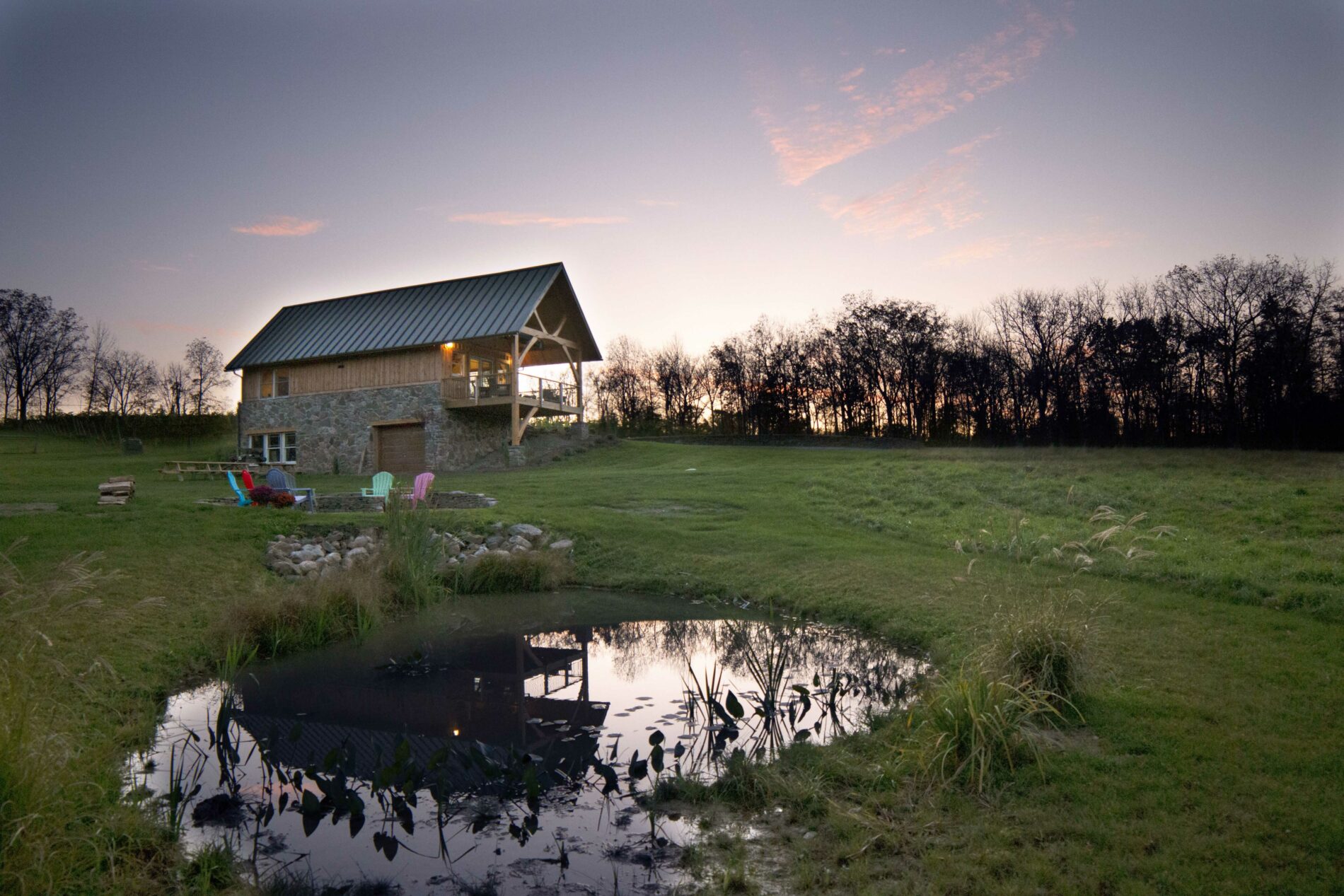 Fire Pits
Few things create an inviting atmosphere for rich conversation quite like the toasty crackle of a cozy fire in the crisp night air. From rustic fire pits surrounded by nature, like at this Trumansburg winery, to sleek and stylized, fire pits can fit any budget and style.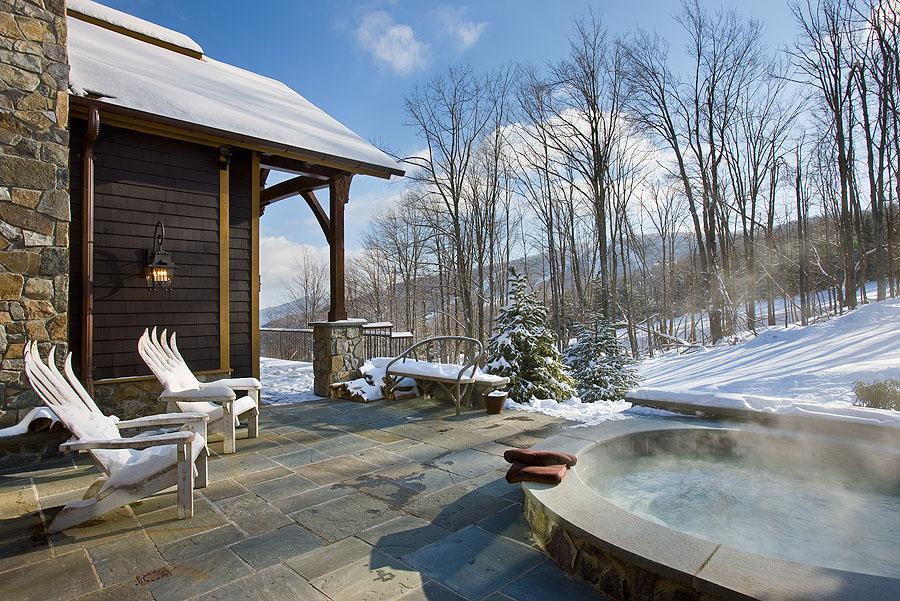 Hot Tubs, Spas, and Outdoor Showers
A steamy spa set against a wintry snowscape is the perfect way to ease into the evening after a day filled with snow sports. Surrounded by stone, a hot tub can emphasize your timber frame's connection to Mother Nature and her gorgeous landscapes.
For warmer weather, outdoor showers are a hot trend when it comes to luxury outdoor amenities. Who doesn't love getting clean surrounded by fresh air and natural beauty? No longer just for rinsing off after the beach, these special spaces can be built in the same aesthetic as your timber frame home.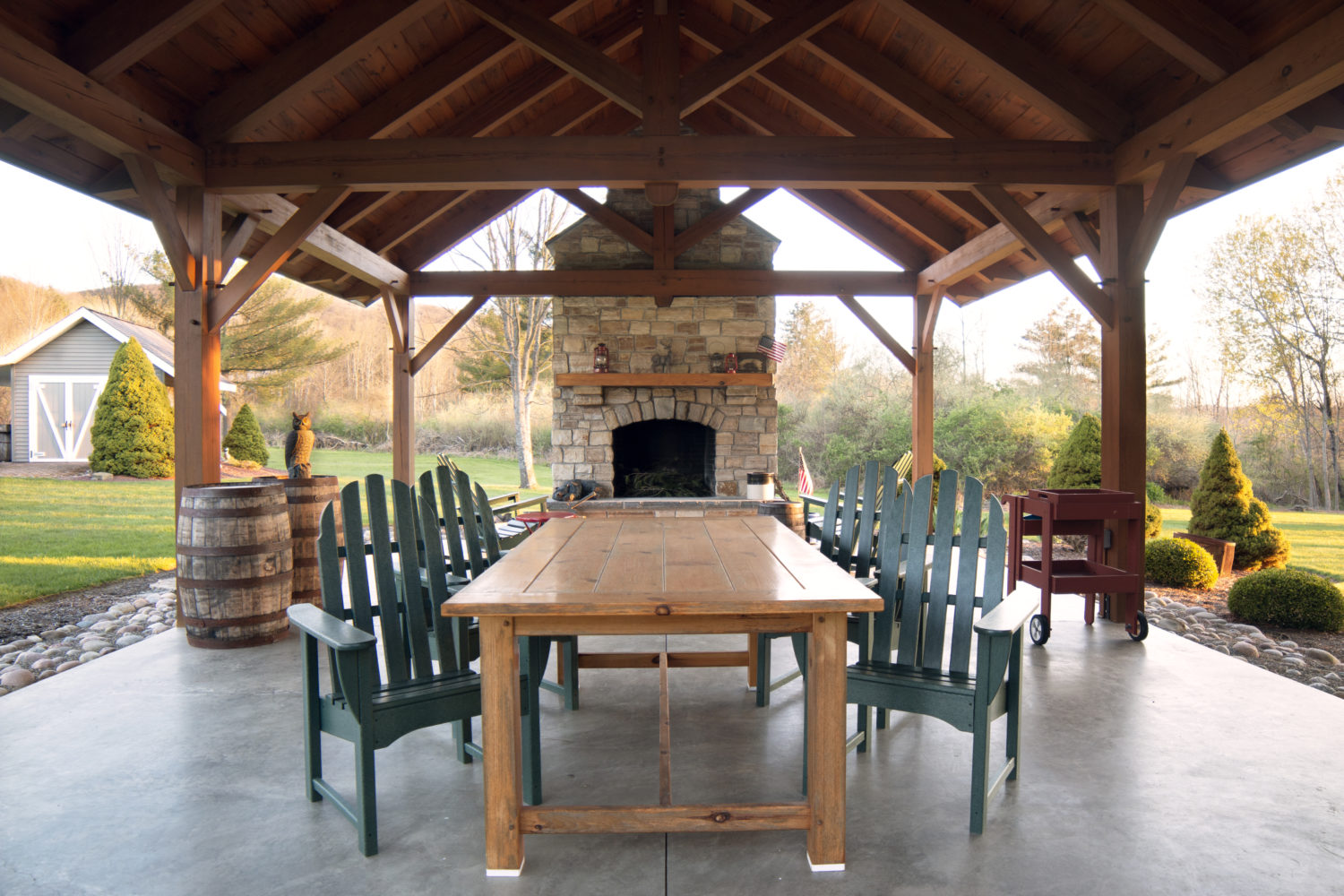 Timber Frame Pavilions

A timber frame accessory building, like a pavilion, opens the possibilities to many types of outdoor spaces. These sturdy structures, built with stunning artisan trusses, give people a sense of security and protection from the elements while accentuating your property's design.
Related to pavilions are timber frame gazebos and pergolas. A timber frame pergola is especially idyllic if you're dreaming of a structure that lets you gaze up at the stars or can support a lush growth of climbing plants, such as jasmine or roses, for afternoon shade.
The marriage of stone and big timbers creates an irresistible outdoor aesthetic. Increase the allure of your outdoor space with a statement stone fireplace that anchors the space, such as this masterpiece in Elmira, NY.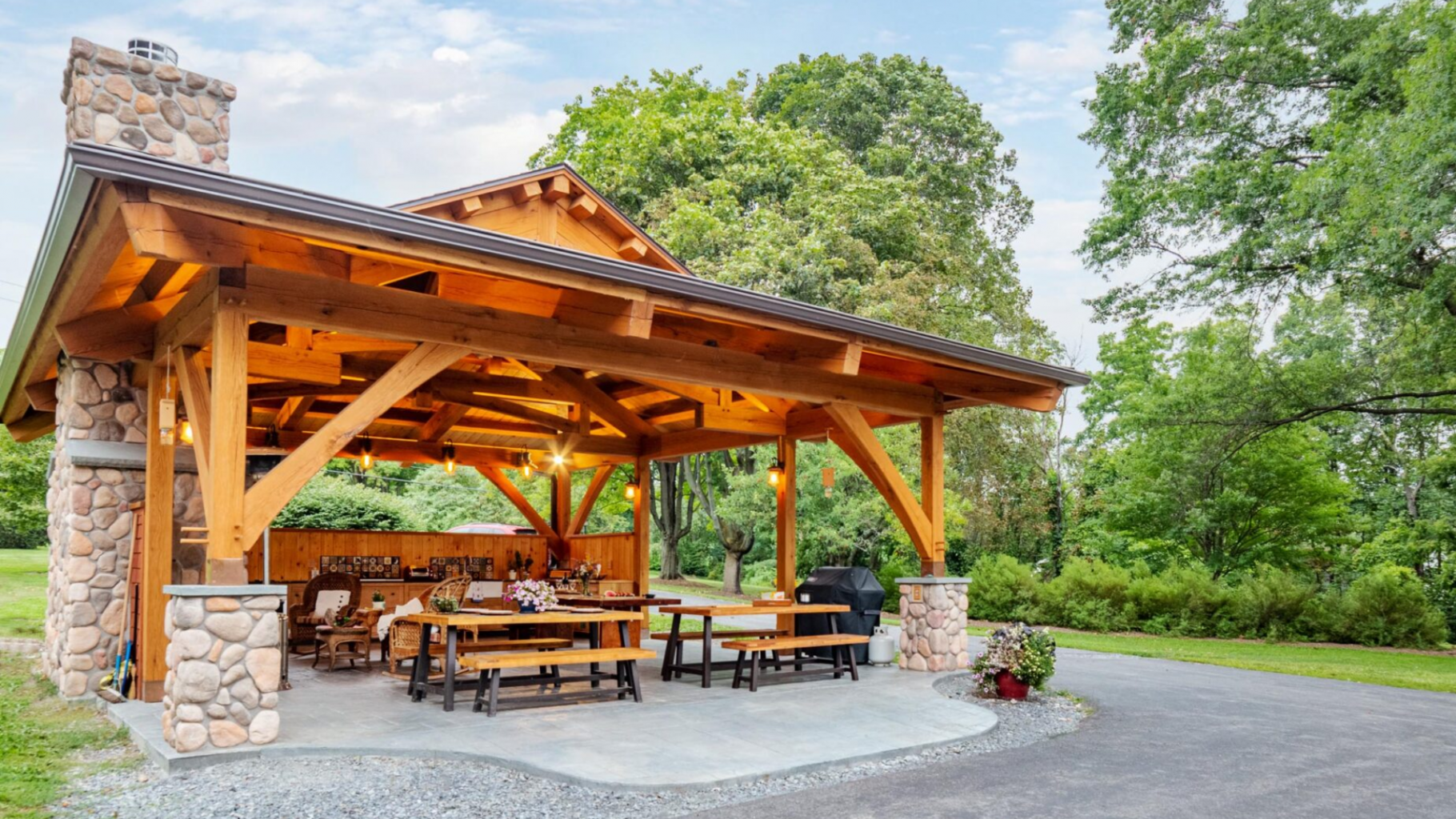 Outdoor Kitchens
Adding an outdoor kitchen to your timber frame pavilion or outdoor space can really dial up the fun and function of your property. Your outdoor kitchen can take the form of anything from a sheltered spot for your smoker or grill to a full-on luxury kitchen, complete with a dining table, stone fireplace, and suite of high-end appliances. You may never want to cook inside again! Here are even more tips for getting your perfect timber frame outdoor kitchen.
Outdoor Living Spaces

Outdoor entertaining areas for timber frame houses are perfect for any size party, even if it's a party of one. This custom white oak timber frame build (pictured above) combines the practical shelter of a covered porch with the luxury of an outdoor stone fireplace and upper-deck views. The result? A cozy, multi-season retreat that naturally extends the home's footprint. Or, you can follow in the tradition of many historic styles and create a screened-in timber frame paradise to protect you from the bugs. For example, this Woodhouse home in Beaufort, SC is rich with Southern style and shows off how screened-in porches and timber frame homes are a match made in heaven.
Your Luxury Awaits
Check out Woodhouse timber frame outdoor structures for more inspiration. No matter where you live in the U.S., our network of timber frame experts are ready to help you. Reach out to your Woodhouse Regional Project Manager, who can share personalized advice and help you achieve the special details that will make your timber frame house sing with luxurious comfort.