If the idea of downsizing feels… wrong, consider rightsizing, the design philosophy that's all about strategically prioritizing your specific wants and needs.
Oftentimes, life events like retirement or kids leaving the nest means one thing: time to downsize. But for many, the idea of downsizing is synonymous with sacrifice, and smaller square footage is not such a simple fix. What homeowners really need is smart, strategic design for their lifestyle–whether that's smaller, larger, or the same amount of square feet. Enter: rightsizing.
Here at Woodhouse, we're no stranger to the philosophy. Rightsizing is all about creating a home design suitable for your unique lifestyle and needs. Spacious outdoor decks, gourmet kitchens, lifestyle amenities, and voluminous, airy spaces filled with natural light ─ all this and much, much more are achievable even with the most efficient footprints. Our in-house Woodhouse architect, Diana Allen, is an expert in rightsized home design and offers some strategies that can help you achieve the timber frame home oasis you've always wanted.
(Plus, keep reading for a case study in rightsized custom design!)
Strategic Floor Plans
A well-designed, downsized home supports your daily needs, including those of interests and hobbies. But be honest with yourself when it comes to space. Do you really want to devote an entire wing or loft (along with its associated upkeep) to visitors who may occupy the space a total of two to three weeks over the course of the year? A rightsized home dedicates square footage and clever design to maximize the ease and enjoyment of daily use.
"Avoid basing rooms and sizes on the old home and lifestyle that went with it," Diana says. "Embrace change as a new beginning."
Rooms and spaces can do double-duty. A hallway alcove can be an office nook, a space for hobbies can be used for guests. Outdoor lovers may want a super-sized mudroom for wet and muddy gear. Maybe a high-end kitchen with two ovens and a large cooktop is your calling. Small-footprint great rooms can feel expansive and roomy with a statement fireplace and vaulted ceiling anchored with stunning, sturdy timbers.
Floor plans like our RockyView 2, Hemlock Run, CederRun 2 show off how strategic, well-organized spaces can be full of high style. Whatever size "downsize" means to you; we can customize any of our more than 100 floor plans to suit your specific needs.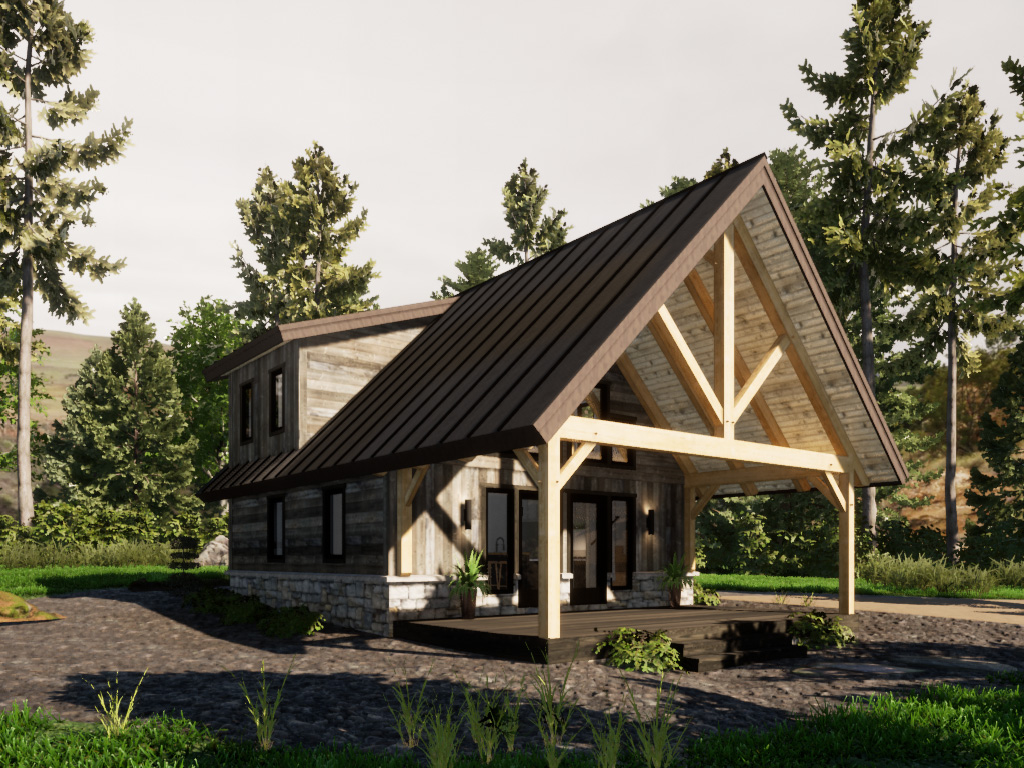 Define Your Value
Assessing price per square foot is a formulaic approach to measuring overall cost and value. Don't be misled. The connection between cost and scale is not as straightforward as many believe. It's a metric that does not account for quality of craftsmanship, finishes, flooring, siding, lifestyle design, maintenance costs, and long-term energy efficiency.
Your home should work for you, not the other way around. Using design creativity and industry knowledge, we work to adjust the levers between square footage and luxury features to achieve your perfect balance. Moreover, a quality, well-designed timber frame home typically holds its value for potential resale, should the need ever arise.
Simplify for Living
Mementos can be quite meaningful, but they also require space and storage. Diana advises homeowners begin eliminating clutter, broken items, and unused or underused clothing and furniture. Finally, tell the kids to retrieve anything they wish to save. A rightsized house does not need extra spaces, rooms, or garage bays simply for stuff that is never used.
Universal Design
Even if you're still far from retirement, it's smart to think about how long you want to remain independent in your home. Diana warns that even a small, four-inch step can become troublesome as we age. Designs with first-floor primary suites and outdoor porches and decks flush with the house can enhance easy mobility down the road. She also recommends planning spaces to accommodate assistance grab bars and making sure a shower can fit a wheelchair or transfer chair. Another tip: put the laundry room near the space that produces the most laundry. Combining it with a walk-in closet just off the primary bathroom saves time and energy.
Case Study: Crafted to Perfection
As you explore rightsized plans for your new stage of life, it's helpful to see how other people have managed their home transitions. In 2022, Woodhouse Western Regional Project Manager, Bob Colby, helped a Denver couple, Connie Valdez and Pam Reiter, do just that.
About 25 years ago Connie purchased her mom's property knowing someday it would be the location of her forever home. When the time came, she and Pam settled on a site about a half-mile behind her mom's house. They loved their Denver bungalow and wanted to retain the craftsman style.
"I always wanted a timber frame and liked that Woodhouse offered a full package," Connie says.
Connie and Pam's timber frame home is a unique custom-build in the style of a mountain craftsman. The compact floor plan features a primary suite on the first floor and guest suite on the second, along with a home office and gym. Thinking ahead for when they grow older, the house holds a lower-level ready to be finished with a bed, bath, and kitchen for a caretaker. This space has a private entrance from the garage.
Numerous details elevate the style. The timber frame emphasizes exposed wood, and the home was oriented to maximize the surrounding beauty. The loft office features gorgeous, glass French doors that let Connie look out over the loft and through large windows for a stunning view of Pikes Peak.
"The house is so very Colorado," Connie says. "We love wood and architectural features. It's a great match."
Right Size. Right Now.
Ready to get to work on your own rightsized dream? Browse our timber frame floor plans and begin envisioning a low-maintenance, high-style life in a home that's just right for you and yours. As you start gathering ideas for your downsized life and rightsized home, contact Woodhouse to kick off a conversation.