Congratulations! You've decided to start building your dream home. By choosing to build with Woodhouse, you are also choosing to have an enjoyable building process. We will be there to help you every step of the way as you stop dreaming and start planning your new timber frame home.
Sprinkle a Little Social Media on Your Dreams
If you're looking for inspiration, Woodhouse has 3 social media tools that you can use to help you find inspiration and learn about current timber frame trends – and they're all just a click away. The first fun tool to check out is Pinterest. It is a great online scrapbooking tool to organize your research and visually jumpstart the planning process. A lot of Woodhouse clients show their Pinterest boards to our regional project managers and architect to help them understand their dream.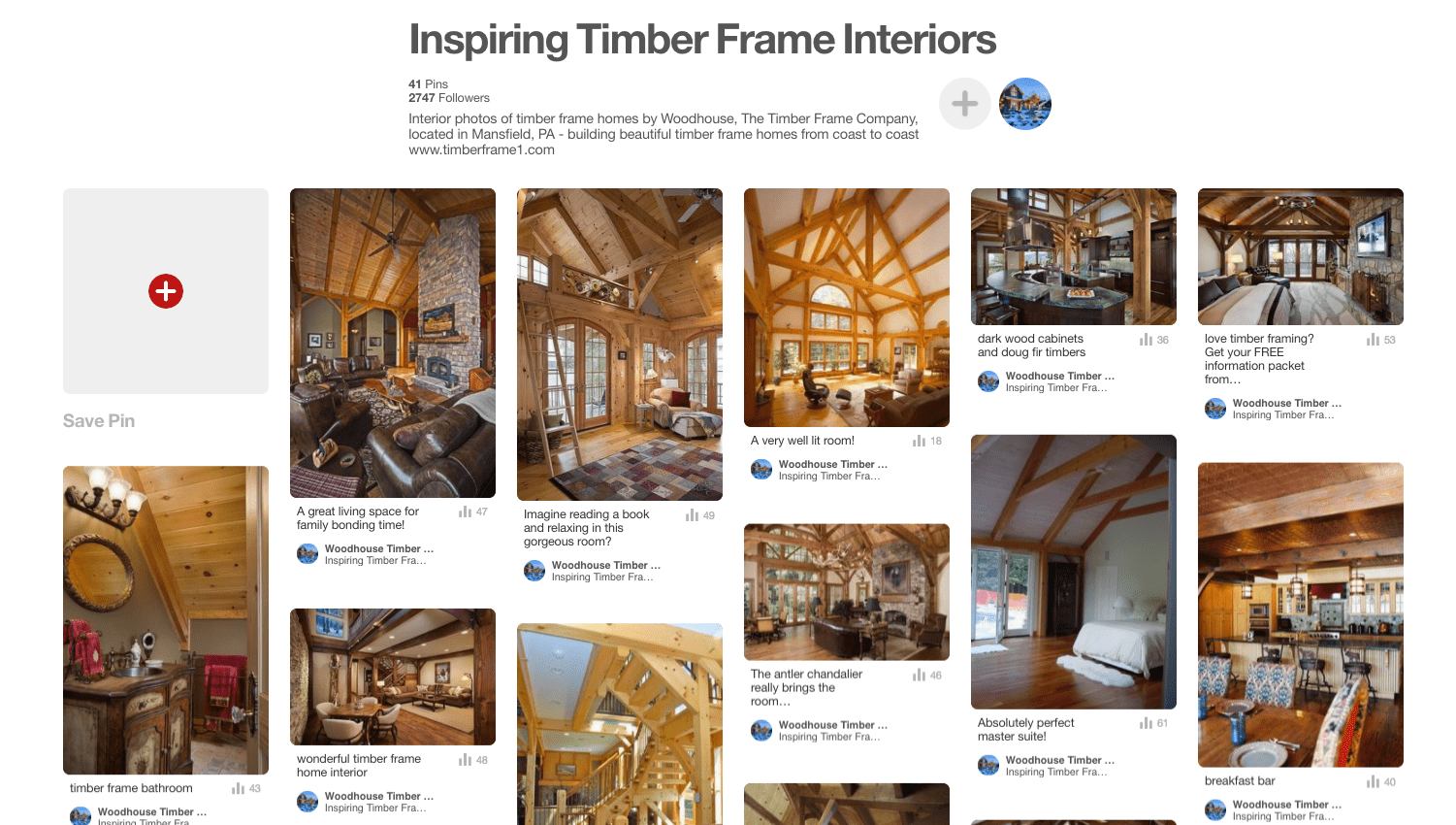 If you're more old-school and prefer the feel of paper in hands over the look of digital images on a computer, you can print out copies of any pictures you find on Pinterest that tickle your fancy. The second great social media tool to help unleash your creativity is Instagram. Follow our page and discover a wide variety of photos including shots of home exteriors, interesting interior design elements, and other special timber frame images. You might find some additional ideas to consider adding in your Woodhouse timber frame home. Our Facebook page is the third way to incorporate social media in your planning process. Here you can find not only additional visual inspiration, but also get a firsthand look at some of our current projects. You may even catch a comment or two from existing home owners.
WOODHOUSE TIP: Join in the Facebook conversations and talk with other Woodhouse clients and timber frame enthusiasts to get more tips for building your dream home. Don't be shy, ask questions – there's always room for more!
Timber Frame Galleries
Once you've worked your way through our social media platforms, we encourage you to dive deeper into the planning process by visiting the Woodhouse website and browsing our online gallery of gorgeous timber frame homes. With our easy search filter, you can quickly view the 100+ available building options to find the designs that best match your style. Our pre-designed floor plans are helpful for any person planning their dream home, whether you are a technical planner or a visual dreamer. For planners, our renderings are a great tool to help you understand how the different aspects of the home all fit together. They also help visual learners to better imagine the functional use of room and space in a home. Download your favorite floor plan here.
WOODHOUSE TIP: Our 3-D fly through videos bring our floor plans to life. Each of our clients receives a custom 3D rendering of their home, courtesy of our design services! Browse our video library to view more animated homes like this one and get even closer to defining your dream:
The Woodhouse Social Network
One of the best ways to learn more about the building process is simply by being social. Like any big project, it helps to discuss your ideas with as many people as you can. Our regional project managers have great relationships with Woodhouse homeowners; they are more than happy to connect you with one either in your area or with a similar design style. We believe that the more you know, the better your dream house can be. Already have some plans in mind? We want to know your vision and invite you to share your ideas with us, whether it's an elaborate architectural plan or a quick sketch on a napkin. Our design studio has seen it all. Have a photo of a home you loved from a vacation 20 years ago? Or a Pinterest board full of homes that inspire you? Show them to us! We are glad to help guide you through this process, no matter where you are in the design process.
Defining your Dream
Each Woodhouse home is as unique as each wonderful Woodhouse homeowner. And each homeowner will use their home in unique ways. Whether you plan to live in your home full-time, part-time or just as a transition between places, understanding how you plan to utilize your home is key to the design and planning process. Our architect will first want to know what you want your Woodhouse timber frame home to do for you. What will be the look and feel of your home? Do you plan to live in your home after you retire? Is this home going to be a place to invite friends and family, or is it your own special place to get away from it all?  What is the one special area that will be your favorite part of your new home? These are some of the questions that you should ask yourself as you move past the planning phase. As you prepare to take the next step and make the move from defining your dreams to planning your dream home, don't let any financial surprises put your dreams on hold. It is important to find the right budget that matches your dreams. By using our Woodhouse Budget Calculator, you can easily see how each aspect of the building process affects your overall budget. Try it out here.
Building your dream timber frame home is one of the most exciting and exhilarating ventures you will ever undertake. As you define and refine your dream, revisit all the tools available on our website and social media platforms.
Do you need advice, but still want to explore your options? We welcome you to contact our architect or regional project managers for free consultation while you are in the planning stage. Our team of experts is here to make sure that you are on the right path towards building your home.