The next step to building your dream timber frame home is finding just the right spot for your home. The site of your timber frame home is one of the most critical things that you'll consider. Your timber frame isn't just any kind of home; every little detail works in tandem with each other, from the selected floor plan to the type of the wood used to the physical location of your timber frame.  At Woodhouse, we make sure to help our clients find the correct location that works best for their homes. Planning your property and site is uniquely important to building your ideal timber frame home. Whether you already have land and are ready to build, or if you need extra time to pick the perfect spot, the Woodhouse team is here to help you in this monumental step of the building process. Welcome to Step 2.
A Place in the Sun..or the Shade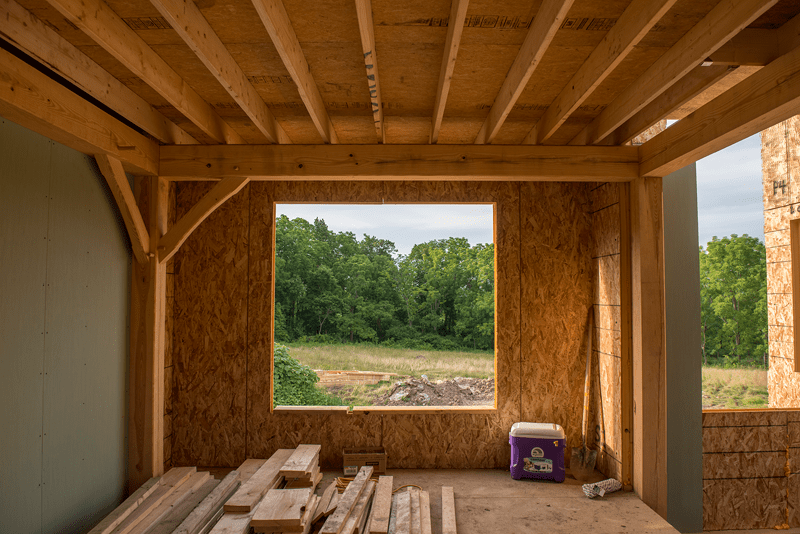 Consider your property, whether it's the land you already own or just the site that you are currently imaging, like an artist's blank canvas. The first thing to consider is where to place the focal point of your masterpiece. Your timber frame home should look like it naturally belongs in its setting. What are the best features of your land? Does it receive several hours of direct sunlight each day, or is there a copse of trees that shades and cools your property? Do you prefer the sounds of running water over the stillness of a vast forest? What will be the first thing your guests see when they arrive at your property? Whether you have already purchased your property, or would like some guidance in choosing the perfect spot, our expert team of Regional Project Managers is there to help you ask the right questions to maximize the beauty of your property and home and to minimize any costly surprises that may come further down the road.
For example, you may want to build your home at an elevation that allows you unfettered views. But, do you know how to determine if wind may be an issue? What if you prefer to build your timber frame home next to a body of water – could drainage be a concern? Luckily enough, our RPMs will take every aspect of your property into consideration to map out potential issues so that you don't have to. Think of them as your home building gurus, weather forecasters, and event planners all rolled into one. They will think of every minute detail, from the direction of the sun, to where your guests will enter your house, and even the best spot to place your driveway. Remember, no detail is too small when it comes to building your dream home.
Site Visits
As with any other step in the building process, our team is more than happy to offer their expert advice. During this property and site planning phase, we would love to visit your site to ensure that you are considering the right aspects and making the best decisions for your timber frame home. Having a Woodhouse Regional Project Manager on site is invaluable since they will be able to give you expert advice in-person. It will also help them better understand your dream and vision for your timber frame home.
Our Southeast Regional Project Manager, Don Downs, conducts many site visits for building projects located in the mountains. While on location, he is trying to determine the optimal layout for the home while also incorporating the best views which will typically be located on one side of the property. "I look at the view and think about how it is going to be oriented. How is the slope of the land going to work with the basement? Is it going to be a walkout basement with a finished basement? If so, it will keep the square footage of the house lower, ultimately keeping the budget lower as well."
Don, along with the rest of our Regional Project Manager team, are all about asking the right questions, sparking conversations, and finding solutions even before the first piece of joinery is assembled. We are here to take away any concerns or questions you may have about the building process and to make sure that each step of this monumental project is an absolute success.
A Room with a View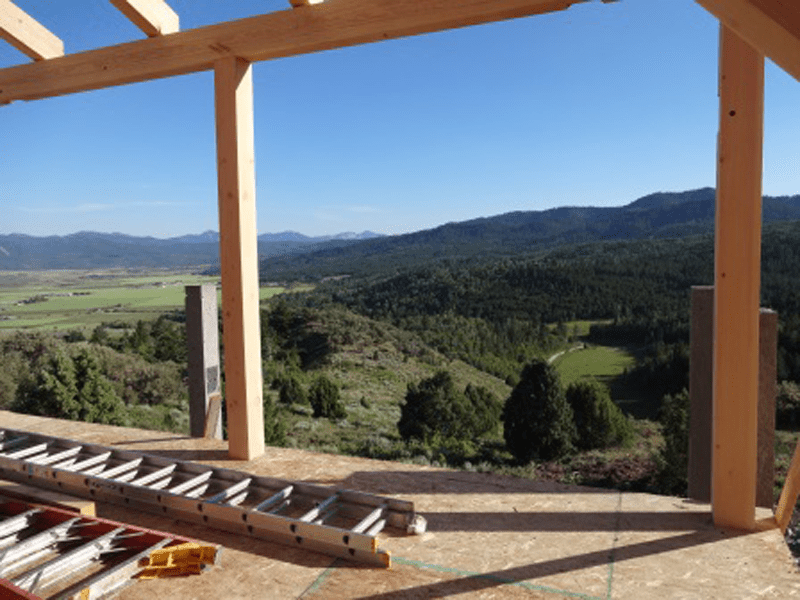 One of the most fun parts when going through the property and site planning phase is taking into account your view. Where will the bedrooms look out towards? What will the views be from your living room? What do you prefer to stare at while relaxing on the porch? While these questions may not be as technically difficult to figure out as how the slope of the land will affect your basement, we believe that they are still very important to consider, especially since you'll be living with these gorgeous views for as long as you live in the house.
During Don's site visits, he will take the unique aspects of each person's site into account. Building a lake home can be very different from building a home deep in the woods. For homeowners planning properties on a lake, Don often suggests having "plenty of windows on the side facing the lake," to take advantage of the view. Where Don's building expertise really comes in handy is considering the unforeseen challenges that too many lake-facing windows may pose. According to Don, the afternoon sunlight that reflects off the lake into the house may become intense. His solution? "You can get special windows with tinting to help out with that." Problem solved
Land Ho!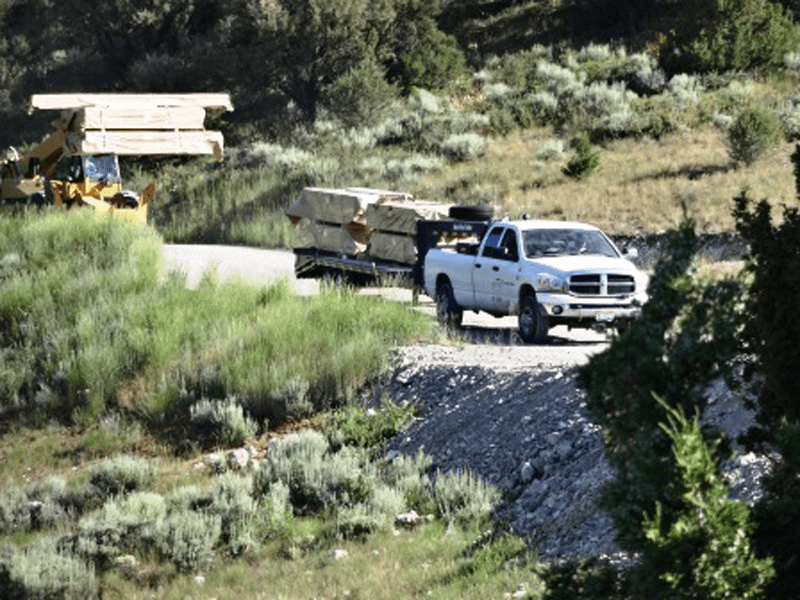 Another thing to consider during this part of the building phase is whether your location is accessible for the building materials. "A lot of the time, the roads in the mountains are narrow and twisty so sometimes you can't get a truck out to the job site. We need to think about these things when considering the budget," reminds Don.
Don't worry if you haven't picked your dream property yet. Our team of experts can still provide you invaluable advice that will save you from any potential future hiccups. "I tell people to consider whether they would rather buy a piece of land somewhere versus getting a lot in a development," said Don. "You get more freedom when you buy a piece of property somewhere, but you need to be aware that everybody else in the area also has that freedom. In the Southeast, there are not a lot of zoning laws, so your property value can deteriorate if something not-so-nice is built next door to your home."
The More You Know
At Woodhouse, we believe that the more informed you are, the more successful your building process will be. Bring us on board and we will transform you into mini timber frame experts so that you can not only keep track of all your home details, but also impress your family and friends with your industry knowledge.
During this phase of the building process, if you choose to purchase a plot of land within a development, one of the most important aspects to understand are the building restrictions. You have been dreaming about your timber frame home for a long time. Let's make sure that your plans don't have to be abandoned because of the development's architectural guidelines.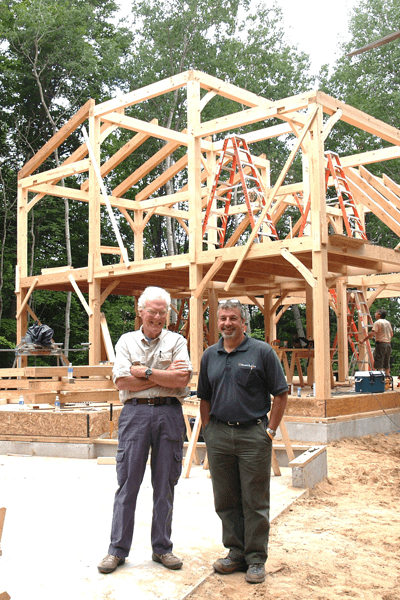 So, whether you are a man with a plan but no land, or if you're a woman with some land but no plan, or – well, you get the idea – the Woodhouse team is here to help. We will make sure that you are on the right path towards building your dream timber frame home. We are more than happy to provide expert assistance for the placement and site location of your home. We will make sure that you are asking the right questions and getting the right answers before you move on to the next step of the building process. This is the year to start making it real – contact us today to learn more.