The "Perfect Timber Frame Design for Your Climate" series is intended to help homeowners understand some of the top considerations when building a new home in different regions and climates. Here's what you need to know about designing a forest timber frame home.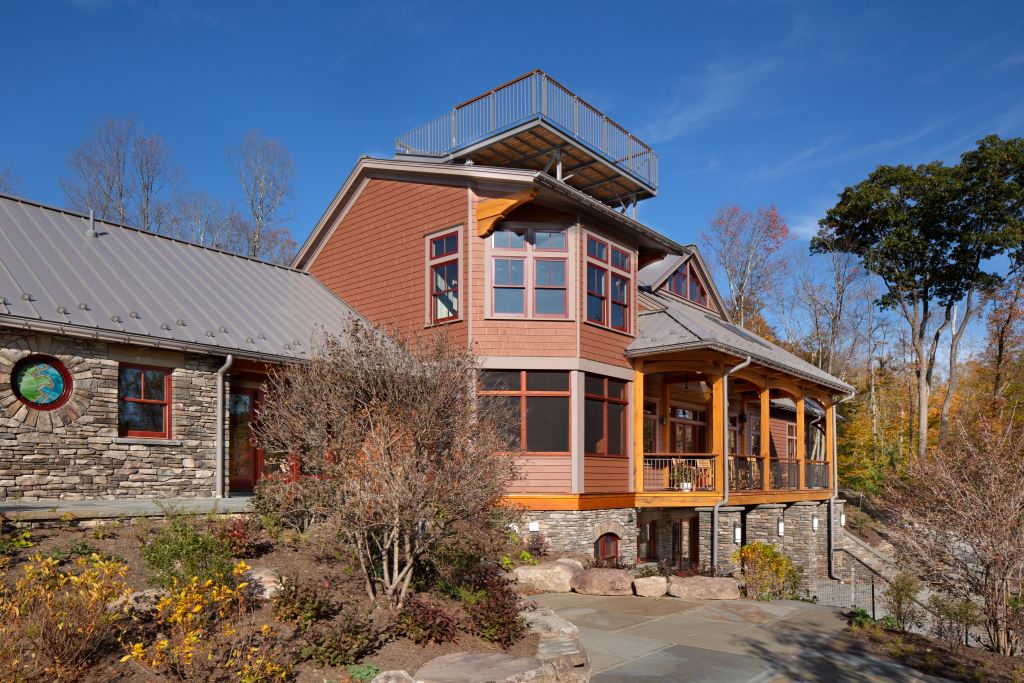 "Forested lots offer a plethora of opportunities for timber frame homes," says Craig Johnson, vice president of sales and marketing at Woodhouse. "A recent client of Woodhouse created a 400-acre sanctuary in upstate New York's Catskill Mountains, in the appropriately named town of Forestburg. Their dream: a nearly 6,000 square feet, two-story timber frame home with a two-story great room, custom kitchen, four bedrooms, six full baths, two home offices, study, lounge, a keeping room, indoor lap pool, and spa. They also specifically requested a rooftop deck for 360-degree views of the surrounding forests and stream teaming with trout." (You can read the story of this build or view photos.)
When it is time to build your forever timber frame home, a forest setting is an excellent choice. Johnson suggests the Woodhouse Timber Frame Cabin Homes, Cottage Series, and Adirondack Homes as starting points on your journey to your forested retreat.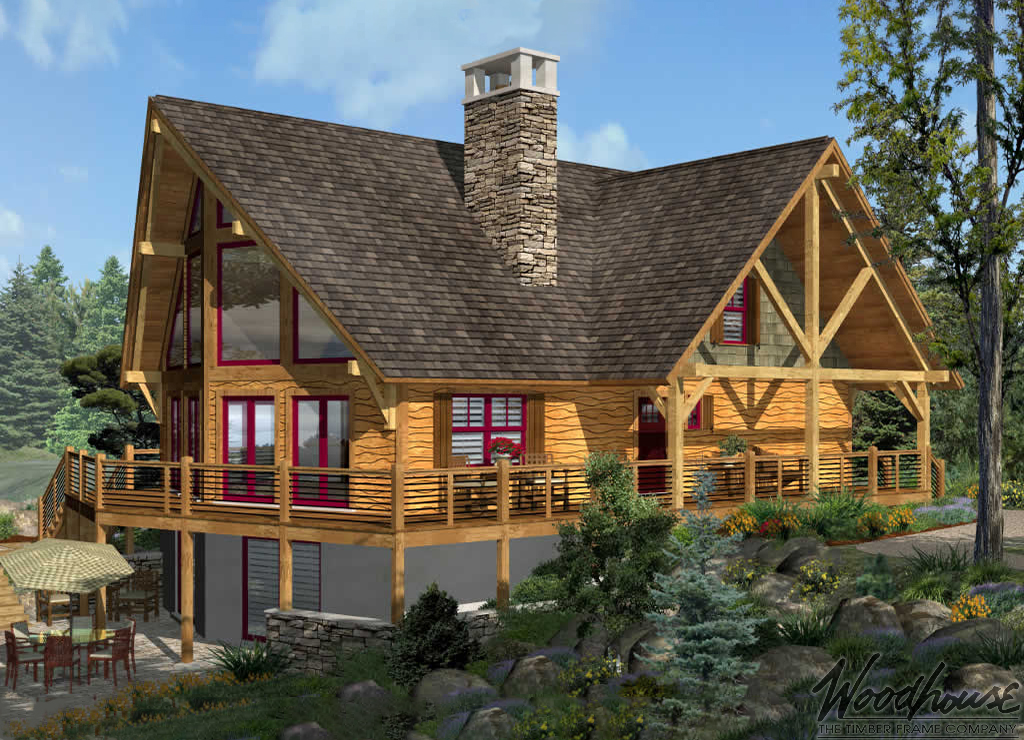 These timber home plans are good jumping-off points when designing your home, they have innate qualities that make them ideally suited for a wooded escape. Metal roofing helps to shed leaves and needles in the fall, while a steep-pitched roof makes your home better equipped to deal with heavy snow loads in the winter. Large windows allow you to bring the outside in, which after all is the whole point of living amongst nature. Porches and lower-level walkouts provide covered outdoor areas perfect for taking in a sunrise or sunset. And, to make life easier, the home's materials and the Woodhouse building system come together to make a home that requires minimum maintenance.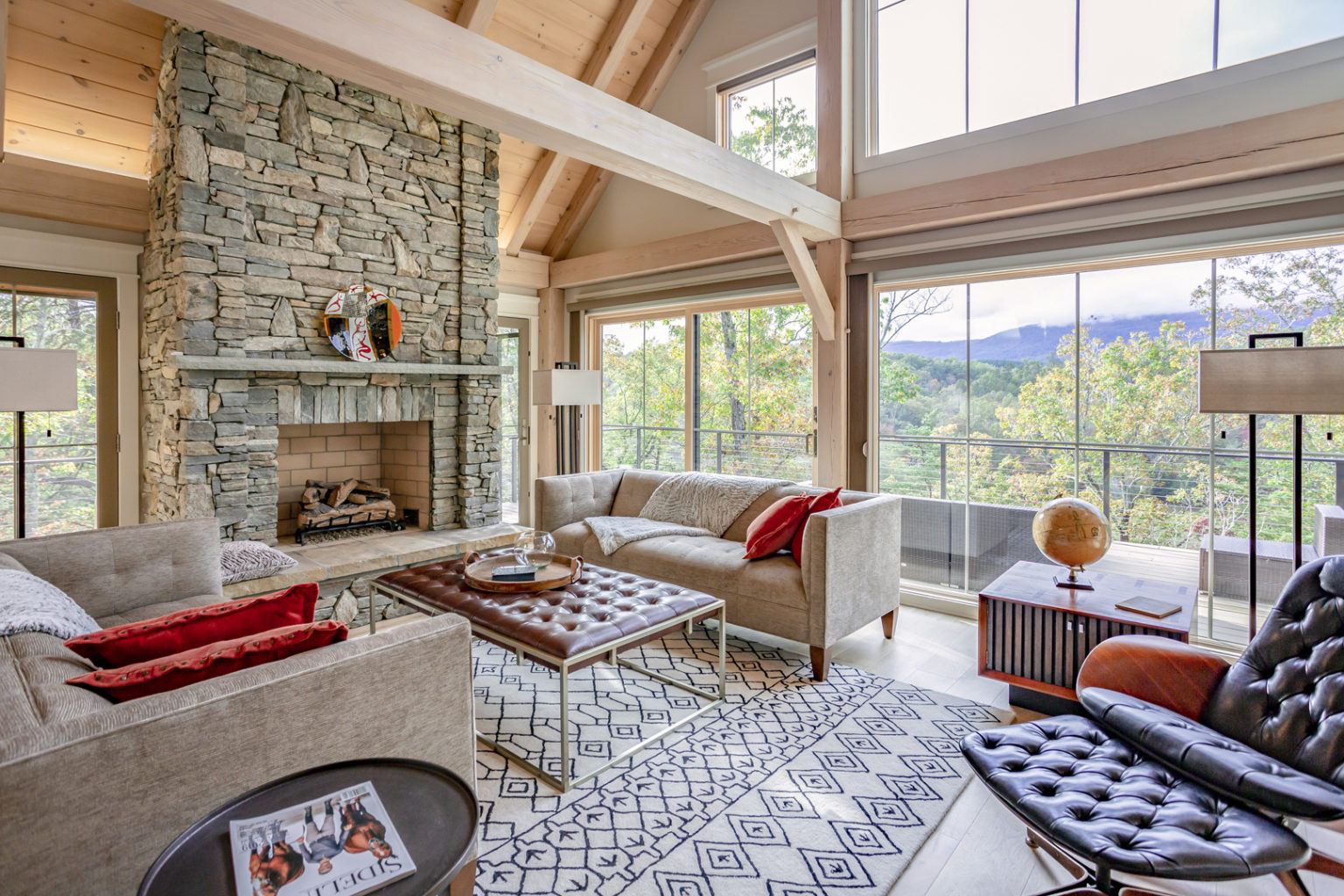 When building in a forested environment, building with fire-resistant materials can be a priority. Fortunately, in the wake of the devastating wildfires in the West, there are new building materials that have come on the market proven to dramatically reduce this risk from wildfires, such as fire-resistant decking and roofing materials, Johnson says.
Woodhouse's building system carries a Class-1 Fire Resistance rating, the highest rating available for combustible materials. Compared to 2×4 or 2×6 framing that can perform as a chimney, providing oxygen for the fire to accelerate. In contrast, the solid continuous foam in a SIP acts as a monolithic fire stop, depriving the fire of oxygen. This provides clients of Woodhouse with peace of mind, Johnson says.
To learn more about designing your own forest timber frame home, visit our Where We Build page to find the project manager for your specific region. For a more general conversation, contact a Woodhouse representative here.