One of our more modestly-sized homes, the 844 square-foot Brookside provides one bedroom and a full bath downstairs, with a sleeping loft and second full bathroom upstairs. This contemporary timber frame home features an open floor plan, a mono-pitched roof, lots of windows with abundant natural light, and a sleek, to-the-point exterior which compliments its natural surroundings.
As part of the Contemporary Series, the V2 of this design adds a new modern exterior to the original, including timber slats for ivy to climb, giving the building character as it ages while helping it blend into the natural environment.
Contemporary Series
The Contemporary Series tries to encapsulate the most current trends and practices into timeless designs that can be enjoyed for generations. The existing trend combines the best elements from modern, industrial, and minimalist design, to create unique spaces that are in tune with nature, both practically and aesthetically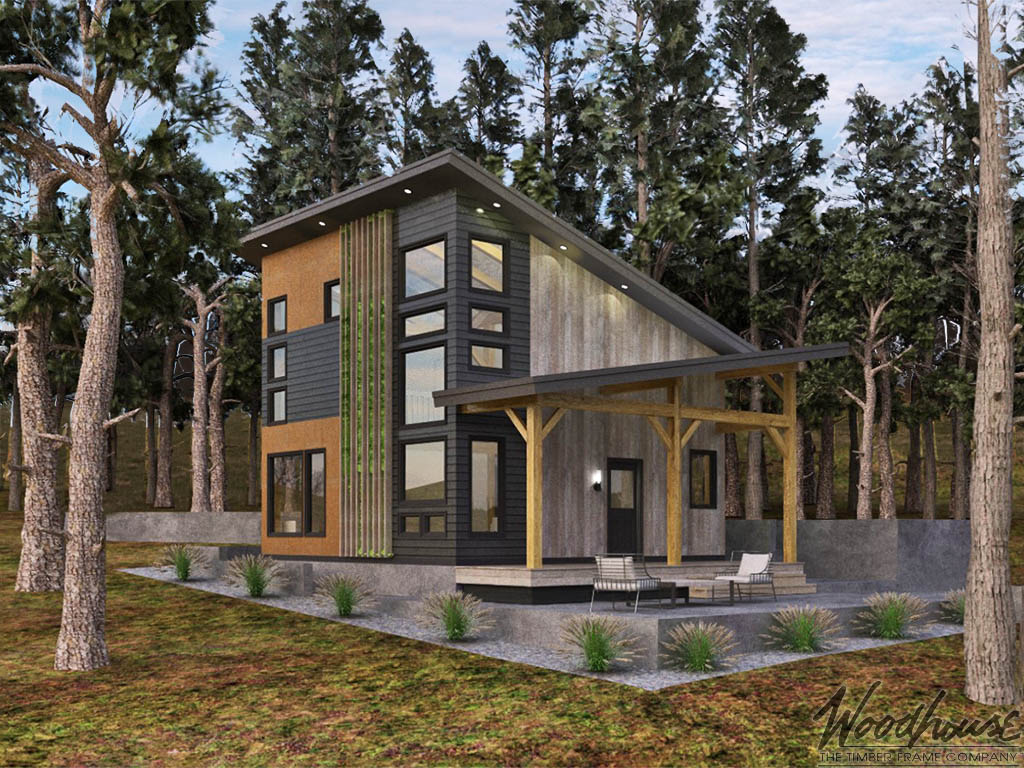 1st Floor
Cov'd Deck – 78′-0″ X 8′-0″
Cov'd Deck – 8′-0″ X 22′-0″
Cov'd Deck – 8′-0″ X 20′-0″
Cov'd Deck – 71′-2″ X 8′-0″
Entry/ Banquet Room – 23′-9″ X 18′-8″
Great Room – 19′-7″ X 21′-2″
Kit. – 11′-7″ X 20′-2″
L'Dry – 7′-7″ X 14′-9″
M. Bath – 17′-2″ X 15′-9″
M. Bed – 17′-2″ X 25′-0″
P'Try – 6′-0″ X 5′-0″
Pdr. – 7′-10″ X 3′-0″
W.I.C. – 7′-7″ X 11′-5″
2nd Floor
Bed 2 – 13′-4″ X 15′-8″
Bed 3 – 12′-5″ X 11′-5″
Jack 'N' Jill Bath – 12′-5″ X 9′-4″
Dream Home Budget Calculator
What does a timber frame home cost in your area? Answer 20 simple questions and we'll help you figure out your budget.