The Cascade is a sleek design, exemplary of the Contemporary Series, that makes use of post-and-beam joinery and black pipe railings to give a modern industrial aesthetic to the home. The main room includes tall exposed timber ceilings with panoramic folding glass doors that can open up to the spacious porch, vastly increasing the space available in warm seasons.
Both bedrooms enjoy large windows looking out on the main view, shared by on-suite bathrooms. The master bedroom benefits further from exposed ceiling timbers and a soaking tub with endless view through a large picture window.
At 2044 square feet, 2 bedrooms, and 2.5 baths, the Cascade design is bursting with options for more bedrooms and bathrooms, both above the adjoining garage, and in the expansive basement that can effectively double the living space if one chooses to finish them.
See a finished example of this design in our gallery.
Contemporary Series
The Contemporary Series tries to encapsulate the most current trends and practices into timeless designs that can be enjoyed for generations. The existing trend combines the best elements from modern, industrial, and minimalist design, to create unique spaces that are in tune with nature, both practically and aesthetically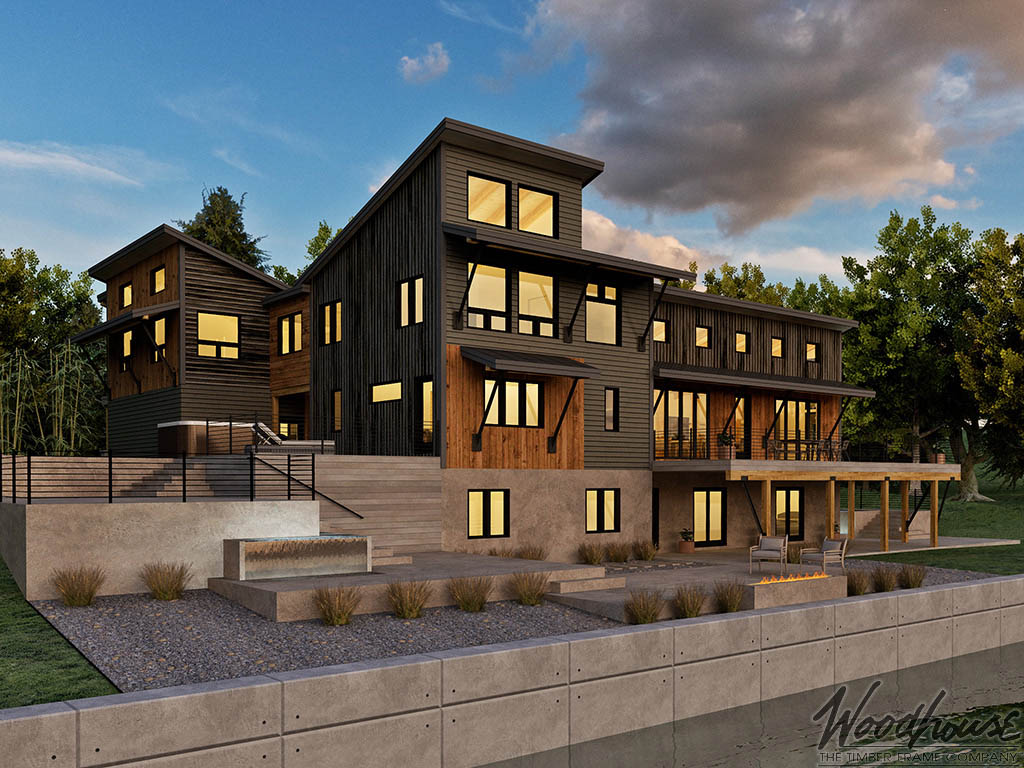 1st Floor
Bath 1 – 8′-8″ X 8′-7″
Bed – 15′-10″ X 14′-8″
Deck – 16′-0″ X 24′-0″
Deck – 44′-0″ X 14′-0″
Dining – 21′-3″ X 10′-9″
Entry – 9′-8″ X 7′-9″
Kit. – 21′-8″ X 10′-1″
Living Area – 18′-3″ X 10′-9″
Opt. Garage – 22′-11″ X 24′-11″
Pdr. – 5′-0″ X 5′-8″
Porch – 26′-0″ X 5′-0″
2nd Floor
M. Bath – 9′-8″ X 10′-2″
M. Bed – 15′-0″ X 14′-8″
Opt. Bath 4 – 8′-7″ X 5′-0″
Opt. Bunk Room – 22′-11″ X 24′-11″
Opt. Mech. – 8′-7″ X 3′-0″
Opt. Connector – 3′-10″ X 10′-6″
Opt. Storage – 8′-7″ X 3′-0″
W.I.C. – 9′-8″ X 4′-2″
W.I.C. – 9′-8″ X 4′-1″
Dream Home Budget Calculator
What does a timber frame home cost in your area? Answer 20 simple questions and we'll help you figure out your budget.