Timber Frame Homes in Breckenridge, Colorado
Nothing speaks of a cozy mountain home like the natural warm tones of timber. Dating back to Alpine ski chalets, timber frame and mountains go together like butter and bread, creating enchanting spaces from which to enjoy the quiet austerity of winter or the blossoming beauty of spring. 
It was only natural that when the Rockies became popular as the 'American Alps' that this same time-tested style would come back into the public consciousness. Few places are more popular for these Rocky-mountain retreats than Breckenridge, CO: the town, and area around Summit County, are dotted with decades of Woodhouse projects.
"In Woodhouse's over 40-year history we've built many timber frame homes in Breckenridge and, also, elsewhere at high elevations.  There is a long list of special considerations when building in those environments," says Craig Johnson, Vice President of Sales and Marketing at Woodhouse. "Snow loads, wind loads, it's part of our vernacular and we're used to working with what the conditions require."
Woodhouse is also used to onboarding homeowners from fairer climates, those who may have never heard of 100-pound snow loads. "It's new to them, but we're used to it," says Craig. "There's more – for example, people don't realize the windows need to be designed and manufactured for that higher altitude as well. Again, it's all part of our language."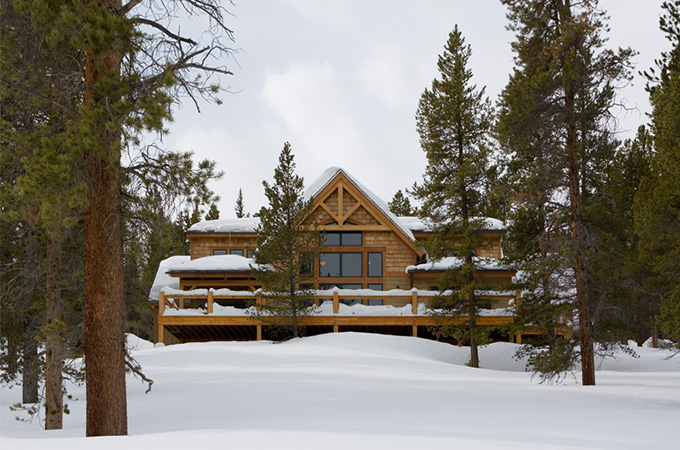 Woodhouse designs in the Mountain Home Series, Mountain Modern Series, and Appalachian Mountain Home Series serve as great jumping-off points – complete, but ready for homeowners to add a little of themselves. "The architecture of the homes reflects the times they were built in," says Craig. "Out there, places like Steamboat, Vail, Jackson Hole, that Western-style architecture was so popular it trickled down across the country."
Whether you're looking for a Colorado timber frame home as a winter retreat, or a customized compound hidden in the hills from paparazzi, Woodhouse has experience with all of it.
Top Floor Plans in Breckenridge, CO