Timber Frame Homes in Ohio
In the Buckeye state, homes are built on history but made for the future. 
Sandwiched between the Northeast's colorful personality and the West's dramatic landscapes, Ohio quietly offers up a steadfast reputation built on farmlands and agriculture. These fertile fields were once heavily wooded, cleared out by pioneers who ventured west of Appalachia to find a new life. Much of that cut wood was used in their barns and homes. It only makes sense that timber frame homes, Ohio, and history are intimately woven together.
Today, Ohio is still a place where people seek livelihoods and families grow their roots. Our timber frame homes give residents a beautiful home, packed with quality, efficiency, hardiness, and style that fits right in.
Beautiful and Practical
A genuine timber frame home in Ohio stands out just enough to grab your attention with its good looks. Stunning and sturdy; these homes are a practical choice. Wrapped in our specially designed structural insulated panels (SIPs), our timber frames deliver some of the highest energy efficiency available for a home.
"Midwest winters are harsh," says Midwest Regional Project Manager (RPM), Jamie Thompson. "You can reduce energy costs by 40-60% with SIPs."
Practical features coupled with traditional styles, timeless good looks, and sturdy construction mean Ohio timber frame homes retain their value. Additionally, timber frames make an excellent choice for a barndominium, carriage house, or other accessory dwelling units, which can transform into a family compound or much-needed farm buildings. We can also build timber frame outdoor structures such as pavilions, gazebos and pergolas.
Heart and Lands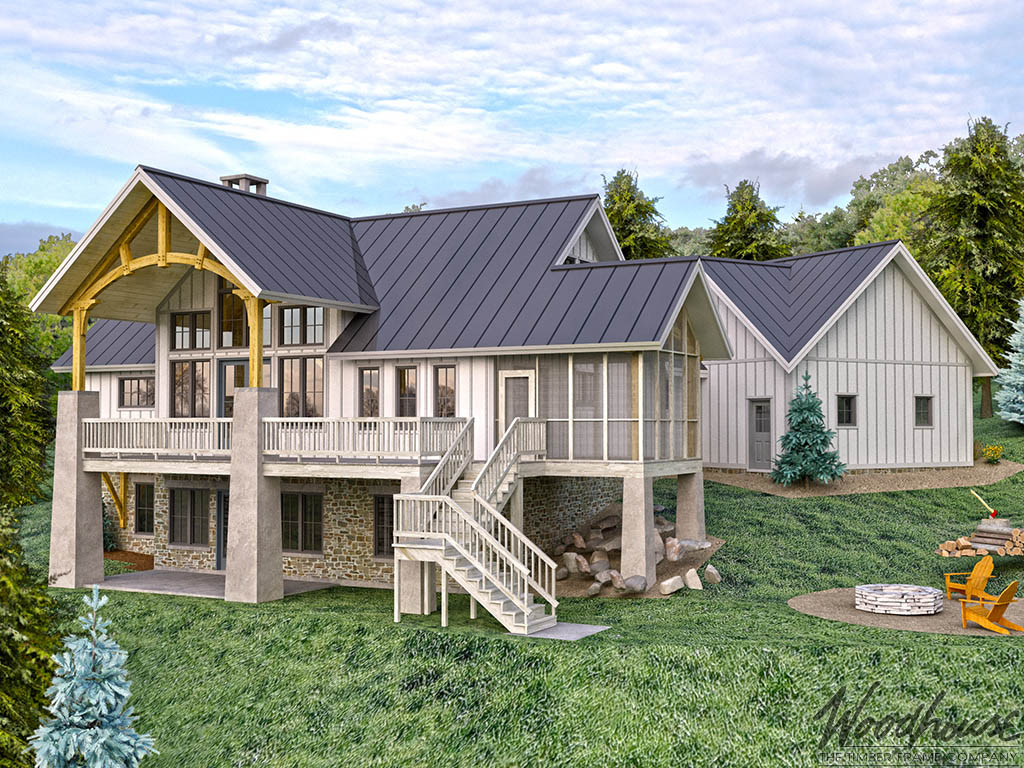 Farmlands and rural scenes of country life make up much of Ohio's scenery. Structurally and aesthetically, family farmhouses and timber frame homes are a perfect match. Early settlers used Ohio's timber in their structures and timber frames today hearken back to those early, hardy times. Historically significant and built to last, Woodhouse timber frame homes are a perfect choice for a legacy home, especially when you consider that some families have been farming in Ohio for 100-200 years. You can imagine a home, such as our Eugene plan or KettleCreek, gracing the pastoral landscape today and far into the future.
With our flexible and diverse styles along with our ability to customize any floor plan to suit your property and lifestyle, our timber frame homes complement Ohio's other regions too.
Cleveland is famous for the Rock & Roll Hall of Fame, but locals gravitate to its great lakeside communities between Sandusky and Port Clinton. Floor plans from our timber frame Lake Home Series give homeowners a gorgeous retreat to take in Lake Erie's watery expanse and enjoy lakeside living.
Ohio's capital, Columbus, has a history rooted in commerce and is enjoying a surge of urban revitalization. With an eye on modernity, our BryceCanyon and Tumalo plans interpret contemporary flair into timber frame style.
Upscale Cincinnati loves its sports. Situated next to the Ohio River, the city's contoured topography is suitable for timber frames with walk-out basements or mountain style homes with sweeping views of the hills and river. The Tellico, MountainView, and SouthPeak all showcase how different styles support the landscape.
A Local Builder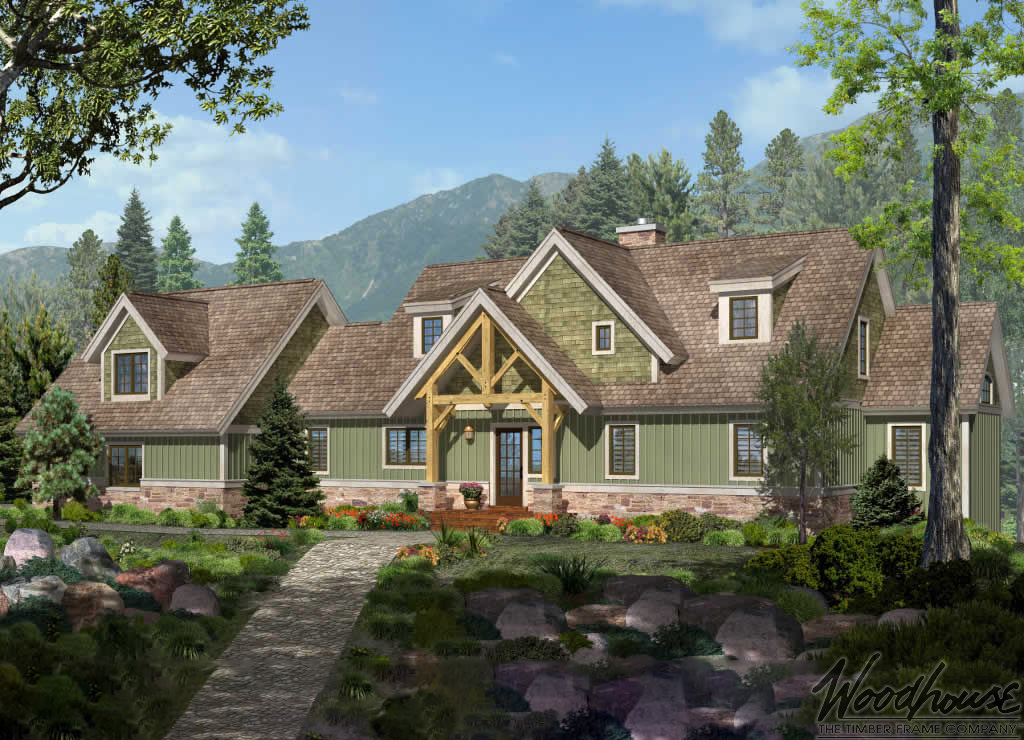 With Woodhouse, a timber frame home becomes your dream home. For starters, our RPM works closely with you to determine the right plan and style that fits your unique lifestyle and property. Our in-house design team can modify any plan to suit your tastes and create a custom creation, even if you want a design from scratch.
When it comes time to find a builder, Woodhouse Independent Sales Partner, Ohio Timber Homes, (also known as Southwest Ohio Marketing) is a go-to resource. With background experience in real estate and a presence in the home industry since 1979, Ohio Timber Homes is intimately familiar with Ohio's lands and moving people into timber frame homes and properties. You get a seamless experience from initial concept to final completion.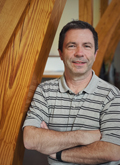 Jamie Thompson
Mid-West Regional Project Manager
In Ohio, if you know … you know. Check out some of Ohio's beloved, iconic hot spots.
Listen and Love: A visit to the Rock & Roll Hall of Fame is a must. Known as Rock Hall, this celebrated classic boasts rotating exhibits that are sure to thrill any music or history lover.
Wander, Ponder and Play: Ohioans have two stunning parks filled with trees, water, trails, and miles of natural beauty. Hocking Hills State Park and Cuyahoga Valley National Park are idyllic retreats and a perfect way to enjoy timber in its original form. You can even stay in timber frame lodges or cabins!
Famous Food: Did you know that Ohio is famous for its own spin on chili? Known as Cincinnati Chili and more sweet than spicy, this cinnamon-spiced treat piles on top of hot dogs or spaghetti. Get some in Cincinnati at Skyline Chili.
Start Exploring Today!
Have a property and interested in a timber frame? Or maybe you want a timber frame and are still scoping out the right area. We'll help you imagine what is possible.
Reach out to RPM Jamie Thompson
for a conversation. You can also begin by perusing some of our popular timber frame floor plans.
Perfect Floor Plans for Ohio