Timber Frame Homes in the Poconos of Pennsylvania
With forested peaks, lakes, and lush valleys, there are few east coast escapes better than the Poconos. The area boasts over 150 lakes, including the famous Lake Wallenpaupack, and is covered with towns home to both quaint charm and luxurious resorts. There's a long history of timber frame builders in Pennsylvania and Woodhouse is proud to see their floor plans brought to life as dream homes in the region.
The Poconos region is aptly summarized by the Munsee Native American word it is derived from, Pokawachne, which means "creek between two hills." The area is an enormous escarpment, or long cliff, that encompasses the Delaware Water Gap to the east, mountains to the north, the Wyoming Valley to the west, and the Lehigh Valley to the south. Easily accessible to homeowners in all stages of life, the Poconos are just a two-hour drive from some of the most populated cities in the United States.
"The Poconos have always been a vacation spot for New Yorkers or people who live outside New York and commute," says Jay Hodgson, Woodhouse's regional project manager for the Northeast. "There's easy access for Philadelphia, New Jersey – it's a great weekend getaway. A lot of our clients have their main home just a couple of hours away. This is their way to get out into the woods and enjoy activities like fly fishing, hunting, and camping."
It's a region known for its massive family summer camps. People will spend whole summers there and do all sorts of camp activities. The camp in Dirty Dancing was definitely a Poconos-inspired setting. Often, those who build timber frame homes in the Poconos have vacationed in the region for most of their lives, then decide to build their dream retirement home there. Other times they want their own private post and beam vacation home, as a base to host friends and family for outdoor adventures.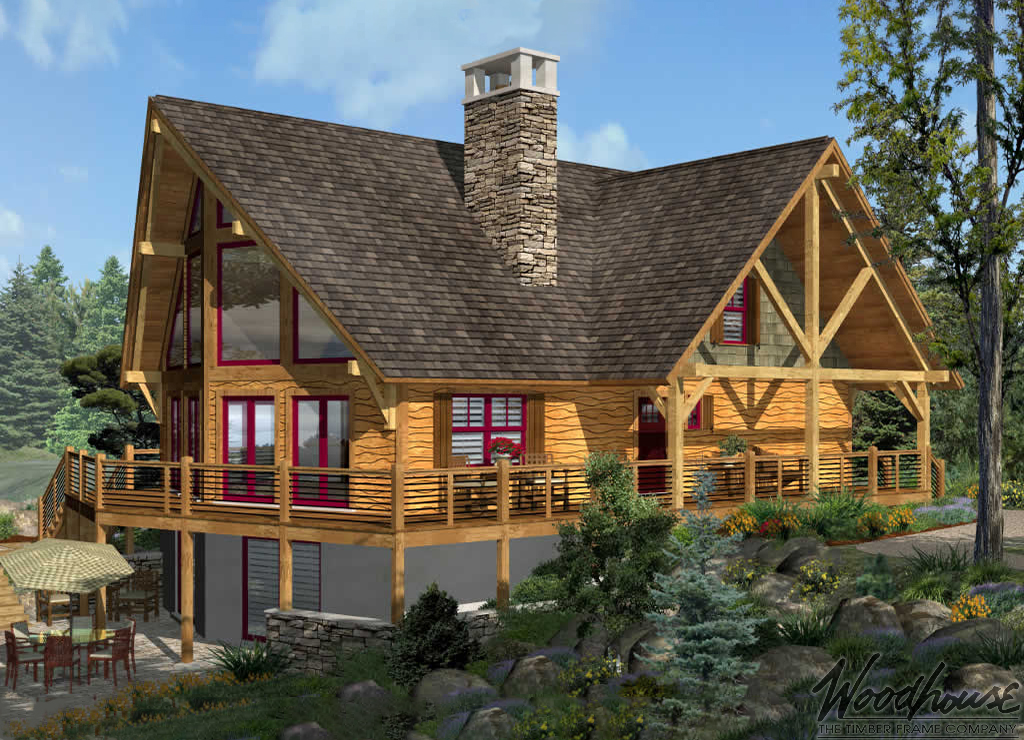 Popular Poconos floor plans include the Tupper Lake Prow, inspired by a large ship overlooking the sea, which uses two-sided prow windows to incorporate landscape views, and the Great Camp, a grand getaway design with a wide-open floor plan providing 4,300 square feet of spacious, well-proportioned living. As with all Woodhouse timber frame homes, these plans are fully customizable and designed to be modified to fit any client's individual needs.
"I think that the Poconos area is similar in a lot of ways to the Adirondack style homes found in New York, as far as aesthetic goes," says Hodgson. "It's kind of a hunting, trapping, pioneer aesthetic. Rustic. Large timbers. There are tons of lakes and rivers and that's certainly reflected in the choices people make in their homes. Drive two hours from a metropolitan area, buy some land, get some privacy and water and views."
Top Floor Plans in the Poconos