From a rebar handrail to hand-forged wrought iron, discover the details that step up the design of your stairs from standard to spectacular.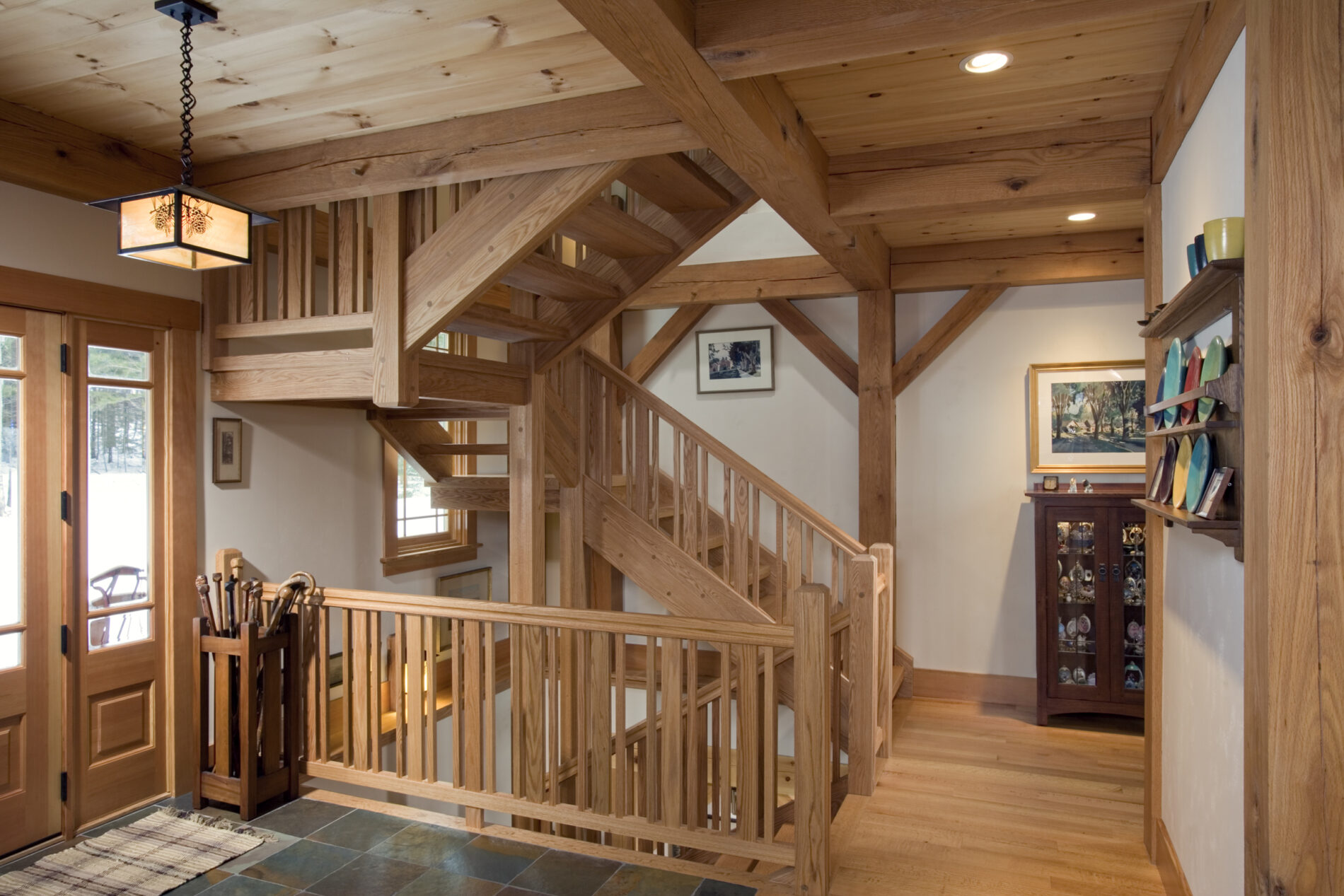 Entering a timber frame is an unfurling of one gorgeous design element after another. There is the beautiful, natural setting that highlights stately exterior timbers. A luxury deck and chimney add stunning dimension. Once inside, another artisan element tells you this is an extraordinary home: a marvelous set of stairs.
A stunning set of stairs brings your timber frame design to the next level. Flexibility and customization are inherent advantages of timber frame construction and allow a charismatic stairway to enhance and anchor show-stopping architecture. Because timber frames can be dressed in any architectural style, they're prime for interesting and creative designs. From rustic barnwood materials to sleek cabling to a rebar handrail, here are the design details that make stairs spectacular!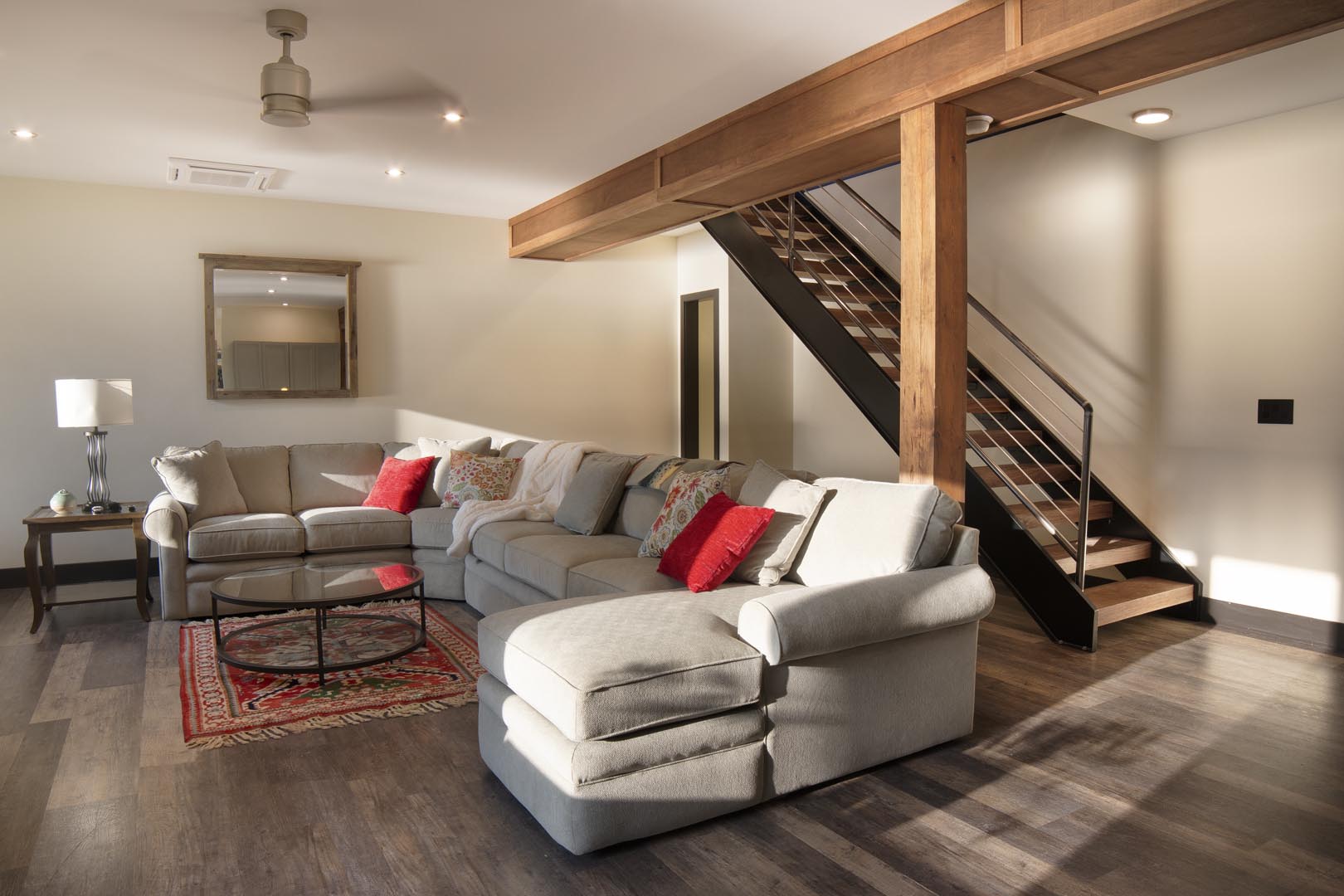 Cables
Industrial elements look amazing in timber frame homes. A chic riff on the industrial look, horizontal cable railings are airy and light with a sense of practicality. You can see the refinement the cables bring to the stairway in this industrial modern Finger Lakes Woodhouse home. They also make an appearance on the deck.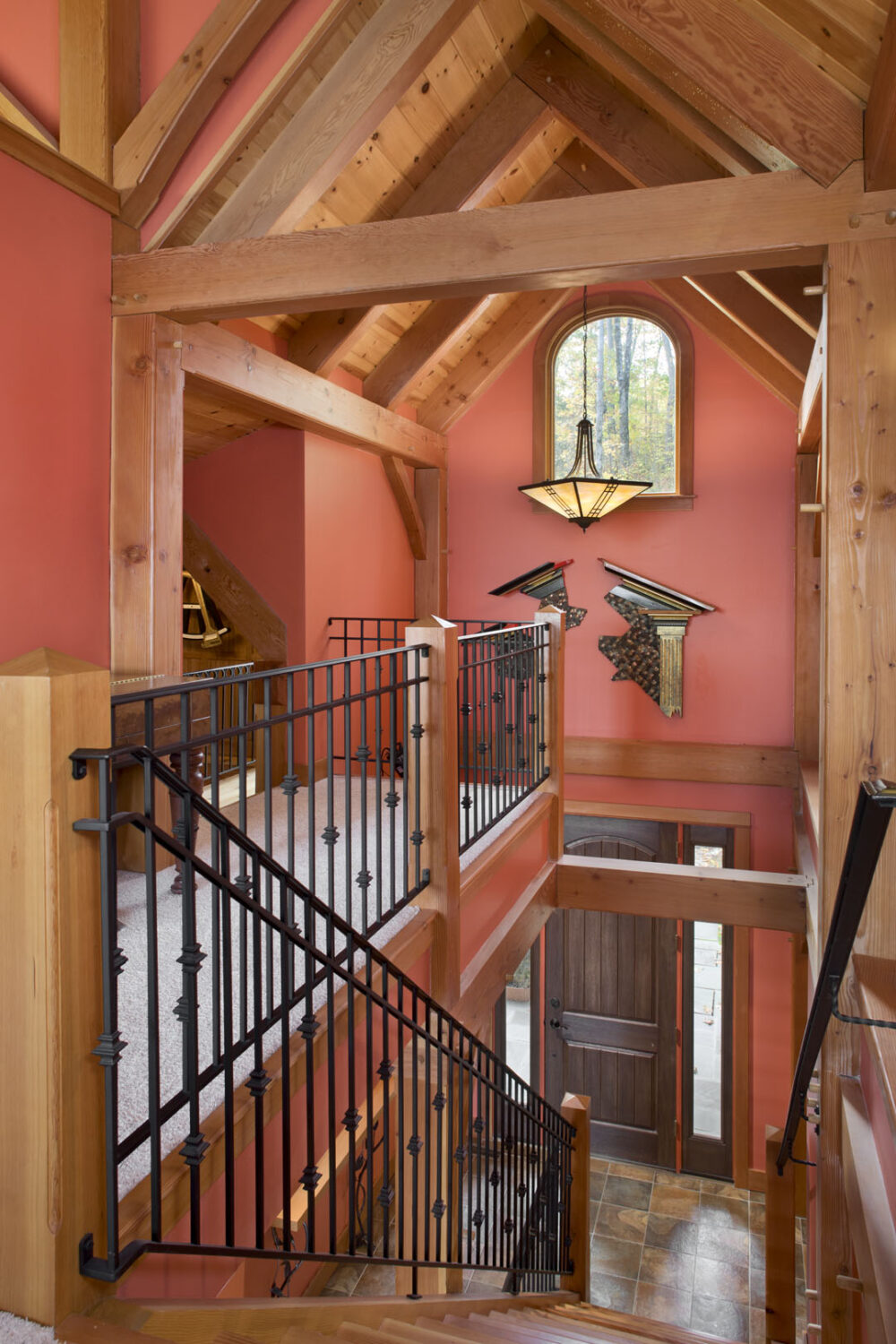 Forged Wrought Iron
With their heft and balance of rugged and refined, iron and wood belong together and even share an ancestry as ancient hand-crafted materials. Enlist a trained blacksmith and your timber frame can feature unique ironwork elements designed especially for your home's personality. Look at the difference between the iron spindles in this home compared to these. They are distinct, but both dial up the design!
The Sage Meadow, from Woodhouse's Barn Series, presents the perfect modern-farmhouse design to incorporate rebar handrails into.
Rebar Handrails
Sturdy and unexpected, rebar handrails or spindles creatively accessorize a home's stairway. Slightly weathered with an intentional, rusted patina, rebar handrails evoke a farmhouse sensibility, perfect for timber frame barn homes. A black version introduces an industrial touch.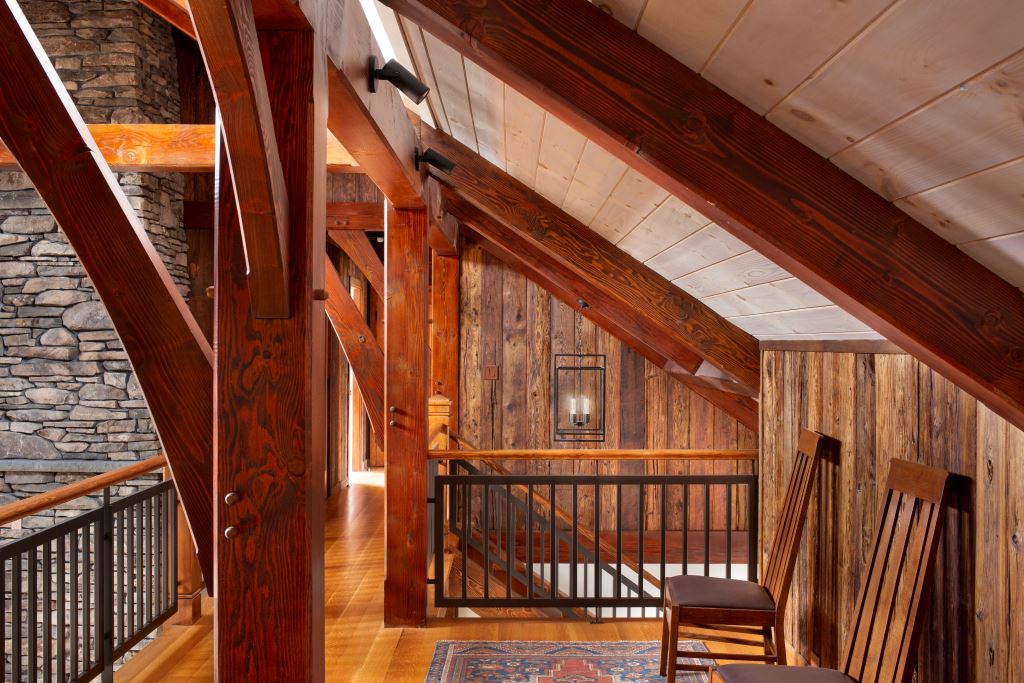 Rustic Barnwood 
The use of rustic barnwood on the stairs infuses the space with down-home character. That being said, it can also take on a contemporary aesthetic that works its magic in surprising ways. It's no surprise the material is a natural fit in rugged mountain homes or a farmhouse on the plains, but consider its possibilities beyond the expected; think about the richness it can add to a European manor house with an Old-World vibe. The use of rustic barnwood on the stairs can also add a warm, textured touch of contrast in a sophisticated and svelte timber frame abode, whether on a mountainside or urban block.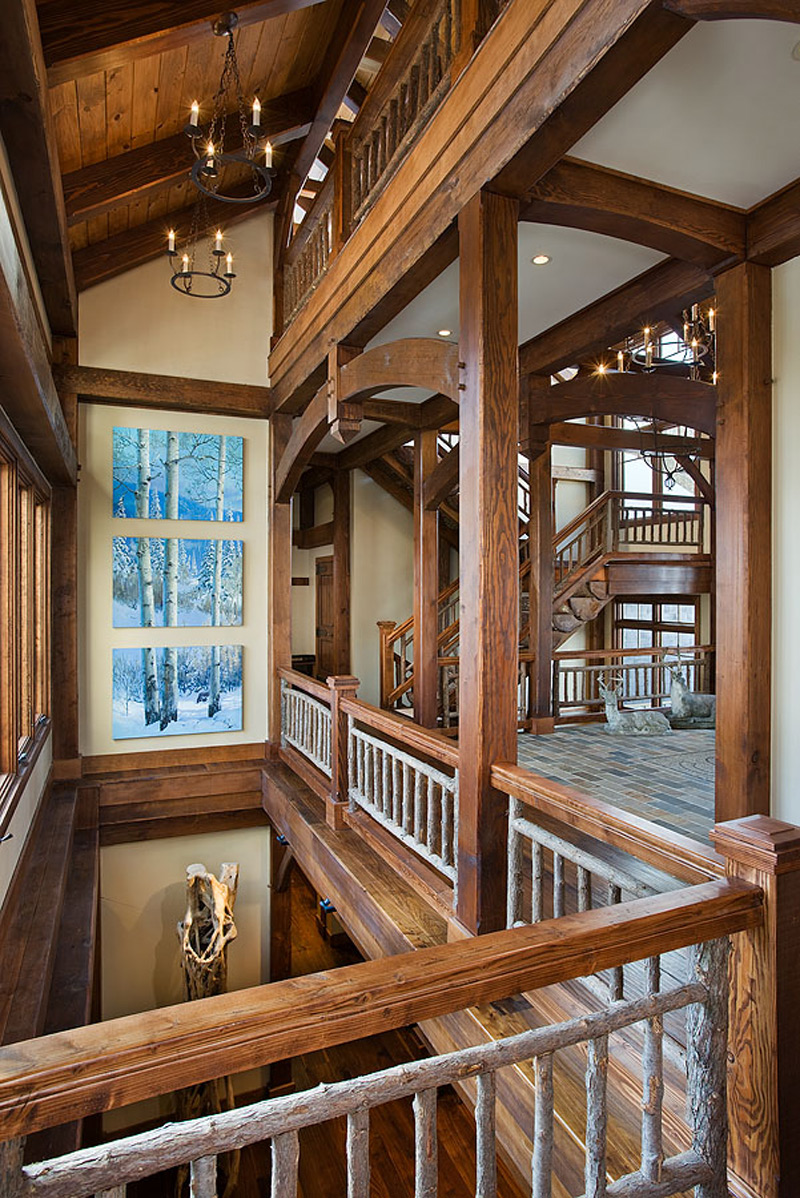 Natural Elements
Biophilic design nurtures our desire to be in nature by emphasizing design elements that create an organic connection. Think in terms of using objects or textures inspired by nature or incorporating natural elements into your décor. A timber frame inherently brings nature in, but the stairs present the perfect place to really emphasize it. This Woodhouse home takes it up a notch by using tree branches, bark and all, as stair spindles and tree trunk slices along the stringer.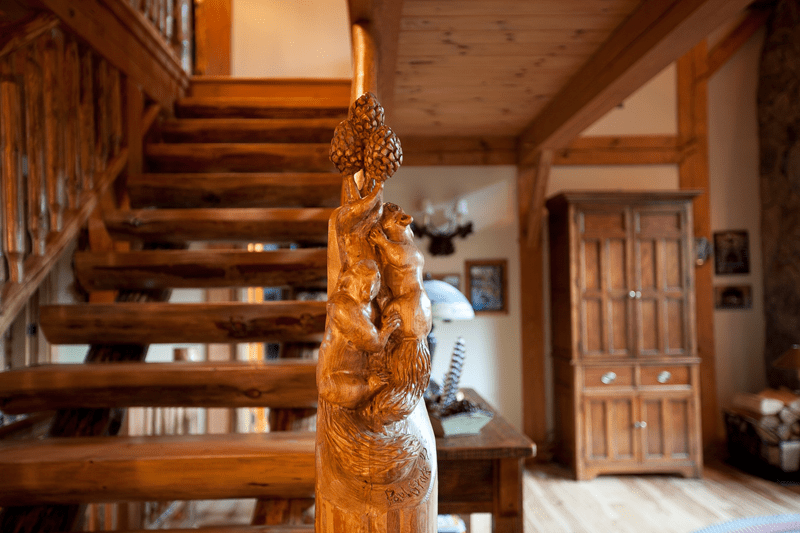 Rustic & Handcrafted
If you're in love with classic timber frame cabins, chalets, and lodges, why not make your home extra special by incorporating handcrafted, rustic folk art into the stairway elements? This floating staircase masterpiece uses half-sawn logs for treads. (Don't miss the base post, which is a custom-crafted whimsical wood sculpture of a squirrel!)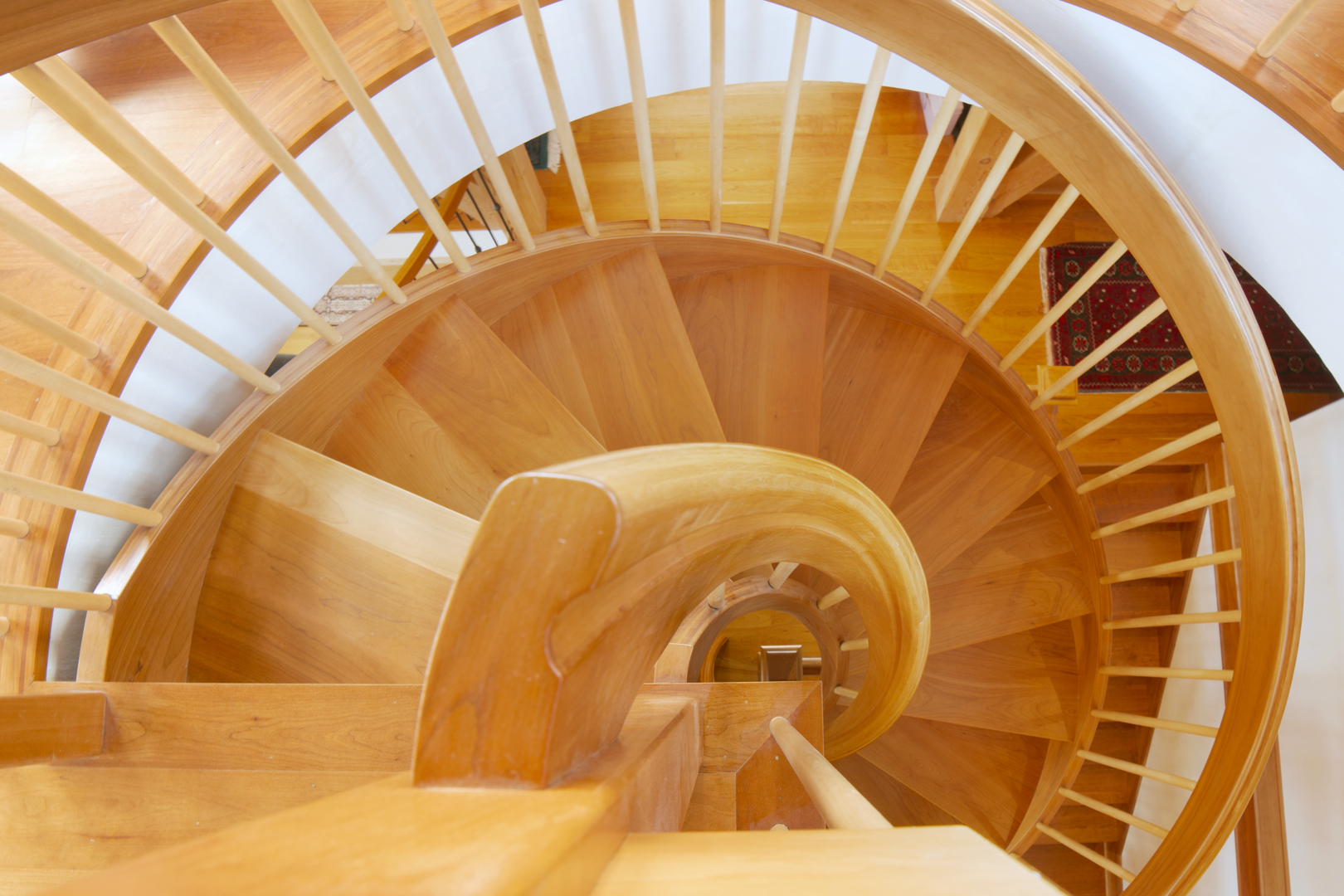 Spiral Stairway
In timber frames, angles and straight lines combine in a gorgeous display of stately posts, beams, rafters, and artistic trusses. A timber frame spiral staircase adds geometric interest, creating an elaborate centerpiece whose functionality is part of its sculptural beauty.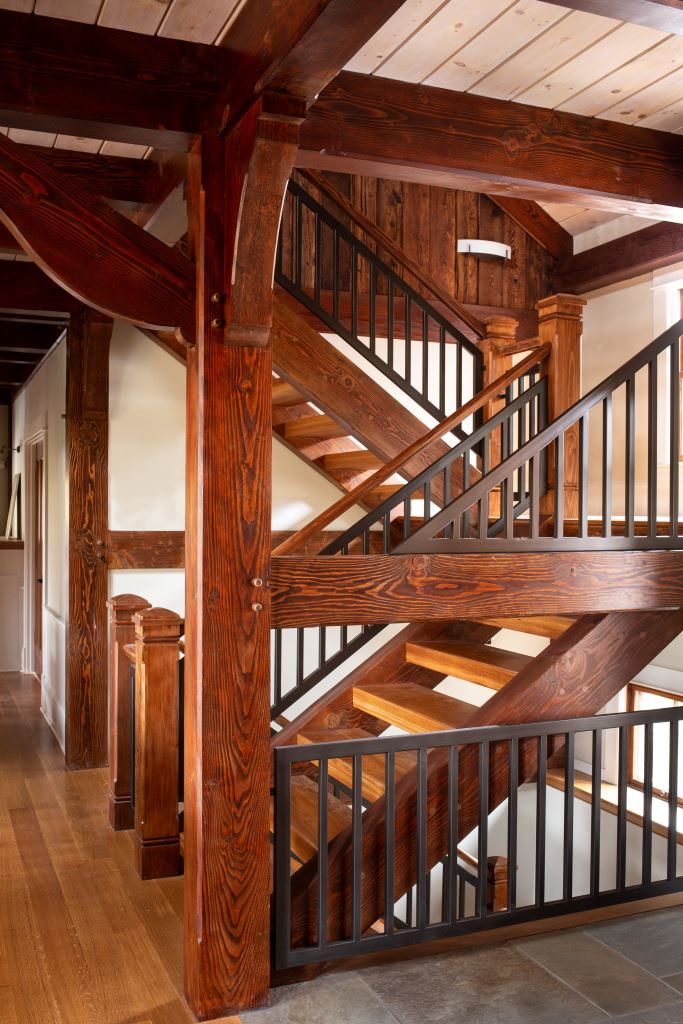 Stain Combinations
Mixing stain colors is another way to make a standard staircase pop. Dramatic or nuanced, this strategy will add depth, dimension, and character to the wood's flowing grains. Check out this floating stairway. Iron railings and spindles integrate with the home's massive, structural Douglas fir posts and beams, and the treads, beams, and ceiling all have different stains. It's subtle simplicity (and drop-dead gorgeous).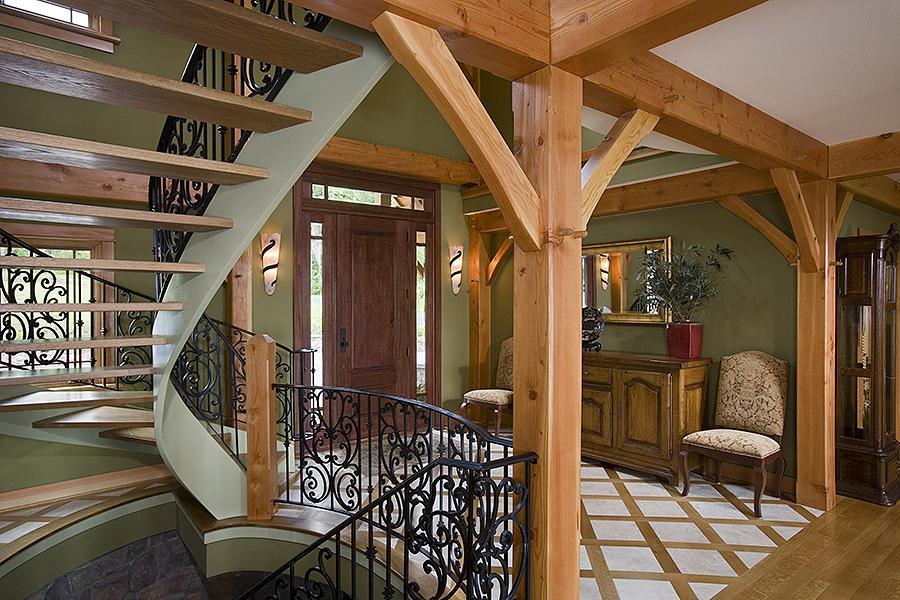 Tips of the Trade
In addition to getting creative with your staircase, Woodhouse ensures that it's constructed with superior craftsmanship. We encourage the use of white oak treads. The stringers (the portion to which risers and treads are attached), typically match the frame, but white oak is a much hardier species and is resistant to the wear and tear of foot traffic.
For more tips and ideas for your spectacular staircase, check out our gallery to see the many different custom timber frame staircases we've built for clients. Contact us for a more detailed conversation about every aspect of your timber frame home.