Jump-start your spring and enjoy more days outside relaxing and entertaining with a pavilion from Woodhouse.
Daylight is stretching into more hours of the day, the birds are chirping, and a warm, fragrant breeze is in the air. Spring is here and you're eager to shift from cozy days sheltered inside to entertaining and relaxing outdoors. From the mountains to the coast, the North Country to down South, a timber frame pavilion from Woodhouse is the perfect spot to spend spring days. Here's what sets these beloved structures apart: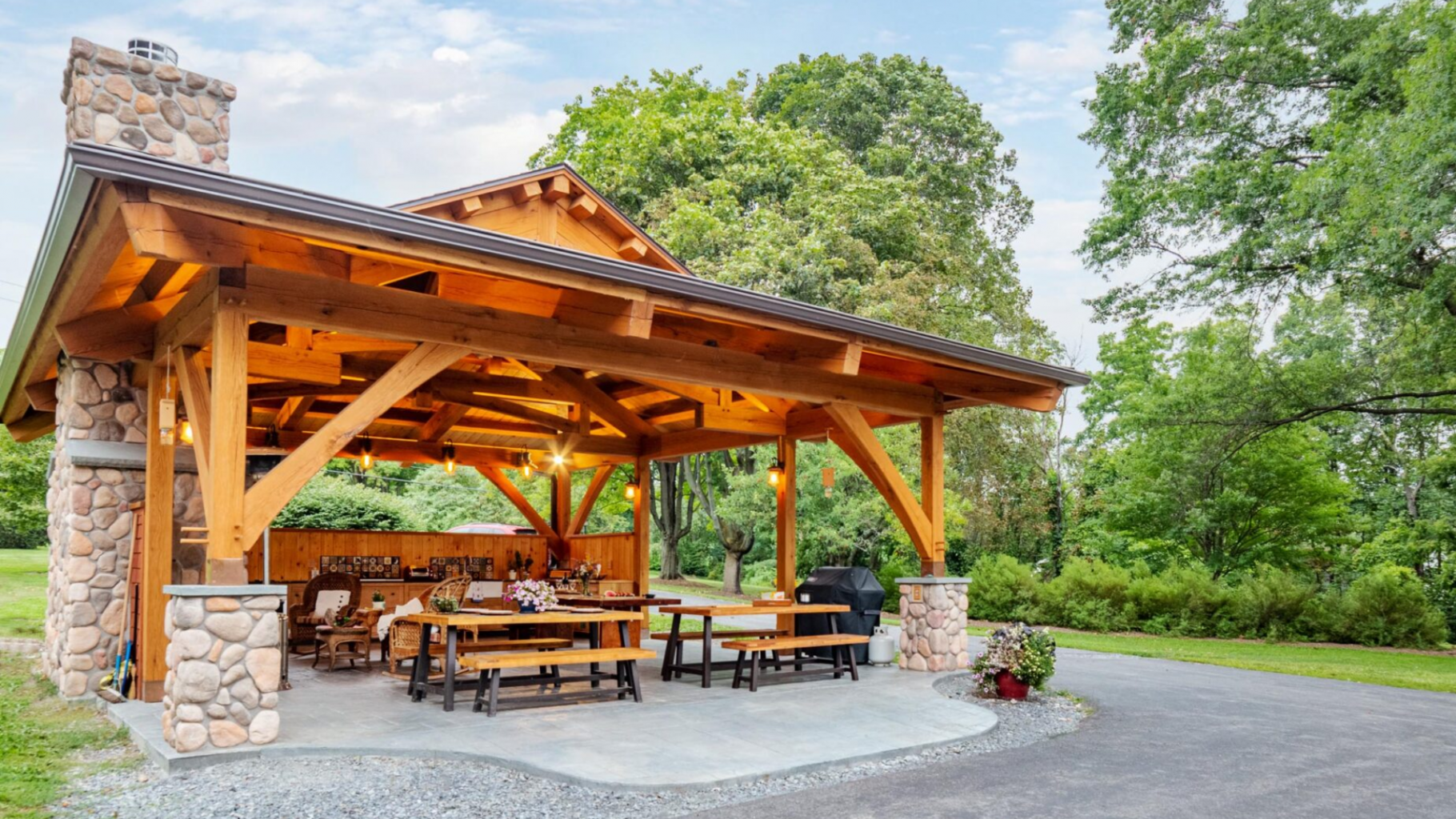 Timber frame pavilions provide sturdy, secure shelter.
For starters, you get the time-tested durability and security that timber frame structures are known for. Of course, timber frame pavilions impart a distinctly inviting ambiance that enhances any outdoor space. But it's about more than just good looks. After all, spring weather can be notoriously unpredictable. A well-designed timber frame pavilion takes this into account so you can plan outdoor events with confidence. 
Our timber frame pavilion designs let you enjoy the fresh air while also offering enough shelter to keep you comfortable. This desirable feature is the result of our careful design and placement that considers the property, topography, and weather.  And we'll put you in touch with timber frame pavilion builders in your region who understand how to bring these swoon-worthy structures to life.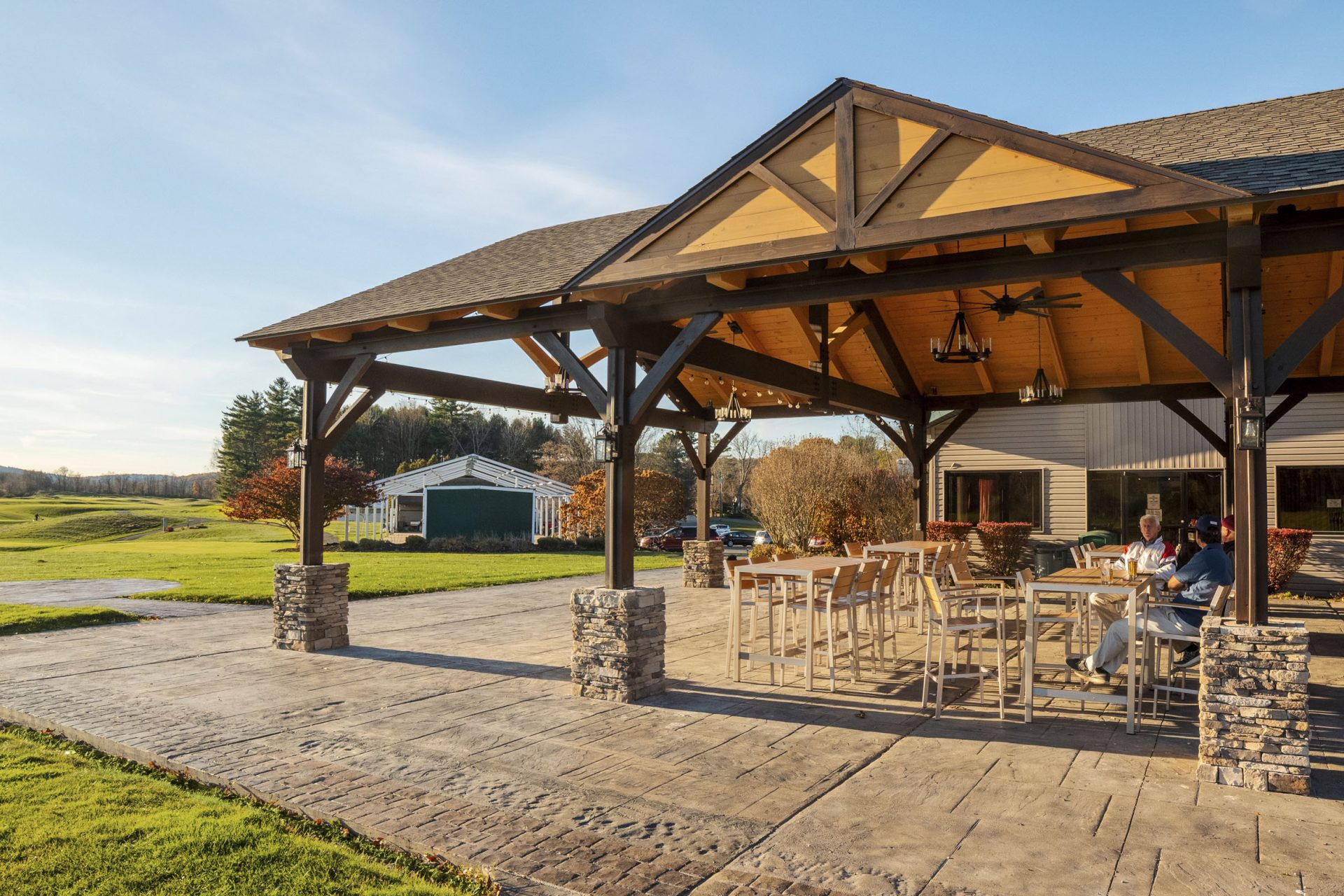 Timber frame pavilions are prime for residential, public, or commercial use.
Providing instant ambiance, timber frame pavilions make irresistible dining and gathering spots, and depending on the size of your timber pavilion kit, you can even use them for larger parties such as weddings and family reunions. Timber frame pavilions are dynamic in their ability to integrate seamlessly into personal and public uses alike. Just take the timber frame pavilion at the Links at Hiawatha Landing (pictured above) for example.

Our timber frame pavilion kits can also be designed and scaled for municipalities and schools, transforming town parks and schoolyards into an exceptional and inviting amenity. Check out how Caroline Elementary in New York (video below) added a pavilion to maximize fun and pandemic safety. Even the most straightforward pavilion design upgrades an outdoor space.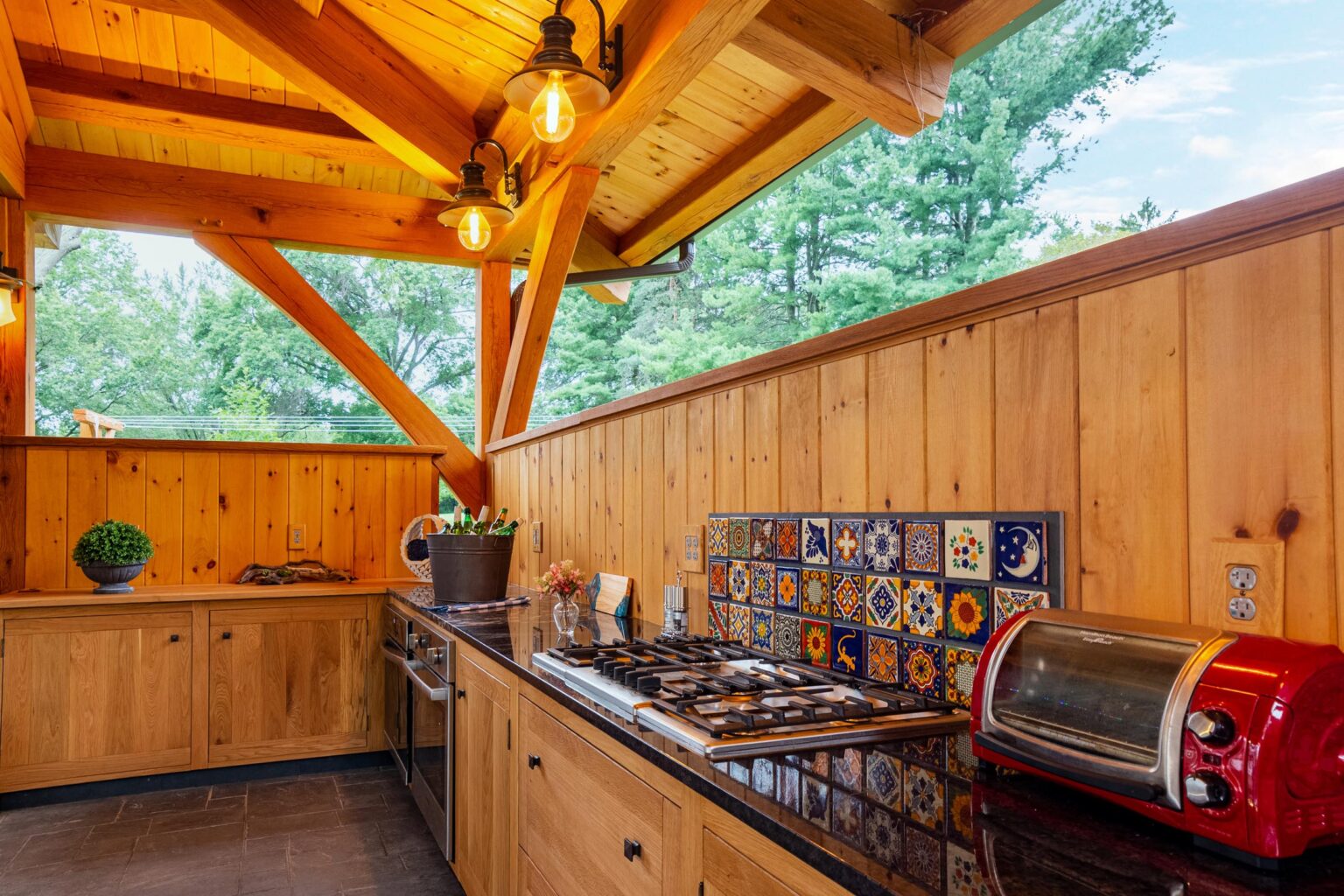 Timber frame pavilions are aesthetically flexible.
Another benefit timber frame structures are known for, including pavilions? Design flexibility. Hardy timbers combine with artisan trusses for aesthetics that range from rugged to refined. Made with handsome, exposed wood, they blend with natural surroundings or can even bring an organic touch to a more urban area. 
You may want a design that matches your timber frame home. Even if you have a conventionally built home, we can bring your timber frame dreams to life with a perfect pavilion design that increases the enjoyment of your home or business and sets it apart with a dash of timber frame panache.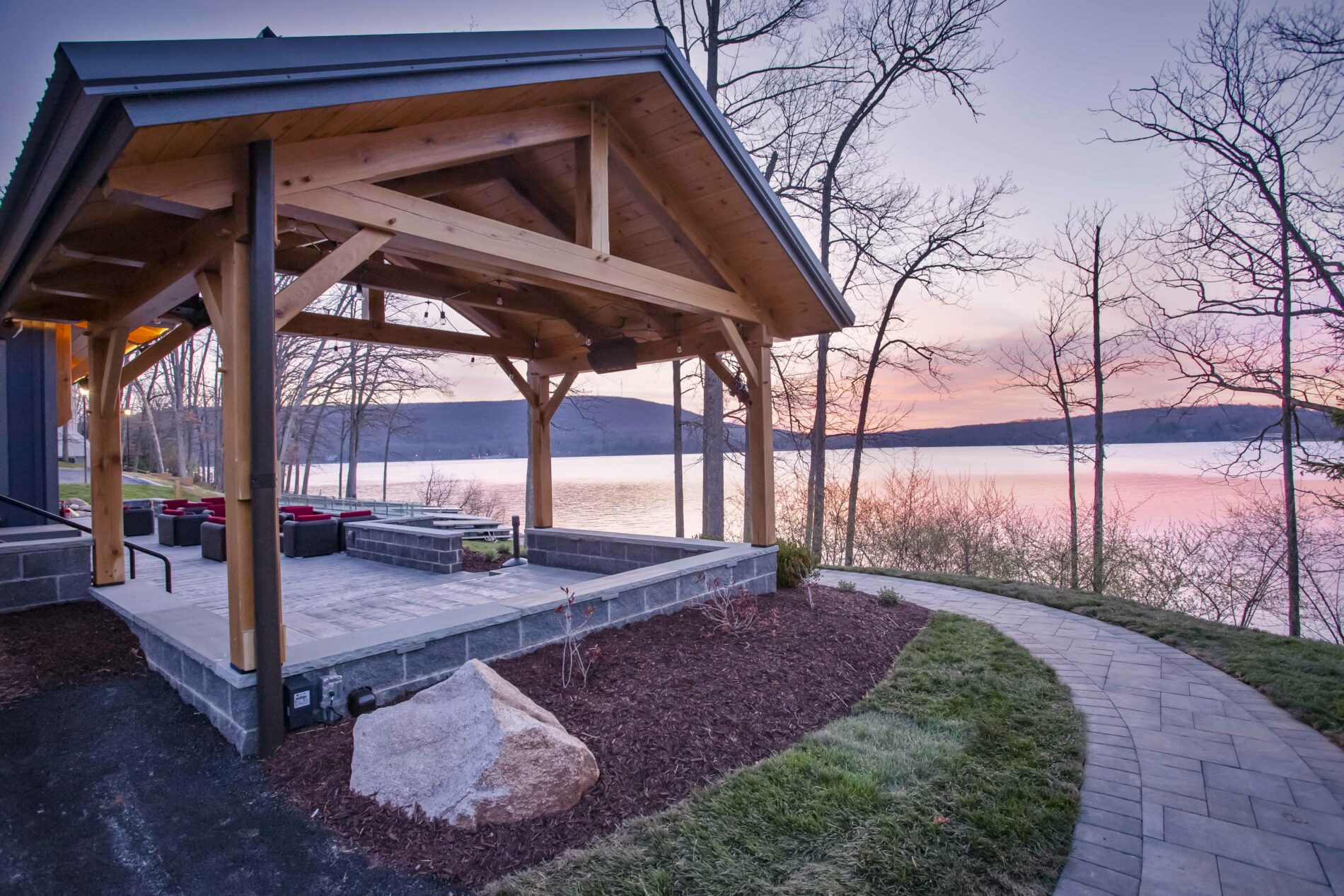 Timber frame pavilions can be built custom or from a kit.
There are many advantages to a timber frame pavilion, but from first ideas to the finished structure, those from Woodhouse are exceptional. Use any of our timber pavilion kits to spark your imagination, or we can create something for you from scratch. We've even worked with customers who came to us with ideas drafted on cocktail napkins!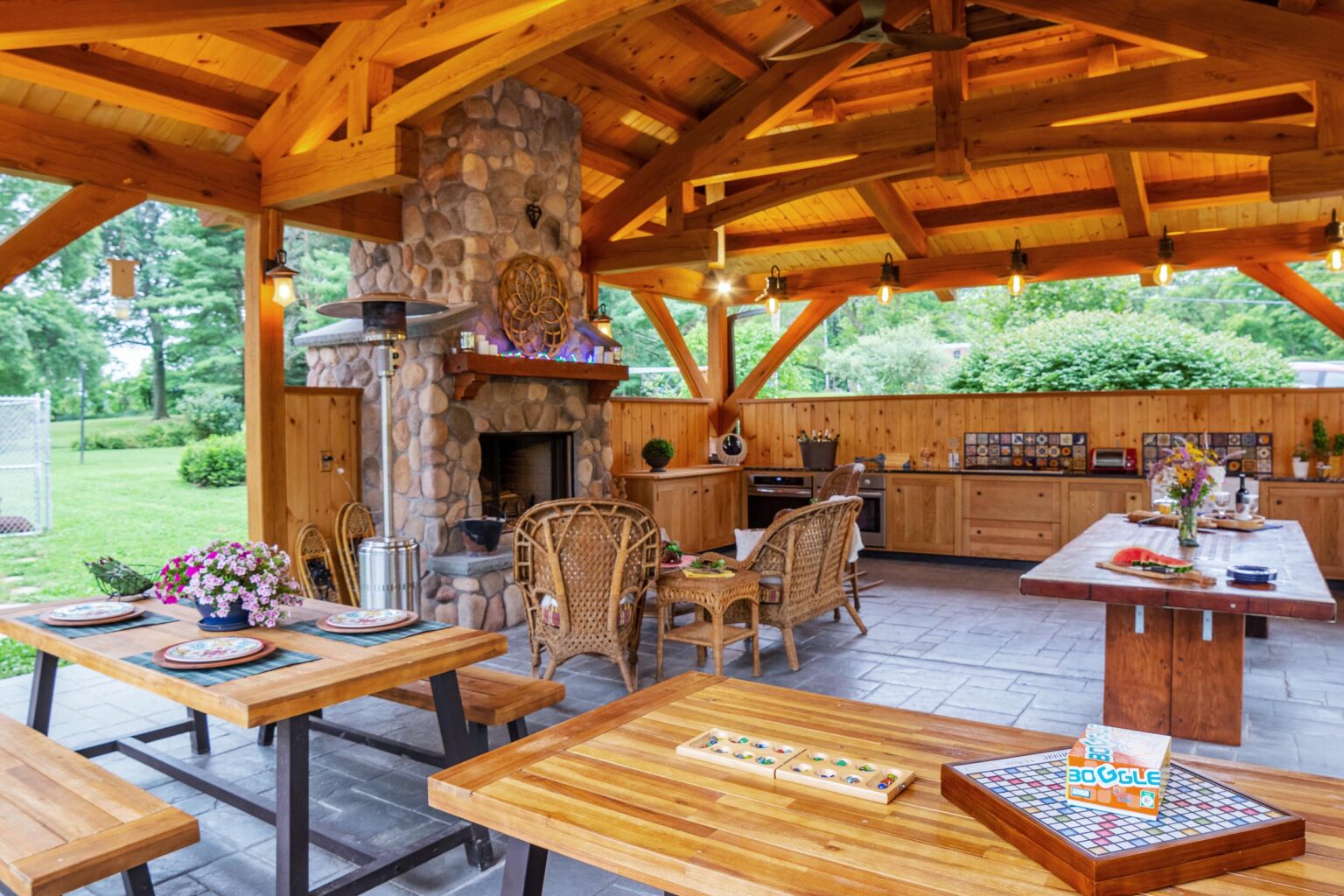 Looking for ways to upgrade?
Turn your favorite outdoor gathering space into a dreamy, upscale outdoor living area. From simple to sophisticated, Woodhouse knows how to make timber frame pavilions spectacular with luxury upgrades. Adding a gorgeous stone fireplace will anchor a pavilion while adding natural texture and a rich, organic contrast to the timbers. With some chairs, an outdoor rug, and a few candles you can have an enchanting getaway right in your own backyard. Or, take it further and transform your pavilion into a stunning outdoor kitchen, like this Woodhouse pavilion, which has a stone fireplace, cabinets, counters, and appliances. A half-wall provides protection from the elements while still filling the space with fresh air and natural views. Stone pillars level up lodge-like style while enhancing a sense of permanence. The kitchen may be the heart of the home, but with the right fixtures and finishes, it's hard to beat the great outdoors.

Ready to get started?
With Woodhouse's timber pavilion designs and know-how, you can be the first in your neighborhood to enjoy leisurely outdoor gatherings or the first business to open for dining al fresco. From creating a private oasis to transforming your restaurant, brewery, or event center into a destination hotspot, Woodhouse custom timber frame designs can get you exactly what you want in looks and performance. High quality, custom designs, and efficient, reliable service are all part of the Woodhouse package. Browse our timber frame outdoor spaces for inspiration, and don't hesitate to get the conversation started with your Woodhouse Regional Project Manager.