Contemporary timber frame farmhouses strike a gorgeous balance between grandeur and the quiet, homestead roots of America.
Anchoring the nostalgia of a salt-of-the-earth work ethic and lifestyle, the farmhouse is an American staple. These humble, practical homes were a place for a family to live and work together as they tended the crops and livestock that fed the country. Woodhouse has fused the beloved farmhouse heritage with the appeal of modern timber frame homes and contemporary lifestyles.
Timber Frame Houses Inspired by Heritage, Designed for Today
Identified by their warm gathering spaces and snug rooms, old American farmhouses conjure up feelings of nostalgia for a simpler time. Our modern farmhouse series retains those sentimental thoughts but reimagines the design to a modern lifestyle. The overarching style for these timber frame houses revolves around the introduction of clean, sleek lines and open floor plans, all while maintaining the cozy feel and practical, comfortable functionality that is the soul of every farmhouse. It's the kind of home where you can enjoy preparing a gourmet meal in proximity of your loved ones as they relax by a toasty fire on a cold winter night.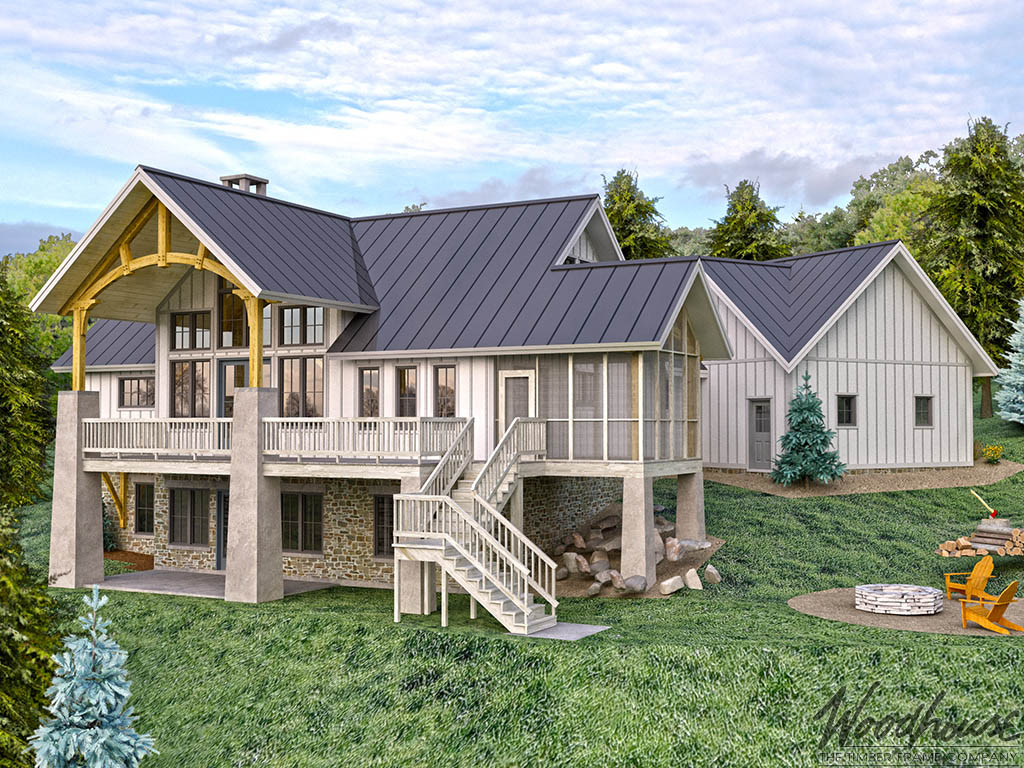 Heavy timbers, with their warmth and strength, are a key element to the cozy aesthetic and are authentic to the original farmhouse designs when settlers used surrounding trees as an accessible, sensible building material. We offer an array of modern timber frame homes and designs in the farmhouse genre, and all can be completely reconfigured and customized to suit your specific needs.
Modern Farmhouse Style
Interpretations of the modern farmhouse vary according to personal preferences, yet certain features distinguish these attractive, contemporary timber frame homes. Woodhouse architect Diana Allen incorporated distinct features that define the modern farmhouse style, from the popular and stately KettleCreek to the Milford's modest elegance and everything in-between.
"There is a simple geometry of massing," Allen explains. "These timber frame houses have a basic gable roof with a steep pitch that has a lower or shallower roof over the porches and wrap-around porches, if possible, which open up the floor plan even more to the open concept. Black windows and doors are crisp against economical, white board-and-baton siding. Industrial light fixtures, kitchen bar stools, and a painted brick fireplace with simple décor emphasizing nature round out the style."
Modern farmhouses fit right in among pastoral landscapes, whether that's an open prairie, sprawling fields, or a lush woodland. Yet their adaptable style and quiet appeal makes them equally suitable for towns, cities, and suburbs for an individual, couple, or family seeking their ideal full-time home. These beauties stand out from a crowd of sameness and carry exceptional curb appeal. Moreover, these modern timber frame homes are built with our innovative building system that uses structural insulated panels (SIPs), which deliver exceptional efficiency in both the construction process and the home's thermal envelope.
Additional outbuildings accentuate the modern farmhouse genre. Woodhouse can provide a timber frame barn and timber gazebo designs in the size and style that compliments your property and custom timber frame home.
Your Timber Frame Home
Our timber frame houses offer ample space for luxury living, as defined by the homeowner. Every Woodhouse home is a captivating interpretation of the homeowner's personal wish list. We can work with your architect or builder to turn your conventional modern farmhouse design into a timber frame, or you can use a Woodhouse Builder Dealer.
So, just how customized can a Woodhouse modern farmhouse be? One homeowner was captivated by our KettleCreek design with its interior post-and-beam construction and soaring great room rimmed with a catwalk loft leading to additional living space. This timber frame floor plan's exterior arched timber gables and trim, enclosed porch, and walkout basement provide great pillars to build on. The pleasing contrast of a black metal roof with white walls and rustic heavy timbers may be the recipe for the home of your dreams. From there, the possibilities are endless. Think smaller or larger footprints, reconfigured interior layouts, and luxurious amenities like an outdoor shower, spa-like bathrooms, sleek gourmet kitchens, or chic industrial cable railings. And that's just the beginning.
For a single-level timber frame home with a bit more room to roam, the ranch-inspired Eugene plan is elegant and open. With 3 bedrooms and 2.5 bathrooms, an expansive main floor provides numerous openings for the wrap-around porch. Sliding door window walls bathe the space in natural light. A traditional farmhouse hearth gathering space is expanded to include both the kitchen and dining area, with abundant space for friends and family to create memories. Featuring a master bedroom on the main level for age-in-place living and additional farmhouse-style bedrooms in the loft with slanted ceilings and exposed timbers, the space is an ideal blend of modern and traditional.
We're Here For You
Visit our Where We Build page and discover projects in your area. Download the KettleCreek and related modern farmhouse floor plans. Learn how the Woodhouse building system can give you a superior home on time and within budget. When you're ready, let's talk! Contact us for a more detailed conversation.