Timber Frame Homes in Telluride, Colorado
There's something about mountain towns. The people are calmer, their interactions a hint more authentic.
Maybe it's the altitude, or the humbling presence of colossal snowcapped neighbors day after day, or the arduous trek to reach them so that no one is there by mistake and normal pleasures feel more earned. Telluride, Colorado, tucked in its own box canyon and flanked by 14,000-foot peaks, is the darling of mountain towns.
Eight blocks wide and twelve blocks long, Telluride was designated a National Historic Landmark District in 1964. While the town is known for its quaint Victorian-era homes, timber frame homes in Telluride are on the rise. Modern mountain home plans, with their contemporary rooflines and glass walls that perfectly capture Colorado's endless views, are particularly popular. Bob Colby, regional project manager for Woodhouse's business west of the Mississippi, explains why this building method is such a good fit for the Telluride region.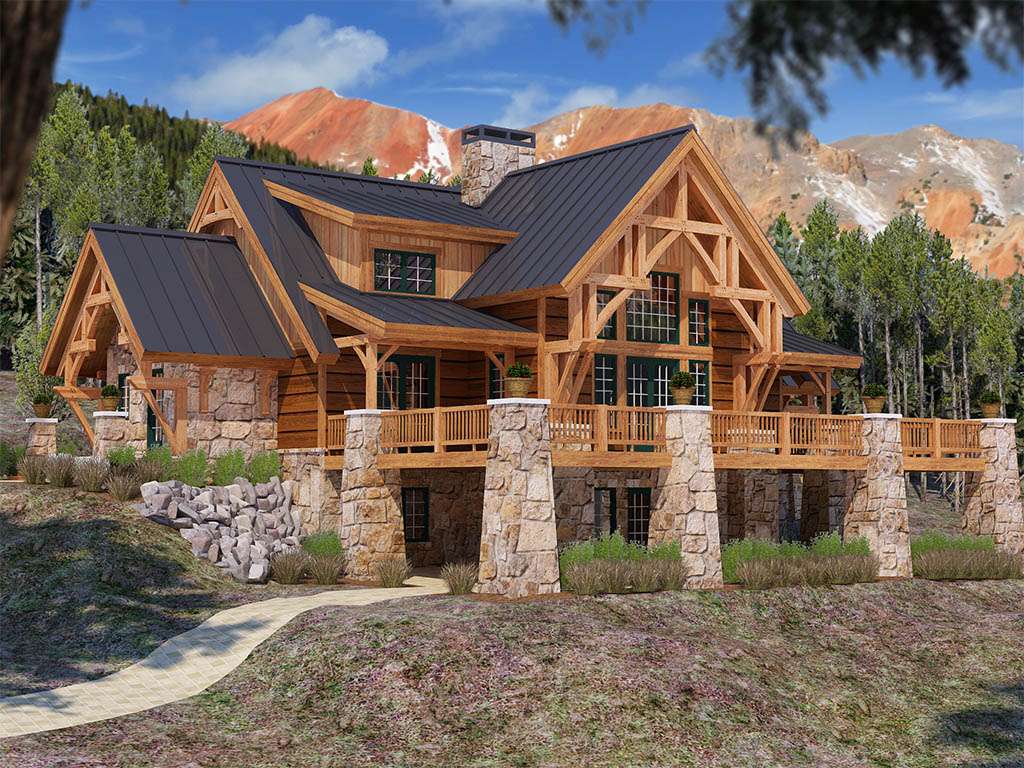 "You want what's going to work efficiency-wise," he says. "The timber frame SIPs build that we do, you're going to get one of the best HERS (Home Energy Rating System) scores out there. We meet or exceed the efficiency standards for places like Summit County – I've actually had a few customers who had to switch from log to timber & SIP because the log couldn't meet the efficiency standard."
In Woodhouse's catalog of modern mountain home plans, Bob says the MistyMountain and the CreekRock and great examples of what works well in areas like Telluride. While these timber frame home kits are meant to evoke a certain aesthetic, Woodhouse knows each homeowner has their own unique needs and desires, which is why their floor plans are intended as jumping-off points to begin one's timber home journey.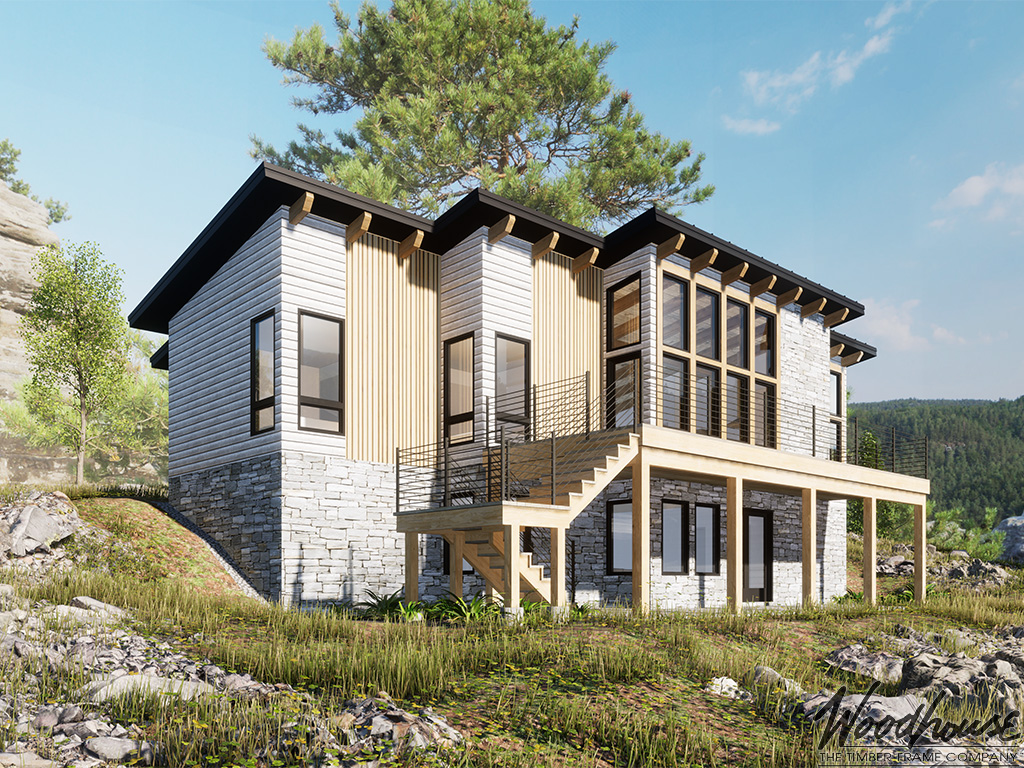 "We really try to blend homes into the land and accentuate the views," says Bob. "We use this really nice 3D viewer which creates a walkthrough on every sketch that we do. Then, we link it to Google Earth, so you can see the real mountain peaks you'll be seeing when the home is built. I had a customer in Breckenridge who asked, 'what will it look like when I'm sitting at my kitchen island and turn around?' Well, we can take that perspective and show him where the peak is – he loved that."
 While many people dream of their own rustic log-built mountain chalet, they don't realize how specific logs are, and that nowadays they can get the look they want, with modern amenities and engineering. "Log homes and timber SIP homes get lumped together," says Bob, "but they're very different. Ours is like a blank canvas on the outside. If you want to put log siding type material on the outside, you can absolutely do that and still get the efficiency and the ease of construction of timber frame."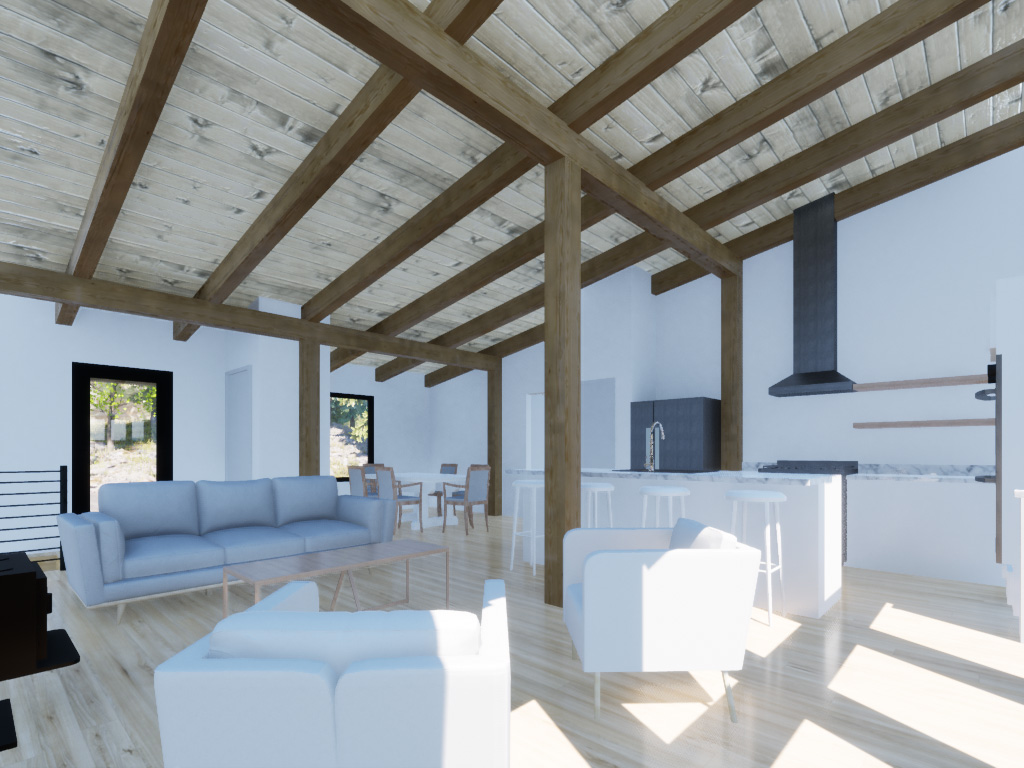 Even though Woodhouse is based in Mansfield, PA, Bob lives in Colorado because Woodhouse has a long history in the state and because making the timber frame home experience personal is a priority.
"We're there with you from the very first phone call until the home is completed and beyond. When our package is up, you'll still have 6 months of building to go but I go out there and check on things – I even like to do the site visits with a lot of my customers. They haven't even plotted out where they're going to put their house yet but, especially here in Colorado, there're views all over the place and these contemporary and mountain timber frame plans usually have a window wall that's facing those views.
"It's funny, we're a very traditional build, with the mortise and tenon and all that, but with the technology that we're using, it creates an awesome service for our customers. We're small enough that we're very flexible, but big enough to handle any project."
For more information about building a timber frame home in Colorado, contact Bob Colby. For inspiration from fellow homeowners, check out the beautiful homes they've dreamed up alongside Woodhouse on our Galleries page.
Top Floor Plans in Telluride, CO