Timber Frame Homes in Massachusetts
Discover how custom Woodhouse timber frame homes in Massachusetts meet the needs of New England's alluring lifestyle. 
Located along the Eastern Seaboard, Massachusetts delivers a dose of everything there is to love about New England and the Northeast. Indigenous and colonial history run deep, making the state American like no other. What else would you expect from a state where the Plymouth Colony, the first Thanksgiving and the Boston Tea Party all occurred? 
Even its geography represents an American melting pot. Boston anchors a high-density, high-energy urban environment while the rest of the state is divided into equal parts coastal culture, pastoral hills, and rolling mountainscapes.
Massachusetts is one-of-a-kind. Like the state, Woodhouse timber frame homes in Massachusetts are custom designed to your lifestyle — be it mountain, shoreline, or urban enclave. We'll help you create a home tailored to perfectly meld place, space, and style. Let's take a tour!
The Berkshires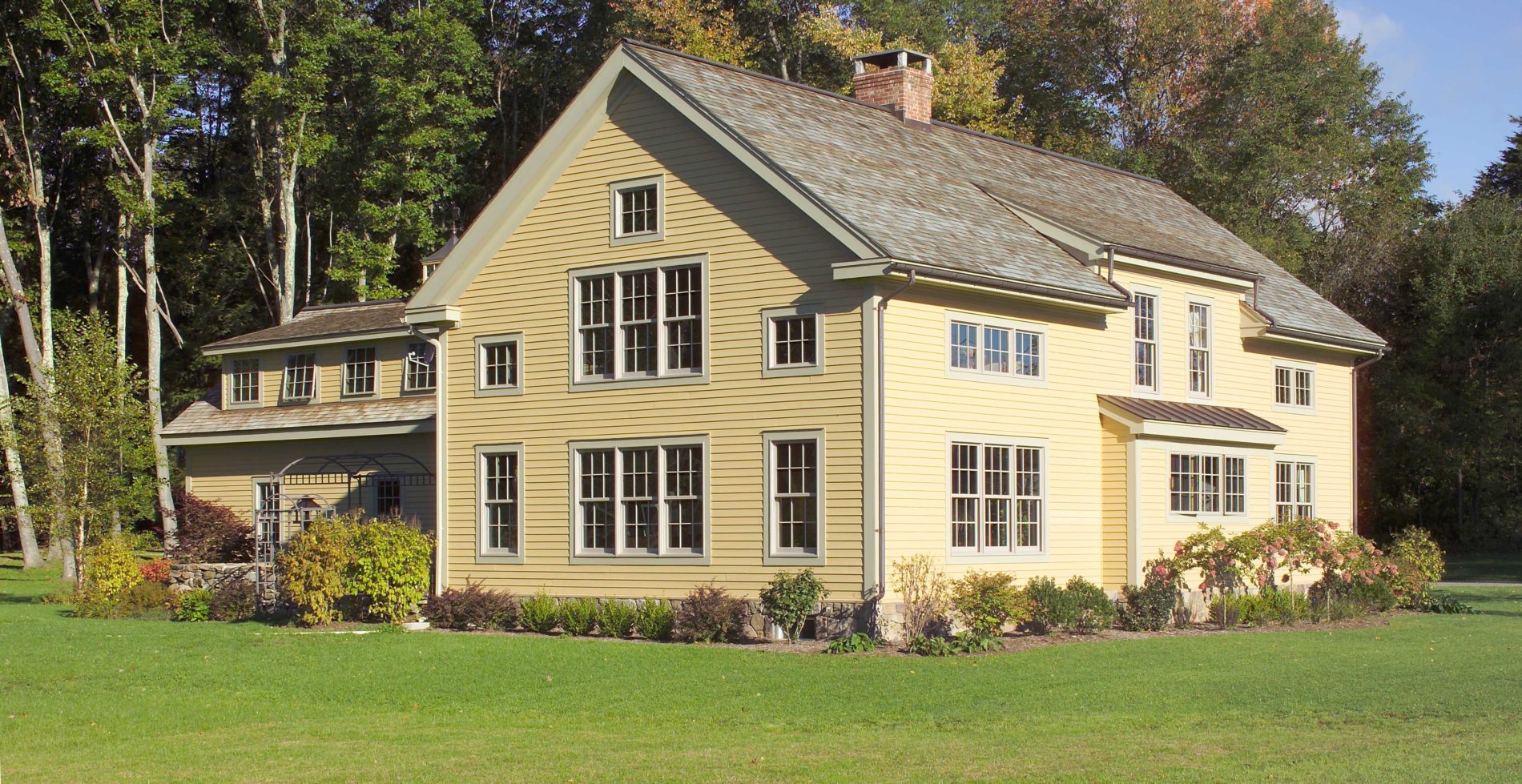 The Berkshires are part of the Appalachian range. Stretched along the westernmost part of Massachusetts, these gentle mountains push into New England's pastoral beauty. The region is quiet, filled with beautiful hills and quaint little villages. Located just a few hours from several large cities — Boston (MA), Albany (NY), Hartford (CT), and New Haven (CT) — you get natural beauty with a cultural polish.
With so much going for it, Western Mass and the Berkshires are a hot market. Timber frame homes in this region are adapted to suit the environment. Take for example this southern yellow pine barn style home in Sheffield – a quintessential New England classic. It's based off our OakMeadow predesign and is an excellent example of how a Woodhouse floorplan is individually customized.
And if your idea of the New England aesthetic includes a gracious space to enjoy dramatic fall color and fireflies on hot summer nights without being harassed by pesky bugs, don't miss this gracious and magical timber frame sanctuary hiding in the Berkshires.
Of course, any of our mountain or Adirondack timber frame styles are also ideal for your mountain retreat near the many family-friendly ski spots like Jiminy Peak or Ski Butternut. If you're searching for more Americana in this historic state, visit the Normal Rockwell Museum located in the picturesque town of Stockbridge, deep in the Berkshires.
Boston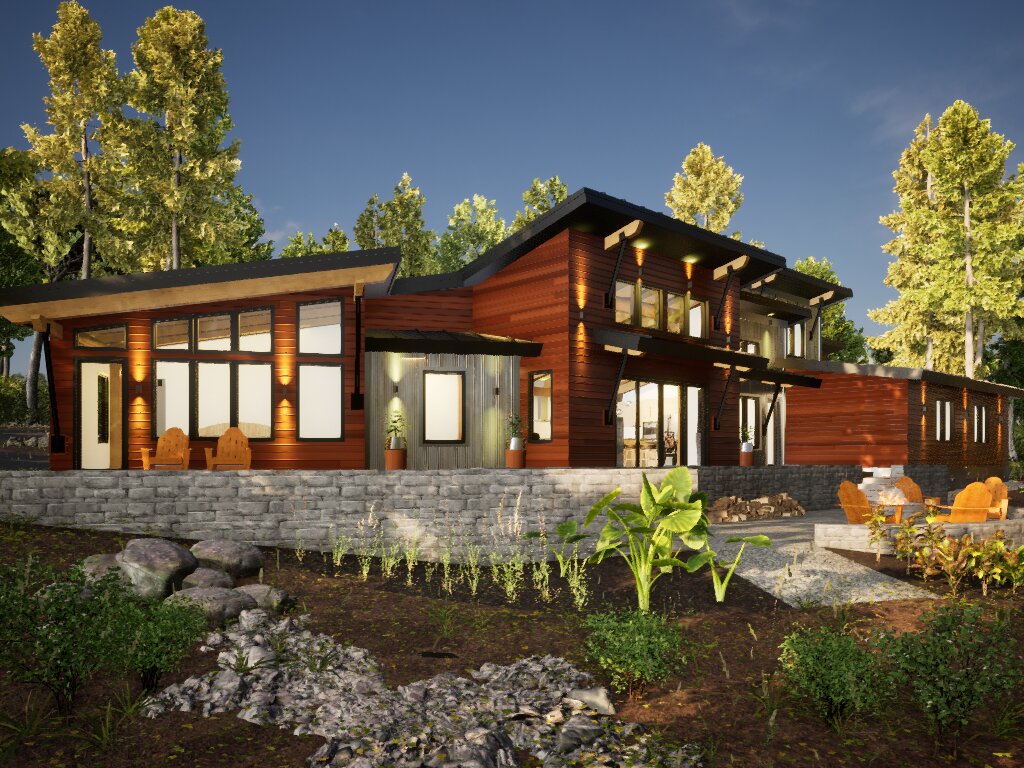 Ask a Bostonian to describe their city and you'll likely be told it's wicked cool. But don't be fooled! Wicked is a compliment of the highest order, and Boston lives up to its reputation. Boston is the northernmost terminus of the megalopolis known as the Northeast Corridor that stretches from Washington D.C. to Boston.
Luxurious timber frames on urban/suburban properties deliver high style and high performance. For sleek aesthetics, take a tour through our Jasper floor plan or the Foxbury (pictured above), which fuses universal design with stunning good looks. Boston is a port city and a stately coastal timber home, like Woodhouse's SeaCrest, in the style worthy of a venerable old sea captain is sure to add a classic, salty aesthetic to any shoreline community.
Boston has everything! Unique to this city is the Freedom Trail, a 2.5-mile walking tour that connects 16 historic landmarks and sites. Foodies rejoice! Boston is the place to indulge in regional fare such as lobster rolls, Boston baked beans (of course!), fish 'n' chips, and clam chowder.
Cape Cod
The fishhook shape of Cape Cod's peninsula is metaphorical. One visit and you'll forever be caught by its charms. Despite its proximity to Boston, Cape Cod successfully mixes a rough old sea dog vibe with refined Eastern classics. It's an ocean lover's delight and a vacationer's dream. 
What does the Cape Cod vibe look and feel like in a timber frame? In a word . . . perfection. It's classic elegance and timeless sophistication. Our Cape Homes series with their wrap-around porches capture the North Atlantic aesthetic. The NewPort (pictured above) invites you to sip lemonade or a good craft beer from the porch while listening to the foghorn call in the distance. Our SeaCrest is synonymous with Martha's Vineyard and its cedar shake siding ages to a beautiful silver patina, made possible by exposure to the salty air.
In Cape Cod, amble down Nauset Light Beach and visit the Three Sisters Lighthouses. Hungry? Hit up a seafood shack and wash it down with some local suds like Cape Cod Beer.
Why Build a Woodhouse Timber Frame Home in Massachusetts?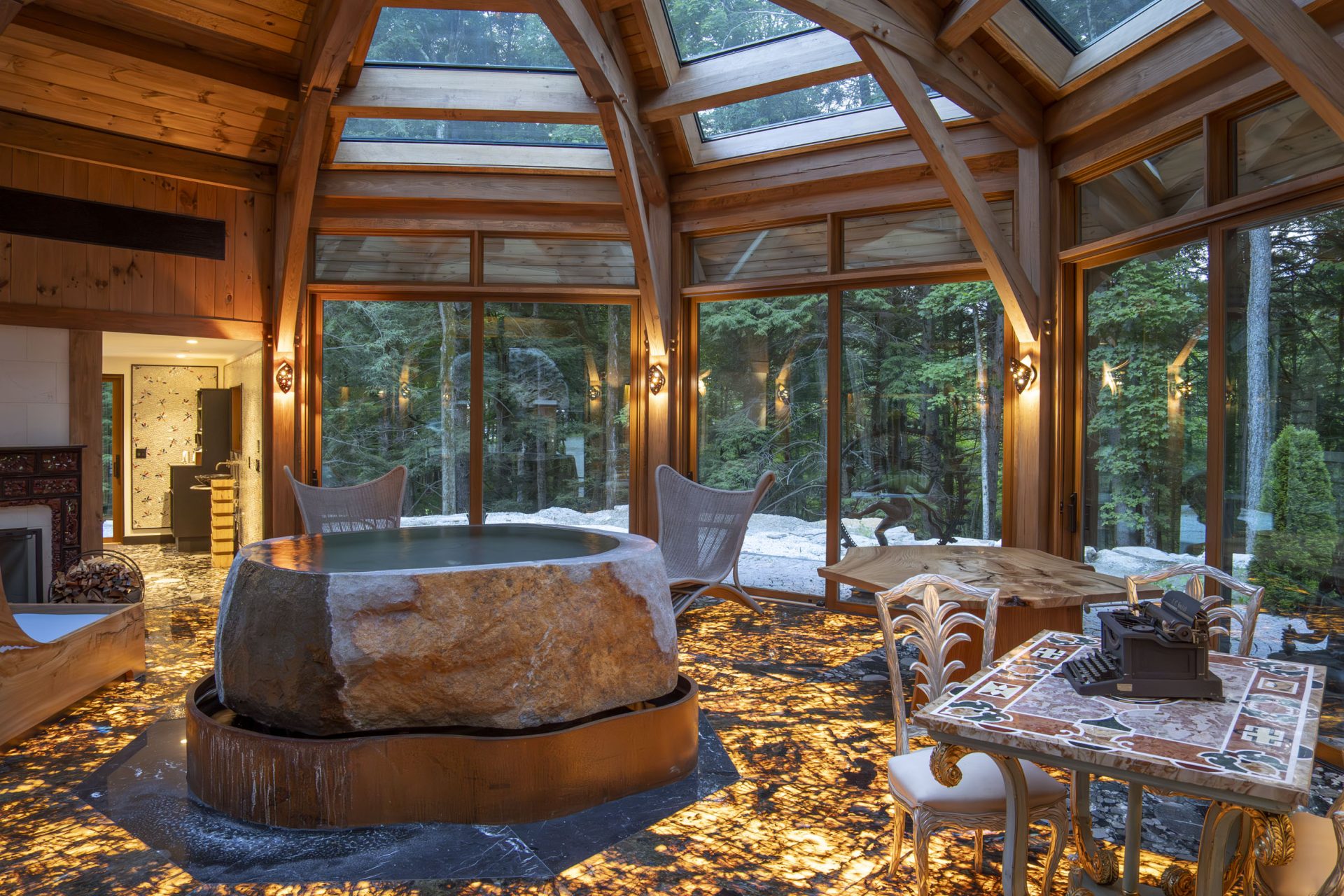 Woodhouse timber frame structures coupled with our structural insulated panels (SIPS) provide the highest levels of energy efficiency available in a home, up to 40-60% in energy savings.  Additionally, we orient homes to take advantage of passive solar heating to ensure your home stays cozy. You'll appreciate the sturdy, timeless nature of a timber frame, especially when one of the Atlantic's infamous nor'easters comes roaring through with icy winds and snow.  
You'll also want to take advantage of the stunning views. A timber frame construction system allows for walls of windows that create a seamless indoor-outdoor connection. And take the time to see all the ways you can add an extra touch of luxury to your timber frame home in Massachusetts. Stair details, spa-like bathrooms, and even dreamy bedrooms can make your timber frame extra special. 
Start Here
To realize your Massachusetts lifestyle, you need timber frame home builders in Massachusetts who understand people, property, and high-quality homes along with local code requirements.  Contact Jay Hodgson, your Northeast Woodhouse Regional Project Manager to get started.
Check our these popular Massachusetts Woodhouse floor plans: