Timber-framed carriage homes are built for service and stunning good looks. Here's how Woodhouse can make yours spectacular.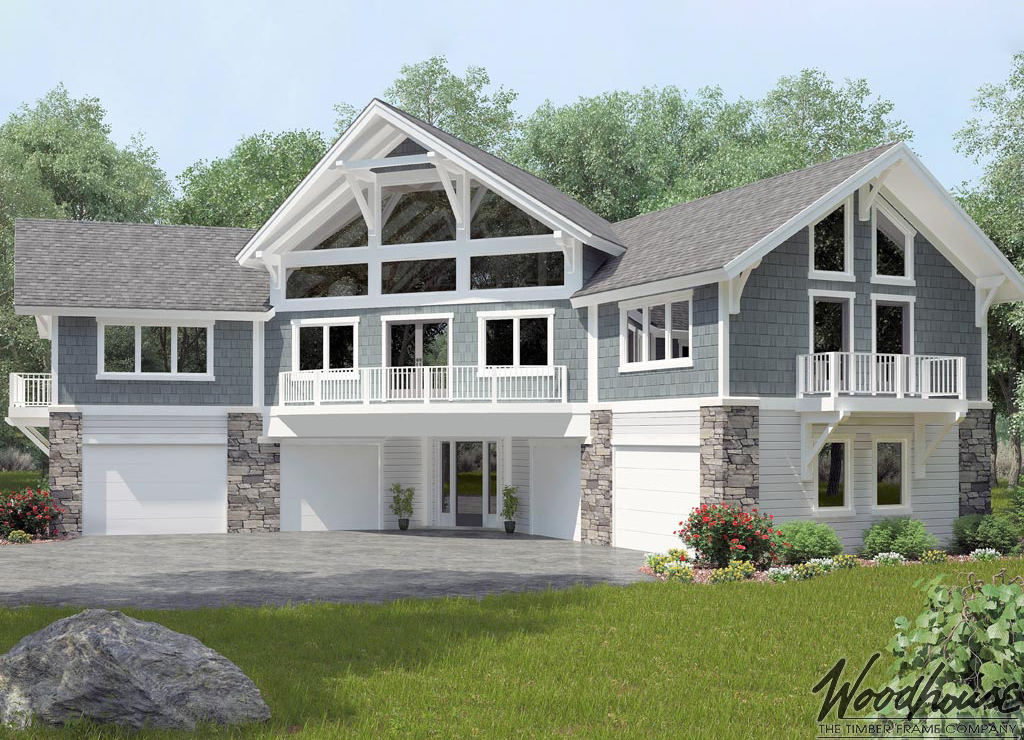 The History of Carriage Homes
Originating in 18th century England, carriage houses conveyed a sense of importance and wealth to an estate. Equal parts status symbol and necessity, these structures were built to house the family's carriage or fleet of carriages and, depending on their size, could also accommodate hay, tack, horses, and housing for grooms and staff. As the horse and buggy gave way to automobiles, the carriage house took on a new role, protecting vehicles and providing space for work, guests, hobbies, and storage.
Carriage Houses Today: The Woodhouse Carriage House Series
Today's carriage homes come in many forms — an accessory dwelling unit (ADU), bonus building, car barn, or even a barndominium. We've designed an entire carriage house series that will not only enhance your main home, but give you creative additional spaces to make the most of your lifestyle. These unique structures offer flexible space for a variety of needs, including:
Storage
Each of Woodhouse's carriage house designs has two or three ground-floor garages, protected by a steep-pitched roof, making them the perfect storage solution for cars, outdoor toys, and any other large-scale storage needs you may have.
Hobbies and Work
Head up the stairs in any of our carriage house designs, and you'll find airy vaulted ceilings and a spacious open floor plan with plenty of space for work and play. Whether a home office or creative studio space, Woodhouse can help you arrange your carriage house's layout to suit your work-from-home and/or hobby needs.
A Place to Live While You Build
Many clients have asked us for a carriage house where they can live while they design and build their primary Woodhouse home. This solution allows clients to begin living on their property before the primary home is complete and take a front-row seat to the creation of their dream home.
Next, we'll dive into a few smart ways to make your carriage house as luxurious, detailed, comfortable, and functional as your main home, especially when built as a timber frame.
5 Ideas to Uplevel Your Carriage Home
The time you or your guests spend in your carriage home should feel just as luxurious and special and your main timber frame. A timber frame carriage house, by definition, already makes this structure more elegant and efficient, but there are additional features that will turn up the "wow". Try a few of these on for size: 
1. Balconies & Patios
Outdoor living spaces, such as balconies and patios, add dimension and style to a carriage home's overall aesthetic and offer a place to relax al fresco. Our Shelburne carriage home plan significantly expands the living space with an upper level deck, while the Seneca ups the elegance with balconies and patios that accentuate the home's shape for a distinct and refined appearance. Of course, we can incorporate beautiful balconies, decks, and patios into any custom carriage home design.
2. A Connection Deck
Take a peek at this North Carolina property and notice how we created a custom deck to seamlessly bridge the guest suites to the main home. The innovative deck gives the homeowners a graceful and inviting walkway among the treetops. This contemporary home turned out so gorgeous we turned it into our WalnutCanyon plan. Breezeways can range from being simply covered to fully enclosed. They also offer a space to add aesthetic details such as benches, plants, art, or architectural touches that remind people that this passageway is part of your family compound.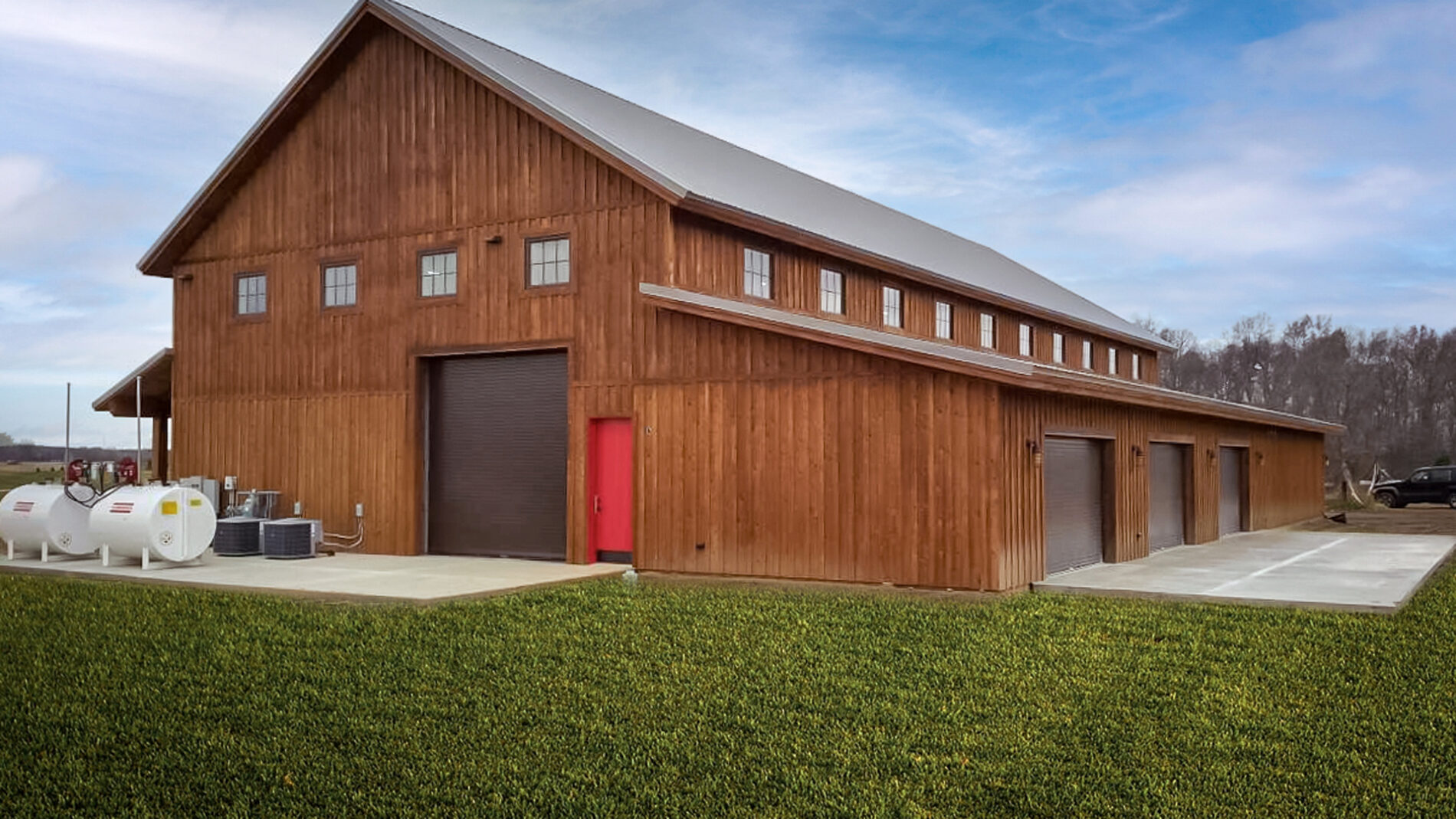 3. Showroom-Style Garage
Looking for a worthy place to store your ride(s)? Our carriage houses make for excellent car barns. With Woodhouse's expertise, you can step up your garage by customizing the bays, workshops, or "barn" portion of your carriage house. Lighting, fixtures, special flooring, tongue and groove ceilings, optimized organization, or any other number of special touches can transform your garage into the showpiece your collections deserve.

4. Stunning Stairways
Stairways prove to be the ultimate meeting of form and function, and the right details can transform this essential architectural element into a statement of design and style, whether inside or out. An interesting mix of materials or custom woodwork adds a special touch. For exterior stairs, consider making them covered and using non-slip surfaces for extra comfort and safety.
5. High End Materials & Finishes
In a carriage house, details transform spaces from regular to refined and contribute to the home's personality and style. Think of reclaimed hardwoods for modern farmhouses, a stone fireplace for an Old-World touch, or kitchen island waterfall countertops. And take advantage of the timber frame construction with custom truss design for a distinct, signature flair.
Building Your Timber Frame Carriage Home
Whether you want historic charm or a structure that demarcates your home as one of distinction, we can help you create the carriage home of your dreams. Check out our carriage home predesigns to spark your imagination. Contact us to get started.