Book an overnight visit in our complimentary guest suite for a behind-the-scenes Woodhouse timber frame experience.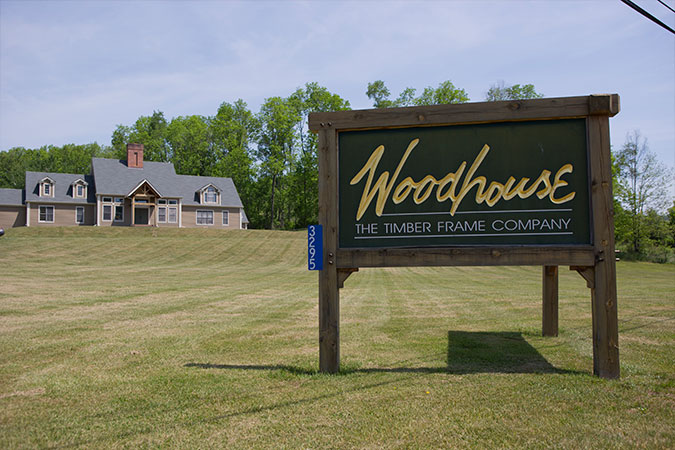 You've fallen in love with the idea of having a timber frame house. You've read the blogs, looked at floor plans, pinned your favorite ideas, and read the magazines. Now, it's time to take it to the next level. What better way to jump into your timber frame journey than an immersive and memorable experience with Woodhouse employees, tools, and materials?
In part one of this guide, we introduced you to the complimentary guest suite at our headquarters in Mansfield, Pennsylvania, where you can meet the Woodhouse staff who are eager to show you the design process and construction methods that create our energy-efficient, custom timber frame homes. Just like our houses, our tours are personalized to answer all your timber frame questions. In part two, we're diving into the typical itinerary of a client visit. Here's what to expect from a trip to the campus:
Welcome to Our Campus
The Woodhouse campus is made up of seven buildings, four of which are timber frames we constructed. Each has a different style so you can see the diversity of timber frame design in action, all learning about timber frame design and construction. After your arrival and greeting, you'll have some time to settle into our one-of-a-kind guest suite; an artsy and clever timber frame that incorporates an original, historic stone root cellar. Learn more in part one here!
Here's what to expect after that:
Administrative Offices
After spending a relaxing night, your guided tour begins in the administrative offices around 9 a.m. These offices reside in a Woodhouse timber frame that is designed and constructed to be a livable home and serves as a display model. Woodhouse President Pat Seaman typically leads guest tours. He enjoys asking visitors about their timber frame dreams, project ideas, and what they want to accomplish. It's important to him to get to know visitors as people.
After initial conversations, Pat talks about all the elements that go into a Woodhouse building system. It's an information session on wood species, types of timber frames, joinery, structural insulated panels (SIPs), windows and doors, tongue and groove, and sidings. And of course, all questions are encouraged.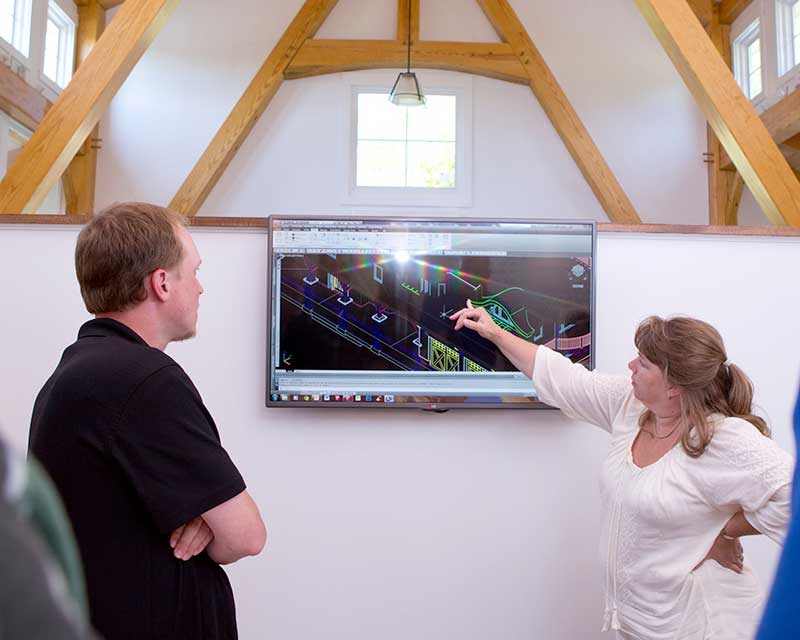 Joinery Shop
After the administrative offices, it's time to see some action in the Woodhouse joinery shop, located a short walk down the road. The joinery shop is where we fabricate our timber frame beams with efficient, high-precision cuts using our Hundegger computer numerical control (CNC) machine. During your tour, you get to watch actual timbers being cut. To us, these are more than beams–they are someone's timber frame dream coming to life.
Located inside the joinery shop is our pre-fit room, where we hand-finish our timber frame elements. These complex elements are pre-assembled, inspected, and packaged up for shipment. Our process ensures very few errors, but sometimes we'll see a flaw in the wood that we feel should not be there. When this happens, we'll recut that portion of the frame.
After watching our team of skilled craftsmen cut and hand-finish each and every timber then pre-fit the package, you'll appreciate how Woodhouse achieves our reputable, high-quality, and efficient installation upon delivery. Our structural insulated panels (SIPs) also play a large role in our efficiency, both in construction and in energy conservation. Larger in size than most SIPs, constructed with a superior insulation material, and put into place with a timesaving locking mechanism, our SIPs stand apart in the timber frame industry.
Design Studio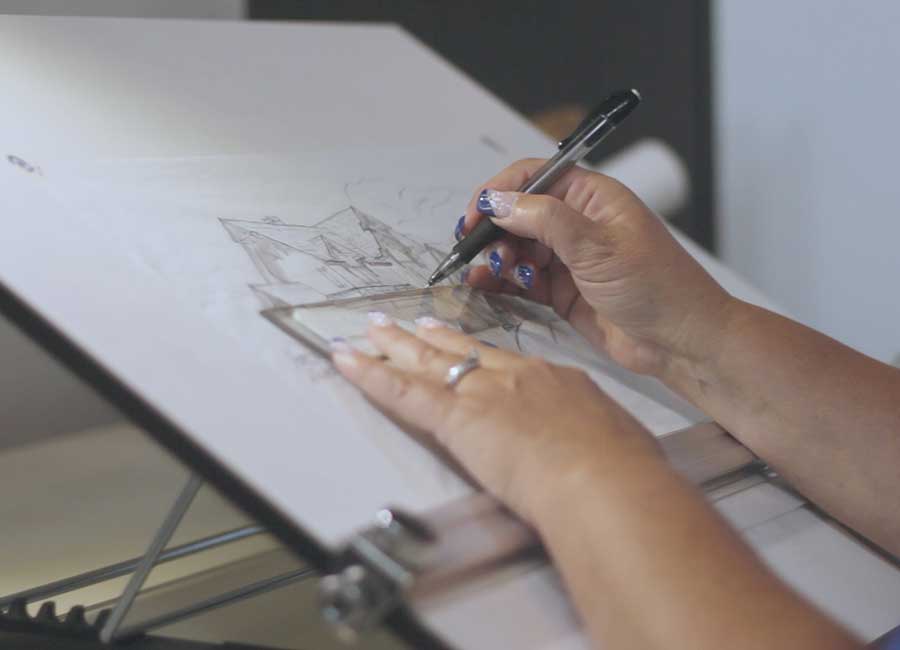 Following the joinery shop, the next stop is our design studio, located across the street. You'll notice the design studio sports a modern timber frame design and is filled with natural light and fresh, contemporary style. This is where our talented design team translates wish lists and ideas into fully customized timber frame homes.
The design team will explain each step of the design process. You'll also be introduced to the elements of our design process that ensure you'll be thrilled with your timber frame home, before, during, and after it's built. Our photorealistic 3D video fly-through technology and Woodhouse Client Dashboard are just some of the ways we stand apart in the industry.
Quite often, our visitors begin their design process journey on the spot. It's an excellent opportunity to engage in the initial "deep dive" interview with our resident architect, Diana Allen. If you aren't ready for a full interview, the design team will discuss what you want to accomplish and ways they can do that for you. Our team is a creative powerhouse, and they love coming up with ways to exceed a client's expectations across design, budget, and timelines.
Your Choice
Tours of the Woodhouse campus typically wrap up around 11:30 a.m. Afterwards, many clients like to accompany Pat to his winery near Ithaca, New York, and see his Woodhouse timber frame office and home. If you're interested, you can even visit his father's Woodhouse timber frame on the shores of Cayuga Lake. Afterall, spending the afternoon touring more timber frames is an excellent way to launch a short vacation in the spectacular Finger Lakes region or, if you must go home, cap off a memorable–and productive–experience.
Book Your Visit!
Why delay a great experience? Contact Woodhouse and book your visit to kickstart your own timber frame journey today.