Your style. Your property. Your timber frame. That's our specialty.
When it comes to living the dream, you can't beat a Woodhouse timber frame home. Our timber frame home kits are works of art. Within each one, form and function meld together in a design personalized to where you live and the way you live.
Live in a home connected to history, place, and community.
Experience the timeless strength, longevity, and quality prized by homeowners.
Enjoy the freedom of designing your perfect home aesthetic.
Benefit from the efficiencies we've built into our materials and construction systems.
Love the idea but overwhelmed by the reality? We understand. The journey from reading words on a page to moving into your timber frame home can feel daunting. From initial explorations to planning to production, our unique building process optimizes your confidence. We believe a true dream home is one that is as enjoyable to design and build as it is to live in for years to come.
We've perfected a system that supports you.
Our building process excels in producing high-performance timber frame homes using a system and service that stands apart in the industry. To help you understand how it's organized, we've broken it down into five manageable steps that will bring your dream home to life. Through every step, your RPM will hold your hand and provide valuable insight and guidance.
Step 1: Dream and Consult
Step 2: Define and Design
Step 3: Build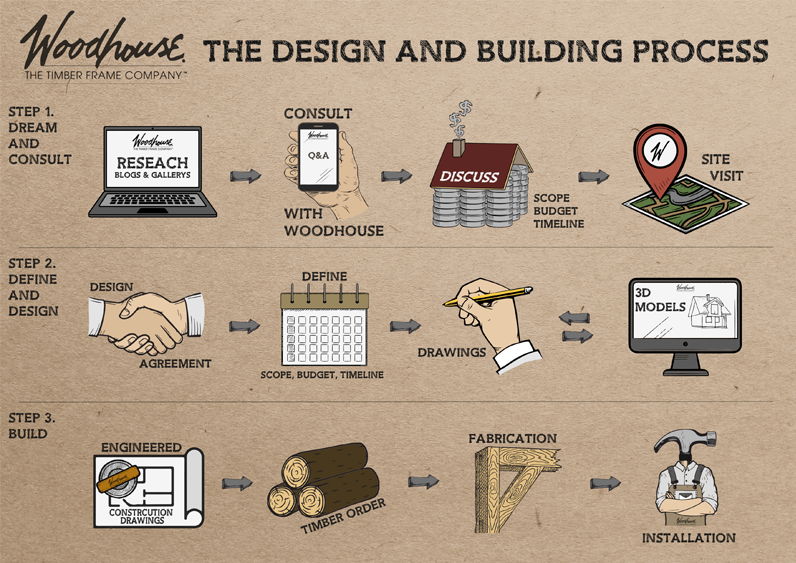 Step 1: Dream and Consult
Whether you've spent years gathering ideas or have just recently decided you want a timber frame, now is the time to start putting it all together. Need some inspiration?
Take an online tour of our 20+ home styles and 90+ home plans and discover the plethora of sidings, finishes, and designs that work with a timber frame.
Scour magazines, social media, and real-life homes to gather ideas. (Don't forget, we can convert nearly any home design into a gorgeous timber frame.)
Think of how you like to live and make your "must-have" and "like-to-have" checklists.
Meet with your Woodhouse RPM who can show you other Woodhouse homes in the area.
Additionally, this is a good time to assess your site. Do you already own property? Looking to purchase a property? We have you covered.
Explore your current or potential property with your RPM to see how it suits your timber frame home.
Navigate municipality requirements easily with your RPM's local knowledge.
Understand power, water, sewage, and road access with the assistance of your RPM as you budget for your new home so there are no surprises.
Get recommendations on home orientations that maximize views and capture passive solar heating.
Step 2: Define and Design
It's time to put your dreams on paper! Communicating and working closely with your team is vital to making sure designs meet your needs and budget.
Let our nationally accredited, in-house architect customize any of our floor plans or design a home from scratch. Know that our design team can also work with your independent architect.
Tour your home before you build it with a customized, photo-realistic, 3D fly-through video to experience your home, complete with furnishings, finishes, and lighting. This service is part of the design process with no additional cost.
Check your Client Dashboard to watch your 3D fly-through and review your budget at any time to stay confident and informed about your design.
With design and budget in place, it's time to select your financier, builder, and contractors.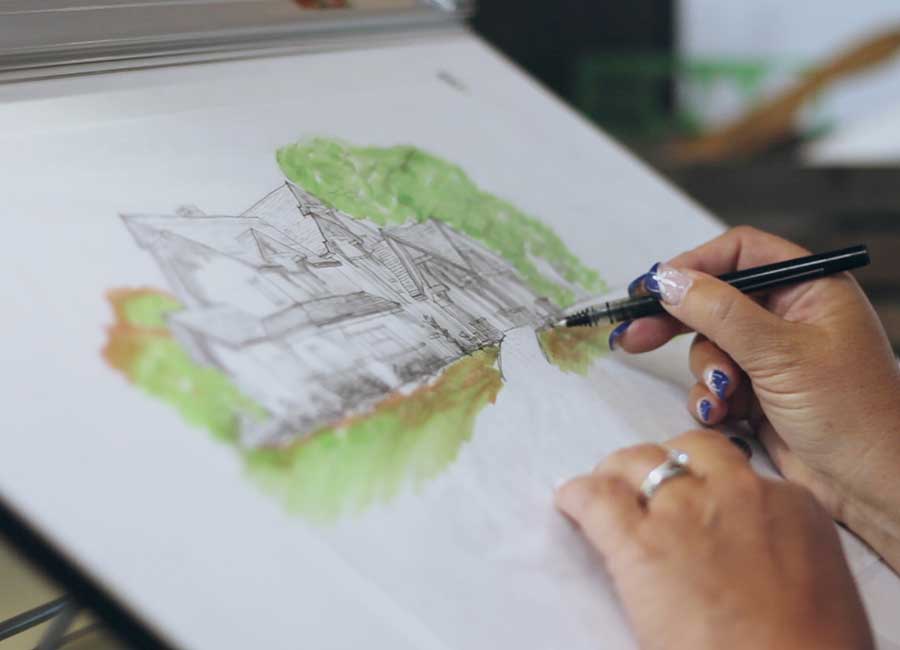 Step 3: Build
Time to watch it all come together! At this point you'll witness how our carefully engineered, streamlined building system works to your advantage.
Our structural insulated panels (SIPs) outperform many other SIPs in the industry, giving you a top-rated energy efficient home. Our SIPs are also larger and easier to install, saving your contractor time, money, and hassle.
We send a site coordinator to the building site to oversee the initial part of construction and answer your contractor's questions. Contractors love us for this level of service! 
Book a Discovery Meeting with Your Project Manager Now
Get in touch with your Regional Project Manager (RPM) and they will help you learn more about the Woodhouse way. Join them for a chat, a home tour, or a phone call so you can get started on personalizing your timber frame story.
Tour Woodhouse and see first-hand the craftsmanship that goes into every one of our homes.
Visit our gallery for a virtual tour of our homes.