Timber Frame Homes in Maine
From coastal creations to woodland wonders, Woodhouse can help you achieve your timber frame home in Maine.
Perhaps there's a reason the sun shines on Maine's shores before any other state… Exceptional in its natural beauty, the state boasts 3,500 miles of coastline, 2,000 coastal islands, and 17 million acres of forestland, including the Northernmost swath of the Appalachian Mountains. With mountains comes fresh water too — 51 large lakes and 31,752 miles of rivers. In short: Maine has
everything
. Including gorgeous homes.
Top Spots for Timber Frame Homes in Maine
Need help narrowing down where to build in a state that's absolutely covered up in lush locales? Try one of these three hot spots, each of which captures a different facet of the iconic Maine lifestyle.
Portland. With a harbor closer to Europe than any other in the U.S., Portland's ties to shipping and fishing run deep. Today, Portland is a vibrant, artistic city filled with cobblestone streets and seemingly endless views of islands, boats, ships, and lobster buoys.
Traditional wraparound porches and gable dormers mean that the designs in our Cape Homes series fit right into the oceanside culture of this creative, historic city. Cottage-style timber frame homes pack the perfect balance of rugged and refined into smaller footprints ideal for city lots. And if you find yourself pulled inland, our CliffSide floorplan encapsulates a beautiful blend of Appalachian cabin style with a touch of stylish coastal simplicity.
Sunday River / Bethel. Count 'em. There are eight interconnected peaks that make up the sprawling Sunday River ski resort. That's eight places to access exciting and varied ski terrain or hiking and mountain biking in the summer and autumn. Not to mention golf, fishing, breweries, and miles upon miles of regional trails that make Sunday River an outdoor lover's dream come true.
Traditional rustic, mountain-style timber frame lodges, with their massive timbers and rugged good looks, are made for ski resorts. If you want to tap into Sunday River's Appalachian locale, our ForestPath plan captures that pioneer mountain spirit. All these styles can be modified for a sloped building site.
Moosehead Lake. If picturesque lakeside living with pine, birches, and maple trees lining freshwater shorelines and islands is your vibe, Moosehead Lake delivers. Filled with bass, brook, and lake trout, this deep, cold-water lake is one of New England's largest. Vast and remote, this stunning destination is the head source of Maine's famed Kennebec River.
Large snow loads and extreme temperatures are a given in this American outback, making performance-driven timber frame homes an absolute must. Just imagine enjoying a New England autumn at Moosehead Lake from the comforts of our woodsy WhiteWater timber frame house. Your cozy porch immerses you in views of the water and flame-colored leaves as you sip hot cider. Retreat into the vaulted interior for a toasty fire after a day of hiking or fishing.
We have more than 20 timber frame home styles, each with multiple floorplans. Whatever you choose, we'll help you customize it to your personal lifestyle and property site. Custom-designed extra amenities that fit your budget, like dog wash stations, mudrooms with utility sinks, and specialty closets to fit your skis, kayaks, snowshoes, hunting gear, and more can all be incorporated into your timber frame floor plan.
Ocean, mountain, or lake adventures — prepare to let Maine wow you:
Timber Frame Home Builders in Maine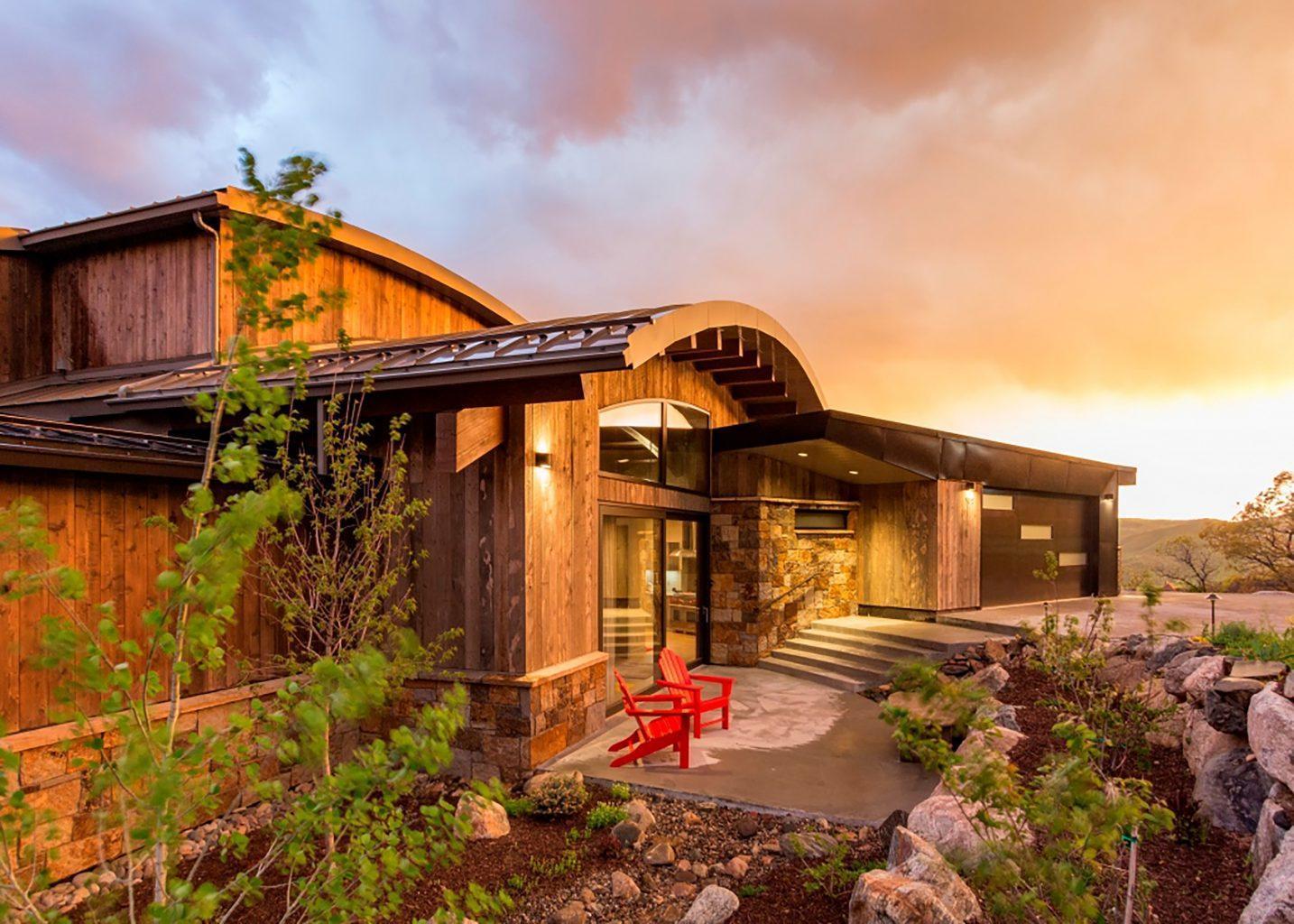 In Maine, timbers are not just there for aesthetic, they have work to do. It's true that our homes are stunning, timber-framed beauties, but they are also high-performance structures designed to keep you comfortable and safe. Structural insulated panels (SIPs) create exceptional energy efficiency and are an important part of our streamlined building process. Rooflines are designed to shed snow, and deep overhangs on the eaves add additional protection. As such, they are built to last.
Woodhouse Independent Sales Partner Breakwater Design & Build is a leader among timber frame home builders in Maine. Breakwater has been in business for 25 years and has constructed homes across the state. In addition to building timber frame homes in Maine that are inspired by our in-house floor plans, Breakwater works with us to build custom-designed homes from scratch.
One project, a post and beam timber frame built in Rockland, is designed specifically for its secluded property nestled on the backside of a mountain. The home and its matching garage showcase quintessential Maine style, featuring a custom indoor/outdoor stone fireplace, a two-story great room, a loft area, soapstone countertops and sinks, and radiant, in-floor heating.
Breakwater also understands the critical regulations and codes specific to coastal properties. With Breakwater and Woodhouse, homeowners get recommendations for appropriate materials and roofing that can handle the snow loads, winds, and salty air that comes from Maine's wicked nor'easters. The result is a long-lasting beautiful home that fits within the community and works with the property.
Ready to go?
Contact Woodhouse Northeast Regional Project Manager, Jay Hodgson, who is eager to talk to you about your Maine home style and lifestyle. You can also browse our top Appalachian style floor plans:
Perfect Floor Plans for Maine