From here, near, or afar, learn how the Woodhouse process will give you peace of mind and a superior custom timber frame home of your dreams . . . on time and on budget.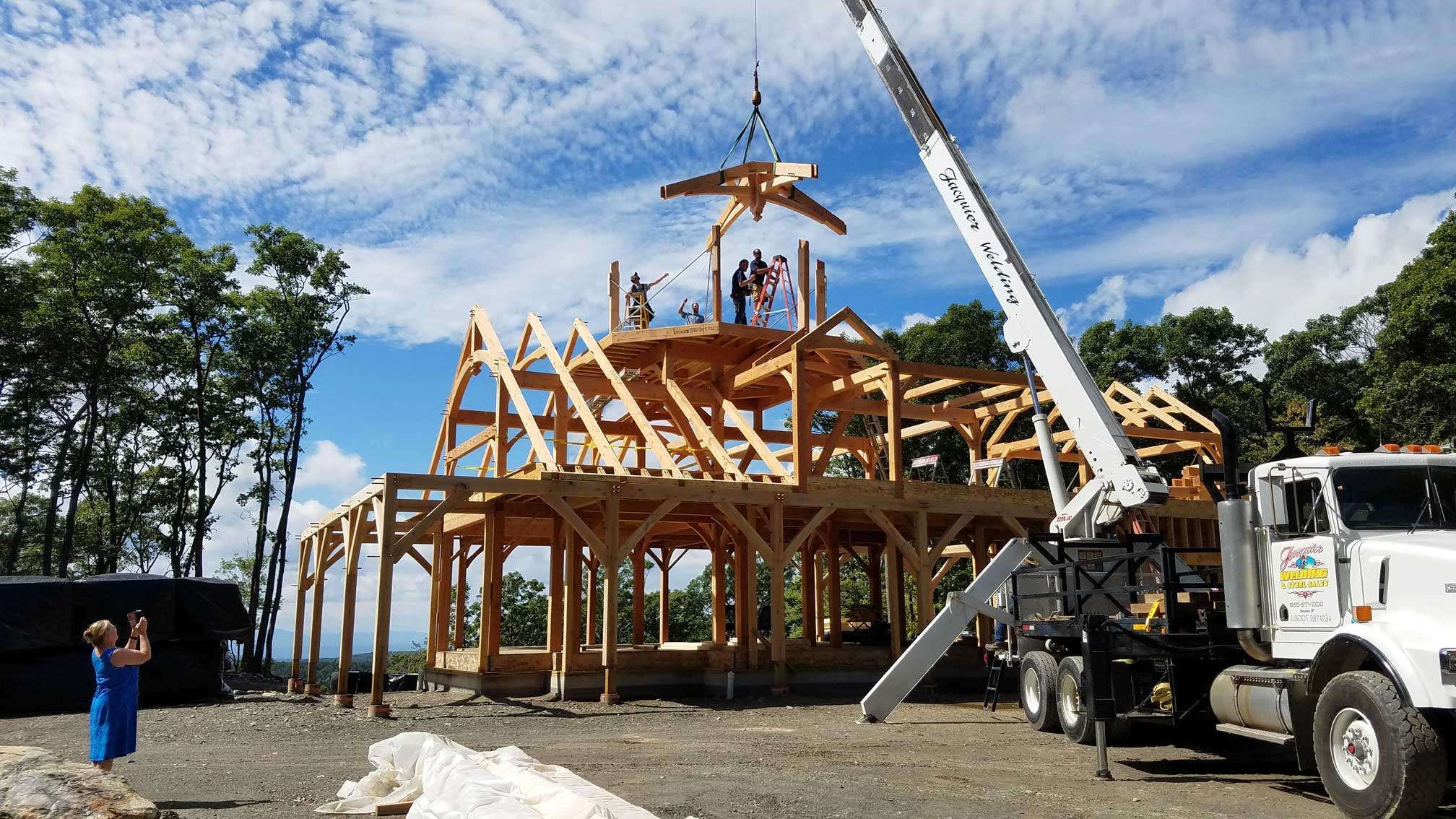 Your heart is set on a timber frame home, but the reality of how that home will come to life can feel daunting. The intimidation factor triples when you live in one location, are trying to build in another and it's a remote locale away from where your ideal timber frame provider is located. Where do you even start with logistics? How do you trust the construction process when you're not there?
Sound familiar? We have answers. You need a timber frame company that is equally adept at incredible design and process and budget management, all without compromising quality.
At Woodhouse, our stunning designs and plethora of floor plan inspirations aren't the only thing that set us apart. We've developed a distinct workflow and process that delivers peace of mind along with exceptional design and functionality wherever you wish to build.
Here are a few ways we use a multi-pronged approach to mitigate clients' biggest concerns and make sure our industry-leading building process supports them in long-distance builds.
Regional Expertise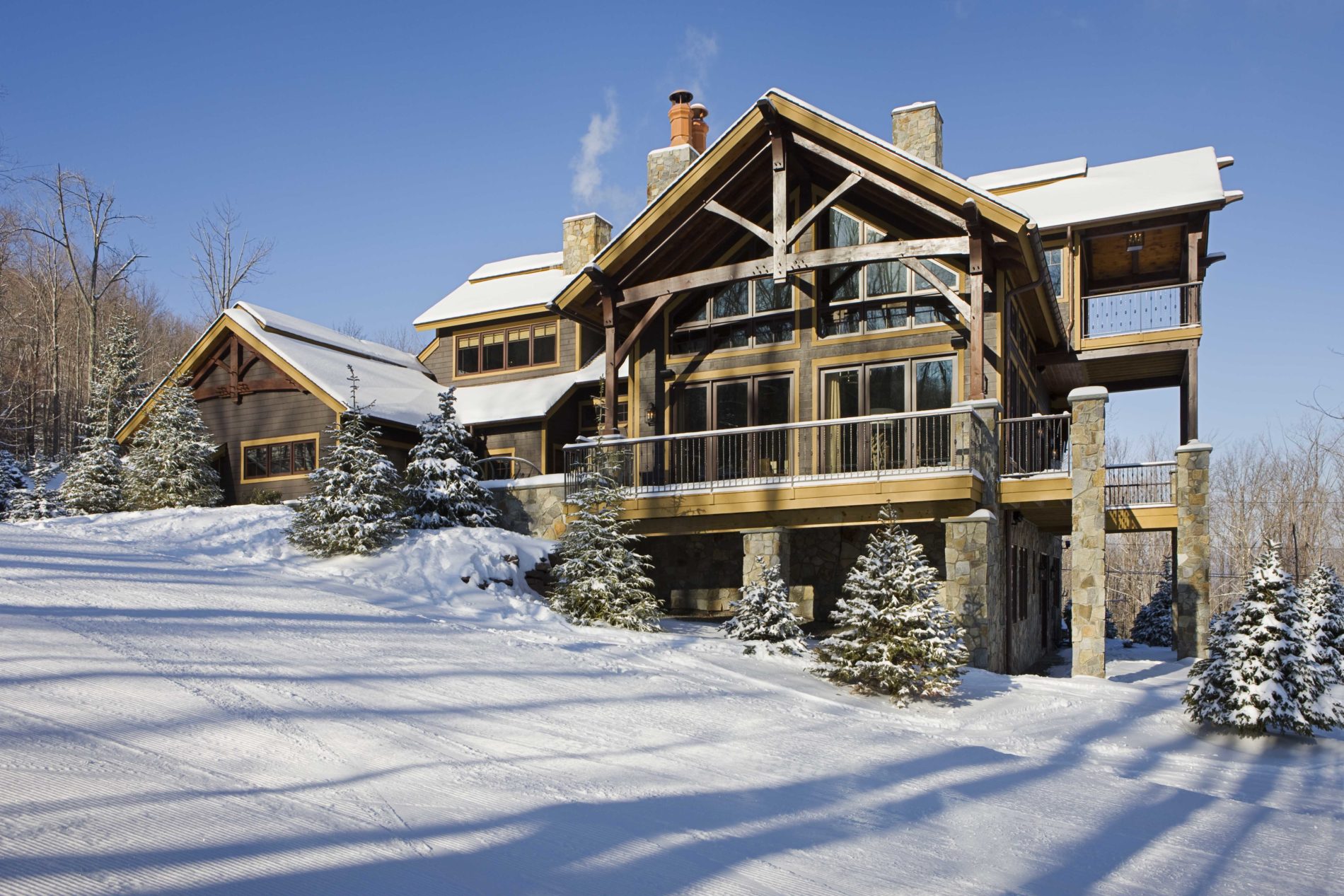 Dry heat. Humidity. Salty air. Nor'easters. Blizzards. Relentless winds. Ice. Every region comes with a unique climate that both defines the local flavor and challenges homeowners. Woodhouse has a working relationship, oftentimes for many years, with a network of third-party engineers who are familiar with all types of climates.
"We've designed and delivered packages nationally and overseas for decades," affirms Jeff Kriner, Woodhouse Senior Home Designer.
Additionally, our regional project managers (RPMs) serve as your personal liaison between you, your timber frame home and the entire building process, customized to that region. Woodhouse RPMs are intimately familiar with culture, climate, and all the details of a region that will make your timber frame extra special. They'll help you navigate permitting, timelines, budgeting, and the construction process. They'll even go with you to look at a property to assess its pros and cons for supporting your timber frame and lifestyle.
Visits to Our Headquarters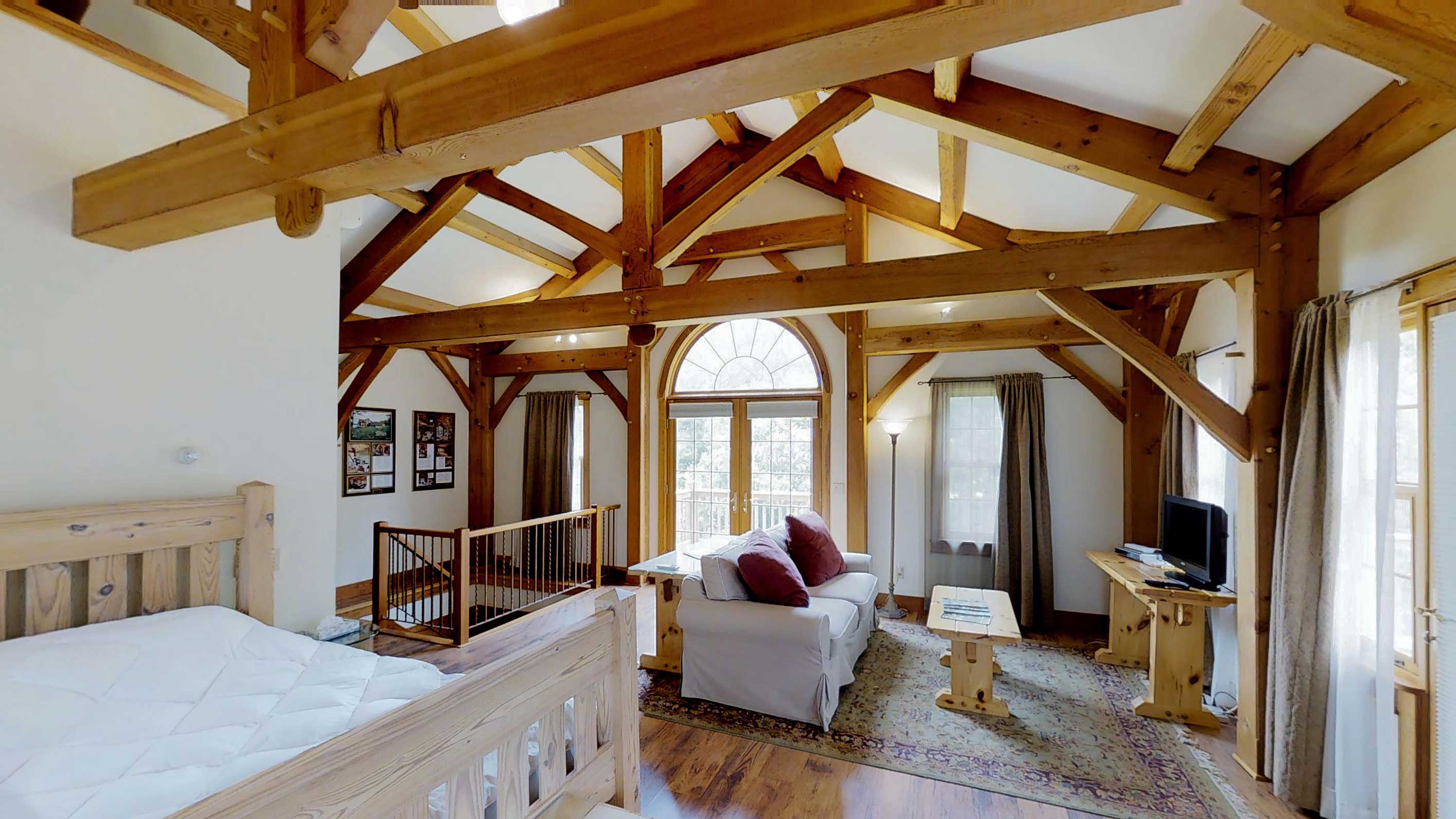 We encourage you to come up and stay at Woodhouse HQ as our guest for the weekend in our complimentary guest suite. It's an opportunity to meet the design team, tour our facility, and visit many Woodhouse timber frame homes. If you can't make it, we can find a Woodhouse homeowner in your region who is willing to open their doors for a tour and share their Woodhouse building experience.
Working with Your Architect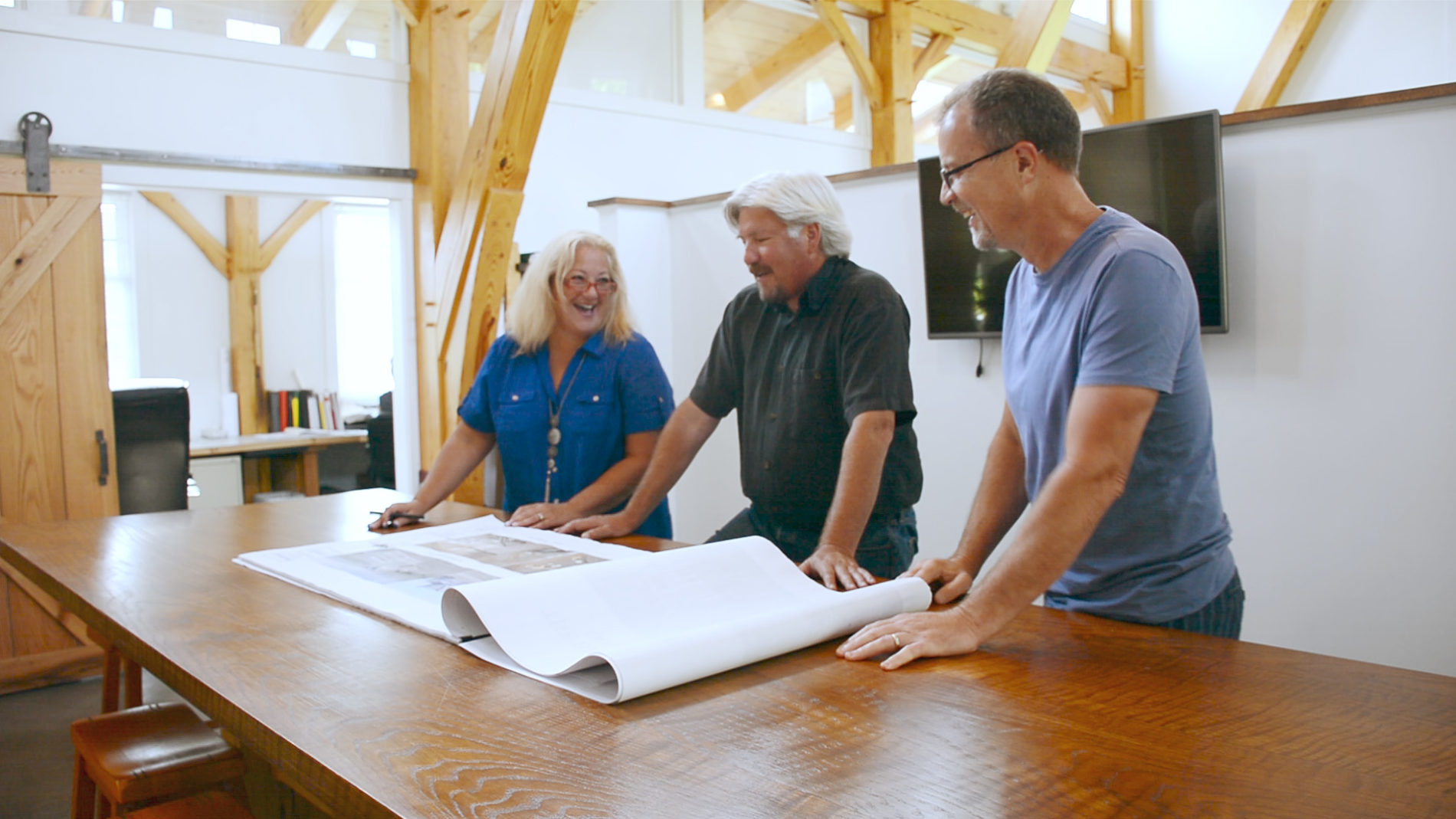 Do you already have an architect in mind? Designing a timber frame home is a little different than a conventional stick home. We have an established process that supports your preferred architect. We can also take a floor plan that has already been designed and work with your architect to convert it into a timber frame. Conversely, if you don't have an architect, our design team and in-house architect will work with you to ensure your home is completely customized to your needs.
The Client Dashboard & Digital Communication
We also use technology to give you a personal experience, even from afar. Video conferencing, screen sharing, and electronic file sharing are all made simple through our innovative client dashboard. Our dashboard will keep you up-to-date on every detail of your home's progress. It's a direct channel to monitor your home and communicate with your team at your convenience. With our advanced, photorealistic 3D video fly-through you can see exactly what your home will look like, on your property, at any time of day before a shovel ever breaks the ground.
Long before the delivery and extending through your timber home's completion, our project coordinator will communicate weekly, sometimes daily, with your builder to ensure accurate communications between the Woodhouse and construction teams. The client dashboard facilitates this teamwork approach throughout the entire design and build process.
A Reputable, Reliable Network
Similar to our network of engineers, we have an established network of Independent Representatives (IRs). All our IRs receive extensive training on the proper installation of a Woodhouse product. Additionally, every project has a "Technical Representative" who is on site for several days to advise the build team and oversee proper assembly of the timber frame and structural insulated panels. Many builders enjoy the process and are often eager to work on another Woodhouse project! Your RPM can also help give you guidance on finding a qualified build team in your region.
Sourcing & Transporting Materials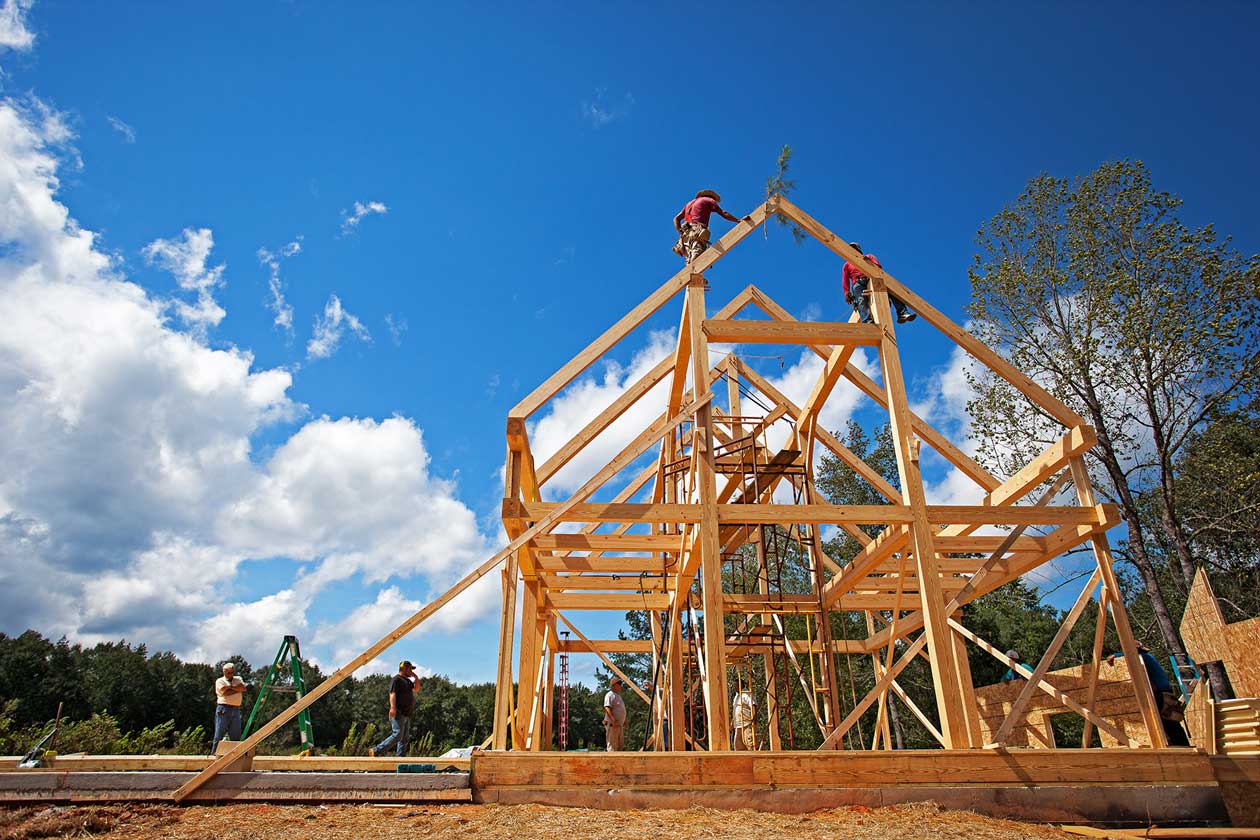 We manufacture your timber frame on our campus with the highest efficiency and precision then ship that package to your location. We'll coordinate with our Technical Representative and your contractor to ensure your timber frame is promptly erected. This is a differentiation point for Woodhouse because it's not uncommon for many timber frame companies to deliver the home, then leave it up to you to manage building it.
"Our decades-old relationships with suppliers allows us to procure the best materials for your project from the best sources all delivered through a network of shipping lines," explains Todd Mahosky, Woodhouse Operations Manager.
Ready to See for Yourself?
As you familiarize yourself to the extent that Woodhouse can support your remote timber frame home project, be sure to peruse our gallery for breathtaking design ideas. Contact us for a more detailed conversation.