Woodhouse timber frame homes in Colorado and skiing go together better than fresh powder and blue skies.
Vail. Telluride. Keystone. Steamboat. Aspen. Colorado's list of iconic ski resorts reads like the A-list of dream destinations. In total, the Centennial State boasts dozens of incredible places to hit the slopes and soak up the mountain lifestyle, each of them impressive in their own unique way.
Just hearing the name drums up visions of après-ski evenings, cozied up in spaces wrapped with thick timbers and the subtle, comforting scent of wood. Just outside, Colorado's vast and wild peaks fill the view from the wall of windows. There's chili cooking in the gourmet kitchen and you're swapping stories from the slopes over drinks with friends while flames pop and crackle in the stone fireplace. It's a storybook scene…Woodhouse knows how to make it come true.
Whether you're looking to build your forever home or a winter vacation destination, timber frame homes in Colorado, built by Woodhouse, showcase what's possible in the state's hottest destinations.
Why a Timber Frame?
Colorado's ski locales each have their own unique personality and history. But regardless of their origin story, you'll notice that timber frames are often the home style of choice. After all, there are many reasons why a timber frame makes a great ski lodge.
Not only do large timbers make a natural connection to the land, but these sturdy structures can withstand heavy snow loads and winds. For the walls, Woodhouse uses special structural insulated panels (SIPs) for high levels of energy efficiency. This is an important priority for ski towns, which often impose certain efficiency standards. And when sub-freezing temperatures are a standard part of your playground, you'll want a ski lodge that can keep you cozy. Our SIPS also carry a Class 1 fire performance rating, the best fire rating of materials that can be achieved, offering even more peace of mind year-round. 
Your Colorado Timber Home Design
A mountain home style embodies the ultimate connection to the alpine environment and sense of place. From Telluride to Breckenridge, Colorado is dotted with Woodhouse timber frame homes. Each one is a unique expression of a homeowner's personality that also meets the challenging demands of properties located on steep mountain slopes, in remote areas, and among extreme alpine weather.
Timber frame homes are rich with possibility. Unlike a conventional home, a timber frame construction system carries the load of the house in the exterior walls, so the interior can have whatever configuration you wish. This customization applies whether you're starting with one of our more than 100 timber frame floor plans, creating a custom design with our in-house architect, or even using your own architect. This goes for the style as well. Check out this entirely unique timber frame design in Steamboat, Colorado with a 60-foot-wide arched barrel great room and clamshell-inspired exterior that redefines creativity and modernity in a mountain home.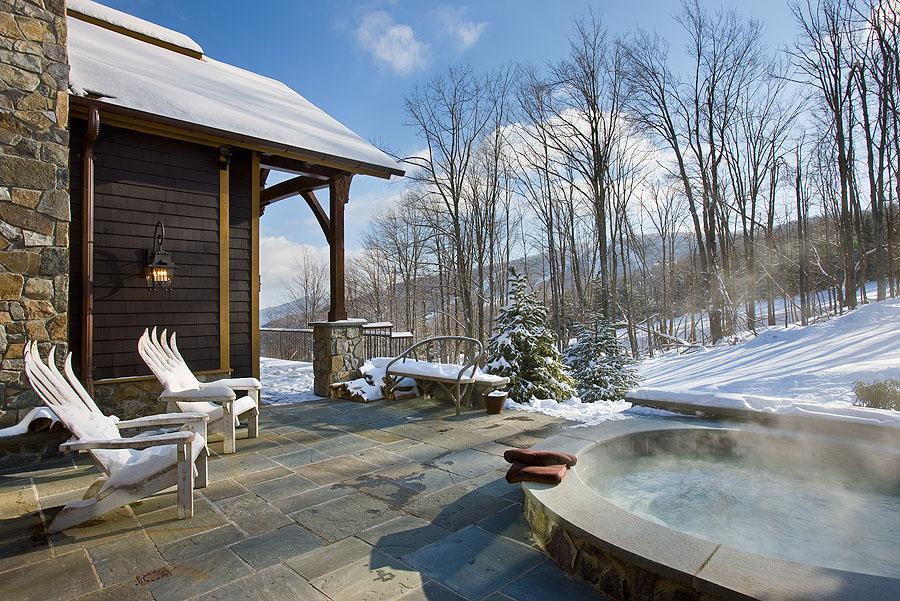 Luxury Upgrades for Colorado Timber Frame Homes 
From traditional Western lodges to mountain modern to regional designs, you can fill your timber frame home with luxury upgrades that sing with style. There are certain must-haves for every ski chalet of any size, but clever extras allow for a lifestyle that's as elevated as your home's altitude.
Start with an area designated for a hot tub or dry sauna to unwind after a day on the slopes.
"We almost always include a hot tub area," says Woodhouse Regional Project Manager for the West, Bob Colby. "There's something about entering a hot tub from the cold air after a day of skiing that is a great way to relax and recover."
Finally, a few bonus spaces in ski homes just make sense. Yoga and exercise areas with steam showers nearby create a spa-like experience in which to train and recover. From snowy winter to muddy spring, mudrooms serve a practical purpose for an active mountain lifestyle. One Woodhouse homeowner even added an adjacent dog wash so the dogs wouldn't track dirt through the house after walks. Creative bunk rooms and cozy media rooms for large gatherings are a sure way to make time in the mountains memorable. Plus, bunk rooms are an attractive feature for homes that are rented out in the off-season.
Dream It, See It, Ski It
Woodhouse has the experience and resources to get you started on your custom timber frame home. For even more inspiration, visit our online gallery then contact us for a friendly, detailed conversation about what you want to achieve with your Colorado timber frame home.