Barndominiums, lofts, studios, and more… Discover how Woodhouse designs are the answer to all your remote-work needs.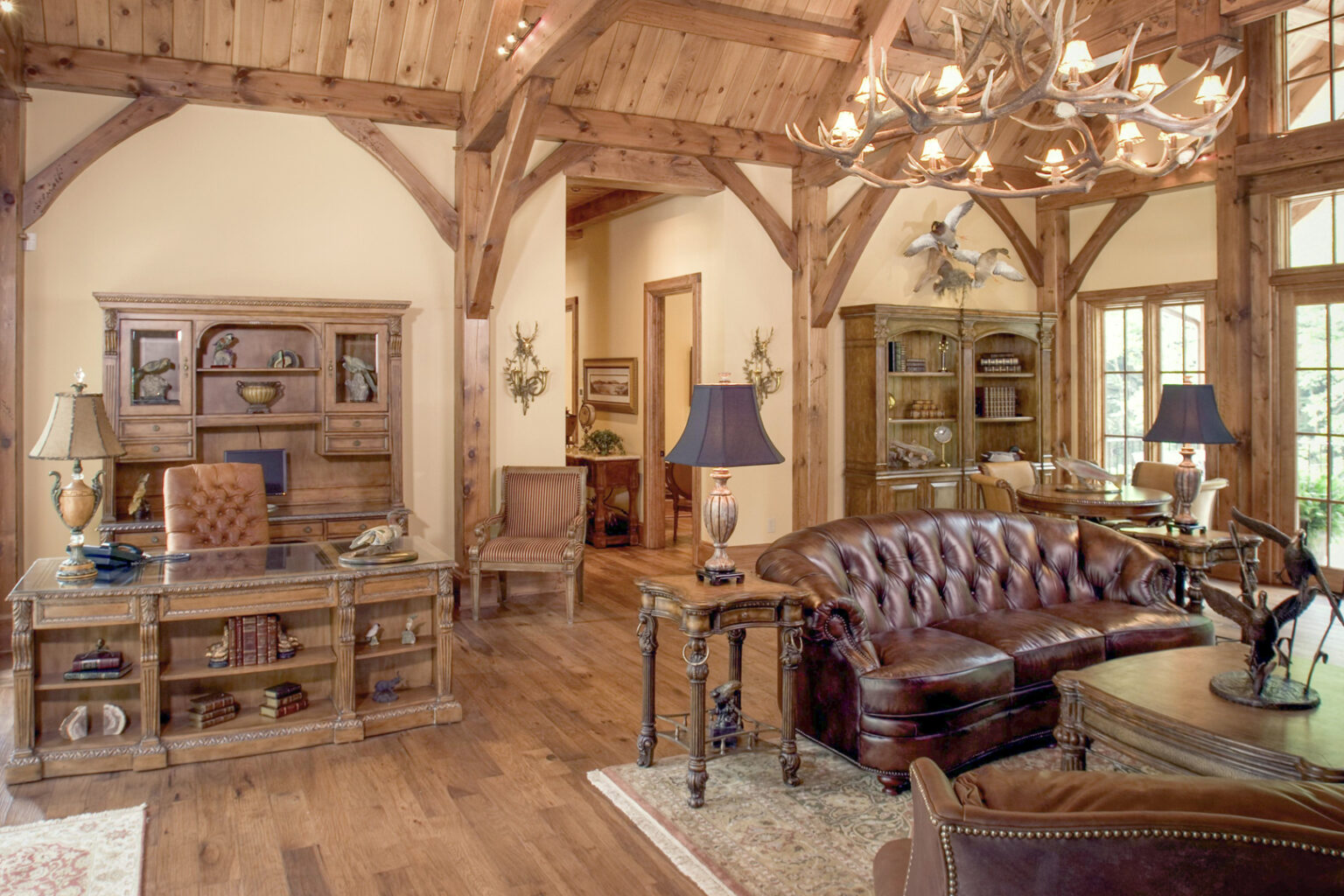 Despite steadily increasing for years, the number of Americans working from home remained a large minority. Then, in an instant, the 2020 pandemic made the home office go mainstream. Today, a vast number of Americans are still commuting down the hall rather than out on the roads. In this new reality, homeowners are getting creative with what their home can provide for the ultimate work-life balance. Think barndominium, loft, studio, and more!
Discover how a timber frame home from Woodhouse is your ultimate custom home (and office) solution in this work-from-home era.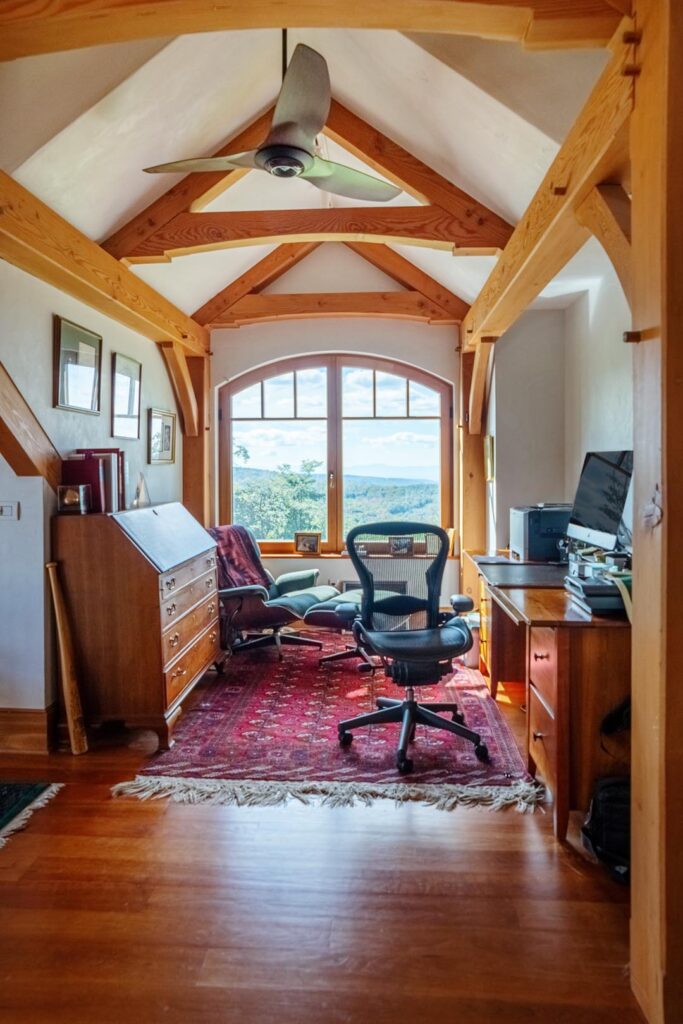 Primed for Perfection
The word "perfect" is used a lot when talking about Woodhouse timber frame home designs. That's because a timber frame can be customized to exactly what you desire, particularly when it comes to your work-from-home needs. Unlike a conventionally built home that relies on strategically placed walls to carry the home's weight, a timber frame disperses the weight through its posts, beams, and trusses. This gives the interior layout incredible flexibility. Rooms can be arranged to be as expansive or cozy as you wish. Theoretically, you could have one giant interior space!
Gorgeous and tasteful timber touches elevate a home into stunning, distinct versions of whatever you want — modern, craftsman, barndominium, waterfront, cabin, farmhouse, traditional, and many more.  These highly personalized homes are also high performance. The structural insulated panels, or SIPs, that we use in our construction system deliver some of the highest levels of building efficiency, energy conservation, and fire safety available in a residence.
Work From Home & Timber Frames
The best way to imagine the possibilities of a Woodhouse work-from-home timber frame is to explore actual designs and floor plans. Check out the following examples for different approaches to incorporating a workspace into the home.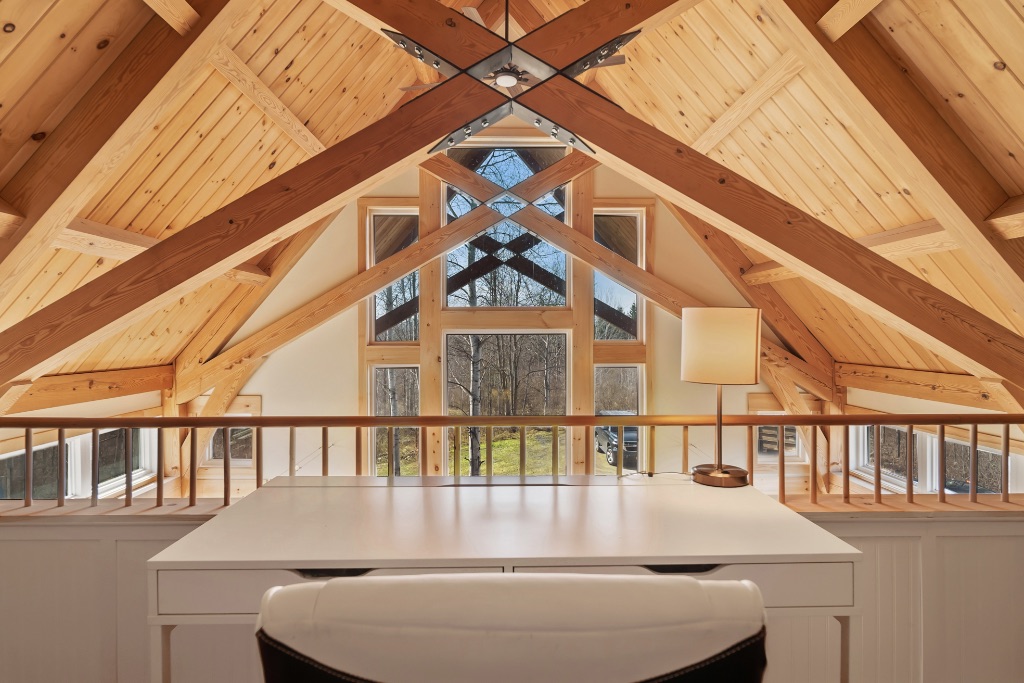 Loft
Combining the luxury of an up-close-and-personal view of the timber frame with flexible functionality, timber frame lofts prove to be a popular choice for a variety of uses.
Take for example the Panorama, which elevates mountain-modern style with its sleek profile and massive window walls that flood interior spaces with sweeping views and natural light. Imagine ending each workday feeling inspired and replenished. That's what an office in Panorama's loft can do for you!
Or, take a video tour of our BryceCanyon floor plan, a stunning, fresh design that works with the landscape. An expansive, post-and-beam interior seamlessly incorporates a loft defined with some powerful panache. As a compound home design, you could also convert one of the exterior studios into an office for an extra-private workspace.
Studio
Speaking of home office studios, TimberRidge gives you options. An interior hammer truss system, stone pillars, and live-edge siding make this a quintessential rugged mountain timber frame with multiple levels. Take advantage of the views offered from the lower-level walkout or convert the optional studio space above the garage to an office for mountain-summit vistas.
Library
If waterfront living feeds your soul, Oceanview (shown above) is your answer. With its traditional elegance and large decks, this plan is designed to soothe and refresh. In this plan, double glass doors open to a handcrafted deck while a curved wall in the great room envelopes the space with style and grace. With a large library that opens to the deck, the work day is a (ocean) breeze.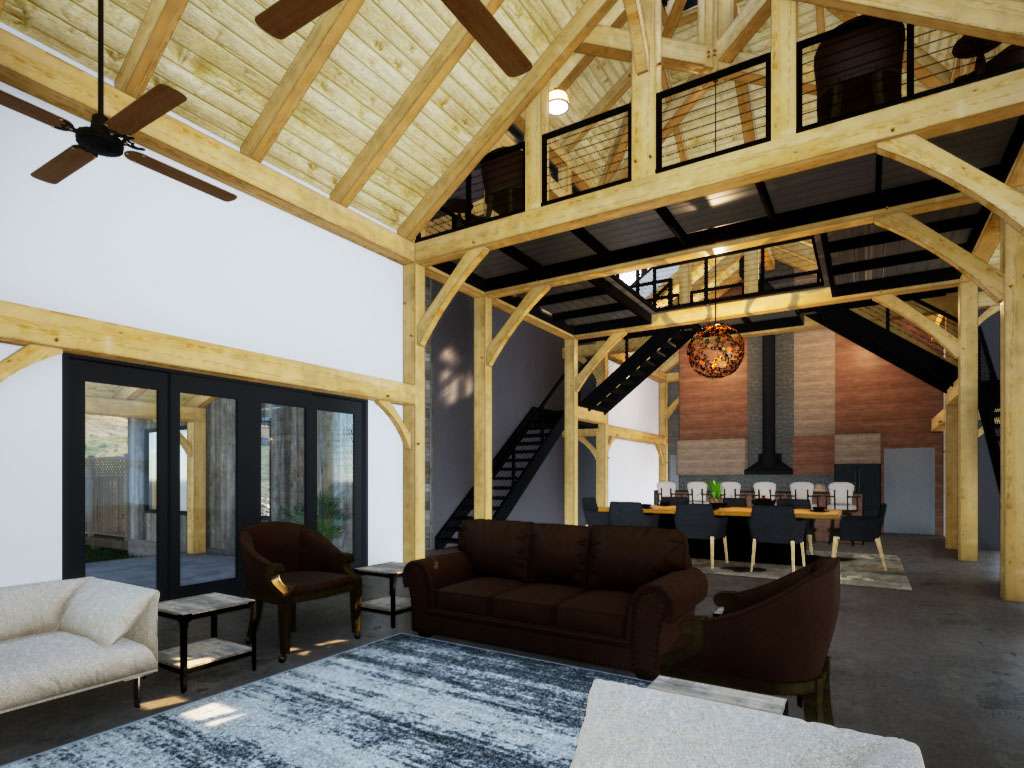 Barndominium
If you desire more than four simple walls for an office and seek something that truly flexes with your lifestyle, a custom barndominium just may be your solution. A barndominium is the ultimate work-from-home hybrid, bringing equal parts style and functional flexibility.  
Music or art studio, private gym, video production, professional kitchen, workshops, tasting room, and yes . . . agriculture and animals — there are so many functions a barndominium can bring to your home design thanks to their incredibly flexible design. We'll customize your "barndo" for whatever ratio of home-to-living space you desire.
While you can certainly have a barndominium that looks like a barn, don't overlook the breathtaking interpretations of this highly functional design. Barndominium 4257-2-2.5 (pictured above) proves how modern lines, classic design, and rustic materials can all come together in perfect harmony.
Let's Get to Work!
For even more inspiration, visit our online gallery then contact us for a friendly, detailed conversation about what you want for your work-from-home timber frame office home or barndominium.