Timber Frame Homes in Jackson Hole, Wyoming
See why timber frame homes and Jackson Hole, Wyoming are a dream duo. (And how Woodhouse can turn it into reality!)
Few places rustle up romance for the Old West quite like Jackson Hole, Wyoming. Even its name harkens back to older days: the word "hole" is an old-timey reference to a valley. Jackson, the valley's once-sleepy mountain town, was named in 1894, long before the area's eponymous ski resort came to be in the 1960s.
While Wyoming is largely defined by vast stretches of relatively flat, windswept lands, you'll find Jackson Hole tucked into the state's northwest corner surrounded by dramatic, iconic landscapes. Massive peaks pierce the sky and fragrant pines, trout-filled rivers, and large mammals such as moose, bears (including grizzlies), and wolves call the region home. As gorgeous as it is rugged, living in Jackson is for bold souls who love the unique lifestyle that comes with high-altitude, Western living. That kind of living requires a special kind of house.
Style from Necessity
As an isolated pioneer town, Jackson's quaint charms came from those who made do with whatever materials were on hand. Eclectic cottages and cabins filled the town, giving it an undeniable Old West allure. Historic charms have given way to eye-popping, modern mountain home plans and handsome ski chalets. Whether you want to honor Jackson Hole's history with a cozy timber frame cabin or are dreaming of a grand, legacy lodge, Woodhouse can build your vision and make mountain magic come to life for you.
Jackson Hole's home styles have evolved from another necessity . . . winter. The region's celebrated season is breathtakingly beautiful and cold. Woodhouse understands Jackson Hole's unique climate and code considerations. All homes must function in extreme temperatures and under huge snow loads.
Woodhouse timber frame homes, built with our specially designed structural insulated panels (SIPs), boast one of the highest levels of energy efficiency available in a residential structure. SIPs–in combination with fully customized floor plans–allow for the placement of windows and rooms to work with the sun for lots of natural light (or only a little bit, as in some bedrooms, for example). We also carefully position your home on your property to maximize passive solar heating.
Ready to Build in Jackson Hole? Reach out to Woodhouse to learn more!
An Elevated Lifestyle
Living in Jackson Hole means staying connected to nature. Your Woodhouse timber frame home in Jackson Hole can be designed to fit the way you want to live. Think expansive window walls filled with inspiring views and a stunning stone fireplace to dial up the warmth while the snow flies.
There are loads of ways to add the luxury amenities that will make your timber frame home just a little more "extra." Gear closets and strategic mud rooms can be customized to your sport preference. Ski or snowboard rack and built-in cubbies for ski boots? A bike wall? Extra-large utility sink and space to hose down your waders after fishing? A dog-washing station? We'll make it all fit right in. Other popular features include built-in bunk beds, cozy lofts and reading nooks, and large decks for a hot tub under the stars or warm weather entertaining!
Just as important as functionality is feel. These Woodhouse home styles combine the best of both, making them a perfect fit for a timber frame in Jackson Hole!
Mountain Homes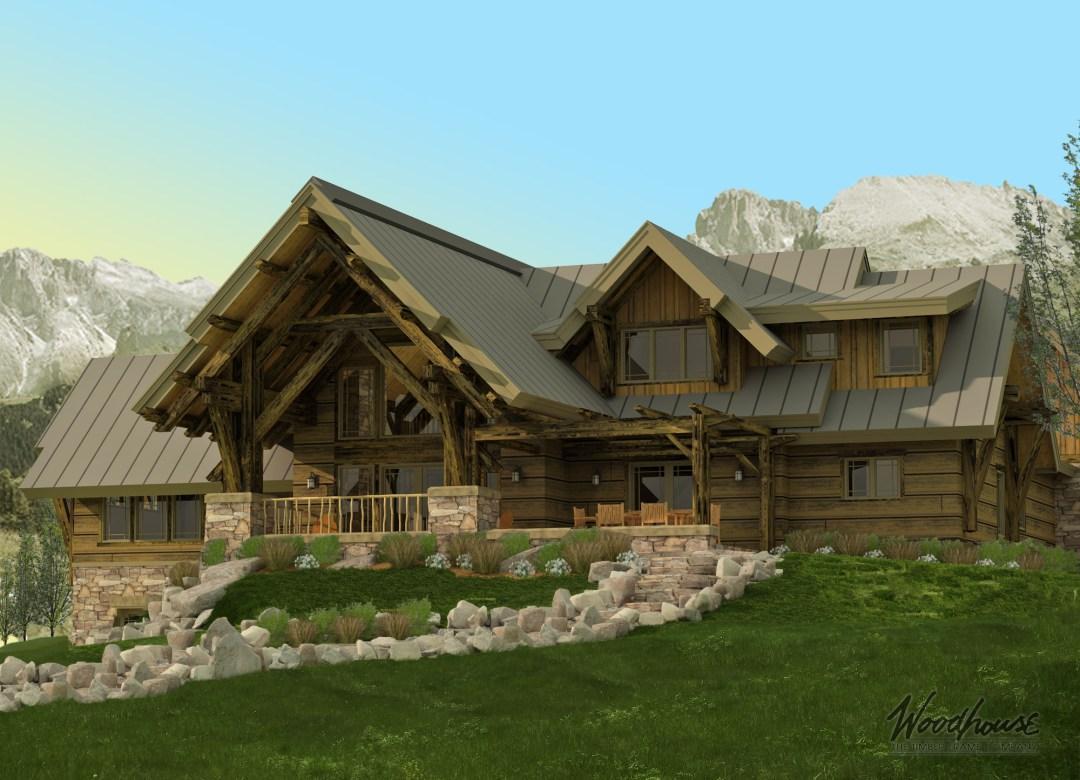 Are you dreaming of a traditional mountain lodge? Stone pillars, heavy timbers, and steeply pitched roofs promise comfort and ease in a rugged landscape. Check out this Woodhouse custom big mountain chalet built in Colorado for inspiration for what your custom Jackson Hole timber frame can look like.
Mountain Modern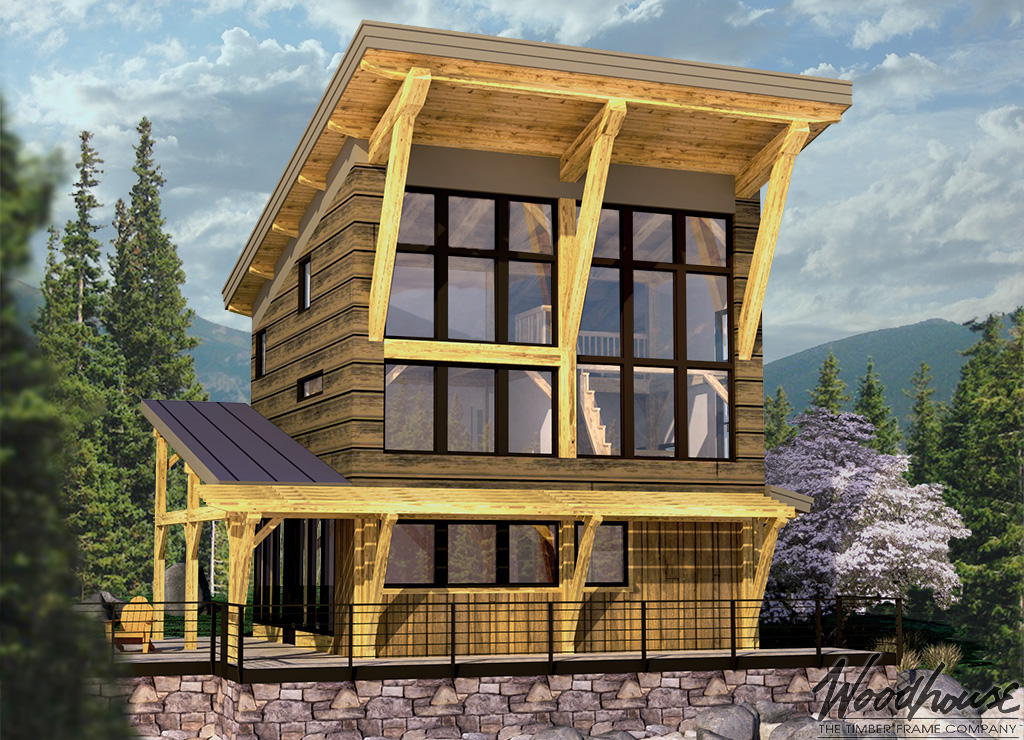 Mountain modern is another genre that has skyrocketed in popularity in mountain towns across the West. We have many timber frame mountain modern home plans just waiting to be customized to your tastes, property, lifestyle, and budget. Consider the stylish RockyView, which lives much larger than its compact footprint. Perfect as a second home or even a rental!
Timber Frame Cabins
Initially, it can be easy to confuse a timber frame with a log cabin. Both are defined by their wood and associated with cozy mountain living! However, when comparing a timber frame to a log cabin, a number of fundamental and important differences set timber frame structures apart. Unlike a log cabin, timber frames can be fully customized with interior walls anywhere you desire. Timber frames are also more energy efficient and require much less maintenance. This means more time for enjoying where you live rather than maintaining it. However, if you love that homespun cabin look, don't fret. Woodhouse has you covered with our cabin home plans. We even have A-frame cabins for a stylish, modern twist on a classic design.
How Much Does a Timber Frame Home in Jackson Hole cost?
Answer twenty simple questions, and our budget calculator will create a price that will provide you guidance for planning your new home.
Get Ready for Jackson Hole, Wyoming!
If the idea of living in a spectacular place like Jackson Hole has you already dreaming of days on the slopes and hikes in the nearby Tetons or Yellowstone, it's time to start including what your home base will look and feel like. Reach out to Woodhouse to get the conversation going. Or start with these popular timber frame home plans, that are made for Jackson Hole, Wyoming!
Perfect Floor Plans for Jackson Hole