With customized treatment, ranch-style timber frame homes from Woodhouse become fashionable, modern dwellings of exceptional style and livability.
Ranch-style homes are one of a few beloved American classics. Dating back to the 1920s, this architectural style is defined by simple lines, a low-slung profile, and a single-level floor plan. They are often rectangular in shape, but also can take on a U- or L-shaped formation and feature large windows, overhanging eaves, outdoor spaces and open-concept living inside.
Among the bounty of ranch-style abodes you'll find across the country, there are always those select few that stand apart with their distinctly modern, sophisticated interpretation of the design. These singular beauties are both timeless and contemporary, attention-grabbing and demure. You can't help but be captivated by their sleek lines and attractive, tasteful presentation.
With our timber frame construction and architectural creativity, there are many ways to update a ranch's classic design. Here's how to achieve your own version of an eye-catching, ranch-style timber frame home loaded with modern personality and fully customized to your tastes and lifestyle.
Origin Story
The original ranch-style homes were designed to capture a sunny, laid-back California lifestyle and were considered a revolutionary approach to relaxed, informal living. Over the decades, they have morphed into the ubiquitous, sometimes lackluster, stylings we see today.
That being said, their functionality is undeniable. Ranches are suitable for aging in place or supporting the informal, bustling lifestyle of a busy family. A  timber frame home in the ranch style is a novel approach to this classic design and returns it to its stylish roots. With its straight-forward presentation, a ranch-style timber frame home is an excellent candidate for modern styles and contemporary trends.
Style Smarts
When combined with creativity and design knowledge, there are many architectural features as well as finishes and fixtures that give a ranch-style timber frame a modern twist and elevated style. Our in-house architect, Diana Allen, shares her short list of strategies that transform any floor plan into a sleek, chic design.
Mono-pitch roof. With their minimalistic aesthetic, mono-pitched roofs are a nod to a future-retro vibe.
Open floor plans. Eliminating walls so rooms flow from one to another can make even a compact footprint feel much larger. Because timber frames support the structure through point loads, i.e., down through timber posts to the footers, you have endless options for interior wall configurations. Ranches with vaulted ceilings, rock wall fireplaces, and gourmet kitchens and islands? As you wish!
Entry porches that pop. Ranches tend to have subdued, modest entryways. Timbers, artisan trusses, and a covered porch greet visitors with panache.
Window treatment. Let in the light with large, panoramic windows. Fixed or casement units, larger sliding or folding doors, and a window wall all increase the drama of natural light.
Siding is a great way to bring fresh, contemporary flair to a ranch home. All our timber frames are constructed with structural insulated panels (SIPs) for superior energy efficiency. Unlike a log home, a SIP and timber frame construction system can accommodate nearly any kind of siding — cedar plank, shou sugi ban, stone, cementitious, steel, shingles, board and batten, and much more.
Uninterrupted, elongated lines and minimalism feel fresh and on-trend. No ornate or fussy trims. Bringing this aesthetic to truss design and railings can further strengthen a polished, modern aesthetic.
All our ranch-style timber frame homes are built for single-story living and can also include a second story or loft for more square footage. If you want to maintain the single-story silhouette and your property can accommodate it, a basement adds more space for hobbies, bedrooms, or recreation.
Explore Elevated Ranch-Style Timber Frames
If you're still trying to wrap your head around the idea of ranch-style timber frame homes looking drop-dead gorgeous to the most sophisticated, modern tastes, just feast your eyes on some of our pre-designed plans. These are great starting points to further customize to one's own tastes, property, and lifestyle. We can also start a design from scratch, work with pre-existing plans, or other architects. Here are a few to jump-start your creativity:
The Sedona
With its flat roofs and an exceptionally dramatic core, the Sedona stretches the boundaries of a traditional ranch style. Its central core is created by artfully blending timber and steel in the living, kitchen, and dining area. Outdoor living spaces return the ranch to its original intention of a relaxed, sunny lifestyle.
The Ketchum
Ketchum is not your typical ranch. Dramatic soaring roofs and large window walls transform this ranch-style timber frame home into a perfect blend of glittering sunshine grounded with earthy materials and textures. The artisan trusswork will take your breath away.
The BaliView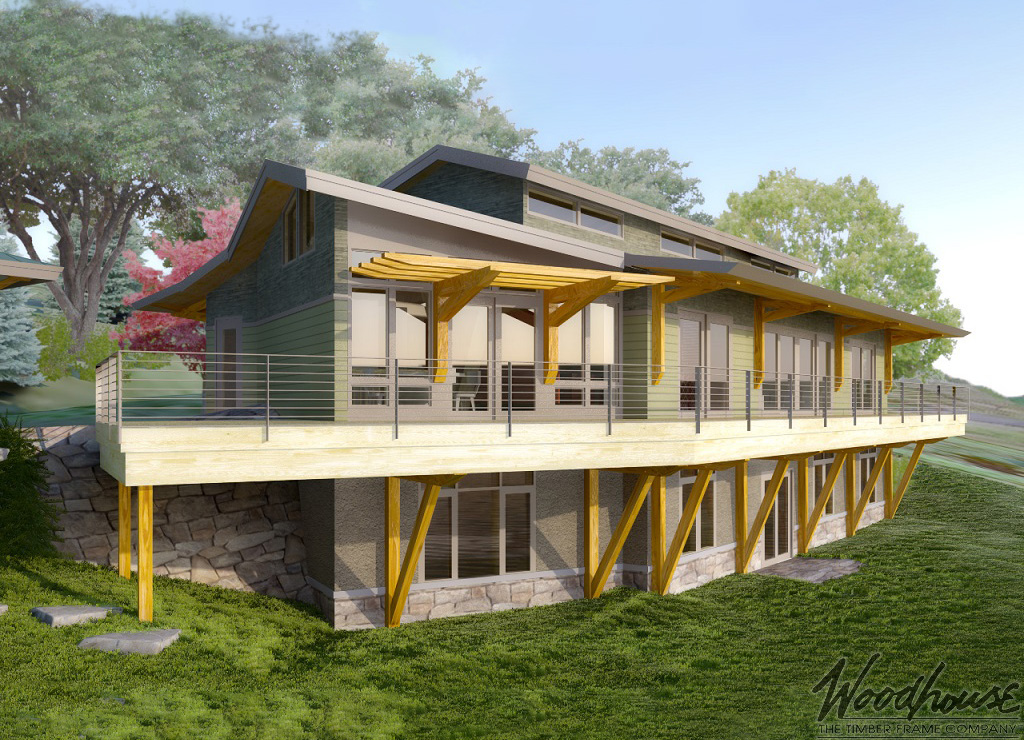 BaliView takes a ranch style and elevates it to something else entirely. It's a stunning contemporary sculpture embodied in a beautiful, highly functional, and long-lasting timber frame house.
The WaterRock, CreekRock, and RiverRock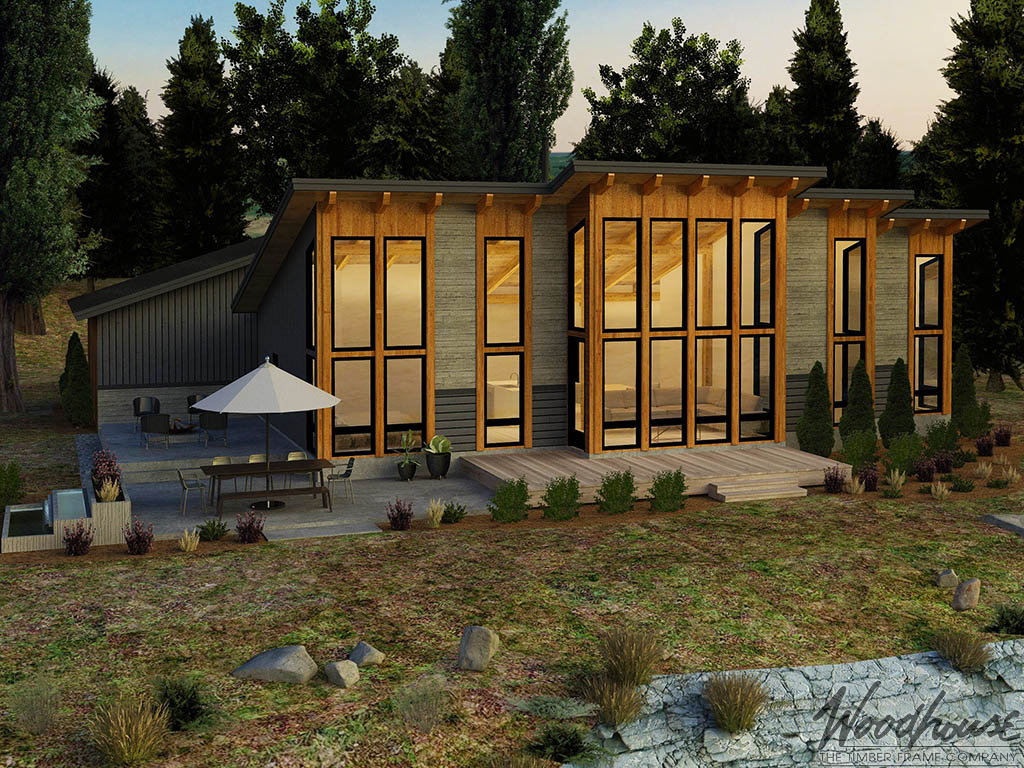 WaterRock, and its siblings, CreekRock, and RiverRock, all qualify as ranches and are perfect examples of roof pitch, siding materials, and glazing items that can be achieved on any single-story floor plan.
The Panorama
Do ranch styles captivate you and leave you speechless with admiration? Panorama will. Scaled for a grand living, think of it as a luxe mountain lodge dressed up as a timber frame ranch.
Make it Happen
Start by checking out our ranch-style timber frame homes and modern timber frame home floor plans. Explore our gallery to see what we've created, then contact us for a helpful conversation to see how we can put a modern twist on your timber frame dream home.