Timber Frame Homes in Michigan
Landscape, lifestyle, and luxurious designs come together under one roof with Woodhouse as your timber frame home expert in Michigan.
In addition to bordering four of the iconic Great Lakes (Superior, Michigan, Huron, and Erie), the state of Michigan also boasts around 11,000 inland lakes and ponds, making it the true centerpiece of the Great Lakes region. Across the state, you'll find sandy beaches and dunes, rolling hills, hardwood forests, and miles upon miles of pure nature. Each season has something to offer: Summers are hot, fall is filled with gorgeous colors, and winters are loaded with snow. From rolling farmlands and hills to the mountains and across its vast lakes, Michiganders treasure their state's diverse features and love hiking, snowmobiling, boating, skiing, fishing, and hunting. 
When it comes to homes, timber frames are a perfect fit for this landscape and lifestyle. Woodhouse is experienced with Michigan's climate, culture, and regional styles and knows what it takes to be expert timber frame home builders in Michigan.
Let's check out some top spots, styles, and trends for timber frame homes in Michigan (plus some real-life examples!) so you can see how our custom designs and know-how can boost your enjoyment of this beautiful state.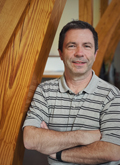 Jamie Thompson
Mid-West Regional Project Manager
Hot Spots to Build a Timber Frame Home in Michigan 
"Michigan has an outdoor lifestyle, even in the urban areas it's all about being outside," says Woodhouse Regional Project Manager for the Midwest, Jamie Thompson. Jamie knows a few things about Michigan. It's been his home state for nearly 40 years. Here, he advises on three popular places to build a custom timber frame home.
1. Traverse City
Bay or lake? Located at the base of the pronged Traverse Bay, the Traverse City area has both. Lake Michigan's western shore is nearby with a string of charming towns and fabulous beaches. Enjoy sunsets or sunrises over the water, depending on which side of the bay your property is located. The region's rolling hills provide lots of areas to hike, snowmobile, dune buggy, and of course, boat.  
As experienced timber frame builders in Michigan, Woodhouse gets many requests for lakeside homes in more traditional styles. Timber frame homeowners love LakeView for their lake life. Growing in popularity is our mountain modern series. Its expansive window walls capture the region's spectacular waterscapes.
Don't miss this! For a tasty experience, Jamie recommends the National Cherry Festival. This weeklong celebration takes place during the first week of July for peak summertime fun.
2. Ann Arbor & Detroit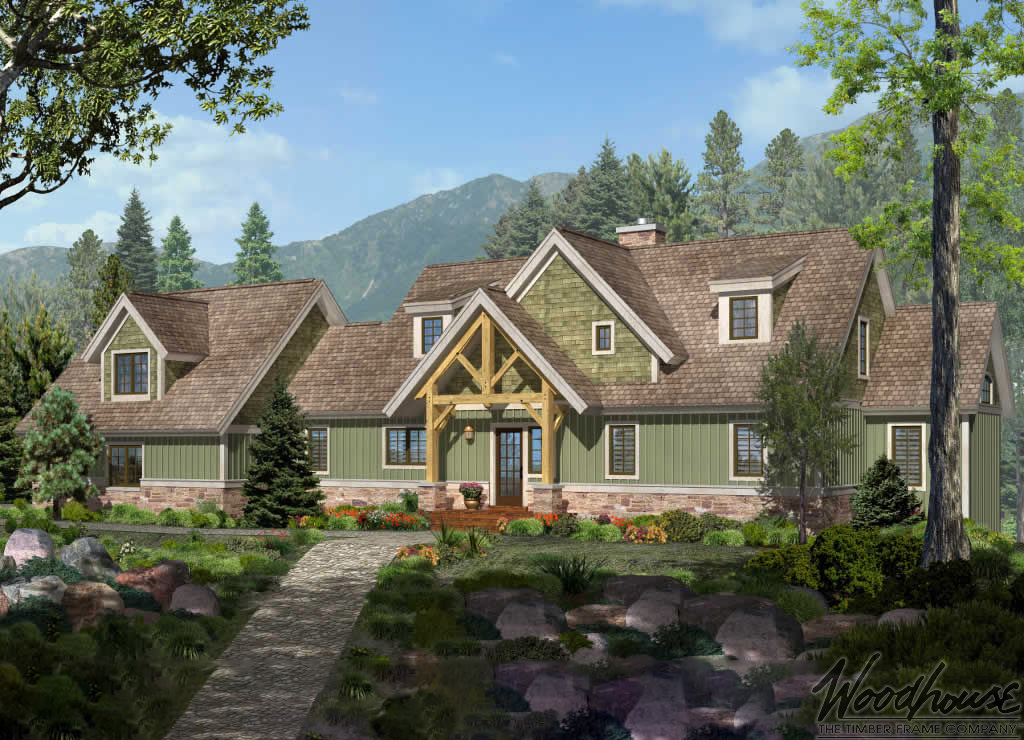 Ann Arbor and Detroit are urban areas that offer proximity to natural adventures. Even in the suburbs, Michiganders want their homes to keep them grounded to their love of the outdoors. Timber frame homes tick all the boxes.
Woodhouse customizes each home to suit a homeowner's personal taste while working within the demands of a particular property. MountainView and SouthPeak are graceful additions to any neighborhood or suburban area. The stunning Breck, with its massive windows, monoplane roofline, and stylish angles is an excellent option for those who prefer a sleeker, more modern look.
Don't miss this! Children and kids at heart love searching for Ann Arbor's hidden fairy doors, which open to reveal a tiny residence. But beware of the goblin door! Prefer a more natural experience? Paddle, boat, float, or fish your way down the 104-mile Huron River water trail.
3. Porcupine Mountains

If you want to elevate your Michigan timber frame home, the Porcupine Mountains Wilderness State Park, a.k.a. "the Porkies," is the place to do it. Beautiful fall colors, skiing, snowmobiling, and hiking are all popular. 
We can make your timber frame mountain dream home come true. For one homeowner, we customized our KettleCreek floor plan so all the lower-level spaces and the upstairs bedrooms could enjoy the water views. Outside, a covered porch spans the entire back of the house.
Don't miss this! The Porkies has more than 70 waterfalls to explore and Agate Falls is considered the most picturesque in all of Michigan. Famed for its bass fishing, Lake of the Clouds is as beautiful as its name. Go in late September through early autumn to experience a gorgeous fall foliage.
Case Studies: Real Michigan Timber Frame Homes 
Michiganders want homes that balance luxury living and outdoor fun. Popular customizations in Michigan timber frame homes include covered porches, extra space to store gear, and outdoor living areas for relaxing and entertaining. Our timber frame kits are tailored to fulfill the look and lifestyle you've always wanted. We'll make sure your timber frame dream home suits your property. We can even look at a property before you buy it to help you make sure you're getting exactly what you need with no surprises.
We've customized many timber frame homes in Michigan. In a one-off design on Lake Michigan's west coast, we worked with the homeowner's architect to bring a timber frame home to life that features a huge great room core with an open kitchen and dining area. 
In another, we customized the GlenOak, one of our Craftsman-style home plans, to be built approximately 30 feet above the water level. We've even customized a church structure in Michigan! Check out the fly-through here: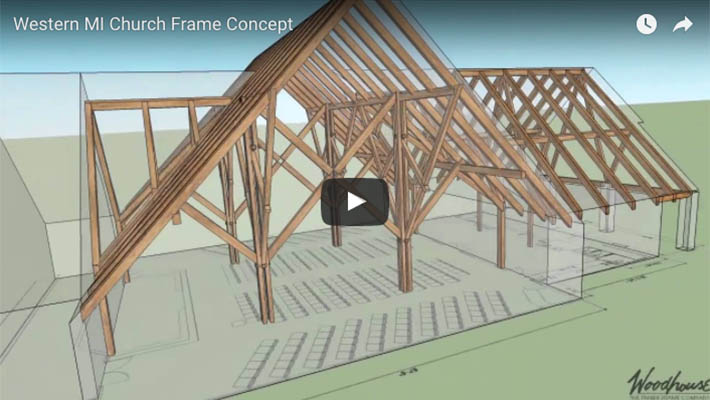 Special Considerations for Timber Frame Homes in Michigan 
Ever wonder why ice fishing is so popular in Michigan? The thick ice buildup that makes this frigid sport possible comes from Michigan's fierce, cold winters. When our experts are your timber frame builders in Michigan, you get a team that is extremely cognizant of Michigan's snow loads and strong winds.
"When you're on the water, you can have some extremely high winds due to storms coming off the lake," Jamie says. "We always consider those types of building code specifications to meet and exceed them."
Naturally strong timber frame structures coupled with our structural insulated panels (SIPS) provide the highest levels of energy efficiency available in a home. Additionally, we orient homes to take advantage of passive solar heating to ensure your home stays cozy.
Make Michigan Happen!
To make your Michigan dream come true, you need timber frame home builders in Michigan who understand people, property, and high-quality homes. Contact Jamie Thompson, your Midwest Woodhouse RPM, for a friendly conversation about your idea of a perfect timber frame home. See what's possible and check out these Woodhouse floor plans that are popular in Michigan:
Perfect Floor Plans for Michigan