Timber Frame Homes in Washington
Distinct, gorgeous, and high-performance: timber frame homes in Washington by Woodhouse connect you to the best version of your life.
Just thinking of Washington state floods the imagination with everything from Seattle's coffee houses and live music to the state's rugged coastlines to striking mountain ranges teeming with conifers, rivers, and lakes. Travel the state from east to west, and you'll traverse world-class wineries and a thriving agriculture scene, pass through the breathtaking Cascades, and emerge at the Pacific Northwest's Salish Sea and famed Puget Sound.
"It's like two different worlds from east to west," observes Greg Berman, owner of Pacific Northwest Timber Frames (PNWTF), a timber frame builder in Washington who specializes in Woodhouse timber frames.
While the vibe may feel different from one side of the Evergreen State to another, both are incredible locales for your custom timber frame home. Just take it from Greg, who lives in Chelan County in the East and has a cabin in the San Juan islands. He knows first-hand how a Woodhouse timber frame is perfect as a ski home, mountain modern getaway, coastal retreat, and more. Let's take a tour!
Ready to build in Washington? Reach out to Woodhouse to learn more!
Hot Spots for Luxury Timber Frame Homes in Washington
Cle Elum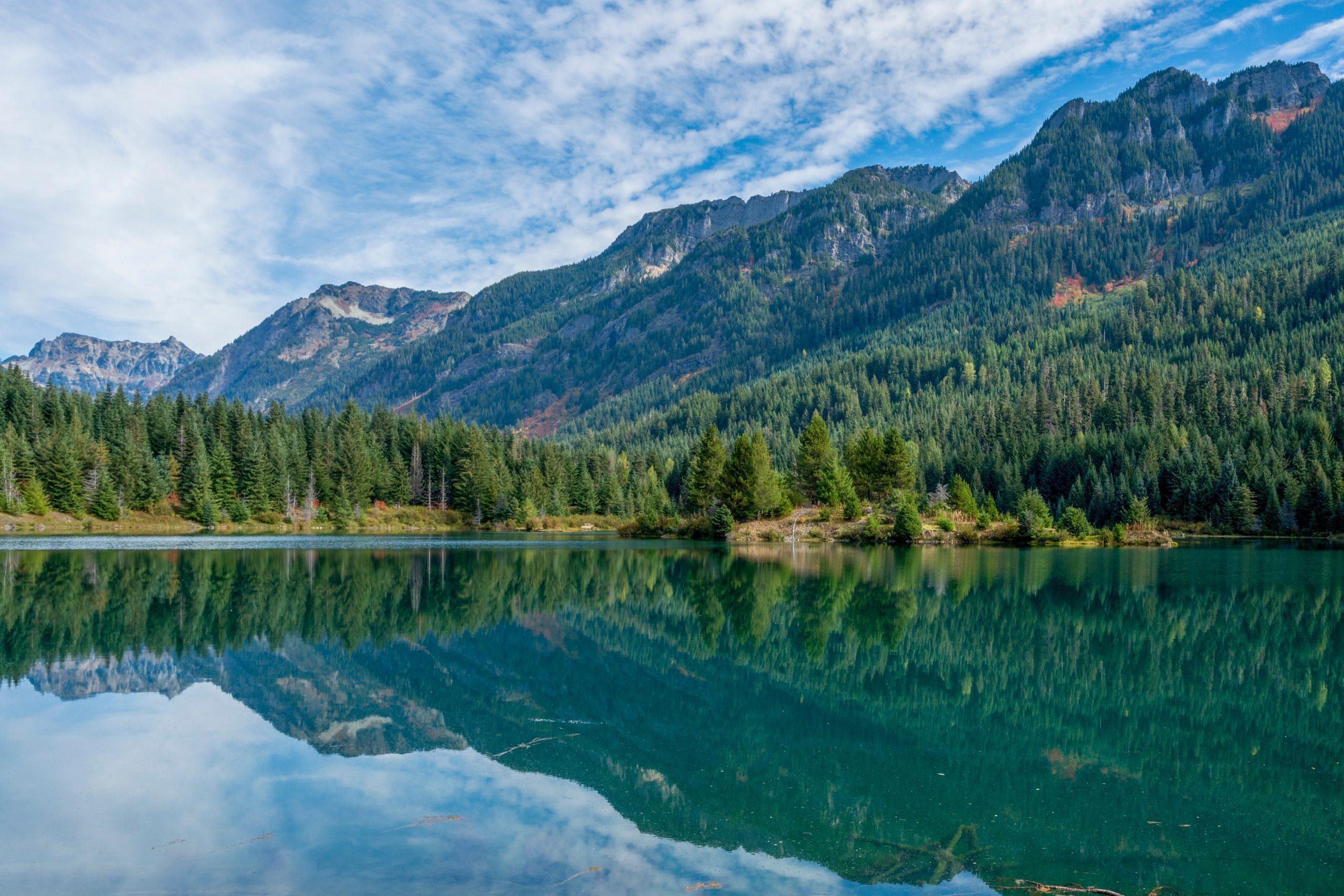 When Washingtonians want mountains they head to Cle Elum, and, more specifically, Suncadia, a premier, all-inclusive resort and residential community immersed in expansive swaths of large trees and sparkling waters of the Cle Elum Reservoir and river. (The name Cle Elum, evolved from the word Tle-el-Lum by the Kittitas band of the Yakama Tribe, meaning "swift water.") It's a paradise with everything you could possibly want from a four-season mountain town and lifestyle. 
Timber frames are, quite literally, a natural fit. When trees must be removed on a property for a home, Greg says homeowners want them incorporated into the construction. When it comes to timber frame builders in Washington, Pacific Northwest Timber Frames is the go-to for Cle Elum homes.
Don't Miss This! With so much to do, take advantage of Suncadia's "Experiences" for every season ranging in everything from rafting to art to yoga, all designed to get you outside in the sweet, pine-fresh air. Finish your day up with a meal at the beautiful Swiftwater Cellars overlooking the golf course.
Leavenworth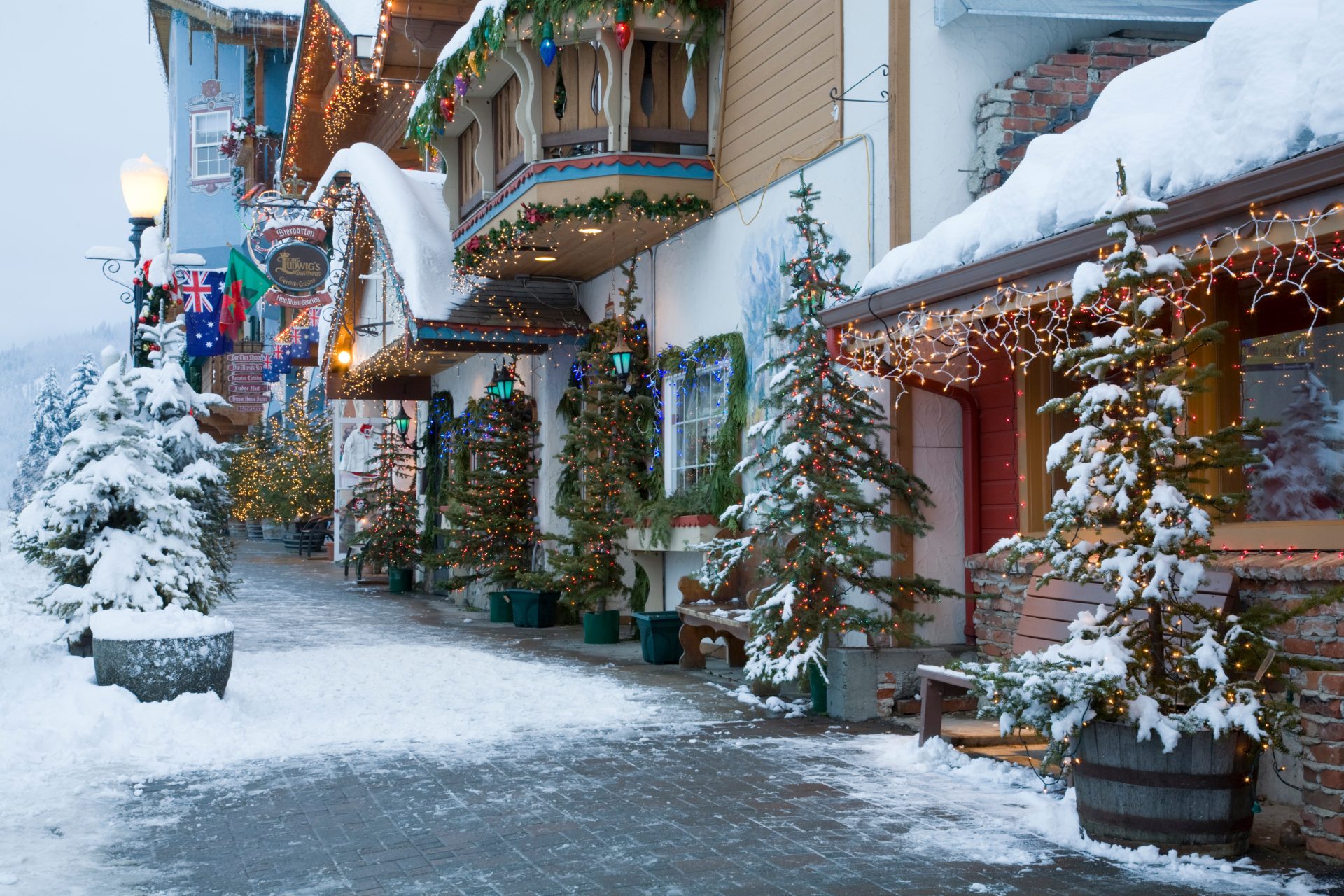 Located in eastern Washington, Leavenworth is a cool little Bavarian-style town in Chelan County.  Nearby is the Wenatchee National Forest, which attracts hikers from all over the world. There is also The Enchantments. If the name alone doesn't pull you in, its pristine, alpine waters and granite peaks will. "It's all so beautiful!" Greg explains.
Like Cle Elum, timber frame homes in Leavenworth reflect the natural beauty that surrounds them. Tucked along the base of the Cascades, timber frames are especially suited for sloped properties. If you like Leavenworth, you may also want to check out Okanogan, which offers rugged mountains and miles upon miles of forests. 
Don't Miss This! Get your dose of lederhosen and Tyrolean hats in charming Leavenworth with its Bavarian-inspired architecture. Pop into The Nutcracker Museum then head over to Waterfront Park, a habitat for osprey and eagles. The Waterfront Park Trail is considered one of Washington's best-kept secrets.
San Juan Islands
Home of orcas, salmon, and unfathomable beauty, the 172 San Juan Islands possess captivating environments both above and below the water. Pine scent mixes with salty fresh air across forests and pastoral landscapes. Hiking, boating, paddling, beachcombing, and fishing are popular activities. The archipelago's madrone trees, what Greg calls, "a tree of character," make the region even more special.
Timber frame homes in this unique region combine mountain lodge with waterfront styles. From mountain modern to coastal cottage — expansive decks, window walls, and lots of places to spend time outdoors make timber frames one of the best choices for your home. The Woodhouse building process ensures efficient and effective construction even on properties that may be difficult to access . . . like islands.
Don't Miss This! With its rocky cliffs, madrone trees, and history, Lime Kiln Point State Park on San Juan Island is the place to go to watch and wander. Sit back and watch the locals swim by—AKA the the porpoises, orcas, and gray whales who frequent the island along their migratory routes.
Walla Walla
With 130 wineries and 3,000 acres of grapes, Walla Walla is a relaxing and gorgeous destination famed for its world-class wineries and hops. It's a foodie's delight, boasts an active art scene, and is next to the Blue Mountains and rolling Palouse Hills.
"There is fly fishing, hunting, wine tasting, and mountains—and it's all fabulous," Greg says.
When it comes to timber frames in Walla Walla, the sky's the limit. Mountain lodges, cabins, and homes with more modern aesthetics fit right in. Timber frame homes complement the landscape, appearing seamless and stunning. The magnificence of a timber frame is also a practical, smart, and beautiful choice for commercial buildings like wineries as well as breweries, distilleries, coffee shops and more.
Don't Miss This! Find artistic inspiration at Whitman College for a self-guided sculpture walk, then grab lunch at one of Walla Walla's impressive restaurants and cafes, many with meals made to compliment the region's wines or beers.

Recommendations from Timber Frame Builders in Washington
Now you know the hottest spots for timber frame homes in Washington. As for the house itself, make the most of your timber frame with special customizations. According to Greg, cedar siding is the traditional go-to and is still popular. However, timber frames tailored to more contemporary tastes, like the Woodhouse Mountain Modern series, have emerged as the new favorites. He's using a lot more concrete and metal for both stylistic accents and increased wildfire safety.
As a builder, Greg appreciates Woodhouse's polyurethane structural insulated panels (SIPs), which deliver a class 1 fire rating and superior performance with a thinner design.
"You pick up more floor space with Woodhouse SIPs," Greg exclaims. "The construction is very user-friendly and makes the process go faster." 
Use the extra floor space for great rooms with panoramic windows overlooking expansive decks, two popular features in Washington mountain and coastal homes. Gear or mud rooms, an extra bedroom, an open loft — Woodhouse designs are scalable and can be customized to be your vacation getaway or primary residence.
Greg says, "I've been building for so long and like the aesthetics and feeling inside a timber frame. It's a specialty construction and if you can dream it, we can build it!"
How Much Does a Timber Frame Home in Washington Cost?
Answer 20 simple questions and our Dream Home Budget Calculator will give you a price that you can use as a starting point and guidance for planning your perfect timber frame home in Washington.
What's Your Washington Dream?
If you're ready to find out more about how Woodhouse can make your Evergreen State dreams come true, reach out to Woodhouse to get the conversation going. Or start with these popular timber frame home plans, which are made with stunning landscapes, like those of Washington state, in mind.
Perfect Floor Plans for Washington